Carving wood may be risky with a chainsaw, but the results can be stunning! If you have no prior expertise with chainsaw carving, you'll discover plenty of ideas to get you going and even more to spur your creativity.
An old tree stump is the most common medium for chainsaw carving. Most of the time, they're idle and doing nothing. Why not turn it into a discussion starter when friends visit by carving it into a unique piece of art?
Beginner Chainsaw Carving Projects
Individuals just starting their chainsaw carving journeys will find these projects easy to complete and use smaller pieces of wood. Although these initiatives are incredibly unique, you may expect a flurry of feedback and astonishment from your site visitors.
1. Skull
Chainsaw carving a skull is a creative way to decorate your yard for Halloween. You need a little piece of wood for this craft, making it quite doable for novice carvers.
The local kids will talk about your homemade wooden skull for months since it is a creepy craft! You could even get requests to produce a few more to give away.
2. Heart
If you're looking for a unique Valentine's Day gift idea, try carving some wooden hearts! There's nothing better than a gift made with care and thought. Since these sculptures are on the smaller side, you don't need a big tree trunk to make them.
Work slowly and carefully, and you'll be able to make the heart's final shape. Your special someone might be blown away by how much time you put into their gift.
3. Tree
Carve some trees for your yard if you want a quick and straightforward job. You could plant a whole forest's worth of them! You may add even more details to the tree's branches and leaves if you're ambitious.
Make an autumn-themed ornament for your home by adding more fall foliage to the leaves at the end.
4. Feather
A fantastic beginner's activity is carving a feather, which forces you to practice making precise cuts. You may develop your talent by carving a single feather since it forces you to concentrate on the intricacies along the feather's edges.
When operating your chainsaw, you must be careful, but the ultimate product will be well worth it. You can carefully use a torch at the end to provide texture and the finishing touch.
5. Chess Piece
If you like to play chess, why not make some pieces more significant than life? The knight is an excellent place to start because everyone will know it right away. If you want to keep going, you might be able to make a complete set.
This is an excellent project for people just starting because you don't have to do much work on the details. Instead, you have to focus on making the final product smooth.
6. Pumpkin
An excellent first project is using your chainsaw to carve a pumpkin. Less intricacy is needed to produce a pumpkin that nevertheless looks realistic. You will undoubtedly get many praises for your craftsmanship for this lovely autumn display.
Create a unique jack-o-lantern face for your pumpkin if you want to add some intermediate finishing touches to the project. Whatever fits you the most!
7. Mushroom
A mushroom can serve as a stool if it's anything like this. You can increase the project's difficulty by adding additional detail and painting your creation to give it more life.
If you decide to carve a few, they might serve as a focal point for your yard. To add more dimension, experiment with creating them in various heights and widths.
8. Snowman
Although the arms could be difficult for novices, this project is doable for those learning chainsaw carving. You may make your snowman resemble the beloved Olaf from the animated film Frozen, or you can make one entirely on your own.
A little paint added at the end to tint the wood hides many flaws. You may even make the painting a fun family activity to incorporate everyone!
9. Frog
Make a frog sculpture with your chainsaw to put in your garden. You can even put the figure in the water if you have a pond. You can stain the wood darker or paint it a dark green color.
You only need a small piece of wood to start this project, so you don't have to first deal with a big, hard-to-manage piece of tree. If you want to push yourself even more, try giving the eyes and face more detail to make it look more authentic.
More Projects for Chainsaw Carving (Intermediate and Above)
Check out these if you want to test your abilities on some more complex tasks. This collection includes more unusual carvings, like bears and owls, and some of the most well-known ones. You are always welcome to engrave your markings on your carvings to make them uniquely yours.
10. Dog
This is a particular endeavor if you want to show respect for your beloved friend. You could even choose to carve a sculpture in memory of a cherished dog that went away years ago. This has the potential to develop into a meaningful personal endeavor very rapidly.
You may start by choosing a posture from pictures of your dog before starting the carving. There are several dog carvings to peruse for ideas, representing a wide range of dog types and sizes.
11. Crocodile
Sculpting a crocodile or an alligator in your yard is a great way to make a statement. You'll need a massive piece of wood for this project, but if you can acquire the necessary materials, it'll be an enjoyable task.
This isn't a task you can do in one sitting. It will take you a few weeks of hard labor, but the end effect is spectacular.
The crocodile's spine, tail, and sharp fangs are intricately carved in this project. It will be a piece of art that your visitors will remember for a long time! It's much better to place the carved crocodile in an area with grass.
12. Bear
The bear is one of the most well-known and often used subjects for chainsaw carving. In mountain communities, they are often on sale for visitors to buy and take home. Bears carved with a chainsaw may be seen on porches around the country.
Given this project's well-liked, you may be moved to add your special touches to it. You may accomplish this in several ways, such as by adding more props to the sculpture or making a placard to go with it.
13. Lion
Nothing is more magnificent than a stunning African lion. You may get excellent advice from this guide if you want to try to carve a sculpture in their image. Remember that it will take time to finish this project since it is intricate.
If this project sparks your imagination, consider creating other creatures to include in the herd. If you wanted to, you could make a whole African safari. Next, add an elephant or zebra!
14. Fox
If you're looking to hone your skills at carving fur, this is a great project. There are many different methods to posture your fox, as well as options to make the fox goofy or realistic. Whatever you decide is entirely up to you.
Chainsaw sculptors will love carving this cunning animal. To enhance the overall look, consider painting the coat a deep orange.
15. Chicken
Using a chainsaw, you could cut a chicken out of wood. If you put your mind to it, you can do this job in a single day. Because you may practice working on portions that demand a more thorough and experienced hand on this project, it's ideal for intermediate students.
In the end, sanding down the chicken's characteristics is a nice finishing touch that pulls the bird together.
16. Pelican
A carved pelican buddy would be an excellent way to honor the numerous pelicans that frequent the area if you live near the ocean. This bird is a good one to start with since there are many more to choose from.
A moderate trunk of wood is required for this task. Intermediate-level carvers should be able to handle the plumage of the pelican because of the amount of detail required.
17. Gnome
Making a yard gnome from a chainsaw is a fun intermediate-level carving craft. Garden gnome figurines are all around grandma's gardens, and it's hard to find one without seeing one. Chainsaw carving is a fun variation on this notion, resulting in a unique work of art.
For an old piece of wood, this is the perfect way to bring it back from the dead. Before you know it, they'll all be begging you to create these for their friends and family. It is possible to personalize these gnomes and paint them in a variety of colors after you've completed the project.
18. Owl
Carving an owl with a chainsaw is another favorite hobby. The wings need some time and attention to detail, but the final result is stunning. To keep your yard free of intruders, carve an owl sculpture and display it on your lawn.
To finish the owl, you may add paint or a stain to deepen the feathers. These details will help bring your work to life. You may use a stain to hide any faults you've made when painting the bird and add more detail.
19. Cat
You can carve a kitty sculpture instead if you're a cat enthusiast. Nobody wants to be the only one without a friend! Depending on your degree of expertise, there are several options for how much detail to put into the fur.
Before sanding the sculpture, you'll need to work on the face characteristics a little more. Soon, you'll be receiving requests from friends to make sculptures of their pets.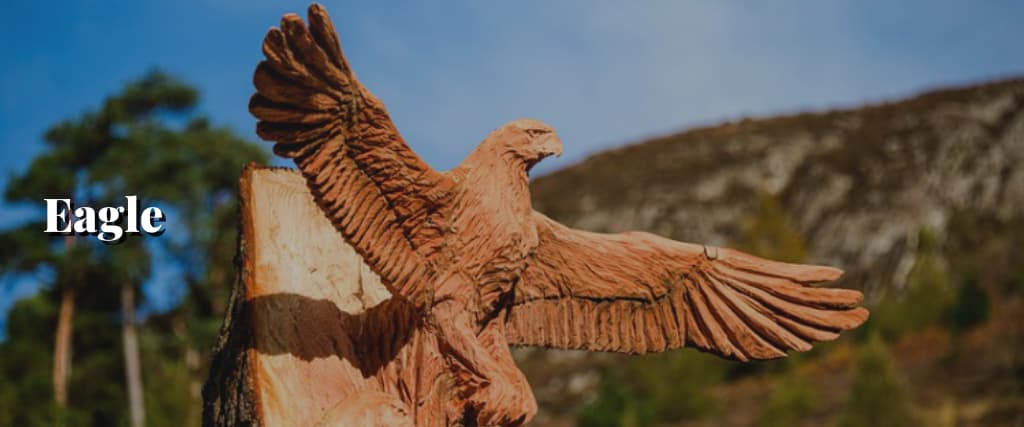 20. Eagle
Nothing is more magnificent and impressive than a bald eagle. Use your chainsaw to create a bald eagle sculpture demonstrating your patriotic spirit. Using your chainsaw to sculpt the feathers delicately and enlarged wings is a stunning display.
You will need a more significant portion of the trunk for this job, but the finished product will be magnificent. The last use of color highlights the carving's authenticity and creates an arresting impression.