If you are an avid gamer and spend a lot of time looking at the screen you should definitely think about buying a good quality pair of gaming glasses.
We all know eyes are important to us, and prolonged exposure to monitors and television screens can have negative or even harmful, long term health effects on them.
This is because computers, monitors and television screens subject us all to very high exposure to potentially damaging blue light.
Thankfully there is a product available that can protect you from this. It's called 'the gamers' and is a pair of glasses that blocks, and therefore reduce the risks from prolonged exposure to blue light.
In addition, it also includes an extra LLR filter which helps you to maintain sharpness, precision and accuracy whilst gaming.
Sounds good, doesn't it? Well, you had better read on!
What to look for in Gaming Glasses
When determining what gaming glasses you should buy there are a number of factors you should take into account. This includes:
Comfort: It's really important to find a pair of glasses that are really comfortable. Especially considering how many hours you will spend wearing them whilst gaming.
Quality: When it comes to a pair of gaming glasses you definitely need the blue blockers to be of very good quality. In this respect, you get what you pay for, as cheap factory-made glasses that have not been crafted in an optical lab, simply won't work.
Value: Following on from this, you of course will want to get value for money too. No point in overpaying for a 'feature' that you don't really need.
Review: It is always a good idea to check out Google Reviews of the company prior to purchasing from them. As a general rule, the more positive reviews the company has the more reliable you can consider them. Also, don't be put off by the odd one-star reviews if they have a huge number of five-star reviews.
Returns policy: Often overlooked by consumers, it is a good idea to check what the company's returns policy is. That said, these days, most companies have a good returns policy.
5 Popular Brands of Gaming Glasses to buy in Australia
Below is an overview of 5 popular brands of gaming glasses which are available on the market currently. To help you decide if they are right for you we have outlined some of their main pros and cons.
Bjorn Blue
Based in Brisbane, Bjorn Blue are an excellent Australian owned business that specialises in blue light glasses.
The major selling point of this organisation is that it makes high-quality gaming glasses in Australia from an optical lab, as opposed to a factory.
This means you will get a top-quality pair of glasses, which are of a similar standard to what an optometrist would give you. Only at a more affordable price.
Should you want prescription glasses, Bjorn Blue can also assist you – which is something most other businesses that sell gaming glasses are unable to do.
Bjorn Blue's glasses are made to provide top-quality protection for those who spend extended amounts of time gaming, or in front of a computer.
Designed to maximise your performance and reduce the risk of irritable or sore eyes, each pair of their gaming glasses has a special Led Light Reduction Filter (LLR). This comes with a signature yellow tint that provides you with sharper vision by blocking blue light from 300 to 550 nm.
Pros
Offers top quality gaming blue blockers which are made in an optical lab
Includes top quality anti-reflective UV coating
Includes top quality UV 400 coating
Offers a good range of styles and shapes
The company has over 40 years of experience in Australian optics
Able to include prescription in your glasses
Cons
The glasses are only available in one size per frame
HORUS X
If you spend more than 1500 hours in front of a screen throughout the year then HORUS X makes gaming glasses for you.
Whether it be for work, computers, video games or your smartphone the company claims their glasses provide long-lasting effects from the damaging effects of blue light.
For those looking for an inexpensive pair of gaming glasses, these are a decent option, as they typically only cost $30 a pair.
Pros
Made from a lightweight frame of polycarbonate
Anti-scratch and anti-reflective
Very eco-responsible (only 1% for the Planet)
Cons
Given the cheap cost, it is questionable as to how adequately they block blue light
It is unlikely they are effective in reducing eye strain or protecting against UV400
Probably made in a factory, as opposed to an optical lab
Swanwick Blue Light Blockers
As they include a gaming filter, Swanwick Glasses, despite being marketed as blue blockers could also be used for gaming too.
The glasses might not be the most beautiful of designs, but they do claim to be effective in blocking the blue light, and also in providing you with enough protection to easily sleep after a long session of gaming or computer work.
Pros
The company claims they reduce digital eye strain
For optimal results, wear for at least 2 hours continuously before bedtime
Claims to reduce headaches
The company gives a money-back guarantee
Cons
The glasses are relatively expensive
There is no mention of it being produced in an optical lab
Some buyers claim the glasses are askew
The design of the glasses is not the prettiest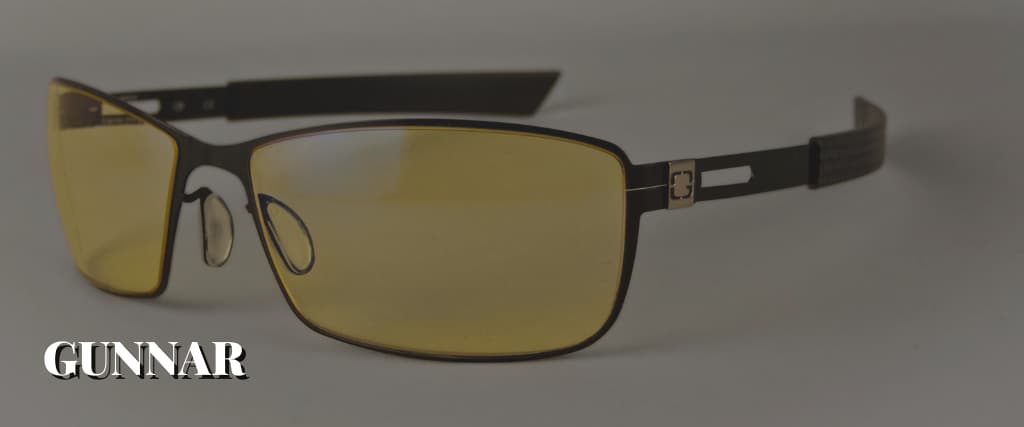 GUNNAR
GUNNAR is one of Australia's best-known providers of gaming glasses. They are a solid choice for those looking to purchase a pair.
Pros
Improves your circadian rhythm
Frames are comfortable and fit ergonomically
Blocks around 65% of harmful blue light
The glasses come with a basic case
Cons
No option to add an optical script
Other rival brands over more than 65% of harmful blue light
The glasses only come in one size
The design of the glasses is rather unattractive
Anima Computer
Offering a range of plastic frames and polycarbonate lenses, the Anima Gamers is a decent option for those who are looking for an inexpensive pair of gaming glasses.
Pros
Boasts a plastic frame with a Polycarbonate lens
Helps combat conditions like digital eye strain and fatigue, as well as dry/irritated eyes, and headaches
Claims to help you sleep better
Cheaply priced from only $30
Cons
Probably not made in an optical lab, as there is no option to add an optical script
The glasses have unattractive frames that come with limited designs
As they only cost $30 they are probably not that effective in reducing eye strain or facilitating good sleep
Conclusion
So there you have it, our selection of 5 of the best gaming glasses you can buy in Australia.
Whichever ones you buy are entirely up to you. But just remember to wear them when you do get them.
After all, some visual protection whilst gaming is a lot better than none, and in the long run, it may well save you from serious eye damage.