Sydney, Australia, is a gorgeous city with so much to do. However, one of Sydney's best features is the many weekend markets housed in the city.
With so many exciting markets to visit, it will definitely take more than one weekend to properly get through all the treasures they have to offer. However, you can still glimpse all the vintage goods and fresh produce the city deals in with a full three days of exploring.
If you are new to the area or plan to stay longer, the weekend markets are a wonderful place to go for weekly groceries, unique souvenirs, and gems you'll always hold dear to remind you of your time in Sydney, however brief.
1. Bondi Market & Bondi Farmers Market
Hours: Saturdays 9 am – 1 pm, Sundays 10 am – 4 pm
Address: Campbell Parade, Bondi Beach, NSW 2026
Close to the beach, the Bondi Markets are always full of a nice mix of visitors, including local customers, tourists, and loyal patrons who come from all over the world. The Bondi Market's goods vary on which day of the weekend you can swing by.
The weekend kicks off on Saturday with the Bondi Farmers Market. The farmers market at Bondi has everything you could possibly dream a farmers market would have.
Everything is fresh for the season and organically grown, from fruits and veggies to meats, seafood, and herbs. They also have artisan items like homemade cheeses, jams, and organic honey! Also, don't forget to bring your yoga mat for their pop-up yoga right next to the beach.
Sundays are for Bondi's stock market, which has an array of items like clothing, homewares, records, and jewelry. Bondi markets feature a nice mixture of vintage and new goods from their permanent and momentary stallholders alike.
Bondi markets differ from the usual structure of merchandise markets on Saturday and farmer's markets on Sunday, allowing you to experience even more of both.
Hours: Sundays 9 am – 3 pm
Address: 142 Addison Road, Marrickville, NSW 2204
Marrickville Organic Market is especially perfect for those trying to live as green and sustainably as possible. It offers vintage clothing, eco-friendly food wraps, and lots of organic produce.
If you're staying in Sydney long enough to need groceries, Marrickville Organic Market is perfect for getting a week's worth of organically grown groceries from local farmers and businesses. So not only are you getting quality, healthy food, you are sustainably supporting Sydney's local economy.
It's also a prime destination for someone who is well-connected to their spiritual side—or wants to be! Marrickville Organic Market has tarot readings and crystals to peruse from local practitioners and shop owners.
Pets are welcome at Marrickville Organic Market and are even able to sit with you while you enjoy any of their little diners with all kinds of delicious food while you enjoy the atmosphere and may even crack open a new book from one of the many stalls that house shops that are primarily books.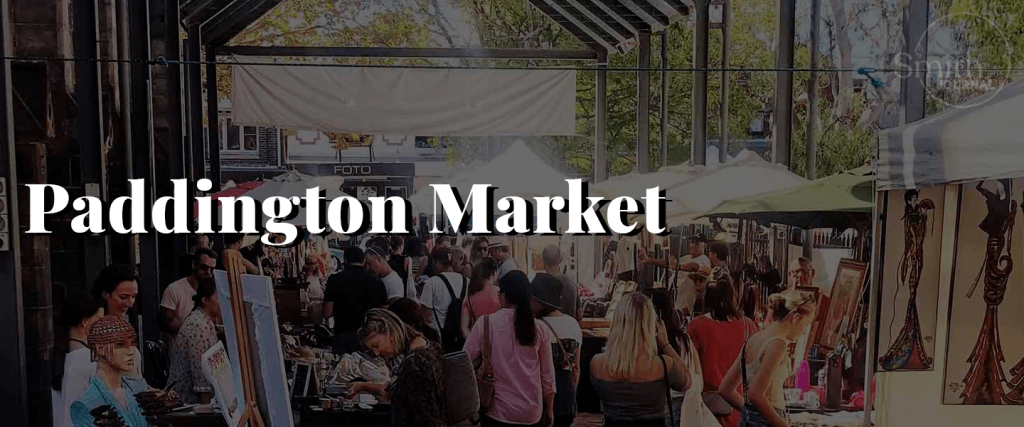 Hours: Saturdays 10 am – 4 pm
Address: 395 Oxford Street, Paddington, NSW 2021
Paddington Market is one of the most popular and well-known markets in Sydney, and it is clear why it is so well-loved. One of Sydney's many fashion-forward markets, it was initially where the prevalent Australian clothing label Zimmerman was created and grown.
Aside from beautiful clothes, attractive accessories, and exquisite jewelry, Paddington Market also offers a lovely array of soaps and homewares.
On top of all of that merchandise to peruse, Paddington Market is a perfect place to stop to get a meal and an afternoon pick-up of some of the best coffee in the city.
When taking time to eat, make sure to try out their fresh homemade bread and their hand-crafted chocolate. Both of which are great for taking home with you or bringing back as gifts from your long day in the markets.
4. Glebe Market
Hours: Saturdays 10 am – 4 pm
Address: Glebe Point Road & Derby Place, Glebe, NSW 2037
Glebe Market is known for its young crowd, and it cares about fashion. Glebe houses clothes like coats, hats, scarves, and more, most of them vintage and thrift. This combination provides affordable, fashionable clothes for the young adults and teenagers who call the city home—even if only for a few days. Glebe will involve sorting through boxes and boxes of old clothes, searching for that missing gem from your wardrobe at a price you could never beat.
There are also plenty of CDs and books to look through, matching the recycled, vintage vibe of the rest of the market exhibits.
Thrifting isn't the only thing going on at Glebe. Its lively group of youngsters attracts spectacular street food and live music.
So enjoy one of the many live bands while digging through decades of gorgeous clothing finds or while relaxing back on a lunch break from all the shopping Sydney's weekend markets provide.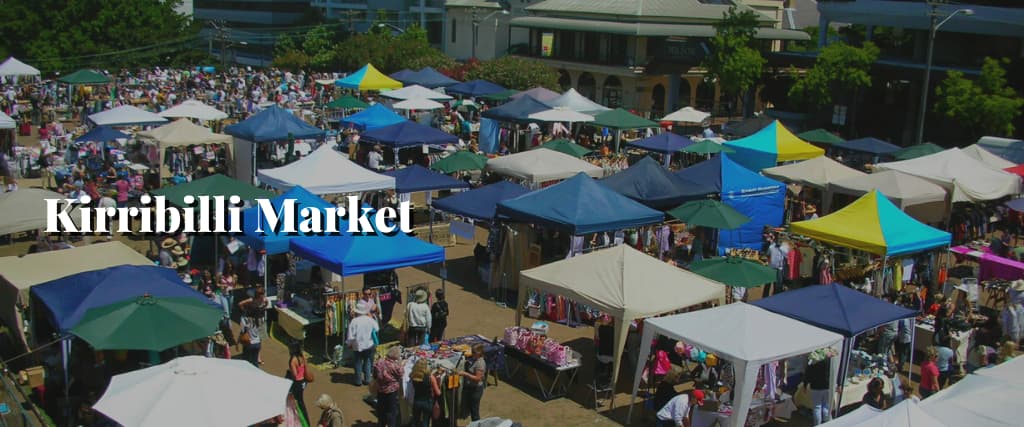 Hours: Sundays 9 am – 3 pm
Address: 16-18 Fitzroy Street, Kirribilli, NSW 2061
Kirribilli Market is famous for being one of the oldest markets in Sydney, starting back in the 1970s' and continuing strong today. This picturesque piece of history along the famous Sydney harbor has so much to offer.
New and thrifted vintage fashion and the accessories and jewelry to match make the city as a whole a dream destination for anyone obsessed with vintage styles. There are also booths full of arts and crafts, including paintings from up-and-coming local artists and handmade jewelry.
The market also has plenty of housewares and plants to always remind you of that weekend spent in Sydney exploring all the markets. And no market is complete without gourmet food to enjoy! Kirribilli Market also has live music to enjoy as you enjoy your food, shop, or just stop and breathe in the art.
There is guaranteed something for everyone at Kirribilli Market, whether it be the shopping, the food, the history, or just the bustling environment. All of the money raised from the stall rent goes toward the Kirribilli Centre and the programs they host there.
Hours: Saturdays 8 am – 1 pm
Address: 245 Wilson St, Eveleigh, NSW 2015
Another beautiful farmer's market, Carriageworks Market, is open a little earlier than some of the other weekend markets, especially on Saturday.
Carriageworks Market is a chef's delight and will excite anyone you know that loves good food and cares about how it's made and where it comes from. The producers and farmers at Carriageworks Market are eager to share the rich history and stories that come from their fresh seasonal produce and the artisan goods they make.
Carriageworks Market offers a broader selection of farm-fresh goods other than produce or honey, and it is home to stalls with plenty of meat and eggs. You can talk to the people that harvest and raise the animals and can see from just their eyes that their animals are treated with the utmost love and care.
That same devotion is evident in the fruits and vegetables that come from there, with love clearly being the secret ingredient to a tasty treat. Beautiful artisan wines, herbal teas, and coffee are also plentiful at Carriageworks Market, and they usually have a nice assortment of freshly cut flowers.
7. Rocks Market
Hours: Saturdays & Sundays 10am – 5pm
Address: Playfair Street and George Street, The Rocks, NSW 2000
Rocks Market prides itself on truly being for the "makers" of all kinds—food, the arts, fashion, and accessories. Pet-friendly and located on some of Sydney's oldest cobblestone streets, Rocks Market is a stunning glimpse of a different time in Australian history, and they are proud to be all about Australia.
Here you will find plenty of art prints about Australian wildlife and iconic spots, rare jewelry, and eco-friendly clothing, all made from materials or by people that you will only find in Australia, making this the best market for unique souvenirs to help you really capture the memory of your trip and keep it with you.
Like so many of the wonderful markets in Sydney, the Rocks Market has so many choices for gourmet street food and plenty of time to enjoy it into the evening.
They also usually put on different events, from yoga to live music, so there will likely be something going on when you visit. Either way, the Rocks Market is a fantastic place to meet local artists in Sydney that you wouldn't find anywhere else.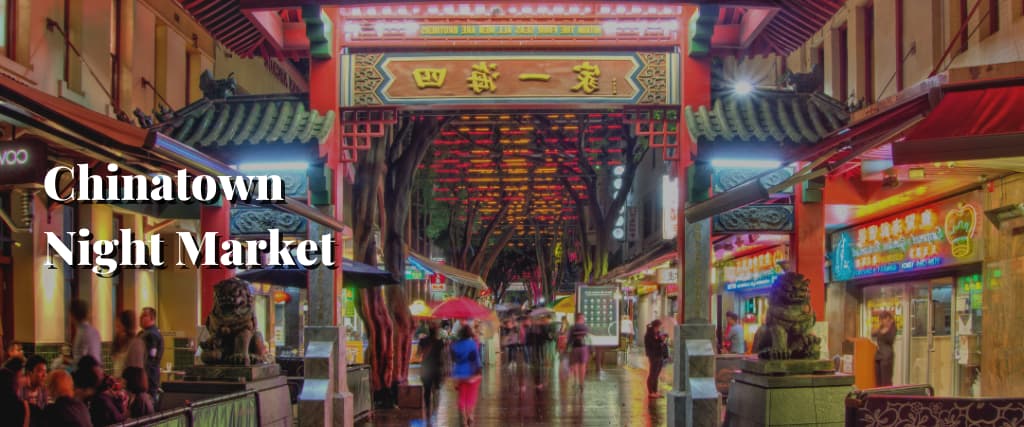 Hours: Fridays 4 pm – 11 pm
Address: Little Hay Street & Dixon Street, Haymarket, NSW 2000
The Chinatown Night Market is the perfect way to kick off a full weekend of visiting Sydney's beautiful markets. The highlight of this market is the diverse selection of top-quality Asian street food. There is something for everyone to enjoy with dishes from Vietnam, Japan, Korea, Taiwan, and Malaysia, whether you're seeking a new experience or longing for old comforts.
Being in this market late at night enjoying the delicacies from across Asia while still being immersed in Australian culture is a night you will never forget and an experience unlike any other.
You'll find a lot more than just food at the Chinatown Night Market, though! Clothes and jewellery are also on display—primarily from young entrepreneurs with a passion for design.
So many of these young dreamers are students looking to honour their Asian roots or draw inspiration from the culture. Other booths feature homewares and electronics, and so many more gifts whether you are a tourist or live in Sydney.
Hours: Saturdays 9 am – 3 pm, Sundays 9 am – 2 pm
Address: 663 Darling Street, Rozelle NSW, 2039
From the title alone, it is easy to tell that the Rozelle Collectors Market is the place for a collector or anyone that loves vintage fashion and goods! Amidst the stalls there, you will come across vintage clothes, antique books and homewares, vinyl records, and so many more unique treasures. There is plenty to sift through, which may be your absolute dream.
This particular market has been around for 20 years, meaning that the Rozelle Collectors Market is working its way to being an antique all on its own.
Until then, however, they will still be offering a blast from the past in their well-loved and well-maintained products. Of course, anyone can be fascinated by a stroll through the stalls, but for the collector and vintage fanatic in your life, this weekend market is a must-visit!
On Sundays, the Rozelle Farmers Market also opens alongside the Collectors Market, forming the Rozelle Farmers & Collectors Market, giving you yet another spectacular place to do your Sunday grocery shopping, especially if you barely need an excuse to bring home a new-old skirt with the weekly produce.
Hours: Monday – Saturday 5 am – 11 am
Address: 212 Parramatta Road, Homebush NSW, 2140
Things begin early at the Sydney Flower Market, where they often get to watch the sunrise over the many buckets of beautiful flowers, making it well worth getting up before the sun does. This market is the central place for everyone in Sydney to get fresh flowers, as it is the wholesale market for shop owners and florists alike.
Anyone looking to sell or buy fresh, beautiful flowers in the city starts their search at the Sydney Flower Market. This means the market is often crowded, but going on the weekends can alleviate some of the crowd of weekday business owners coming in to get fresh flowers for their establishment.
A visit here can easily be fit in with visiting other markets in a long weekend of touring as many of Sydney's incredible markets since it operates so early in the morning. Still, with more days of operation, the Sydney Flower Market can be its own separate stop on a weekday that allows plenty of time for an afternoon nap.