Although Sydney has a lot of beautiful beaches along its coast, only a few of them are canine-friendly.
Even with leashes on, canines are not permitted on most Sydney beaches. Considering the number of dogs in the area, this is pretty upsetting.
Fortunately, you can still find some beaches where canines are welcome to join their owners. There are 15 canine-friendly shores within Sydney where you can take your best companion to play on the sandy beaches and the sea.
Top 15 Canine-Friendly Sydney Beaches
Before visiting any of these shorelines, check the local council webpages for updated information about on- and off-leash periods.
1. Sirius Cove Reserve
This reserve is located in Sydney's lower north coast district of Mosman and is reputable as one of the best canine-friendly sites in Australia.
Charming Little Sirius Cove is known for its secluded beach, playgrounds, and extensive picnic spot.
As it looks south into the vast bay that feeds into the beautiful waterway of Sydney Harbour, this 250-meter wide beach is surrounded by sandy stone walls. Getting wet is a hassle, but your dog won't mind since the water is calm and shallow.
Monday through Friday, dogs of all sizes are welcome to run free on the playground, on the sand, and into the ocean all day long. However, off-leash time is restricted to the hours before 9 a.m. and 4 p.m.
2. Clifton Gardens Beach
Thanks to its rocky shoreline, gated playground, restrooms, and picnic facilities, this beach has been a go-to recreation destination for families since the 1800s.
The famed Balmoral and Taronga Zoo hiking circuits are a few of Clifton Gardens' many attractions.
There is plenty of room for dogs to run about in the parks, beaches, and even the ocean, making this beach a popular destination for canines.
However, there are certain limitations. From April through September, canines can only be let loose before 9 a.m. and after 4 p.m. And from October till May, the off-leash time is adjusted to the hours before 9 a.m. and after 6 p.m.
3. Spit West Reserve
Located at Mosman's Spit Bridge, this reserve contains a low-tide beachfront.
During the week, dogs can roam free on the beachfront and in the sea from Monday through Friday. However, on Saturdays, Sundays, and any public holidays, dogs can only be let loose before 9 a.m. and 4 p.m.
4. Clontarf Reserve Beach
This location contains a café and cafeteria, playgrounds, restrooms, and beach access. On hot days, the many tall trees provide some much-needed shelter.
This swimming enclosure contains shallow water, which is excellent for canines that like to romp about in the water. Despite the beach's popularity among dog owners, dogs must be tethered and can only be allowed into the park between 10 a.m. and 6 p.m.
Fortunately, dogs can play free when they reach the Sandy Bay dog area north of Clontarf Reserve.
5. Flora and Ritchie Roberts Reserve
This reserve is located in Curl, bordering Freshwater Beach and Dee Why. There are grassland dunes and a beautiful lagoon where canines may run wild. It also contains canine waste containers, restrooms, and drinking areas, making it a fantastic place to bring your pet.
Fortunately, dogs are allowed to play without a leash.
6. Bayview Dog Park in Rowland Reserve
This park is located on Pittwater Road on Sydney's northern shores and is one of Sydney's most famous dog playgrounds.
In addition to a large grassy field, it also offers beach access into Pittwater, conveniently located close to the boat's launching zone.
If your canine needs an expert wash, you'll find mobile pet wash services in the parks on weekends.
7. Glebe Foreshore
You can find several dog-friendly playgrounds and locations on the edge of Glebe Foreshore. However, if you're looking to have fun with your furry friend off the lash, you'll want to move to Federal Park, situated on the west side of the Johnstons Creek Canal.
In the vicinity of the Federal Park Picnic Shelter, you'll discover a tiny shore where you can access Rozelle Bay through the water.
Dogs enjoy playing on strips of sand, so the adjoining park areas make this a perfect place for your canines to run around and have fun with other people.
8. Rose Bay Beach and Dumaresq Reserve
The Rose Bay shoreline between Dumaresq Reserve and Percival Park is dog-friendly at all hours, and canines do not need to be tethered.
With a stunning view of Sydney Harbour, this place is an ideal setting for you and your dog to spend hours relaxing together in the sun.
Your canine is also permitted in several other parks in the surrounding area, but only if it is on a leash.
9. Bellamy Beach at Rose Bay Park
Rose Bay, situated opposite the ferry terminal, is a canine-friendly park and beach.
Canines are supposed to be on a leash in this location, but this law is not strictly enforced.
10. Kutti Beach in Vaucluse
Located between Parsley Bay Reserve and Watsons Bay in Vaucluse, Kutti Beach is one of Sydney's best-kept secrets. It is a slight stretch of sand that is peacefully hidden away between the two parks.
You could think you're on a bit of deadlock street, which you are in a sense, but don't turn back since the staircase is somewhere around if you look carefully enough.
Even though pets are only supposed to get on the shores if they're on a leash, you'll find plenty of dogs splashing around in the water, and no one seems to mind.
11. Lady Robinsons Beach in Kyeemagh
A dog-friendly destination since 2018, this beach has grown in popularity over the years.
Although it is a somewhat small space, your dog will have a memorable time roaming and interacting with other dogs.
Dogs can play untethered between 4 p.m. and 10 a.m., seven days a week.
12. Botany Bay Foreshore Beach
This beach is somewhat of a secret treasure for canine owners and companions. However, it is not Sydney's most excellent canine-friendly park and beachfront.
Dogs are allowed on the shore, but they must be kept on a leash.
The easiest way to get to this location is via Foreshore Road, where there is an ample parking space with signs directing you to the boat launch.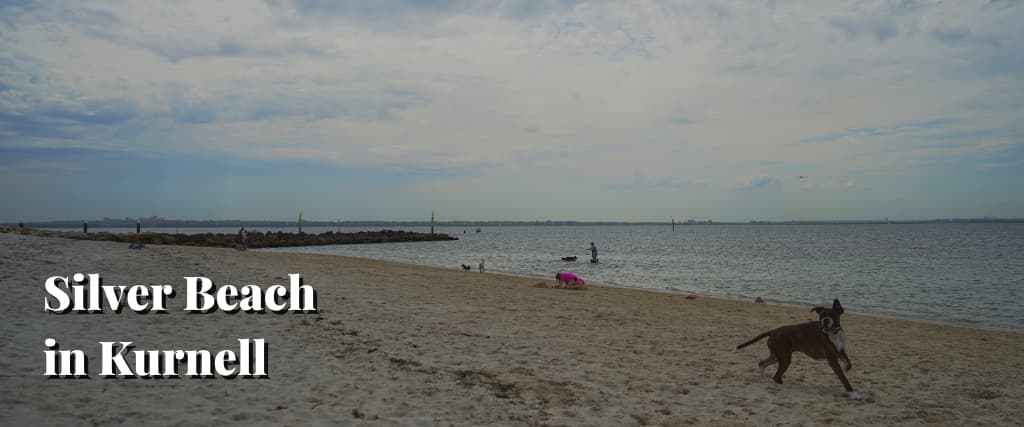 13. Silver Beach in Kurnell
This beach is known for its low tides and slight waves, making it ideal for pets to play on the beach.
You'll find lots of street parking in the neighbourhood, mainly around Prince Charles Parade.
14. Greenhills Beach in Cronulla
Greenhills Beach is next to Wanda Beach and is just across a new suburb with the same name. It is the only pet-friendly beach with ocean views in Sydney.
Even though there is a vast parking space, this famous place quickly becomes filled up on sunny days.
Dogs are allowed to roam untethered before 10 a.m. and after 4 p.m. every day. The beach has enough room for pets and people to relax, so it never gets overcrowded, even when there's plenty of traffic.
15. Horderns Beach in Bundeena
The famous Horderns Beach is open all year round.
From September to April, dogs are permitted to play without a leash before 8.30 a.m. and after 4.30 p.m. on weekdays.
What of Station Beach in Palm Beach?
Also known as Barrenjoey Beach, Station Beach is 1.5-kilometre sand facing Pittwater.
Only tethered dogs can get on the southern half of Station Beach, which officially became dog-friendly in 2020 after a 12-month trial period.
However, due to a judgment by the Land and Environment Court, dogs are no longer allowed on Station Beach.
While we wait for Station Beach or any other beach on the Palm Beach peninsula to reopen to dogs, we'll leave it on this list for now.