For those who want a romantic getaway, New South Wales is blessed with so many fantastic destinations.
From luxury villas over the lush Wolgan Valley, and stunning hinterland properties in Byron Bay, to quaint cabins on working horse farms in Moss Vale, and enchanting caves in the Blue Mountains, you are spoiled for choice when it comes to organising a few days away with your loved one.
While this is a massive fillip to the state, it can also be a source of struggle for some couples when it comes to deciding where they should go.
But don't worry, because we've got you covered, with this list of 16 romantic getaways in New South Wales.
Pick any of these places to go to, and the amorous levels should well and truly rise!
Wilga Station
Address: 1611 Mid Western Hwy, Evans Plains NSW 2795
A 260-acre working sheep farm might not sound like the most romantic of places to head for the weekend, but you'd be surprised what they have available at the Wilga Station.
Situated about 15 minutes from the historic city of Bathurst, this is a great place to come if you love wine, as there are a number of cellar doors you can visit in the surrounding area of Orange.
Onsite at the Wilga Station they offer two very well-appointed and presented accommodations which provide guests with a taste of what idyllic country life is like.
Think strolling along walking tracks, swimming in a willow-lined creek and admiring stunning landscapes that radiate under the glow of sunset.
Being in a country area, you will also be treated to food and wine made from fantastic local produce as well.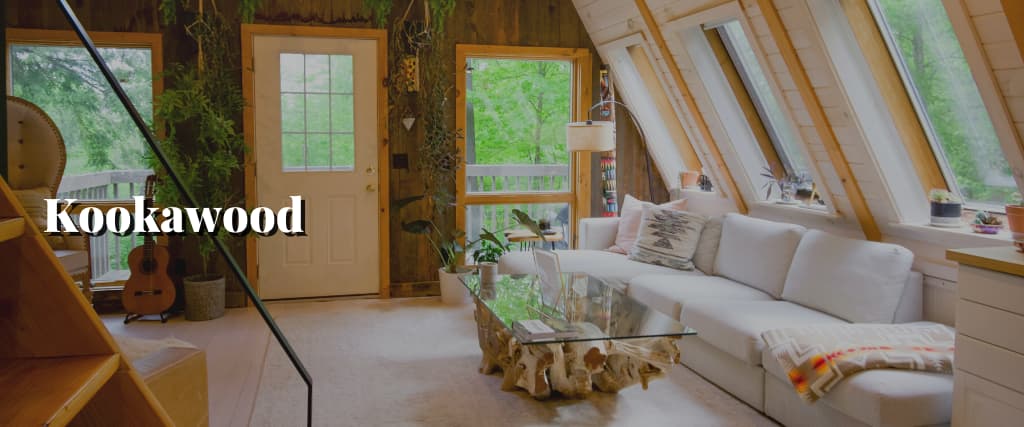 Kookawood
Address: 271 Martins Rd, Rydal NSW 2790
The Blue Mountains boasts several romantic spots and one of the coolest of them can be found at Kookawood.
Made with reclaimed doors and windows, and recycled timber beams from various hotels and country properties in the area, this unique property oozes with character.
Filled with an eclectic mix of rustic country furniture and quaint antiques, the farmhouse has two bedrooms which both feature verandas that wrap around. Designed with an open-plan kitchen,
dining and lounge it also accommodates large windows that showcase sensational views of the World Heritage Site.
Set on 200 acres, you can spend your time when you are not exploring the Blue Mountains, wandering around its grounds, or sitting by its fantastic open log fireplace.
Emirates One & Only Wolgan Valley
Address: 2600 Wolgan Rd, Wolgan Valley NSW 2790
The Emirates One & Only Wolgan Valley is another romantic destination to head to in the Blue Mountains when you want some couples time.
Located within a 7000-acre wildlife reserve, these eco-friendly deluxe villas allow you to immerse yourself in luxury. Not only do guests at each villa get to enjoy a private swimming pool, they can also relax in front of a double-sided fireplace too.
During the day, you can spend your time going on nature walks, horse riding, going on four-wheel drive safaris or mountain biking around the property.
If you would prefer something a little more low key, each villa also has a fabulous verandah, that provides breathtaking views of the valley, especially when the sun starts to set.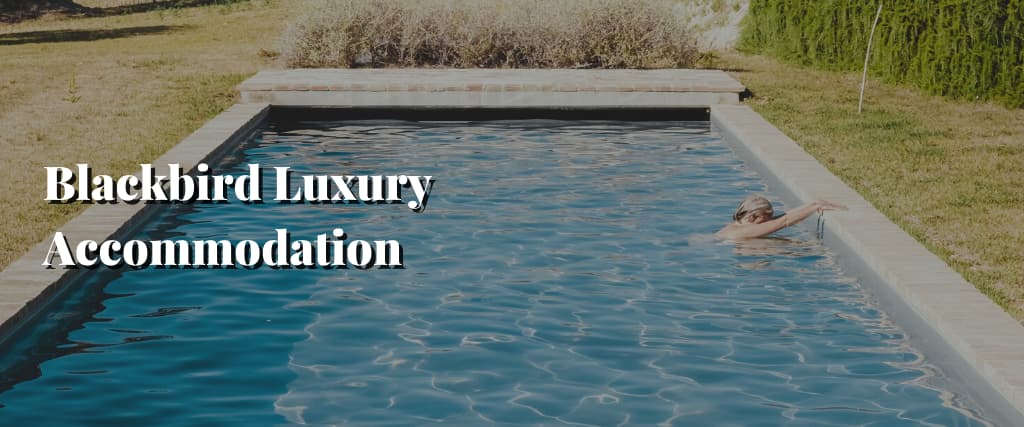 Blackbird Luxury Accommodation
Address: 210 Frasers Rd, Mullumbimby Creek NSW 2482
Don't want to be disturbed by kids on your romantic trip away? Then the Blackbird Luxury Accommodation in Mullumbimby is a great place to go.
Offering adults-only accommodation, this fabulous resort offers an outdoor swimming pool, sauna, well-stocked bar and beautiful garden.
Guest rooms here come with a private bathroom and free deluxe toiletries. Bed linen, a seating area and a bbq also feature in the rooms, while there is also a shared kitchen, 24 hour front desk and luggage storage available for guests to use as required too.
La Riveraine
Address: 49 Kalinda Rd, Bar Point NSW 2083
For something that oozes with character and charm why not pay a visit to La Riveraine in Bar Point?
Delightfully restored, this classic 1950s riverside cottage provides guests with complete seclusion and serenity. So it is the perfect place to enjoy a quiet getaway with the one you love.
Offering a plunge pool, a private jetty, several terraces and a quaint pontoon, there is plenty to occupy your time during the day. Whilst the opportunity to take in a beautiful sunset or cuddle up under the stars should not be missed either.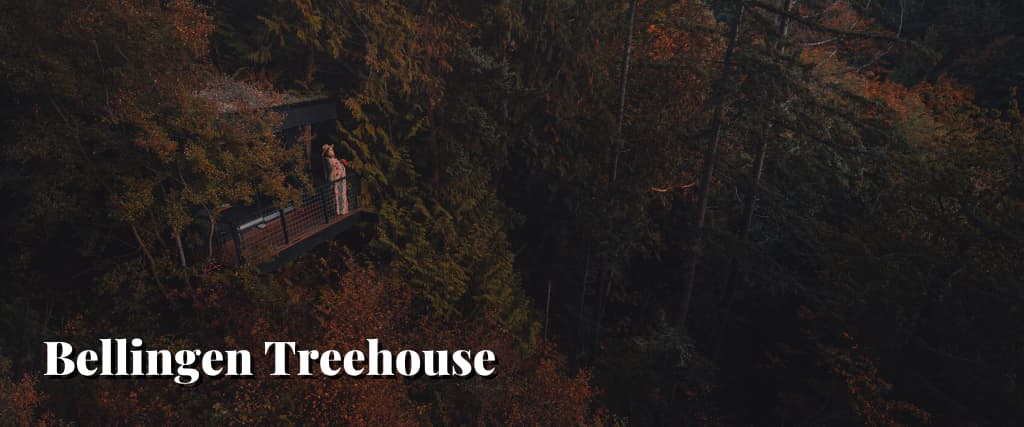 Bellingen Treehouse
Address: 989 Promised Land Rd, Gleniffer NSW 2454
For a truly unique experience why not stay at The River Room at Bellingen Treehouse?
Situated in the stunning Bellinger Valley, in northern New South Wales, this accommodation offers you the chance to stay among the treetops that reside on the banks of Never Never Creek.
Providing you with a sensational view of the surrounding woodland, you'll be able to enjoy your intimate surroundings in complete seclusion.
When not staying in the treehouse you will be able to swim, kayak or canoe in the freshwater creek that runs beneath the accommodation. Alternatively, you might want to head to Belongil and Dorrigo National Parks. Both of which are not too far away.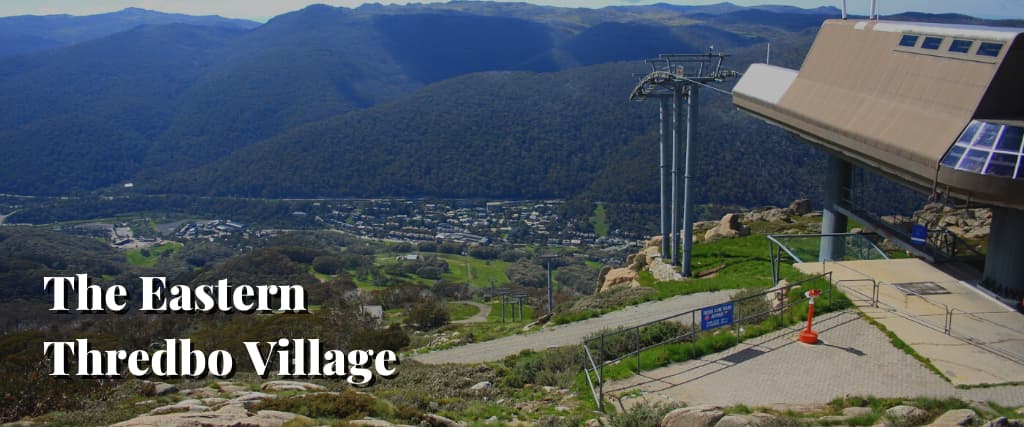 The Eastern Thredbo Village
Address: Diggings Terrace and, Bobuck Ln, Thredbo Village NSW 2625
Positioned right on the Thredbo River, the Eastern Thredbo Village offers incredible views of Mount Kosciuszko.
Accommodation here features a kitchen that comes with an oversized island bench, and top of the range appliances, which is perfect for making those romantic meals.
There is also a fabulous window seat which is great for snuggling up with a coffee, whilst taking in the uninterrupted views of Thredbo Village.
Other features of the gorgeous property include underfloor heating in the bathroom, as well as a Japanese-style Onsen. The loft bedroom also has an impressive ceiling that is constructed with timber that is rough-sawn and textural.
99 Acres Bangalow
Address: 75 Rifle Range Rd, Bangalow NSW 2479
Although Byron Bay is noted for its incredible coastline, you'll want to head there to stay at the wonderful 99 Acres Bangalow Retreat.
Set atop a verdant hill, within 99 acres of lush private hinterland, this property offers guests a couple of accommodation options. One of them is their self-contained villas, which are bathed in light, and
showcase magnificent 360-degree views of the surrounding hinterland, which you can take in from a private balcony. The other is suites in the guesthouse that convey equally impressive views.
If staying in the guesthouses you will also be able to use a number of common areas, including a kitchen, dining room, laundry, lounge and media room.
All guests will also be able to use a fabulous swimming pool, sun terrace and outdoor fire pit during their stay here too.
Spicers Sangoma Retreat
Address: 70 Grandview Ln, Bowen Mountain NSW 2753
Another lovely spot to head to for a romantic getaway in the Blue Mountains National Park is the Spicers Sangoma Retreat.
Eco-certified, this property is surrounded by the jaw-dropping scenery that will inspire you to rest and relax.
Offering deluxe accommodation, each suite comes with a kitchenette which is fully equipped. They also feature a private bathroom, that comes with a bathtub and complimentary toiletries, as well as a flat screen television and a cosy seating area that have a very comfortable sofa.
Guests at the property can also enjoy the use of an outdoor swimming pool, sauna and restaurant onsite. In addition, spa treatments are also available at an additional cost. Hiking opportunities abound too.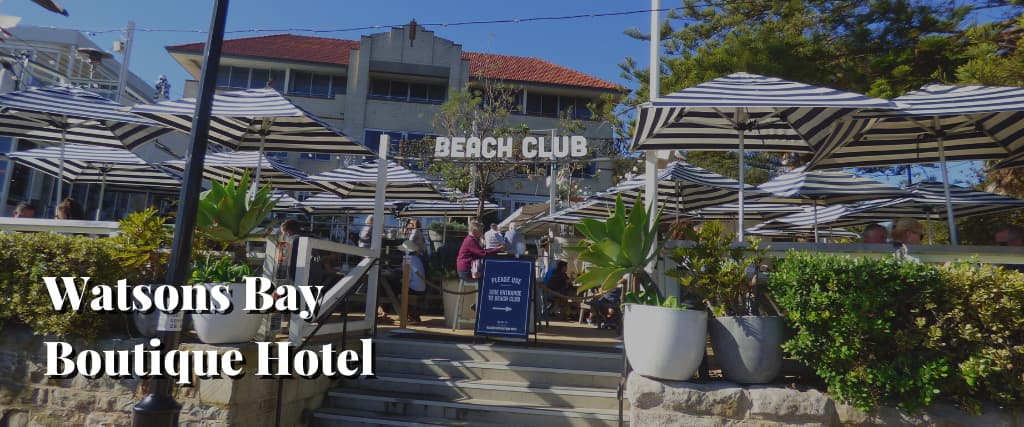 Watsons Bay Boutique Hotel
Address: 1 Military Rd, Watsons Bay NSW 2030
For those who want a romantic getaway near the beach, Watsons Bay Boutique Hotel is a fantastic choice.
During the day you will be able to walk, swim, surf or sunbathe on the beach, or check out the iconic and historic Hornby and Macquarie lighthouses.
The accommodation itself offers 32 rooms and suites that are light and airy. Each of the rooms is furnished with a king-size bed, has big, private marble bathrooms and showcases fabulous views of the headlands.
Should you need pampering, the hotel also provides plenty of blissful opportunities to enjoy that.
Hideout Cabin
Address: Moss Vale
Located in Moss Vale, the Hideout Cabin is a unique accommodation option within the Southern Highlands.
Set on the fringes of a picturesque dam within a 150-acre working horse farm, this exclusive, tiny and deluxe cabin, features stunning timber cladding that has been whitewashed and left exposed.
Offering you total isolation, it also has huge windows, as well as a massive deck that hangs over the dam.
The perfect place to come if you fancy a weekend of reading, listening to music and watching Netflix, the beauty about this place is that you don't have to go anywhere if you don't want to.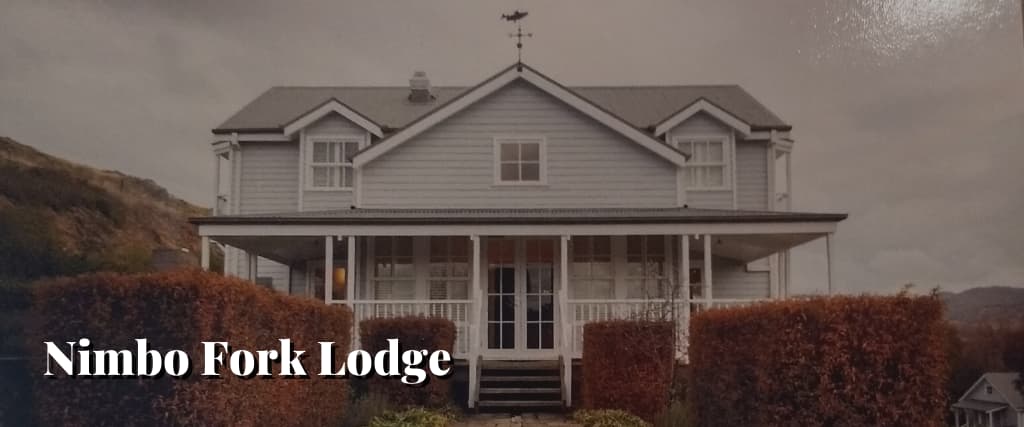 Nimbo Fork Lodge
Address: 330 Nimbo Rd, Killimicat NSW 2720
Providing you with amazing views of rolling hillsides and lush grasslands, the Nimbo Fork Lodge is a stunning place to spend a few amorous days.
Situated in Killimicat, near the town of Brungle, this property is a hiker's paradise. Providing you with plenty of opportunities to explore the nature that surrounds it.
Rooms here are non-smoking and come with a private bathroom that has complimentary bathrobes and towels. They are also furnished with a fridge, kettle and seating area. Some have a patio or balcony that affords stunning river and mountain views as well.
The restaurant onsite is renowned for serving up delicious meals, while guests can also go fishing, or play billiards at the property as well.
Spicers Guesthouse
Address: Ekerts Rd, Pokolbin NSW 2320
Over in Pokolbin, in the heart of wine country, Spicers Guesthouse is the place to go if you love wine.
A number of award-winning cellar doors are located in the area, including the famous Tyrrell's Wines which is just 900 metres from the property.
Recently renovated Spicers also provides guests with comfortable accommodation, with rooms that feature air conditioning, a private bathroom that comes with a shower and a flat screen TV.
The facilities and amenities onsite are very good too, with a tennis court, outdoor swimming pool and the modern, Italian, Éremo Restaurant, being available to guests.
For those who want to visit the Hunter Valley Gardens, you could even walk there as its only 1 km from the property.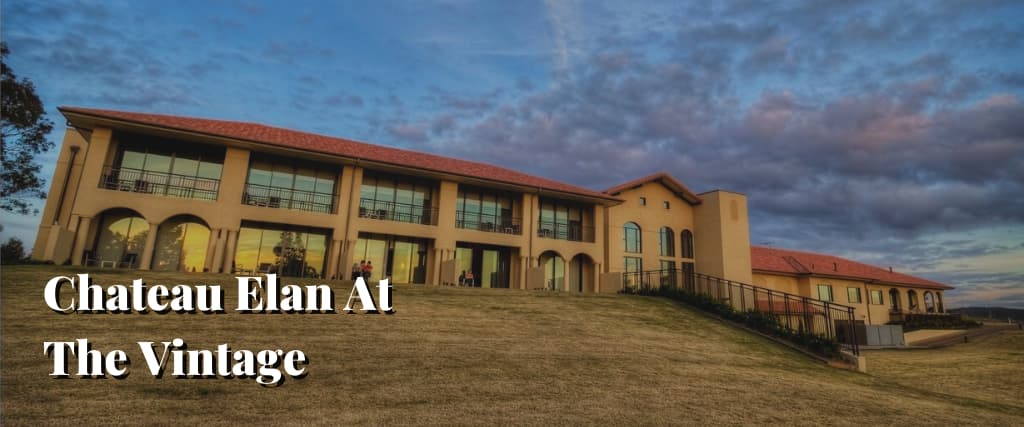 Chateau Elan At The Vintage
Address: Vintage Dr, Rothbury NSW 2320
Quietly tucked away between immaculately groomed fairways and picturesque rolling vineyards, The Chateau Elan At The Vintage is arguably the most romantic place for a getaway on this list.
An award-winning property, it combines a championship golf course, with a world-class spa and top-class accommodation. All of which add up to a fabulous retreat for couples who want to spend some quality time together.
Accommodation here is hotel style and ranges from villas to deluxe spa suites that present jaw-dropping views of vineyards and the beautiful landscape that surrounds the venue.
Even if you are not into golf you will love the range of amenities on offer, which includes a restaurant that serves up sensational cuisine.
The Enchanted Cave
Address: Bilpin
Fancy staying in a cave? Well, that is what you can do in the Enchanted Cave at Bilpin!
Located within the Blue Mountains, this incredible clifftop cave has been constructed on a naturally formed rock platform.
While the cave offers amenities that are basic and rustic, this is a unique experience that you can't get elsewhere in the Blue Mountains.
The round front door is a quirky feature that brings to mind The Hobbit, while the views on offers will leave you speechless.
During the day there are plenty of opportunities for bushwalking and exploration. While the sunset and starry sky at night are two things you won't want to miss.
Sierra Escape
Address: 1345 Lower Piambong Rd, Piambong NSW 2850
If the cave sounds too much like roughing it for your liking then consider a stay at the Sierra Escape.
Located in Piambong, this award-winning, deluxe, eco-friendly glamping experience is strictly for adults only.
Sprawled across 280 acres of fabulous rolling hillsides, this escape provides scintillating views, as well as access to many different species of Aussie flora and fauna.
All of the glamping tents have been designed with your utmost levels of comfort in mind. They have also been made with top-quality materials that are Australian made.
Very comfortable to stay in, they have huge windows that bring in a lovely breeze in the height of the
summer. They are also very well insulated too to provide warmth during the winter months.