Now that lockdown has been well and truly consigned to the past, Sydneysiders are free to explore their beautiful city as they see fit.
The trouble is, with so many fantastic sites, attractions and general things to do in the area, it can be difficult to know where to start.
Thankfully we know the city well, so to save you some time we have compiled this list of 19 awesome Sydney experiences to do in 2022.
Do at least one of these activities every month and you'll soon reacquaint yourself with the Emerald City.
Swim at Olympic Pool in North Sydney
Ever since Ian Thorpe, Michael Klim and Grant Hackett famously won their golds at the Sydney Olympics, the North Sydney Olympic Pool has become a quintessential experience for those who love to swim.
Despite its rich history in elite competition and grandiose art deco design, entry to the pool is quite affordable.
As well to the fabulous outdoor pool which showcases incredible views of the Harbour Bridge, there is also an indoor pool, kids pool and crèche within the complex. So why not channel your inner dolphin and enjoy a few laps at this legendary venue.
Address: 4 Alfred Street South, Milsons Point NSW 2061
Phone: (02) 9955 2309
Trading hours: Mon – Fri 6 am – 7 pm, Sat – Sun 8 am – 5 pm
Price: $8.50 entry fee
Climb Sydney Harbour Bridge
Hands up who has never climbed the Sydney Harbour Bridge?
Well, you are not alone. You will be surprised how many people have lived in Sydney for a long period – some all their lives, and never climbed the bridge.
Granted, if you are afraid of heights it's not something you would be inclined to do. But if you aren't, and you love panoramic views, then now is your chance to tick this item off your bucket list.
During the course of a 3 hour's experience, you will be securely attached to the bridge for the whole
time.
As you traverse your way to the summit, you will be able to see the city like never before. Take in sensational views of the harbour, cityscape and even the Blue Mountains on a clear day, while you are up there.
If you can, try and time your climb to take place at sunrise or sunset.
Address: 3 Cumberland St, The Rocks NSW 2000
Phone: +61 1300 908 057
Price: Starting from $198
See Behind the Curtain at Sydney Opera House
The Sydney Opera House is another thing, no doubt, that you have seen a thousand times from the outside.
But have you ever been inside it?
If you haven't then consider taking a tour inside the building. You will get behind-the-scenes access to parts of this iconic building that most people will never see. This includes the dressing rooms where all the star performers get ready. As well as all the other main performance venues that are located inside it.
During a tour here, you will also get to discover lots of the stories and legendary tales that make up the rich history of this famous Sydney landmark.
Address: Bennelong Point, Sydney NSW 2000
Phone: +61 2 9250 7111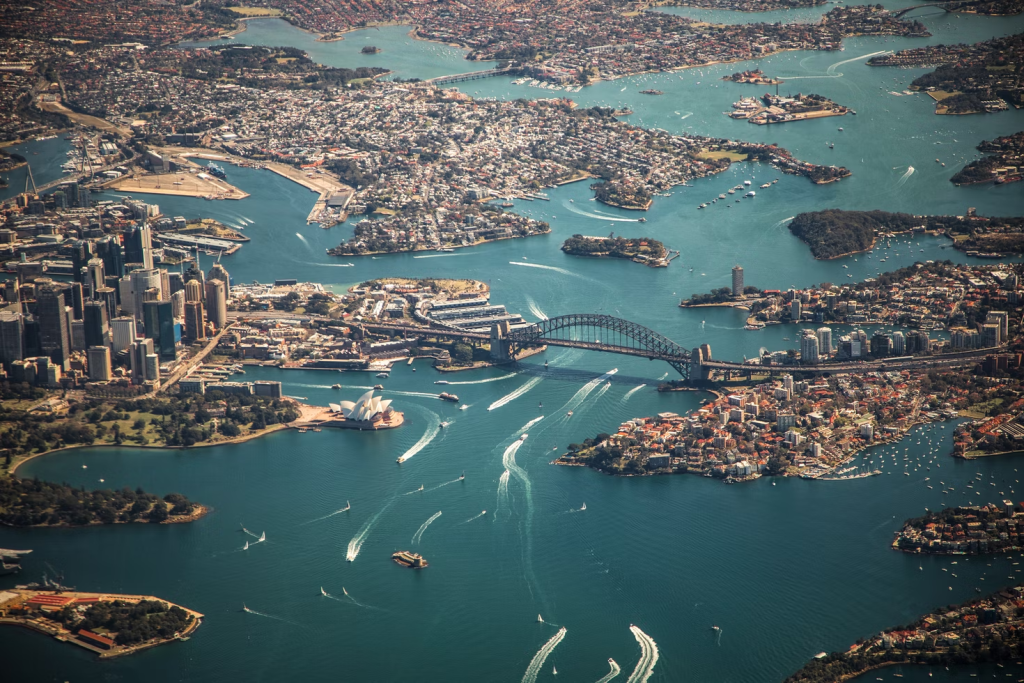 Cosy up with Cats at Catmosphere
For something a little different why not head to Catmosphere?
Located in Surry Hills, this is a brilliant place to come for those who love felines.
Not only will you get to help this fantastic institution care for the cats, and kittens, they have rescued, you can also get to watch a movie, whilst stroking a kitty that is sitting in your lap.
Can you think of a better way to spend your time?
Address: 66 Foveaux Street, Surry Hills NSW 2010
Trading hours: Wed 4 pm – 8 pm, Thu – Sun 11 am – 8 pm
Price: $22 – Cat Lounge or Treehouse, $24 – Playroom, $30 – Cat Yoga class, $38.50 – Catflix Cat Cinema
Scavenger Hunt – Fantastic Race Sydney
Think you know your way around Sydney? Then why not put that knowledge to good use with a fun and immersive scavenger hunt experience?
During this fast-paced and thrilling adventure, you will get to run through the streets of Sydney finding clues, unravelling riddles and solving puzzles to find the loot.
A great experience for adults and children alike, it is a particularly good way to explore the city for those who are new to it.
Address: Meets outside Central Train Station
Phone: +61 477 508 841, 0477 97 65 43
Trading hours: Sat 10 am – 4 pm, Sun 10 am – 4 pm
Paddle around Sydney Harbour
Ever seen the kayakers in Sydney Harbour and thought 'that looks fun!'
Well, maybe it is time to find out for yourself!
The team at Sydney by Kayak run a range of tours which enable you to see Sydney from its waterways.
Starting at sunrise, they run all the way through the morning and even take the form of water bike tours and community clean-up paddles.
It's a lovely way to see popular landmarks, whilst getting a little exercise and reminding yourself that you live in one of the best cities in the world.
Address: 1 Railway Avenue Lavender Bay, Sydney NSW 2060
Phone: +61 1300 503 889
Take the Mic at Dynasty Karaoke
Let's face it, who doesn't like singing in the shower?
Well if you like to belt out 'I will Survive' or 'It's a long way to the top if you want to rock n roll' at the
top of your voice, why not pick up the microphone at Dynasty Karaoke?
Providing you with everything a karaoke bar should be, this loud, OTT and slightly tacky venue always provide a boisterous afternoon or night out.
All up there are 13 private dens for you to belt out a few verses of your favourite song, as well as a sports bar, lounge bar and restaurant.
When not singing, you can even pass the time by playing games like electronic darts.
Address: 1/63 Dixon St, Haymarket NSW 2000
Phone: +61 2 9281 9006
Trading hours: Mon – Sat 8 pm – 4 am, Sun 5 pm – 4 am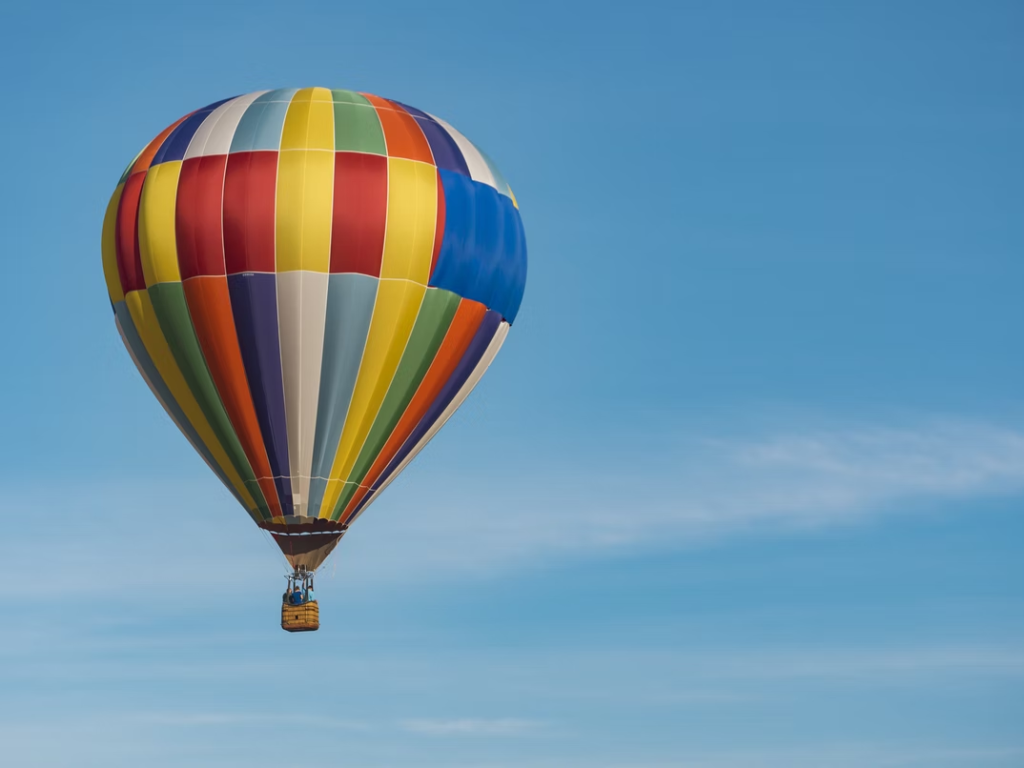 Hot Air Balloon over Camden Valley
While it will involve you taking a drive to Campbelltown, the chance to enjoy a hot air balloon over Camden Valley should not be missed.
Generally lasting an hour, the flights enable you to see some of the most beautiful landscapes in New South Wales. Just be sure to take the time to fully appreciate them, in between snapping shots for your Insta feed.
Taking place around sunrise – which is a stunning sight to behold – you will be treated to a champagne breakfast, once you have completed the flight.
Address: 15 Old Menangle Rd, Campbelltown NSW 2560
Phone: +61 2 4990 9242
Trading hours: Mon – Fri 9 am – 3 pm, Sat 9 am – 12 pm
Price: from $259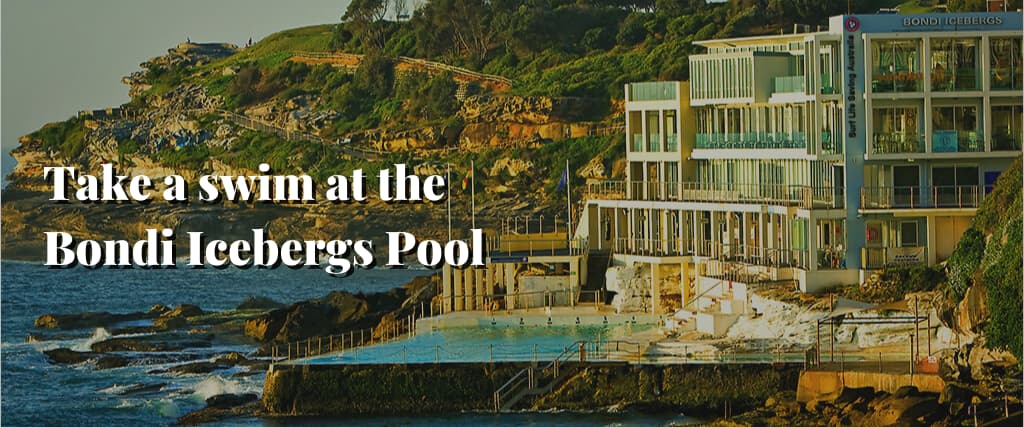 Take a swim at the Bondi Icebergs Pool
The Bondi Icebergs Pool is another iconic water-based venue in Sydney.
Probably the most photographed swimming pool in Australia, its fabulous oceanside location is a great way to escape the summer heat.
Providing all the conveniences of a modern pool in an iconic setting, this is one of those quintessential experiences every Sydney local has to do at least once in their lives.
Address: 1 Notts Ave, Bondi Beach NSW 2026
Phone: +61 2 9130 3120
Become a Virtual Pilot at Flight Experience Sydney
Ever wanted to fly a plane? Well at Flight Experience Sydney you get the opportunity to become a virtual pilot.
In what is a very fun way to experience flying, you will get to sit in the cockpit of a state-of-the-art Boeing 737 training simulator. Guided by a qualified pilot, you will get to take off, and land, at one of more than 24,000 airports around the world.
Located in Ultimo, you can choose from a range of experiences. They last from anywhere between 30 minutes and 90 minutes, and include up to six take-offs and landings, in a range of weather conditions.
Address: Shop 1/173-179 Broadway, Ultimo, NSW 2007
Phone: +61 2 9280 2455
Trading hours: Mon – Sun 10 am – 9 pm
Indoor Climbing & Bouldering at St. Peter's
Let's face it. We all liked to climb stuff as a child didn't we? So why should we stop doing that as an adult?
At the St Peter's Rockclimbing Centre, you can tackle the biggest climbing gym in Australia. Providing you with world-class bouldering and climbing opportunities, these guys have been in operation for almost 30 years.
Boasting toproping and lead climbing on the walls that go up to a height of 16 metres above ground, the venue offers very modern route styles, as well as thousands of different volumes and holds.
Situated just 10 minutes from the Sydney CBD, it is open from 9 am to 10 pm on Monday to Saturday. While it closes at 9 pm on Sunday. It is a great experience which both adults and children will enjoy.
Address: Unit 4C/1-7 Unwins Bridge Road, St Peters NSW 2044
Phone: +61 2 9519 3325
Trading hours: Mon – Sat 9 am – 10 pm, Sun 9 am – 9 pm
Price: from $21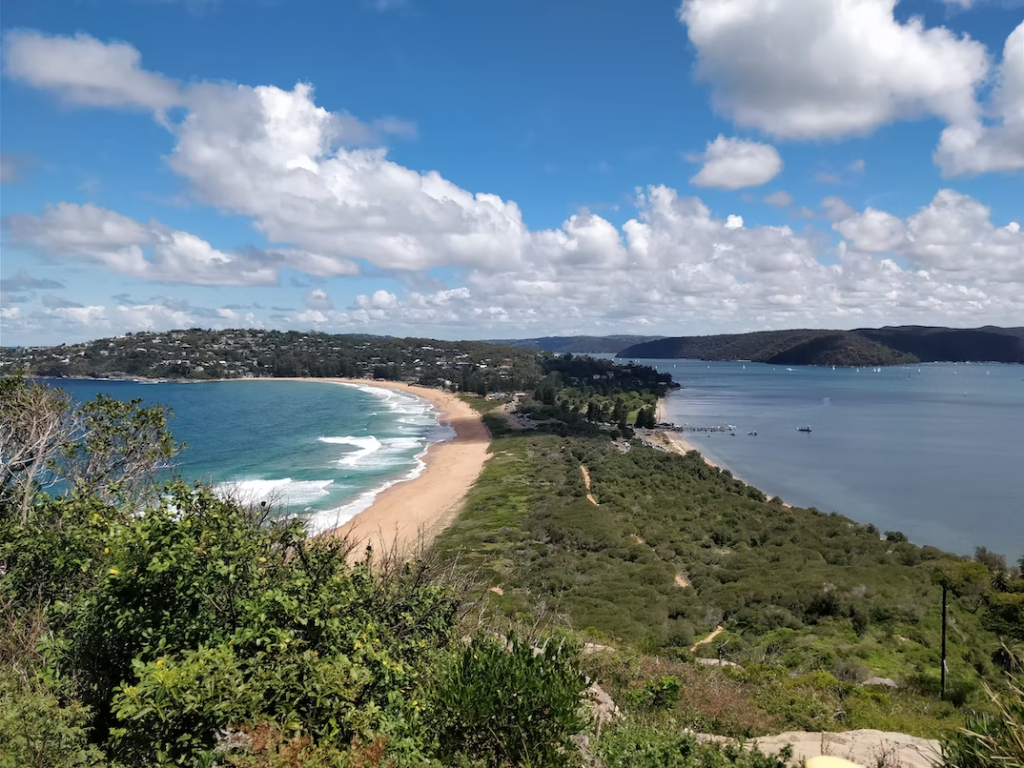 Visit Summer Bay AKA Palm Beach
If you are a fan of the TV show Home & Away, then you will immediately recognise the wonderful landscape of Palm Beach as the setting for Summer Bay.
Situated just an hour's drive from the Sydney CBD it is a fantastic place to sunbathe, relax, swim, and walk along its iconic shoreline.
We can't guarantee you'll bump into Alf Stewart, or Irene Roberts when you are there. But we can guarantee you will have an excellent time overall.
Address: Palm Beach New South Wales 2108
See a Gig at the Lansdowne Hotel
When was the last time you saw a live music gig?
There are few better experiences on a night out than live music, and one of the best places to do this is at the Lansdowne Hotel in Chippendale.
A popular, long-running pub, it features an American diner on its upstairs level, as well as live rock bands downstairs. They even have weekly trivia nights too which can be a lot of fun, while their drinks are very reasonably priced as well.
Address: 2-6 City Road, Chippendale NSW 2008
Trading hours: Thu – Sun 12 pm – 10 pm
Circle around Sydney with Sydney HeliTours
If you have lived in the city for a while, the chances are you have seen quite a lot of Sydney from ground level. So why not take the opportunity to see more of it from a bird's eye view?
You can do just this with Sydney HeliTours, a helicopter tourism company that offers a range of tours, which convey all of the city's main attractions.
Providing you with a fantastic perspective of the Sydney Harbour Bridge, Sydney Opera House and Bondi Beach, as well as the Hunter Valley and the Blue Mountains, these tours showcase the best of the region in an unforgettable way.
The company will even give you a complimentary ride back to the CBD after they have finished.
Address: 472 Ross Smith Ave, Sydney Airport NSW 2020
Trading hours: Thu – Sun 12 pm – 10 pm
Take Surfing Lessons on Bondi Beach
Considering Australia is a country with an outstanding surfing pedigree, it is amazing the number of Aussies who don't know how to ride the waves.
If you are someone who falls into this category, then why not sign up to take some lessons at Bondi Beach with Let's Go Surfing.
Boasting over 25 years of experience, the award winning team here have taught thousands of people how to surf over the years.
Providing lessons, as well as courses and tours for all age groups, they also have an excellent surf retail store, should you want to equip yourself with the latest gear.
Address: Bondi Beach, Byron Bay, Maroubra Beach
Phone: +61 2 9365 1800
Trading hours: Mon – Sun 9 am -5 pm
Price: AUD $70 (2 hours – Hot Winter Lesson); AUD $185 (3 x 2 hour lessons – Hot Winter Deal); AUD $375 (5 x 2 hour lessons – Surf Easy Plus)
Embark on a Coastal Trek from Spit Bridge to Manly
Find yourself with some time? Then consider taking a coastal trek that will lead you all the way from Spit Bridge to Manly?
Stretching for 10 km, this stunning coastal walk showcases some truly amazing scenery, which includes spectacular bays, lush bushland and plenty of scenic ocean views.
Be sure to take your camera, or iPhone with you, as you will want to stop regularly to capture that perfect Insta shot.
Also, take food and drink with you, as there are a number of pretty picnic spots you can stop at along the way.
Address: Reef Beach Track, Balgowlah Heights NSW 2093
Walk the Bondi to Coogee Trail
If the Coastal Trek from Spit Bridge to Manly is a bit long for you, then the Bondi to Coogee Trail might be a better option for you.
At just 6 km, it is just over half the length of the previous walkway, but the scenery is no less impressive.
As well as plenty of spectacular beaches, stunningly beautiful bays and attractive cliffs, there are several places to stop for coffee, a bite to eat, or just a quick peruse around the shops.
The walk should take you between 2 to 3 hours, and finishes when you reach the golden sands of Coogee Beach.
Address: Arden Street, Coogee Beach NSW 2034
Take a ferry to Cockatoo Island
Ever been to Cockatoo Island? It won't surprise us if you haven't!
Nestled within the heart of Sydney Harbour, Cockatoo Island is, in fact, the largest island in Sydney. A former convict penal establishment and naval shipyard, it is now a UNESCO World Heritage Site, that is rich in history and cultural significance.
Despite this, many Sydneysiders have never been there. Which is a real shame, as it offers plenty of things to see and do. These include guided history and paranormal tours and a contemporary art venue that hosts exciting seasonal events. As well as cafes, picnic spots and even overnight camping accommodation.
The views from the island are pretty spectacular too. So if you have never been there before, this is something you really should do.
Address: Circular Quay Wharf & Darling Harbour
Phone: (02) 8969 2100
Trading hours: Mon – Fri 9 am – 5 pm
Be Entertained at Enmore Theatre
If you really are at a loss for what to do in Sydney, then why not schedule in a visit to the Enmore Theatre?
Offering everything you could possibly want in a venue, at any given time there are stand-up comedy shows, live musical gigs, performance art, dance parties and a host of other events on at the Enmore. Quite often simultaneously as well.
If you are not sure what you feel like doing but are open to anything, this is a terrific place to go.
Address: 118-132 Enmore Rd, Newtown NSW 2042
Phone: +61 2 9550 3666