The breakfast and brunch scene in Bondi is legendary, with thousands of hungry locals, and tourists partaking in it every day.
Whether it's the ubiquitous avo smash, eggs benny, or a full fry-up you are after. Or something a bit more exotic like a shakshuka, salmon poke bowl or a stack of Coffin Bay oysters. There are plenty of places to sate your hunger. And of course, give you a top-quality caffeine fix too!
In this guide, we'll showcase 20 of the best places in Bondi to eat breakfast and brunch.
So if you are planning on catching up with friends, want a quick bite after a swim, or simply need a venue for working lunch, then put these places on your 'must visit' list.
Chapter One
Address: 34 Campbell Parade, Bondi Beach NSW 2026
With its mouthwatering selection of eats and cool Bondi vibe, Chapter One is a terrific spot to enjoy a leisurely breakfast. Or brunch, which may even involve a cheeky wine!
If you would prefer to stick to coffee, the java here is made with Allpress coffee beans on a La Marzocco machine. Which produces a perfect brew each and every time.
Should you not be able to make it there in the morning, try and get there at night. When you can indulge in freshly made pasta, as well as wine and cheese, that are sourced locally and from around the world.
Rocker
Address: 5/39-53 Campbell Parade, North Bondi NSW 2026
Rocker is a veritable institution in Bondi, thanks to its adoring army of regulars.
Much loved for its Single Origin coffee, it also has a wicked breakfast menu that features a mouthwatering selection of toasties, brekkie bowls, cakes and pastries.
Come noon, you'll be able to choose from an all-day lunch and dinner menu that delivers sensational taste sensations in the form of steaks, house-made pasta dishes, and its fresh catch of the day option.
If you fancy more of a liquid lunch, Rocker has a robust wine list that presents a lovely mix of old favourites and contemporary labels. While its small cocktail list includes a delightful house Negroni.
The Pacific Club
Address: 182 Campbell Parade, Bondi Beach NSW 2026
Located right in the vibrant epicentre of Bondi, The Pacific Club is hip, an all-day restaurant and bar on Campbell Parade.
Serving up breakfast, lunch and dinner, they offer a fresh menu that presents dishes made with classic flavour combinations and native Australian ingredients.
Always busy, you might have to wait a short while for a table. But once you get seated, you won't be disappointed with the standard of food or the quality of service.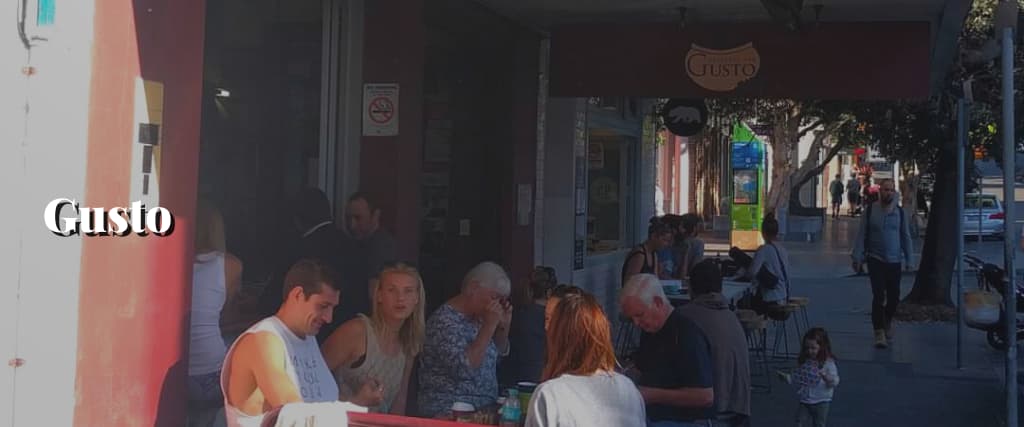 Gusto
Address: 16 Hall St, Bondi NSW 2026
Gusto has been a leading light on the Bondi breakfast and brunch scene for almost 30 years.
Known for its top-notch coffee, which regularly features 'the best coffee in Bondi lists', the venue showcases a deli-style menu.
On it, you will find the likes of bircher muesli, ready-to-go brekkie rolls, fresh pies and savoury pastries and health conscious salads that burst with vibrant colours. All of which you can enjoy in a setting that is casual and very relaxed.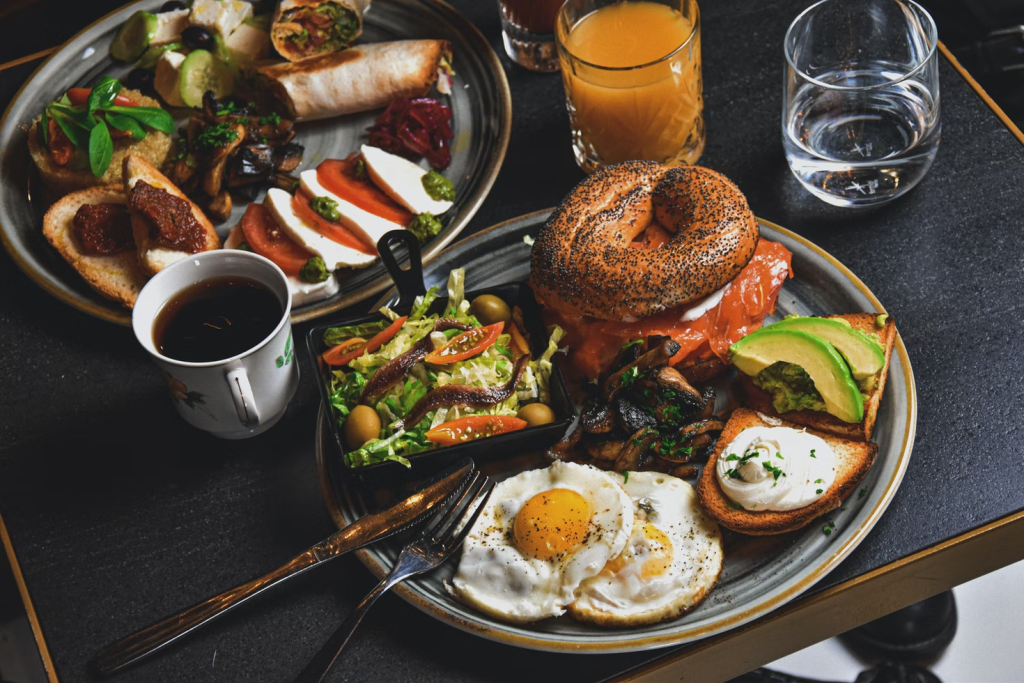 Harrys Bondi
Address: 2/136 Wairoa Ave, Bondi Beach NSW 2026
Harrys is one of the most famous breakfast and brunch spots in Bondi.
Part café, part ethical kiosk and part bar, it serves up an impressive all-day menu that has a selection of hearty brekkie items like fritters and hotcakes. As well as classical lunch items like burgers and big, bold salads.
Their beverage range is equally appealing. With fresh smoothies, kombucha and coffee that is made using V60 filter methods, being just some of the options to choose from.
Bondi Trattoria
Address: 34 Campbell Parade, Bondi Beach NSW 2026
For a really good morning feed head to Bondi Trattoria on Campbell Parade.
Presenting simple, yet delicious Italian food that is heavily inspired by the flavours of the Mediterranean, their menu contains a wonderful mix of soulful dishes.
This includes a lengthy antipasti selection, as well as steak, oysters, pizzas and chips. All are made from ingredients sourced from some of the finest producers in Australia.
Bennett St Dairy
Address: 73 Bondi Rd, Bondi NSW 2026
The farm-to-plate movement has really taken off in Australia, and in Bondi, the Bennett St Dairy is a leading proponent of it.
Focusing on seasonal produce, their menu showcases a delicious mix of classic Aussie breakfast and brunch dishes that have been given a twist.
One of the most popular options of which is the sourdough, which has been topped with avocado, poached egg, roast tomatoes, halloumi and chorizo house beans.
Whilst here, do yourself a favour and enjoy one of their incredible signature coffees. Made on a cutting edge, Victoria Arduino Black Eagle espresso machine, the way it tastes will blow your mind.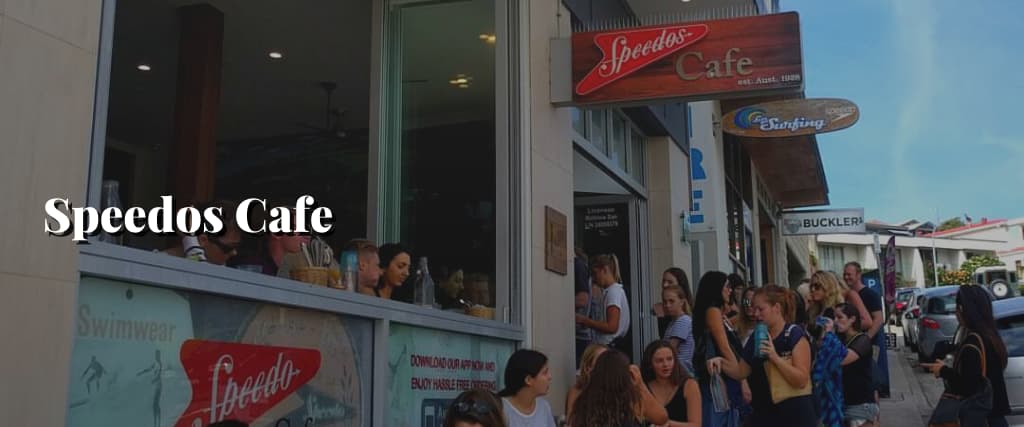 Speedos Cafe
Address: 126 Ramsgate Ave, North Bondi NSW 2026
If you are big into clean eating, and/or have a gluten-free dietary requirement, Speedos Cafe is an excellent choice for you.
Situated in North Bondi, the menu here features everything from acai bowls to toasted bacon and egg brioches.
One of their signature eats is the Pink Pitaya Bowl which comes with veganola and a delightful cocowhip. Which is so beautifully put together, you won't know whether to eat it or display it in your home as modern art!
Parida Bondi
Address: Shop G08A, 180/186 Campbell Parade, Bondi Beach NSW 2026
Like to support a family business whenever you eat out? Then Parida Bondi on Campbell Parade is a place you should definitely head to.
Offering a delectable range of meals that are made completely from scratch using only the freshest of ingredients, this place is much loved for its lip-smacking menu.
Their benedict, avocado and feta smash are a real favourite, which goes perfectly with one of their excellent coffees or smoothies.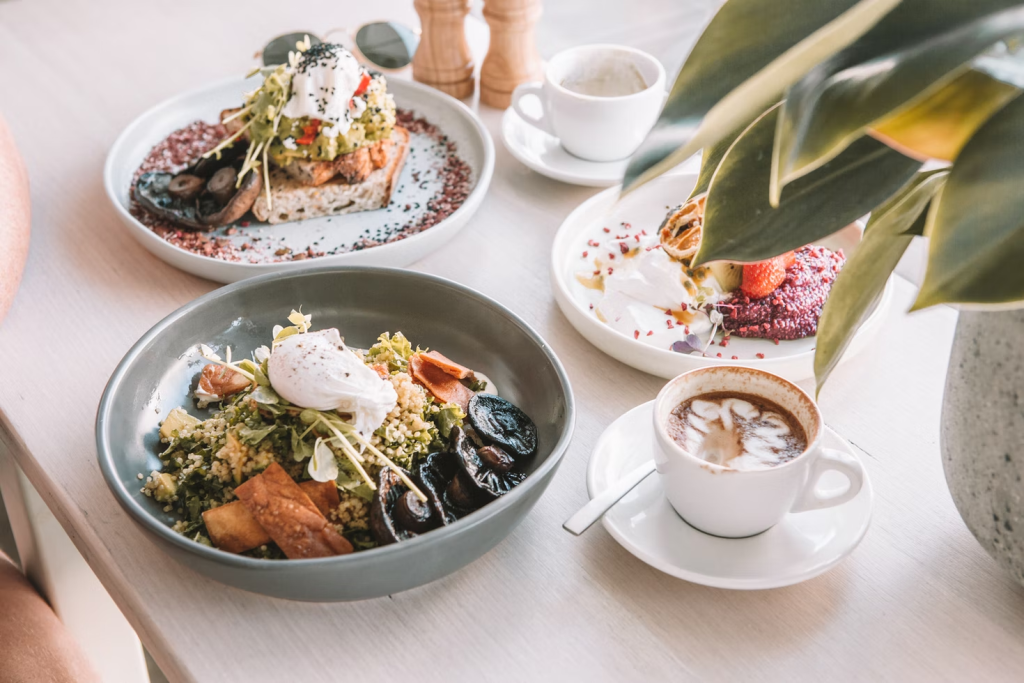 Heart Cafe
Address: Ground Floor, 95 Roscoe St, Bondi Beach NSW 2026
If you like the thought of a cafe that has a social conscience then pay a visit to the Heart Cafe.
Bondi's inaugural enterprise cafe, everything this establishment makes in profit goes to Wayside Chapel's Wingspan Project, which runs a number of programmes to help disadvantaged youth.
Aside from their menu, which features healthy brekkie meals, rolls and salad bowls. One of the best things about the Heart Cafe is that they source a lot of their ingredients from the Wayside Chapel community garden.
Their coffee, which comes courtesy of Gypsy Espresso is very good too.
Umu
Address: 81 Gould St, Bondi Beach NSW 2026
Umu isn't just a cafe. But a total destination.
Not only is it an iconic plant-based and vegetarian cafe and bar, but it is also a food store and wholefoods operator as well.
If you are here to eat, then you won't be disappointed with their breakfast and brunch offerings. It features quiches, sandwiches, salads, wraps and their signature Umu omelette. A delicious coconut and turmeric omelette that is served with perfectly cooked stir-fried vegetables, as well as a tangy lime and ginger dressing.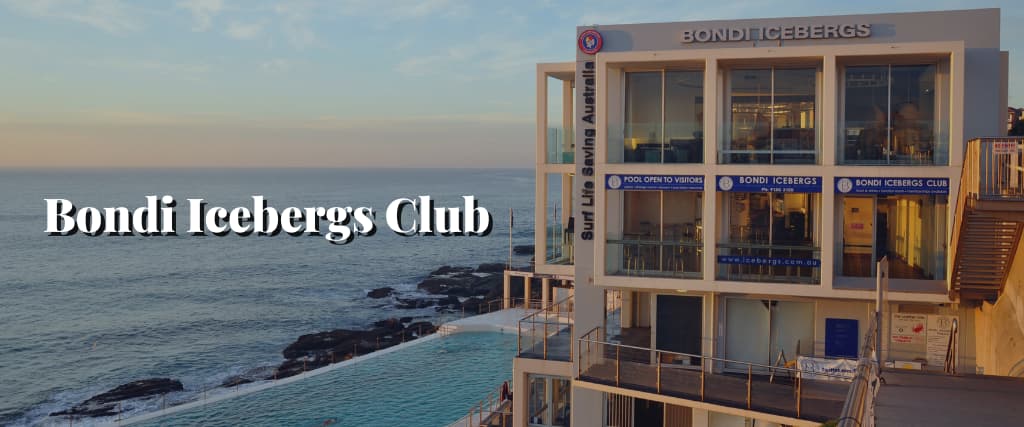 Bondi Icebergs Club
Address: 1 Notts Ave, Bondi Beach NSW 2026
The Bondi Icebergs Club is quite rightly known for its incredible views. However, it should not be lost on people that the venue also has a fantastic bistro which serves up a great range of breakfast and brunch options.
Club favourites like the good old-fashioned full breakfast, chicken schnitzel and fish and chips, stand up to anything you can buy elsewhere in Bondi. While other dishes like their fettuccine chilli prawns and mussels are perfect if you fancy something a little more upscale.
The Shop & Wine Bar
Address: 78 Curlewis St, Bondi Beach NSW 2026
Much loved among Bondi locals, The Shop & Wine Bar is a very popular spot.
During the day, it is a fantastic cafe that radiates a friendly and inviting ambience. By night it transforms into a trendy wine bar where the beautiful people hang out.
The food menu regularly changes to keep up with the seasons, and most of the dishes that feature on it are made entirely from scratch.
Their excellent wine list is predominantly Australian-based, though it does have a handful of European labels which are all biodynamic, organic and preservative-free.
Bondi Wholefoods
Address: 517-527 Elizabeth Street, Surry Hills
If you follow any Sydney foodie account worth it's salt on Instagram, then the chances are you would have already heard about Bondi Wholefoods.
A fabulous Bondi cafe and organic grocer, these guys serve up a huge organic menu that caters to meat lovers, vegans and those with gluten and dairy intolerances as well.
While there is something for everyone. They are known for their gorgeous smoothie and acai bowls, as well as their paleo bread, for which they make an excellent range of sandwiches and wraps.
Lox Stock & Barrel
Address: 140 Glenayr Ave, Bondi Beach NSW 2026
Open daily for breakfast, brunch and lunch, Lox Stock & Barrel enjoys a cult following among locals who love their excellent teas and coffees and inventive food menu.
Their organic, Rabbit Hole teas are bursting with flavour, whilst the 'Rebel Blend' coffee is delightfully smooth.
Either, go great, with their signature Bowlarama. Which is a heavenly mix of poached eggs, sprouted quinoa toast, hummus, avocado, seaweed, kale, homemade fermented veggies and miso dressing.
Good One Cafe
Address: Shops D & E, 132 Warners Ave, Bondi Beach NSW 2026
It is probably a cliche, but you will more than likely be saying 'good one!' after enjoying a meal at the Good One Cafe.
Nestled on Warners Avenue, this inviting neighbourhood spot, lavishes customers with wonderful
coffee and a terrific food menu that champions seasonal and locally sourced food.
A unique selling point of this cafe in Bondi is that it makes everything it reasonably can in-house. This includes all their house-smoked meats and fish, their delightful pastries and even their very own almond milk!
Presenting an all-day menu that caters to all tastes, one of their most sought-after dishes is the house-made ribbon pasta. Which they serve up with mint, zucchini, golden raisins, parmesan and lemon butter.
For something a bit more snacky, they even have a separate toast menu that comes with several different fillings.
Bills
Address: 79 Hall St, Bondi Beach NSW 2026
Everybody loves Bills! And it's fair to say that many Bondi locals have been there at least once in their lives.
Situated on Hall Street, this hip Bondi restaurant offers up some of the best breakfast and brunch offerings in town.
Known for their iconic ricotta hotcakes, which they serve with a honeycomb and banana butter, the innovative menu here boasts a range of dishes that have fresh and exciting flavours and brilliant elements of colour.
Whilst here, be sure to try the magnificent coconut bread, which is a taste experience you'll instantly fall in love with.
Porch and Parlour
Address: 17-18/110 Ramsgate Ave, North Bondi NSW 2026
Porch and Parlour is a cafe in Bondi that ticks a lot of boxes.
For a start the setting is very impressive, boasting some seriously stylish interiors. Then of course there are the sensational views of Bondi, which are wonderfully showcased from the venue. And then there is the food. And what a choice you get!
For breakfast, options like green pea pancakes, which are served with egg and avocado, and hash browns that come with a superb paprika hollandaise, will set you up for the day.
While at brunch the likes of burgers, steak sandwiches and salads, will suitably fill you up.
The Depot
Address: 262 Campbell Parade, North Bondi NSW 2026
The Depot is a lively spot in North Bondi cafe that offers a splendid menu of breakfasts and lunches that are seasonally inspired.
Those with a gluten intolerance are well catered for too, with their gluten-free pancakes being especially divine, while the single origin coffee and a terrific selection of smoothies and fresh juices are always well received.
Shuk Bondi
Address: 2 Mitchell St, North Bondi NSW 2026
Want something a little bit different for your Bondi breakfast or brunch? Then how about a shakshuka at the fabulous Shuk Bondi restaurant?
Located on Mitchell Street in North Bondi, this buzzy spot serves up a mouthwatering menu of Israeli and Mediterranean dishes.
As well as their signature dish, which takes the form of a traditional tomato-based dish that is accompanied by sauce-poached eggs and the most delicious house-baked bread, the coffee and pastries here are sensational.