There is no doubt that Sydney is one of the world's most beautiful cities.
Blessed with a stunning natural harbour, iconic architecture and some truly incredible beaches, it is a place that never fails to impress with its overall aesthetic beauty.
For visitors and locals alike there are many excellent spots you can head to for a different perspective of the Emerald City.
Whether you want to take in a bit of it from ground level. Or prefer to appreciate it from a more loftier level, here are 20 of the most amazing views and lookout points in Sydney you simply have to see.
If you decide to check out any of these spots, prepare to be wowed!
Sydney Tower Eye
Standing 309 metres tall, The Sydney Tower Eye is an incredible building to observe from pretty much anywhere in the city.
However, you should definitely try and head up to the observation deck of Sydney's tallest structure, to take in the incredible panoramic views it affords you.
On a clear day the 360° vistas you see of the Sydney Harbour Bridge, Sydney Opera House, Luna Park, The Rocks and St Mary's Cathedral, are utterly jaw-dropping.
For an extra special experience, you can even choose to enjoy them over a fantastic 40-dish buffet meal at its revolving restaurant.
Address: Level 5 Westfield Sydney, 108 Market Street, Sydney, NSW 2000
Hours: 10 am – 8 pm daily
Ben Buckler Lookout
Showcasing stunning coastal views of both Bondi Beach and the Pacific Ocean, you should definitely make the effort to get to the Ben Buckler Lookout.
To get there, you'll have to walk to North Bondi, which in itself will provide you with plenty of other scenic spots to check out.
Once there, however, it is a place you should linger, as you will be blown away by what you see.
Address: 158 Brighton Boulevard, North Bondi, NSW 2026
Hours: Open 24 hours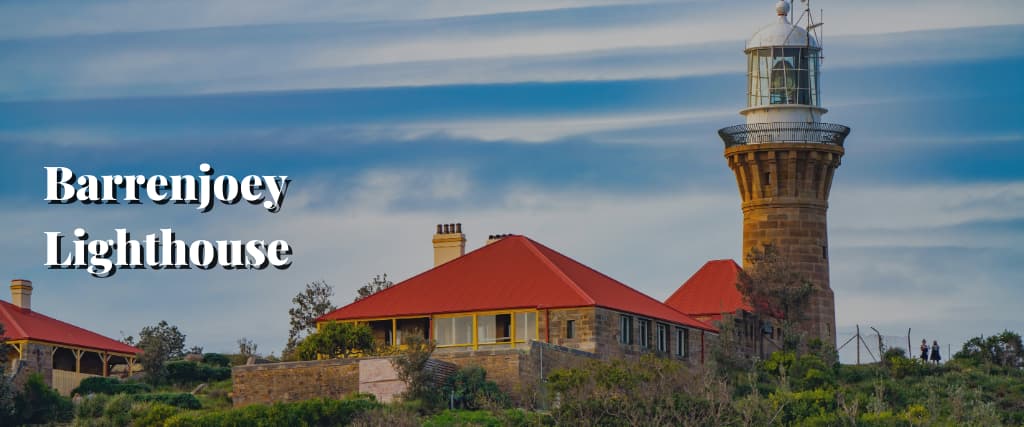 Barrenjoey Lighthouse
If you have ever watched Home & Away you will know exactly what we are talking about when we refer to the scene in the credits where you can see two beaches.
Well, that view is exactly what you can see if you take a trip up to Barrenjoey Lighthouse.
Situated in the quiet coastal town of Palm Beach, you will need to embark upon a short hike to reach the top of the lighthouse. However, once you are up there you will be presented with one of Sydney's most picturesque and northerly views of its coastline.
Address: 1199D Barrenjoey Road, Palm Beach, NSW 2018
Phone: (02) 9451 3479
Hours: Open 24 hours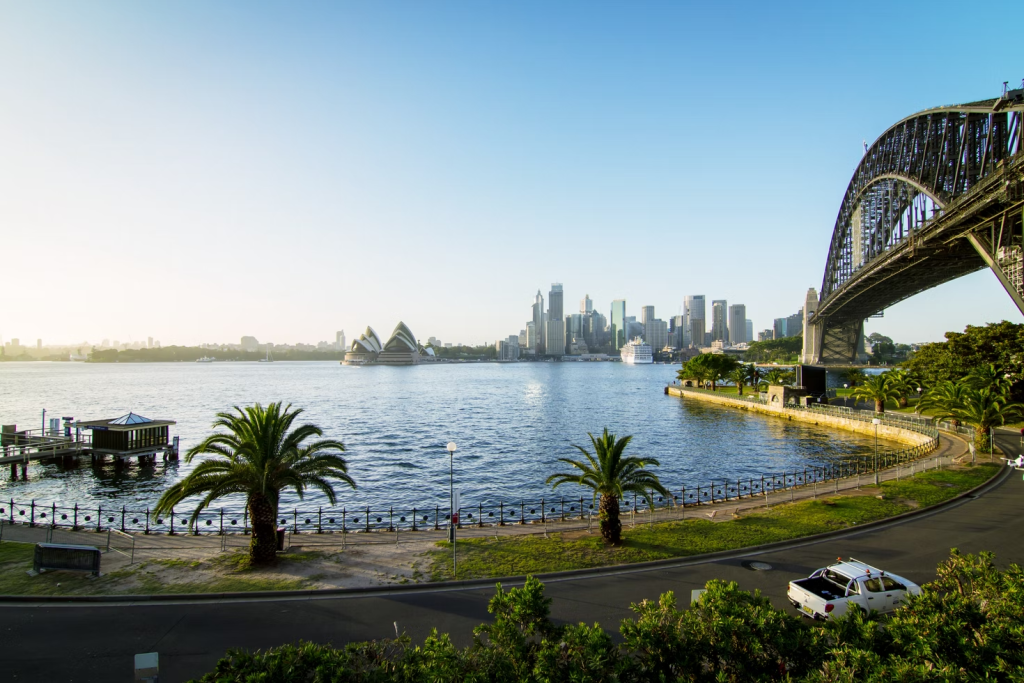 Robertson Park
If you ever find yourself in Watsons Bay, be sure to head to the splendid Robertson Park.
This stunning public recreational space comprises a wonderful mix of grassland, playgrounds, picnic tables and close-by beaches. All of which convey superb views of the Sydney skyline and its shimmering boat-filled harbour.
If you do come here, you'll find plenty of inspiration for your Insta feed.
Address: 22 Military Road, Watsons Bay, NSW 2030
Phone: (02) 9391 7000
Hours: Open 24 hours
Yarranabbe Park
Given the outstanding nature of the views it provides, the fact that Yarranabbe Park flies under the radar a bit when it comes to scenic spots in Sydney is quite a surprise.
Situated along the fantastic walking track that runs from Rose Bay to Rushcutters Bay, the lookout is nestled on the foreshore in Darling Point.
The outlook here is quite mesmerising, as the colour of the white yachts, contrasts beautifully against the deep blue of the harbour, and the imposing Sydney Harbour Bridge.
Address: New Beach Road, Darling Point, NSW 2027
Phone: (02) 9391 7000
Hours: Open 24 hours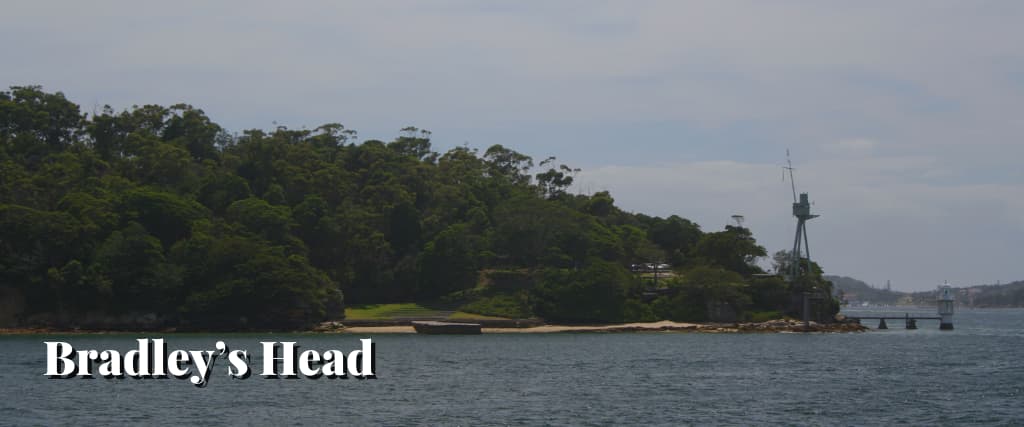 Bradley's Head
If you are looking for a spot where you can really stop to approach the impressiveness of Sydney's cityscape then head on over to Bradley's Head.
You will find this lookout point in a quiet part of the gorgeous Sydney Harbour National Park. From there, you will be treated to brilliant views of the Sydney Harbour Bridge, Sydney Opera house and the island of Fort Denison.
It is a lovely place to stay a while, and if you do be sure to bring a picnic with you, as there is a quaint area with tables you can sit at.
Address: Bradley's Head Road, Mosman, NSW 2088
Phone: 1300 072 757
Hours: 7 am – 7 pm daily
McMahons Point
If you want that money shot of the Opera House and Harbour Bridge then you will need to pop on over to North Sydney to McMahons Point.
While lining up your photo, you'll get a square on view of both landmarks which no other lookout in the city.
There is a delightful grassy patch at the Blues Point Reserve which is an excellent spot to throw down a blanket and enjoy the scintillating views with a coffee, wine or a picnic.
Address: Blues Point Road, North Sydney, 2060
Phone: (02) 9936 8100
Hours: Open 24 hours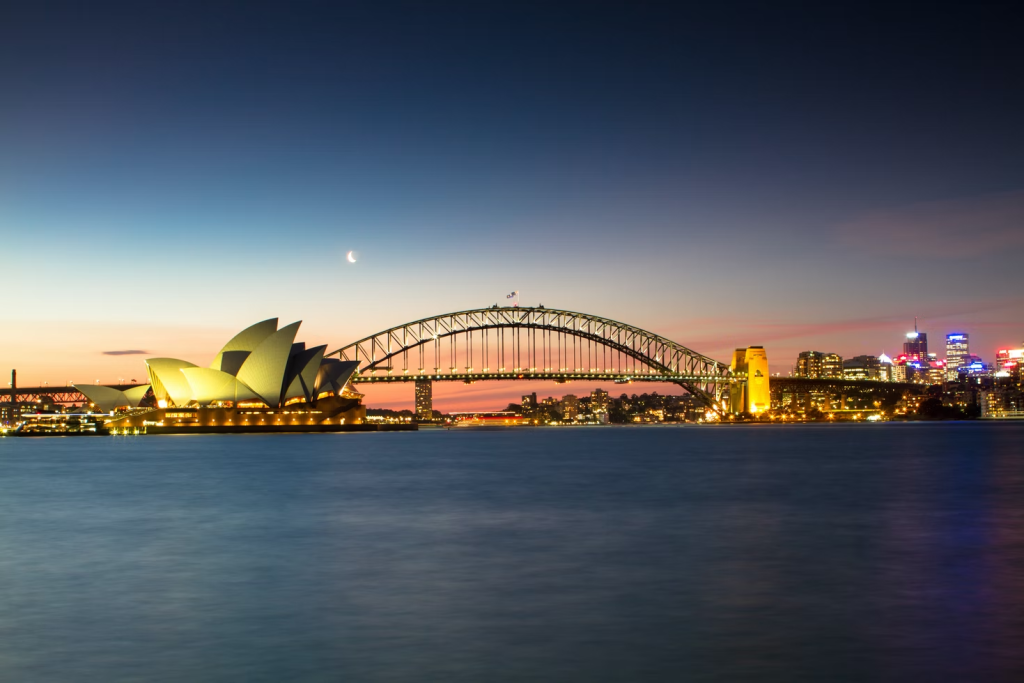 Cahill Walk Lookout
The Cahill Walk lookout undoubtedly provides you with one of the best viewing points in the whole of the city.
Located on top of the ferry dock, and Circular Quay railway station, it showcases terrific views of the Opera House and Harbour Bridge. As well as the ferries that regularly come in.
While the walkway serves as a pedestrian footpath, the throngs of people that use it should not spoil your enjoyment of the overall landscape.
Address: Circular Quay, Sydney, NSW 2000
Hours: Open 24 hours
Sydney Harbour Bridge Walk
You will see the Sydney Harbour Bridge wherever you go in the city. However, one of the best views you can get of the Emerald City is on top of the bridge itself!
One of Sydney's main tourist attractions, you can walk up to the very top of the structure with BridgeClimb Sydney. From which you will be able to take in its incredible 360° views from 134 metres above the water level.
On a clear day, you will get to see views that extend from the magnificent Opera House, which sits in the east to the World Heritage Blue Mountains in the west.
If you can, try and book your climb to coincide with sunrise or sunset to maximise your experience.
Address: Sydney Harbour Bridge, Sydney, NSW 2000
Phone: (02) 8274 7777
Hours: 6 am – 8 pm
Mrs Macquarie's Chair
Talking of sunsets, if you really want to capture the beauty of the cityscape as dusk approaches, then be sure to visit Mrs Macquarie's Chair.
Nestled within the heart of the Botanic Garden, you get some killer views of the Opera House, Harbour Bridge and city skyline from this vantage point, as the sky glows with a golden hue.
Situated on the fringes of the shoreline, there are plenty of spots to sit and take them in.
Address: 1d Mrs Macquaries Road, Sydney, NSW 2000
Phone: (02) 9231 8111
Hours: Open 24 hours
Broughton St Lookout
With the Sydney Opera House to your left and the Sydney Harbour Bridge to your right, the Broughton St Lookout provides you with a stunning perspective of both landmarks. Which you won't get from many other places.
Tucked away in Kirribilli, towards the end of Bradfield Park, this spot is easy to get to via a scenic stroll across the Harbour Bridge from Circular Quay.
Address: Bradfield Park, Kirribilli, NSW 2061
Phone: (02) 9936 8100
Hours: Open 24 hours
Duff Reserve
Despite being a relatively small park, what the Duff Reserve may lack in size, it more than makes up for with the spectacular nature of its views.
You can access it by heading to the most northern part of Point Piper, and once you are there you will be greeted with gorgeous views of Milsons Point, Garden Island and the Harbour Bridge.
If the weather is clear enough, you should also be able to spot a glimpse of the Sydney Opera House sails.
Should you find yourself in the city around New Year's Eve, this is a terrific spot to see the fireworks in all its glory – which take place just off Clark Island, within the harbour.
Address: Wolseley Road, Point Piper, NSW 2027
Phone: (02) 9391 7000
Hours: 7 am – 8 pm daily
Berrys Bay Lookout
Both a prominent lookout and a comely public recreational space, Berrys Bay Lookout is a great place to linger for a while.
Comprising a number of pathways, stairs and viewing platforms, the park also features plenty of native species of plants. Which makes it a very easy and picturesque place to make your way around.
Nestled along the Waverton peninsula, and forming part of the stunning Carrandah park, the intoxicating views here take in Berry Bay, the iconic city skyline and the Harbour Bridge.
Address: 6 Larkin Street, Waverton, NSW 2060
Phone: (02) 9936 8100
Hours: Open 24 hours
Milk Beach
While the likes of Bondi and Coogee get all the plaudits when it comes to beaches, Milk Beach is one you should definitely visit too. Not least because it presents incredible visibility of the city skyline and the enchanting turquoise water.
The beach is fairly small and quite isolated, involving a bit of a hike down to the shoreline and back up. But it is absolutely worth it for what you get to see.
Address: Hermit Bay, Sydney National Park, NSW 2233
Hours: Open 24 Hours
Dolphins Point Lookout
If you love nothing more than to stare at the ocean for hours on end, then be sure to visit the Dolphins Point Lookout.
Found at Coogee, this awe-inspiring lookout provides uninterrupted views of the ocean for as far as the eye can see.
Staring into the impossibly blue waters, and watching the waves crash, you could easily lose track of time.
When you've had your fill of the water, be sure to check out the poignant Bali Memorial, which honours the lives of the people who lost their lives as a result of the Bali Bombings.
Address: Dolphins Point, Coogee, NSW 2034
Hours: Open 24 hours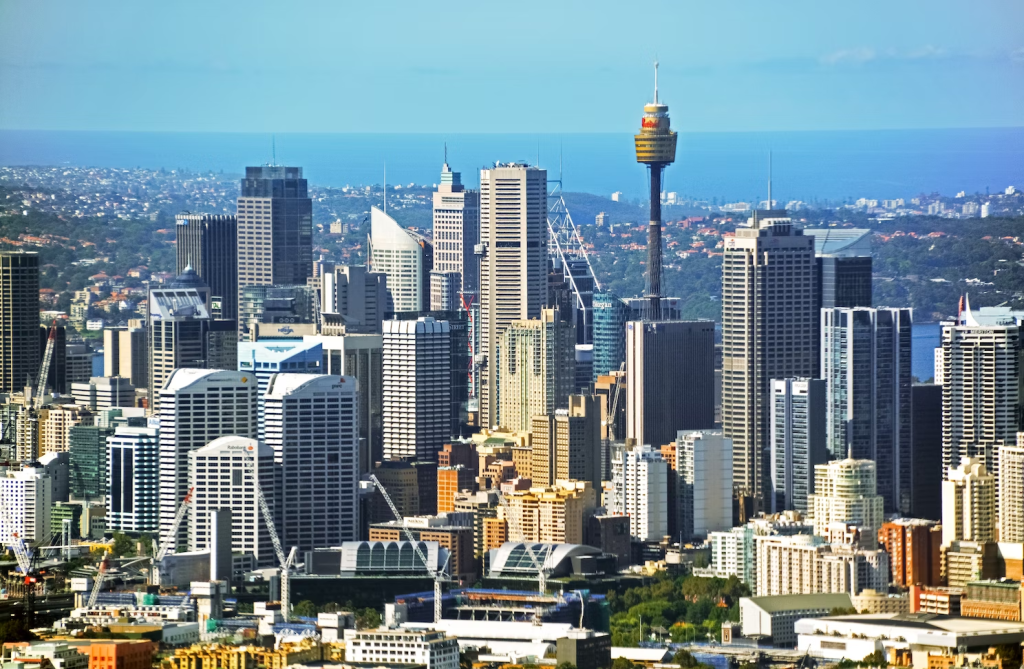 Goat Island
Goat Island is another spot in Sydney that flies under the radar when it comes to views. But take it from us, this heritage-listed island within Port Jackson is a magnificent place to take in the city.
Because of its relatively remote position, there should be far fewer people here, than at many other lookout spots in Sydney. So you will be able to appreciate the vista of the Harbour Bridge, cityscape and the harbour itself, with far less interruption.
Taking the form of a tall sandstone formation, the island has a rich history that is well worth exploring. Having previously been used as a quarry, as well as a convict stockade and also a police station.
Address: Goat Island, Sydney Harbour, NSW 2000
Phone: (02) 9337 5511
Hours: Monday – Friday 9 am – 5 pm
Dudley Page Reserve
Providing exceptional views of the Sydney Harbour Bridge, the Dudley Page Reserve is another excellent spot to take in a sunset.
Situated in the suburb of Dover Heights, this area is so popular, that you can even catch a tourist bus here from the city.
One of the best features of this lookout is its elevated position. Which, because you are quite far away from it, showcases a wondrous panoramic that includes the Sydney Harbour Bridge and a divine backdrop of blue-tinged mountains.
Address: Lancaster Road, Military Road, Dover Heights, NSW 2030
Phone: (02) 9083 8300
Hours: Open 24 hours
Lavender Bay
If you are looking for a photo opportunity that encompasses several of the city's attractions, then consider a visit to Lavender Bay.
Not only will you get phenomenal views of Luna Park, the Opera House and the Harbour Bridge. You will also be presented with dazzling views of the harbour and the impressive city skyline.
To capture it, you will have to head on over to the north side of the city. But if you are able to go there, try and time your visit so it is at night. When the luminous lights of all these landmarks really make them come to life.
Address: Lavender Bay, Sydney, NSW 2060
Hours: Open 24 hours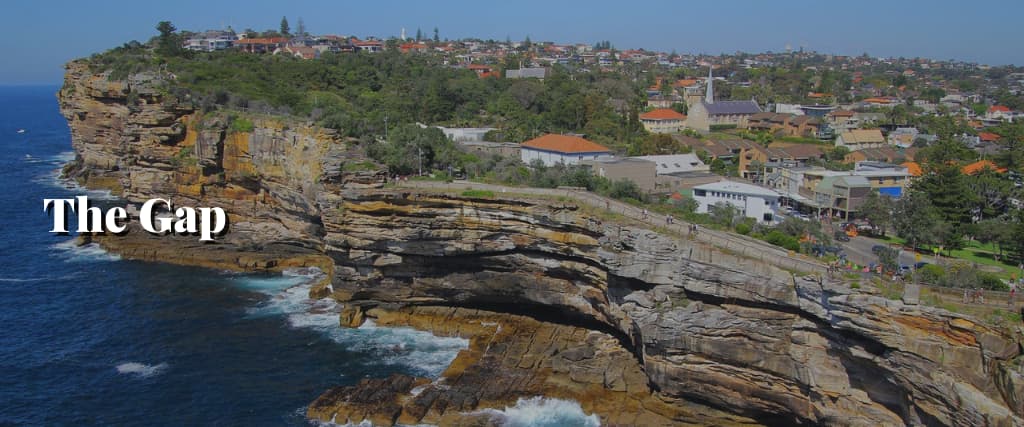 The Gap
Over in Watsons Bay, The Gap is a rugged cliff face that offers sublime views of the city from its easterly base.
To get there, you will need to take the ferry to Watsons Bay and then walk through the picturesque Robertson Park.
You should find the lookout just opposite the ferry wharf, and when you have been suitably impressed by the views you see, you can also embark on one of Sydney's most beautiful coastal walks.
Address: 27 Military Road, Watsons Bay, NSW 2030
Phone: (02) 9391 7000
Hours: Open 24 hours
Balls Head Reserve Lookout
Over in Waverton, the Balls Head Reserve Lookout is tucked away in a stunningly preserved bushland nature park.
Not far from the Sydney CBD, it offers several walking tracks and scenic lookout points that offer superb views of Sydney Harbour.
For good measure, you will also be treated to wonderful views of the breathtaking peninsulas that are adjacent to the nature park.
If you intend to watch the fireworks on New Year's Eve, this is another marvellous spot to come to.
Address: Balls Head Drive, Waverton, NSW 2060
Phone: (02) 9936 8100
Hours: Open 24 hours