Situated just an hour to the north of the Victorian border, Pambula is a small and charming town that lies on the beautiful Sapphire Coast of NSW.
Oozing character, and boasting stunning colonial architecture, it is just a short drive to Pambula Beach which is widely regarded as being one of the most beautiful beaches in the area.
It is also just a 4 km drive south of the town of Merimbula, which is known for its stunning shorelines, stoic coastal lakes, countless whale watching opportunities and sensational local seafood.
All of this translates to a fabulous annual holiday or long weekend getaway destination from Sydney, Melbourne or Canberra.
Many people who visit this region stay at the fantastic Pambula Caravan Park.
In this guide, we will showcase what makes this holiday park such an attractive option to them, as well as how to get there and how much you can expect to pay for overnight accommodation.
So let us begin!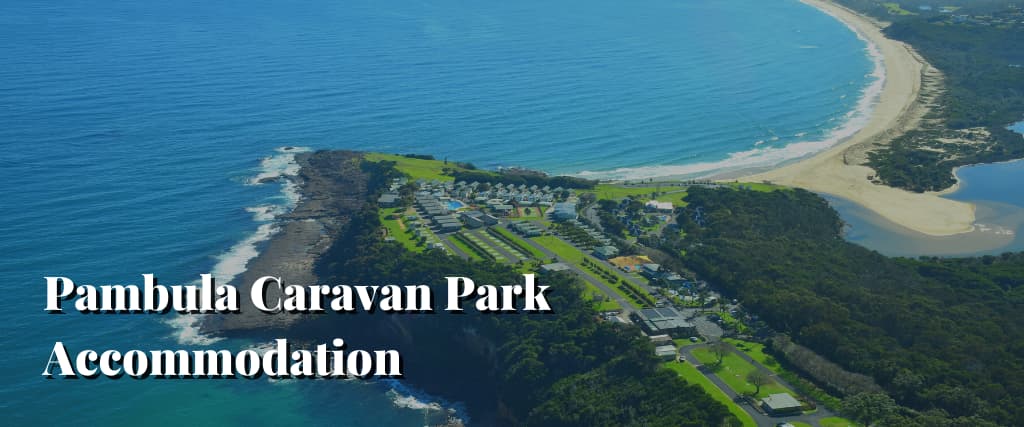 Pambula Caravan Park Accommodation
The Pambula Caravan Park is located at 1 Pambula Beach Rd, Pambula Beach in New South Wales.
Unfortunately, it is not a pet-friendly park, however, it does offer a good range of accommodation options including cabins and apartments, as well as powered sites, powered ensuite sites and unpowered sites.
All of these accommodation options are located right near the beach and provide great access to the sand and water. The sites for the caravan park are fairly large and afford plenty of privacy too.
Entry to the park can only be gained through a security-coded gate – the details of which will be provided to you at check-in.
How to get to the Pambula Caravan Park
The town of Pambula is situated on the A1 Princes Highway roughly halfway between the towns of Eden and Bega in the southern region of New South Wakes.
When you get to Pambula, you will need to turn East into Bullara Street, which quickly becomes the Pambula Beach Road.
You should then continue to follow this road until you get to the entrance of the Caravan Park which backs directly onto the beach.
Things to do at the Pambula Caravan Park
For guests at the Pambula Caravan Park, there is a wide range of amenities and facilities available on site, which have all been carefully considered to make your stay there as comfortable, fun and enjoyable as possible.
This includes a huge outdoor swimming pool, as well as a wonderful heated indoor pool. There is also an excellent spa onsite as well as a terrific water park which the kids will love.
In addition, you can enjoy a mini-golf course, massive games room and huge TV room. There is also a very good children's playground that includes a jumping pillow, and an award-winning kids club that operates 5 days a week as well.
If you are into fishing you can cast a line directly on the beach for flathead or salmon, at the front of the caravan park, or at the nearby Pambula River.
Another real bonus of staying at the caravan park is that you will encounter lots of friendly kangaroos and lorikeets who freely reside within its grounds too.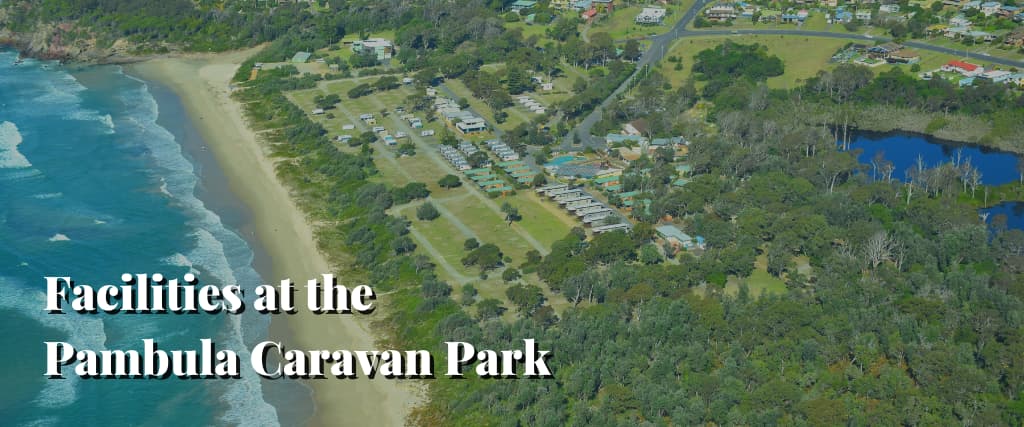 Facilities at the Pambula Caravan Park
One of the most notable features of the Pambula Beach Caravan Park is its fabulous camp kitchen which is furnished with several modern appliances including electric BBQs, ovens, cooktops, sinks and lots of seating.
Upstairs from the camp kitchen is an adults-only space that offers a lounge, coffee and a library of books and magazines which you can read with views looking out to the beach.
You will also find family bathrooms here as well as a dump point and laundry. While there is a small shop, a restaurant, a bar, and the Pambula Surf Life Savers Club next to the caravan park too.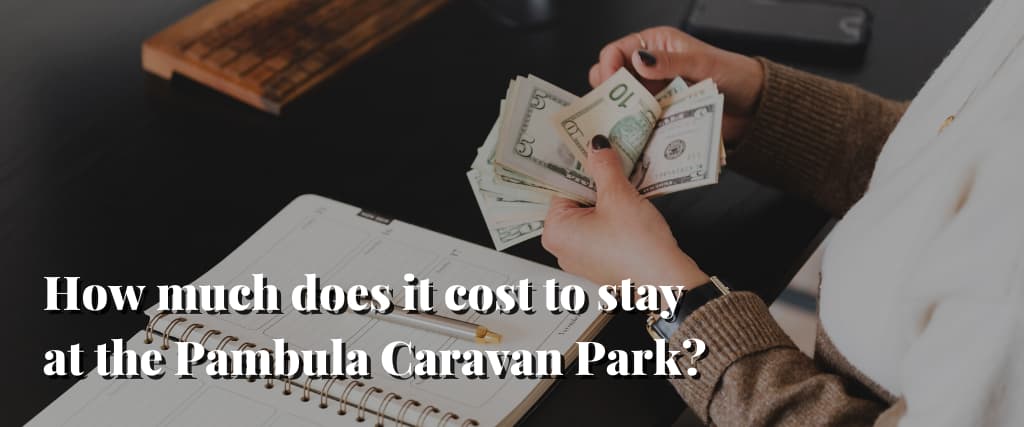 How much does it cost to stay at the Pambula Caravan Park?
As of December 2021, the cost of staying at the Pambula Caravan Park is as follows:
– Powered Site $43 per night
– Unpowered Site $39 per night
– Ensuite Powered Site $59 per night
If you are a Discovery Park Member you will be able to get a $4 discount on the powered and unpowered sites and a $6 discount on the ensuite powered sites.
You can make a reservation via their website, or alternatively phone them on (02) 6495 6363
Best time to visit
Generally, the best time of the year to visit Pambula Beach, to take advantage of its gorgeous sand and sparkling waters is between the months of November and April.
If you intend to spend more time in the towns of Pambula and Merimbula, the period between June to August is a better bet.
Those able to visit the area outside of the school holidays will be able to enjoy it without the crowds.
Naturally, the hottest months are January and February closely followed by December.
Things to see and do near the campground
There are quite a few things to do in and around the Pambula Caravan Park. But if time permits be sure to do the following:
Visit Ben Boyd National Park
Situated on the other side of the Pambula River you will find the Ben Boyd National Park.
An area of outstanding natural beauty, it is home to a series of exceptional bays and beaches that rank up there with anything else you will find in Australia
It is a great place to explore and photograph, whilst there are also plenty of opportunities for swimming, fishing, beach combing and kayaking.
You can also observe lots of exotic wildlife, as well take in some wonderful sunrises too.
Traverse the Pambula River Walking Track
The Pambula River Walking Track is a great way to enjoy the natural beauty of the waterway and its surroundings.
Showcasing stunning views of Haycock Point across the picturesque bay, the 1.2 km coastal walk starts at the mouth of the Pambula River.
It winds its way past a picturesque forest that is filled with eucalyptus trees, and on past several fabulous lookout spots that will take you to a secluded inlet, which is a great spot for a picnic.
Food options near the Pambula Beach Caravan Park
There are quite a few food options in and around the Pambula Beach Caravan Park. But two places you should make a note to eat at, are the Longstocking Brewery and Oyster Bar and the Pambula Bakery.
Located on the Princes Highway, The Longstocking Brewery, is an independent brewery which prides itself on serving up the best craft beers, ciders, cocktails and oysters south of Sydney. It is a lovely spot to spend a few hours relaxing and enjoying the live entertainment that is sometimes put on.
The Pambula Bakery is an institution in town. Situated on 26 Quondola Street, a short drive from the caravan park, the bakery is well known for its fantastic artisan breads, pies, cakes and pastries.
It is a very popular place, so don't be surprised if you have to queue during busier times. It's well worth it!
Things to take with you
If you intend to do a bit of exploring in, and around the area of Pambula, you may want to consider taking the following items with you on your trip as outlined below.
Some of them should be considered essential things to take, while others could definitely come in handy depending on what you like to do for recreation.
– Water Bottle
– Hat
– Camera
– Sunscreen
– Insect Repellent
– First Aid Kit
– Torch
– Hema Maps
– Swimmers and Towel
– Binoculars
– Wetsuit
– Hiking Shoes
– Speargun
– Cooling Towel
– Kayak, canoe, paddle board, jet-skis
So there you have it, our guide to the Pambula Caravan Park.
We hope what you have read has inspired you to make a reservation there. If it has then you will be in for a wonderful time!