There are plenty of beautiful pubs in Victoria's gold rush communities, and Bendigo is no exception. Bendigo, like Ballarat, is home to several pubs, some of which date back to the 1800s and seem set to remain open for the foreseeable future, dishing up great libations and fare.
The population of Bendigo grew by 15,000 in the three years after the city's famous gold discovery in 1851. Hotels sprung across Bendigo to accommodate the weary gold miners who had just finished a day of digging. The Shamrock Hotel in Bendigo was built in 1854, renovated in 1897, and still operates as a hotel today.
Magnificent hotels, which sprung up throughout Bendigo and still serve the city's growing suburbs, eventually replaced canvas tents serving illegal alcohol. These are the best bars in Bendigo.
1. Hotel Shamrock
The Shamrock in Bendigo has been there since 1854; however, the hotel was rebuilt in 1897. The Yard Bird Bar & Restaurant and Gold Dust Lounge are at Hotel Shamrock, one of Bendigo's finest pubs. Many lodging choices are available, including executive, standard, and spa suites.
2. Queens Arms Hotel
The Queens Arms Inn in Quarry Hill, Bendigo, has served beer for over three centuries. It was founded in 1869. You can find everything you'd want in the cuisine at the Queen's Arms, a fantastic Victorian country bar.
You may anticipate dishes like lasagna, chicken parma, fisherman's catch, and roasted beef cheek. Also, the Queens Arms Hotel features a function space ideal for almost any occasion.
3. National Hotel
The Central Deborah Gold Mine, a popular tourist destination in Bendigo, is just across the street from the National Hotel Complex, close to the Bendigo Talking Tram. Pizza Hut was next to Bendigo till recently but was shut down due to the epidemic (RIP). There are lodging choices, a café, a bar, and a function space within the National Hotel Complex.
4. Bridge Hotel
The hotel is known for its traditional pub fare and relaxed atmosphere, with various beers and wines available. It also features a spacious outdoor area with a beer garden, making it a popular spot for locals and visitors to socialise.
In addition to its restaurant and bar, the Bridge Hotel also offers accommodation with several room options, including single, double, and family rooms. It's a popular destination for visitors to Bendigo, particularly those interested in exploring the city's rich history and attractions.
5. Nimbus
Nimbus is Bendigo's only rooftop bar, so you know where to go if you want a drink with a view. Nimbus, the Bendigo rooftop bar, is a fantastic destination for a night out for locals and visitors alike. This Nimbus is better than the Nimbus that the uncool family drives to school drop off.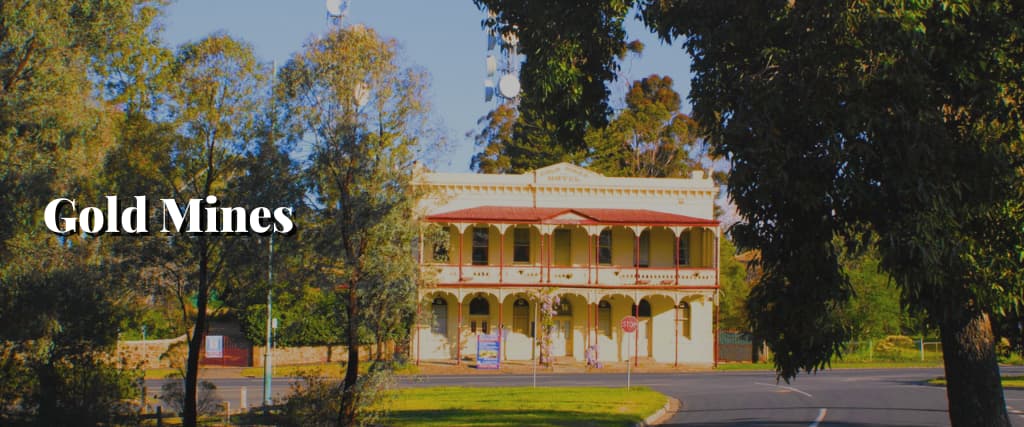 6. Gold Mines
Built in 1872, the Gold Mines Hotel stands ominously on the side of the road. The tavern would have welcomed many prospectors, both pleased and discouraged since it was just across the street from the productive Victoria Hill gold mine. The pub offers a posh but not pompous cuisine with pub favourites to please everyone.
In the summer, drink Pimms in the roomy, lush garden. And when the cold weather arrives, curl up by one of the numerous fires with a bottle of Heathcote's best shiraz. This landmark two-story building, constructed in 1872, reopened in late 2018 under new ownership and a much-appreciated facelift.
7. Handle Bar
In terms of a bar, Handle Bar is similar to drinking a beer in a friend's backyard. Free live music is offered every weekend at Handle Bar, which specialises in independent brews. Since there isn't a kitchen on the premises, you may also bring your meal to the bar.
Handle Bar is one of the best places in the city to relax with a drink while the sun is out.
The backyard of this spacious, string-light-draped Bendigo pub is the establishment's most significant selling point. The patchwork beer garden, which has astroturf mixed in with brick and wood floors, is a beautiful place to enjoy sundowners with friends.
The history of Handle Bar is similarly intriguing; it was co-founded and is currently owned by more than 30 local contributors due to a crowdfunding effort in 2014. The purpose of Handle Bar is straightforward: a laid-back atmosphere with independent beer and frequent free entertainment.
8. One Tree Hill
The One Tree Hill Hotel is located in Spring Gully, which is to the south of Bendigo. Hotel guests may relax before an open fire, thanks to recent renovations. You can find pub staples, including seafood baskets, chicken schnitzels, and varieties of chicken parma on the menu at Oscar's Bistro, which is available for supper and lunch at One Tree Hill Hotel.
9. Axedale Tavern
The Axedale Tavern is near enough and excellent enough to receive a run, even if it isn't precisely in Bendigo. The Axedale Tavern, located 20 minutes east of Bendigo, has satiated the needs of neighbourhood residents since the 19th century. The menu is fantastic and offers a variety of burgers, elegant entrees, and traditional pub fare.
10. Cambrian Hotel
The Cambrian Hotel is a historic hotel located on Arnold Street in North Bendigo, Victoria, Australia. It was constructed in the 1850s and has undergone multiple repairs and refurbishments while keeping much of its original beauty and character.
The hotel offers traditional cuisine and Korean BBQ, which is available for $40 per person on Tuesday through Saturday. The hotel is also known for its focus on local brews, with various craft beers and ciders available.
In addition to its restaurant and bar, the Cambrian Hotel also offers accommodation with various room types available, from standard to deluxe. It's a popular destination for visitors interested in Bendigo's history and attractions and locals looking for a place to enjoy good food, drinks, and company.
11. Braidie's Tavern
You can find Bradie's Tavern in Strathfieldsaye, which is located to the east of Bendigo. This is a fantastic place to stop, whether thirsty or hungry. The menu at the roadside pub is extensive and includes not just all the traditional pub fare but also separate sections for children and older customers.
12. Old Boundary
The Old Boundary Hotel is a historic hotel in Bendigo, Victoria, Australia. It was built in the 1860s and was a popular travel stopover point along the main road between Melbourne and Echuca.
The hotel is known for its distinctive cast-iron lacework verandah and ornate Victorian architecture. It has undergone several renovations and restorations but retains its original charm and character.
Today, the Old Boundary Hotel continues to operate as a popular pub and restaurant, serving traditional Australian pub fare and a variety of local and international beers. It's also a popular destination for visitors interested in Bendigo's rich history and heritage.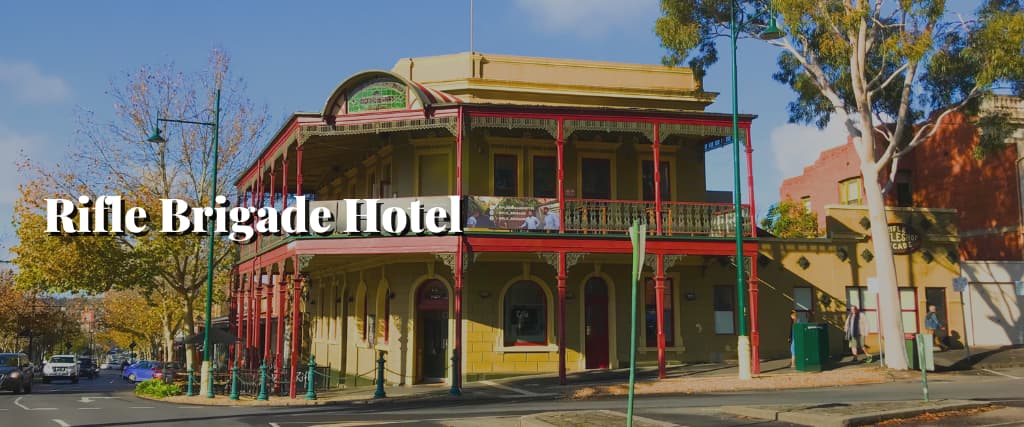 13. Rifle Brigade Hotel
Every city needs a reliable pub where you can go time and time again, knowing that the food, drinks, and ambience will be good. Bendigo's favourite hotel is Rifle Brigade Hotel.
Nothing revolutionary about this establishment, called by locals the "Gun Club," which is located on a large corner block and dates back to the Victorian period, but that just adds to its attractiveness. Traditional pub cuisine (including hamburgers, pizzas, steaks, and seafood) can be found on the food menu, while the beverages menu celebrates Victoria's wine sector.
Depending on your mood, you may select between various areas, such as the spacious courtyard at the back of one of the tables extending onto the sidewalk in front. Or you could pull up a seat at the gorgeously weathered oak bar.
14. The Basement Bar Bendigo
The Basement Bar Bendigo is a secret drinking lair inside an old bank vault that is probably responsible for many hangovers.
Just across from the neighbourhood icon Alexandra Fountain, this convenient location has a dive bar ambience concentrating on craft beer and whiskey. However, any cocktail demands are also answered with genuine enthusiasm.
Expect live music on Saturdays, and Sundays are open mic nights. There are three free arcade devices to play on, which will excite gamers and older children.
15. Piano Bar
This is not your average drinking hole by any stretch of the imagination. If spending the night propping up the bar at the local pub seems too ordinary for you, could we suggest going to Piano Bar instead?
There is probably no other bar in Bendigo that offers the same intoxicating combination of libations and revelry as this establishment. It promises a piano and vocalist who will play songs at your request and provides an enticing roster of drag queen-led events ranging from bingo to trivia and comedy sketches. Participation from the audience is highly encouraged, so feel free to sing along and dance to your heart's content.
16. Babylon Lounge & Garden Bar
This central refuge vies for the title of Bendigo's pub with the most laid-back atmosphere. The 'garden' section is designed in the form of a greenhouse and is filled with lush vegetation and natural light. In contrast, the lounge area is as cozy as can be, with couches upholstered in forest green velvet, low lighting, and a few interesting details here and there.
When hunger hits, you may order anything from the mezze menu, and there is a good selection of craft beer, both on tap and in cans.
17. Nimbus Rooftop
Nimbus is Bendigo's first and only rooftop bar, and it has excellent drinks in addition to its breathtaking views of the city.
In addition to the typical cocktails in this third-floor watering hole, a few selections are out of the ordinary. For instance, the colourful Flamingo cocktail has become a house hallmark, appropriately called for its dazzling appearance. It is a heady blend of pink gin, lime, strawberry liqueur, and grenadine.
Stay tuned to their Instagram feed, as the location often plays home to masterclass events and live music performances.