Any trip to the Northern Territories is not complete without a visit to the world-famous Daly Waters Pub.
Constructed in 1930, the notorious pub has a colourful history which involves everything from gruesome murders and wild pub brawls to cattle stampedes and shootouts in the 'main street'.
It's also famous for its quirky collection of bras that hang from its bar. A phenomenon that started in 1980, when a cheeky coach driver made a drinking bet with his female passengers – which they subsequently lost, and resulted in them hanging their bras over the bar.
Kickstarting a tradition, bras are not the only thing you will see at the bar today. Indeed the walls are decorated with an eclectic mix of treasures that people have left behind, which include everything from baseball caps, and foreign money, to handcuffs and an Irish hurling stick!
Throughout the winter months in particular, many travellers stop at the venue, en route to either Darwin or Katherine.
If this is something you are in mind to do, then chances are you are going to need somewhere to stay. Thankfully the pub offers an accommodation option in the form of the Daly Waters Caravan Park. Which we will now go on to review for you.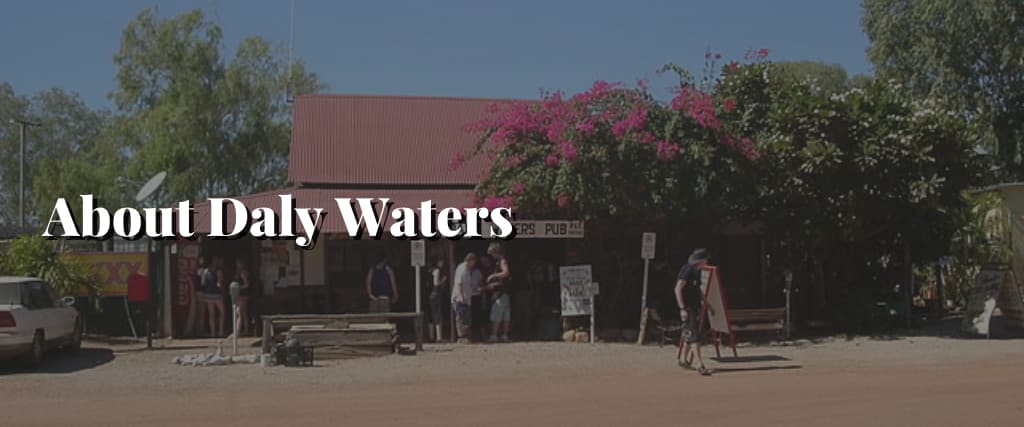 About Daly Waters
Daly Waters is situated about 275 km north of Kimberley, 590 km south-east of Darwin and 915 km north of Alice Springs along the Stuart Highway.
Sitting 212 metres above sea level, the town has a permanent population of fewer than 10 people. It also lies 140 km from the nearest more populous village of Elliott.
Named after Sir Dominick Daly, the then-new Governor of South Australia in 1862, the town is famous for hosting Australia's First International Airfield. With the publican of the Daly Waters Pub being engaged to refuel the planes.
You'll find on display in the street, a number of fascinating remnants of this legacy, including a helicopter that resides on the fuel station roof.
Daly Waters Caravan Park Facilities
The pub and caravan park are located on Stuart Street in Daly Waters.
A pet-friendly site, space isn't an issue here as there is plenty of room for caravans, motorhomes and big rigs.
The caravan park offers powered and unpowered sites, as well as toilets and hot showers.
There is also a swimming pool there which is perfect for when the heat of the outback days get too much for you.
A dump point is located close to the campground if required, while mobile phone coverage, especially for Telstra isn't too bad.
Cost to Stay at the Daly Waters Caravan Park
To stay at the Daly Waters Caravan Park, it will cost you $10 per person, per night for an unpowered site, and $16 per person per night for a powered site.
If you are travelling with children under the age of 12 they get to stay for free.
To make a booking you should call 08 8975 9927.
How to get there
To get to the Daly Waters Pub you will need to follow the Stuart Highway northbound for about 380 km from the Three Ways.
Just past the point where the Capricornia Highway merges with the Stuart Highway, you will see the west turn to Daly Waters.
You will need to take this turn off, before following the road for a further 2 km until you get to the pub.
If you are travelling from Katherine drive you will need to drive south for about 275 km, before turning right at Daly Waters.
Things to do in and around the Daly Waters Pub Caravan Park
The Daly Waters Pub Caravan Park is a great place to rest and relax for a night or two. That said, whilst you are there, you might want to do the following:
Enjoy a beer at the iconic Daly Waters Pub
The world-famous and iconic Daly Waters Pub is somewhere you simply have to visit during your time at the campground.
It's a great place for lunch and dinner, serving up award-winning dishes like barramundi, buffalo, crocodile and kangaroo sliders, as well as their legendary chicken schnitzel. Which you can wash
down with one of 6 beers on tap and a good selection of wine.
But it is also worth visiting this historic pub to see the quirky collection of memorabilia that has been left by travellers over the years.
Check out the Daly Waters Aviation Complex
If you love all things planes, then The Daly Waters Aviation Complex is well worth checking out, as it contains the oldest hangar in the Northern Territory.
Along with the hangar, an oil store was also transported to Daly Waters in 1930, with both being erected in the position they reside today.
A significant complex that represents the days when aircrafts had to make a number of refuelling stops across Australia, there are a number of fascinating exhibits to check out here.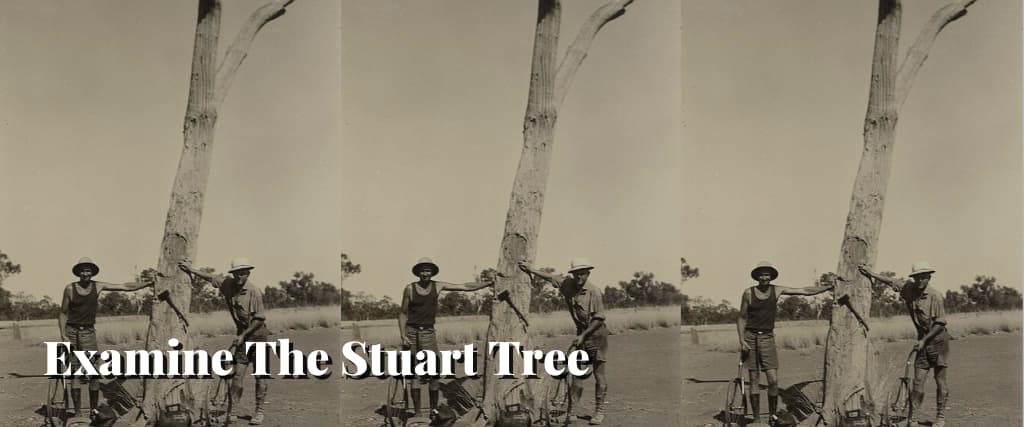 Examine The Stuart Tree
As you drive from the Stuart Highway towards the town of Daly Waters you will come across the famous Stuart Tree.
Although the tree is dead, it had played a major role in the development of this Northern Territories area, as denoted by a plaque which reads: 'The explorer John McDouall Stuart is presumed to have carved the initial S on this tree on 23 May 1862 during his successful journey from Adelaide to Darwin 1861-62. Erected by the Northern Territory Forces in 1944'.
It is difficult to make out, but if you look carefully you can vaguely see an 'S' initial carved on the eastern side of the tree.
Final Thought
So there it is! Our review of the Daly Waters Pub Caravan Park in Daly Waters, Northern Territory.
If you are ever in the area, we hope this guide has raised your interest in going there.
If it has, you will be in for a truly memorable and enjoyable stay, because it is such a great place to visit.