Looking for fun things to do during a short break in Burleigh Heads, Queensland?
Don't worry, we've got you covered!
Back in the day, Burleigh Heads was somewhat of a sleepy surf town.
However, that has long since changed, as it is now a vibrant community that offers sensational beaches, as well great shopping, an excellent cafe, dining and bar scene, and plenty of things to do and see – both in and out of the water.
A popular day trip and weekend getaway spot from Brisbane, the Sunshine Coast and the Northern Rivers region of New South Wales, it is true that Burleigh Heads may still live in the shadow of Surfer's Paradise.
But it is also true that it has a vibe all of its own, which also adds to its appeal as a tourist destination.
For those planning a visit to the area, this guide aims to be a useful resource during your time there. So why not bookmark this page so you can refer to it later?
Where is Burleigh Heads?
Burleigh Heads is a suburb of the Gold Coast, which resides on the east coast of Queensland.
Located about 13.5 km south of Surfer's Paradise and 81 km south of Brisbane, it is also just 18.5 km north of Tweeds Heads, which is just over the border in New South Wales.
An easy destination to get to, the nearest airport to Burleigh Heads is the Gold Coast airport which is located just over 10 km away. While the M1 connects it by road from all along the eastern seaboard.
Fun Things to do in Burleigh Heads?
Want to know what fun things there are to do in Burleigh Heads? Well, you are in luck, as there are plenty!
All of the venues and activities outlined below are well worth the investment of your time. They also incorporate a diverse range of interests, so there should be something entertaining for everyone to do.
In addition to surfing, swimming, snorkelling, and seasonal whale-watching of humpback and southern right whales, walking along the beach or rollerblading and cycling along boardwalks are other ways of enjoying the ocean, there are tonnes of fun activities in Burleigh to enjoy.
Hit The Beach!
Overall the Gold Coast is blessed with around 57 km of sensational beaches. Most of which offer some of the world's best surfing conditions, as well as designated areas for swimming that are patrolled by lifeguards.
A visit to Burleigh Heads is not complete without hitting the sand. Stretching for almost 2 km this idyllic beach is very popular with surfers who love its rolling swell.
As it is protected from the winds this is also a great spot for swimming, while there are plenty of snorkelling and diving opportunities too, as well as tide pools to explore.
If you fancy visiting other beaches in the area, Kurrawa Beach – which hosts the Australian Surf Life Saving Championships every year – is a great option. Broadbeach, Currumbin and of course the main beach of Surfer's Paradise is well worth checking out too.
Go on the Ocean View Walk at Burleigh Heads National Park
Although it only comprises about 74 acres, the Burleigh Heads National Park is blessed with an abundance of gorgeous flora and diverse fauna.
It also features a landscape that incorporates sandy beaches, lush rainforests, mangroves, volcanic rocks, and dense eucalyptus forests.
Throughout the park runs the Ocean View Walk. An easy path to traverse, it accommodates several lookouts that showcase the stunning waters, as well as providing fabulous places to whale watch, and spot koalas, echidnas, possums and lace monitors.
At the end of the walk lies Tallebudgera Creek, and you can access it by descending the stairs that lead to Echo Beach, where the Tallebudgera Creek empties out into the ocean.
Situated in a secluded cove, the pristine beach is a lovely place to swim in turquoise waters.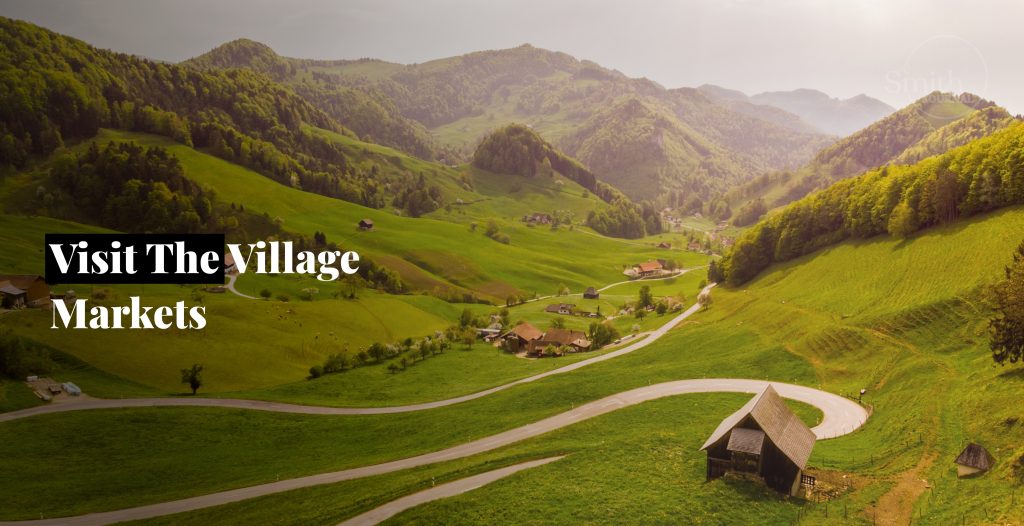 Visit the Village Markets
Love shopping? Then you will definitely want to check out the Village Markets.
Located on the Gold Coast Highway, this cool market is bi-monthly, so you will have to check if it is on.
But if you have timed your visit right, you will be able to browse through rows of stalls that sell everything from jewellery and fashions to arts and crafts.
Showcasing the work of local and emerging artists, photographers and fashion designers, this is a terrific market to explore. There are also lots of food vendors for when you get hungry, and live music to provide an entertaining soundtrack to your visit.
Check out the BBQ Bazaar
Whilst we are on the subject of markets The BBQ Bazaar is another must-visit destination.
A permanent night market on Junction Road, this family-friendly market features plenty of food vendors that offer up cuisines from all around the world.
This includes everything from Brazilian-styled grilled meat to Thai Curries and Mexican Tacos. You will find plenty of craft beer and cocktail providers too,
The market is a great place to stroll around and order food as the mood takes you. There is also a kids zone as well as a live music venue which has featured the likes of Blink 182, Green Day, Limp Bizkit and the Stone Temple Pilots in recent years.
Have a soak at the Bathhouse by Greenhouse
Need to chill out and relax for a while? Then head on over to the Bathhouse by Greenhouse.
Situated on the Tallebudgera Creek Road, this contemporary, boutique, Australian bathhouse offers luxury soak sessions that are designed to rejuvenate and reinvigorate tired bodies and minds.
Over the course of a 90-minute session, you will be able to rotate your way through a hydrotherapy spa, magnesium plunge pool, red cedar sauna, steam room, sun deck and lounge area.
If you need a touch more pampering, then why not opt for a 30-minute organic face mask too?
Alternatively, to really luxe up the experience, you can upgrade your soak session, to include glasses of bubbles or kombucha, a light, plant-based lunch and a sweet, raw treat.
Enjoy beer tasting at Burleigh Brewing Company
The craft beer scene on the Gold Coast is vibrant, and one of the best proponents of this movement is the Burleigh Brewing Company.
Founded in 2006, they create small-batch brews from their brewery on Ern Harley Drive which you can book a tour to see.
Managing the entire craft beer production process onsite, everything from brewing and fermenting, all the way through maturing and filtering, to bottling, and canning is done onsite at their facility, which you can check out first hand for yourself.
During the tour, you will even get to try some of their special brews including the likes of the Burleigh
Daisy Duke, which is infused with blackcurrant and the Burleigh Wild Berry IPA, which they brew with real berries.
If you love beer, this is definitely an activity you will want to do.
Visit the Jellurgal Aboriginal Cultural Centre
For those interested in Aboriginal history and culture, a visit to the Jellurgal Aboriginal Cultural Centre is well worth the trip over to the Burleigh Head National Park.
At the Cultural Centre, you will be able to check out a fascinating range of indigenous artefacts including tools, boomerangs, dilly bags and didgeridoos.
You will also get to see some incredible, and very colourful Aboriginal art, as well as discover more about the life of the local Aboriginal population over the years in the form of their stories and dances.
Whilst at the Burleigh Head National Park, you can also combine your visit to the Jellurgal Aboriginal Cultural Centre with the wonderful Ocean View Walk.
Play Barefoot Bowls at the Burleigh Heads Bowls Club
Barefoot bowls are a very fun activity for all the family to enjoy.
At the Burleigh Head Bowls Club, they offer sessions every day from Tuesday through to Saturday that start from 5 pm, as well as a 2.30 pm session on Sunday.
The club lay on two full-sized greens which are set up for night bowling, as well as a green that is half synthetic.
It is a lovely way to spend a couple of hours, and as children under the age of 5 are allowed to bowl for free, they can easily be included too.
If you are a more serious bowls player, the club also has more regular bowling available too.
David Fleay Wildlife Park
Known as Australia's 'Father of Conservation', David Fleay established a wildlife park on Loman Lane in 1952 for the purpose of wildlife preservation.
He was also successful in breeding the platypus, as well as several rare species of birds too.
Still thriving almost 30 years after his death, this is a fantastic place for animal lovers to explore. A place where you can easily spend a day, you will get to see everything from wombats, koalas and kangaroos to Tasmanian devils, crocodiles and sugar gliders on a visit to this fabulous park.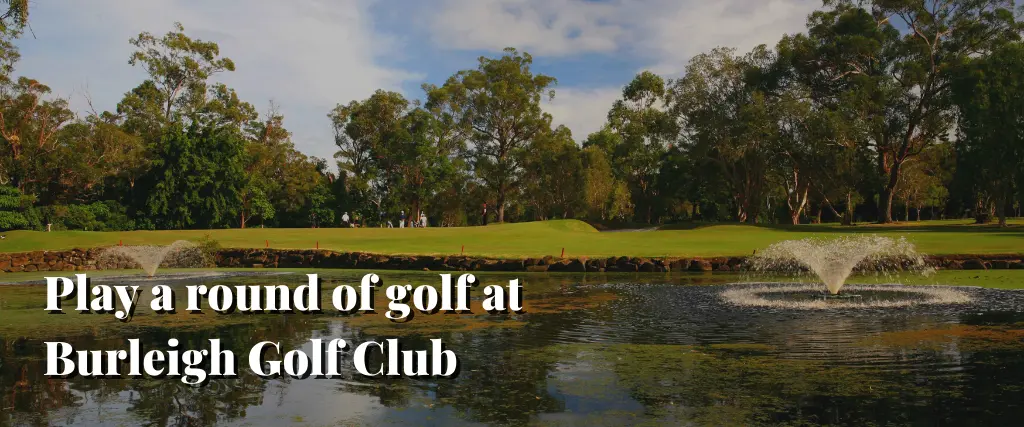 Play a round of golf at Burleigh Golf Club
The Burleigh Golf Club is one of the best and most beautiful golf courses on the Gold Coast.
Established in 1950, this course is championship standard. Offering 18 holes, which take the form of a front nine of Woodland Forest and a back nine of Sandbelt Heath.
If you would like to play a full round here it will cost you between $40-$80 for 18 holes, or $20-$40 for a 9-hole round.
The course is open to the public every day and golf carts can be rented for $40 a cart.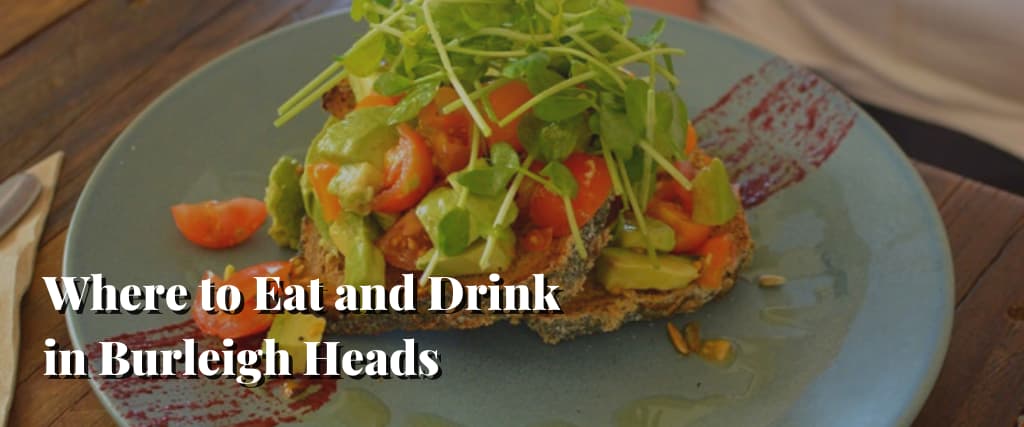 Where to Eat and Drink in Burleigh Heads
When in Burleigh Heads you are going to get hungry. Thankfully there are plenty of cafes, restaurants and bars around for you to visit.
Dishing up a wide range of cuisines from around the world, and beverages to suit even the most discerning of tastes, below are some places we highly recommend you check out.
Grab a coffee at Nook on the Beach
The Gold Coast takes its coffee very seriously and there are lots of excellent venues where you can get your daily caffeine fix.
One of the best of them is Nook Espresso, which is located right on the beachfront on Goodwin Terrace.
Nook Espresso was actually recognised for being the best Hole in the Wall Coffee Joint by the Gold Coast Bulletin Award, which is high praise indeed.
Known for its signature Long Black Coffee, this is a great place to grab a cup to enjoy as you are looking out to the ocean.
Enjoy a wood-fired pizza at The Burleigh Pavilion
Also on Goodwin Terrace, you will find The Burleigh Pavilion.
If you love pizza you will love the wood-fired offerings served up by this venue.
Made with the freshest of produce, and a touch of flair, the menu here features pizzas topped with ingredients like shrimp, salmon, smoked ham, artichokes, mushrooms and eggplant.
In addition, to their pizzas, they also serve burgers, nachos, pasta and fish and chips too.
As well as great food, the venue also offers sensational views of the ocean from its dining room balcony.
Visit Burleigh Heads Mowbray Park SLSC
You can't beat a good old feed at the surf club and at Burleigh Heads they have a terrific one.
Founded in 1923, you will find it situated at the foot of the Burleigh Heads National Park. Its restaurant is open for breakfast, lunch and dinner and features jaw-dropping views of the Pacific Ocean.
Presenting an all-day menu that features classics like steaks, burgers, fish and chips and pasta dishes, the wine list is very extensive too.
There is also a sports bar onsite in addition to a gaming area that accommodates 18 games.
Delight in California Tacos
Being voted the best Mexican food on the Gold Coast is no mean achievement and that is exactly the honour that was bestowed upon California Tacos.
Situated on the Gold Coast Highway, they offer a sensational range of tacos that are made with everything from shrimp and steak to chicken and pork.
In addition to their award-winning tacos, they also make mean burritos, quesadillas and nachos too. While their signature 2.4 litre Megarita (margarita) should quench your thirst if you are game enough to order it!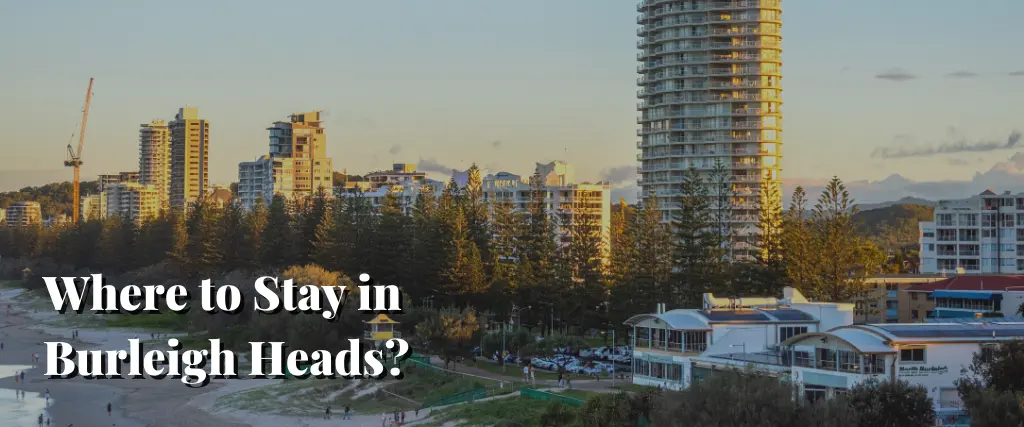 Where to Stay in Burleigh Heads?
If you plan to stay for a night, a few days, or a little longer, Burleigh Heads has several great accommodation options. These include everything from luxury hotels and 5-star resorts to Air B&B and backpacker accommodation.
Clearly where you stay will depend on availability, your budget and personal preferences. But a couple of places we recommend are the apartments at Burleigh on the Beach and the Burleigh Beach Tower.
Final Thought
So there you have it!
Our guide to 10 fun things to do during a short break in Burleigh Heads, Queensland.
We hope this guide has inspired you to visit this fantastic part of the Gold Coast. If it has, then we are sure this list of activities should keep you very busy whilst you are there.