If you are big into camping, the Sunshine Coast offers plenty of options.
From impressively set up holiday parks that boast all the facilities and amenities you could want, to stunning beachfront locations, or campsites that are located in beautiful bush or hinterland areas, there is a camping option for everyone.
In this guide, we have highlighted a wonderful selection of 10 of the best camping spots on the Sunshine Coast in Queensland to suit all tastes.
Whether you are yearning to hear the roar of the ocean, be surrounded by dense woodlands, or simply just want to relax whilst your kids are in the pool, don't worry, we've got you covered.
So, let's get into it!
Best Sunshine Coast Camping Sites
Showcased below is a selection of some notable camping spots on the Sunshine Coast. For your convenience, they have been split into three groups – holiday parks, beach camping and bush or hinterland camping.
Best Sunshine Coast Holiday Parks
Below are some excellent holiday and caravan parks to visit on the Sunshine Coast.
Cotton Tree
Located on the stoic waters of the Maroochydore River, the Cotton Tree Caravan Park is without doubt one of the best caravan parks in Queensland.
An excellent spot for couples and young families, this caravan park offers direct access to the beach. It is also near Cotton Tree Park, which has a massive playground for children, as well as the Cotton Tree Aquatic Centre.
A good-sized parade of shops and restaurants is situated opposite the entrance to the caravan park, whilst the major shopping centre of the Sunshine Plaza is just a five-minute drive away.
Overall, Cotton Tree Holiday Park offers 93 powered and 29 non-powered sites, as well as a selection of cabins available too.
Although the sites tend to be a bit on the small side, which means your neighbours are close, there are plenty of amenities onsite to make your camping experience easier. This includes numerous toilets, warm showers, a camp kitchen and a kiosk that sells basic grocery items.
If you are looking for a caravan or tent site on the Sunshine Coast that offers a great location, good facilities and an excellent set-up, Cotton Tree is a great option.
Location: Cotton Tree Parade, Cotton Tree
Price: From $44 for 2 people per night, additional people are $10 each.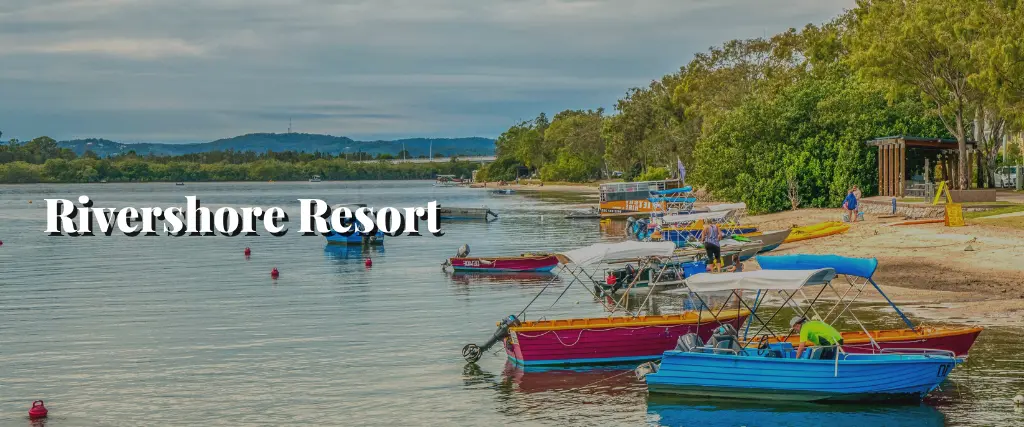 Rivershore Resort
If you are looking for a Sunshine Coast campground that offers a glamping experience then the Rivershore Resort in the wonderfully named Diddillibah is where you should head.
Nestled on the Maroochy River, this site offers a number of upscale safari tents, as well as the more traditional tents and powered caravan sites.
All up they have 15 safari tents on-site which offer a deluxe, five-star camping experience complete with a king-size bed, ensuite bathroom, kitchenette and private balconies that showcase fabulous river views.
A dog-friendly campsite, the Rivershore Resort also offers a wide range of fun activities including a lagoon-style swimming pool with waterslides, jumping pillow, playground and mini-golf.
Other onsite amenities include a restaurant, as well as three camp kitchens and BBQ areas. While there are also toilets, showers, a bar, kiosk, laundry, fire pits and a pontoon and a boat ramp for launching SUP or a kayak.
Location: 99 David Low Way, Diddillibah
Price: From $53 per night
Coolum Beach Holiday Park
The Coolum Beach Holiday Park is another fantastic family holiday park on the Sunshine Coast.
Boasting a sensational location directly on the Coolum Beach, in the shadow of Mount Coolum, and over the road from a long strip of cafes, restaurants and shops, the holiday park offers something for everyone.
Accommodation here includes powered sites and six cabins. In addition, some of the sites are just a few steps away from the sand, whilst other sites are pet-friendly.
A fantastic spot to watch the sunrise, some of the amenities you will get at the campground are toilets, hot showers, a modern camp kitchen, laundry and a kiosk.
Location: 1827 David Low Way, Coolum Beach
Price: From $44 for 2 people per night, additional people are $10 each.
Best Beach Camping Sunshine Coast
If you prefer to camp close to the beach, below are some terrific beachfront camping spots on the Sunshine Coast that are not holiday parks.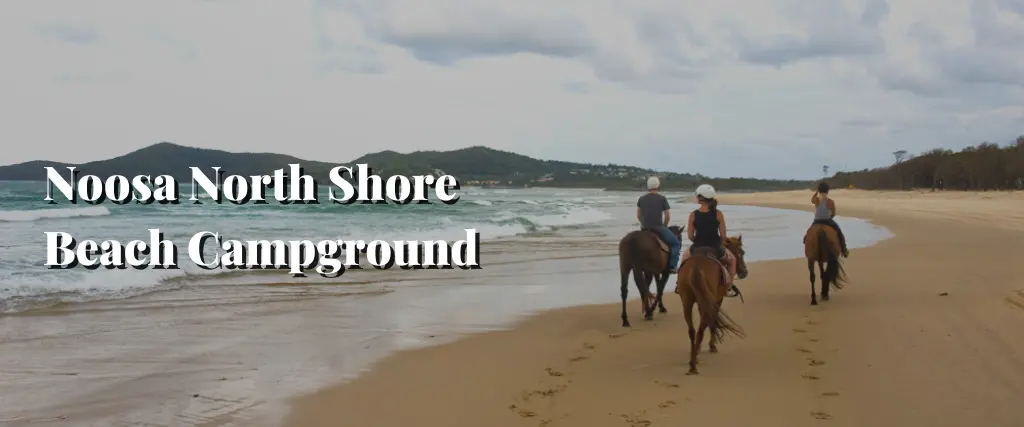 Noosa North Shore Beach Campground
Offering a complete beachfront location to one of Australia's premier beaches, Noosa North Shore is a fabulous campground to stay at.
Literally, right on the beach, you can enjoy many hours of swimming, sunbathing, surfing, fishing, bushwalking and beach combing here. Just be mindful that, if you do go in the water for a dip, this area is not patrolled so exercise caution.
With 40 powered sites and 45 unpowered sites, there are plenty of accommodations at this campground. Many of these sites are shaded around the trees and offer magnificent views of the beachfront.
The amenities here are good and include three coin-operated toilets and shower blocks, as well as a laundry, camp kitchen and a small kiosk. You will also see plenty of wildlife too, with kangaroos, goannas and birds being prevalent in the area.
If you love the thought of falling asleep to the sound of the crashing ocean waves and waking up to a scintillating beach sunrise, then the Noosa North Shore is the perfect option for you.
Location: 240 Wilderness Track, Noosa North Shore
Price: From $35 per night
Inskip Peninsula Recreation Area
Located just across the water from Fraser Island, the Inskip Peninsula Recreation Area is a fantastic beach camping option for those who want to go on to visit the largest sand island in the world.
An excellent option for those who do not have a 4WD, Inskip has a few campsites that can be reached by 2WD.
In total there are four different camping areas available at Inskip point. The MV Sarawak and SS Dorrigo sites are accessible to all cars, while the MV Beagle and Natone are 4WD only.
Tucked in behind the foredunes just yards from the beach, none of the campsites has defined areas and operated on a first come first served basis when it comes to space.
Facilities here are very limited, in fact, the only thing provided is compost toilets. So you will need to bring all your own food and cooking equipment. In case you need to top up on supplies, there is an iceman who regularly services the area and sells ice, milk, bread, ice cream and newspapers. Alternatively, there are plenty of shops in nearby Rainbow Beach where you can stock up.
The real drawcard of stay at the Inskip Peninsula Recreation Area is that you can fish, boat, kayak, hike or swim in the tranquil surroundings until your heart's content. You are also perfectly placed to check out Tin Can Bay, Fraser Island and Rainbow Beach, all of which are nearby.
Although dogs can camp with you at Inskip Point, they are permitted from being in vehicles that drive along the beaches in the Cooloola Recreation Area. So if this is something you plan to do a lot it might be worth leaving your pooch at home.
Location: Inskip Avenue, Inskip
Price: $6.65 per person per night or $26.60 per family.
Bribie Island
For those looking for remote camping options by the beach, Bribie Island should be high on your list.
As most of Bribie Island has been designated as National Park, a number of camping sites have been established here including Ocean Beach, Lime Pocket, Poverty Creek, Mission Point and Gallagher Point.
All of them can only be accessed via 4WD or boat, however, they all offer excellent locations for a beach camping getaway.
Most of the camping sites are rustic, to say the least, with some offering no facilities at all. Others only have basic amenities like cold showers and toilets.
What they may lack in amenities, these secluded and remote camping spots more than make up for with the potential for recreational activities.
Campers can enjoy a range of water sports around the Pumicestone Passage, as well as swimming and fishing. There are also numerous walking tracks to enjoy as well.
Location: Bribie Island
Price: $6.65 per person per night, plus 4WD permits are $50.60 for one week
Best Sunshine Coast Bush and Hinterland Camping Sites
If you are looking for a site in the hinterland area, these bush and hinterland camping sites on the Sunshine Coast are excellent options.
Neurum Creek Bush Retreat
Enjoying a great location near Lake Somerset, the Stanley River and the D'Aguilar National Park, the Neurum Creek Bush Retreat is the perfect campground for those who love wildlife and nature.
A dog-friendly campsite that offers powered sites, facilities here include toilets, free showers,
campfires and a small kiosk that sells essential items.
Whilst here, opportunities for swimming, walking tracks, bike riding, kayaking and hiking are endless. The onsite office even has a range of games like cricket and bocce that you can borrow.
The area is a wonderful spot for photography, as well as wildlife spotting, with over 80 species of birds, as well as kangaroos, wallabies, deer and butterflies being among the animals and fauna you might see.
Location: Neurum Creek Bush Retreat, 268 Rasmussen Rd, Neurum
Price: From $13 per adult and $7 per child.
Peach Trees Campground
One of the best options for forest camping on the Sunshine Coast is at the Peach Trees Campground.
Located within the Jimna State Forest, a stay here puts you in a very remote location – with the nearest town of Kilcoy being about 50 km.
Stretching along the Yabba Creek, the campgrounds are not defined and operate on a first come first-served basis. So you can camp where you like.
The only facilities available here are toilets, a handful of picnic tables and some fire pits, so it is definitely better suited for experienced, self-sufficient campers.
Offering three different walks that lead from the campgrounds, one of which involves crossing a suspension bridge, as well as swimming in the creek, bike riding and 4WD tracks, there is plenty to keep you occupied here.
You will also see lots of wallabies and kangaroos in both the morning and afternoon, which will no doubt give you a thrill.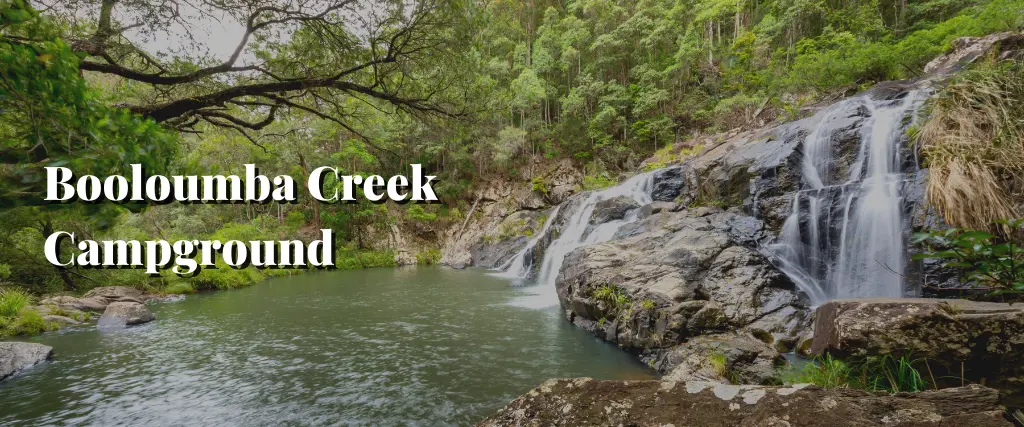 Booloumba Creek Campground
Up in the Sunshine Coast Hinterland, the Booloumba Creek Campground is a lovely place to stay for a few days.
Tucked away in dense subtropical rainforest which features stunning waterfalls and spectacular turquoise rock pools, this campground is another one which can only be accessed by 4WD.
There are three different rustic camping areas here, with the facilities being limited to toilets and fire pits only.
If you plan to stay here you should be aware that there are no showers, drinking water or rubbish bins on site. You will also need to carry your camp gear about 20 metres from your vehicle to your site as well.
A major drawcard here is hiking, with many trails taking you through a landscape of gorges, rainforest, waterfalls, interesting rock formations, and a number of beautiful turquoise swimming holes.
Location: Lot 274 Booloumba Creek Rd, Cambroon
Price: $6.65 per person per night or $26.60 per family.
Kenilworth Homestead
A very popular Sunshine Coast camping spot for families, the Kenilworth Homestead enjoys a scenic location along the Mary River.
Close to the town of Kenilworth, this site offers plenty for the visitor including a BMX track, farm animals and a big sandy beach, that flows onto the river, and is great for swimming and kayaking.
Campers are given the option of both unpowered or powered sites, as well as two old school caravans that reside permanently on-site. For those who fancy a more upscale experience, there is also a gorgeous cabin complete with a spa available too.
Other amenities at the homestead include two blocks of toilets and hot showers, as well as further compost toilets down by the river and open fires too.
Location: 2760 Eumundi Kenilworth Rd, Kenilworth
Price: From $16 per night