Dining out on the Gold Coast could be one of the highlights of your trip to Australia. This gorgeous destination is a food lover's dream, with plenty of different dining options for every taste, style, and budget.
After a long day of hiking, swimming in the sea, or visiting one of the Gold Coast's exceptional national parks, you're bound to be hungry. Any one of these great fifteen eateries will hit the spot for sure.
So whether you're in the mood for Australian cuisine, Italian food, or some of the finest Japanese dishes you can find in the country, the Gold Coast has got it. Check out these best restaurants for dining out on the Gold Coast.
Social Eating House + Bar
This exceptional eatery is near the Gold Coast's Oracle precinct and features delicious Australian food with a sophisticated twist. Whether you're looking for some tasty appetisers and cocktails or a full-on tasty meal, Social Eating House + Bar has got you covered. Some of their standout menu items include lamb shoulder and garlic prawns.
The lamb shoulder is large enough to share or take a substantial portion home with you. It's perfectly prepared and mouth-wateringly good.
Make sure that you try some of their signature drinks. The Espresso Martini is full of chocolate and coffee flavour, and every drop is delicious. If you want a chic meal in a lovely setting with an attentive staff, Social Eating House + Bar is the place to go.
Yamagen
For exceptional Japanese food, Yamagen is one of the best restaurants on the Gold Coast. It's got a great selection of traditional Japanese foods, plus an extensive whisky menu. Their staff can tell you what whiskeys pair best with which dishes, so you can have an excellent eating and drinking experience.
For the whole experience, sit down at their sushi bar. Yamagen's talented sushi chefs can educate you on the menu and even treat you to Omakase, a selection of sashimi and fish specially chosen by the chefs. If you've never had Omakase, you're in for a real treat. Their salads are also delicious, with fresh vegetables and just the right amount of dressing.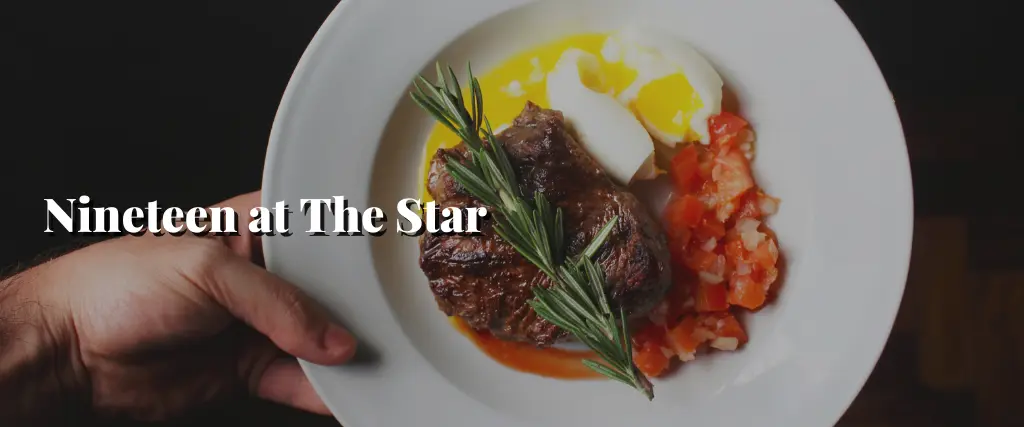 Nineteen at The Star
One of the best options for memorable dining out on the Gold Coast is Nineteen at The Star. This restaurant serves classic Australian dishes, fantastic seafood, and delicacies that you really can't find anywhere else. Their grilled Patagonian Toothfish is phenomenal, and you can enjoy it while taking in an epic view of the coastline.
Their steaks are excellent too. They are perfectly prepared and served hot and flavorful. Get them with a side of carrots and broccolini for a meal that will knock your socks off. If you can, save some room for dessert. Their homemade favourites are elevated versions of the classics and pair perfectly with a glass of their house wine.
Mamasan Kitchen + Bar
Mamasan Kitchen + Bar is an excellent dining option on the Gold Coast if you're looking for authentic and tasty Southeast Asian food. Their great chefs blend traditional flavours with new spins for a unique dining experience. In addition to a great menu, they also have cocktails and sake.
You can order off the a la carte menu or opt for their buffet. If you're looking to try a little bit of everything, the buffet is a superb option. Their Red Beef Curry is delicious and has just the right amount of spice. Additionally, their duck and chicken dishes are well-prepared and beautifully presented.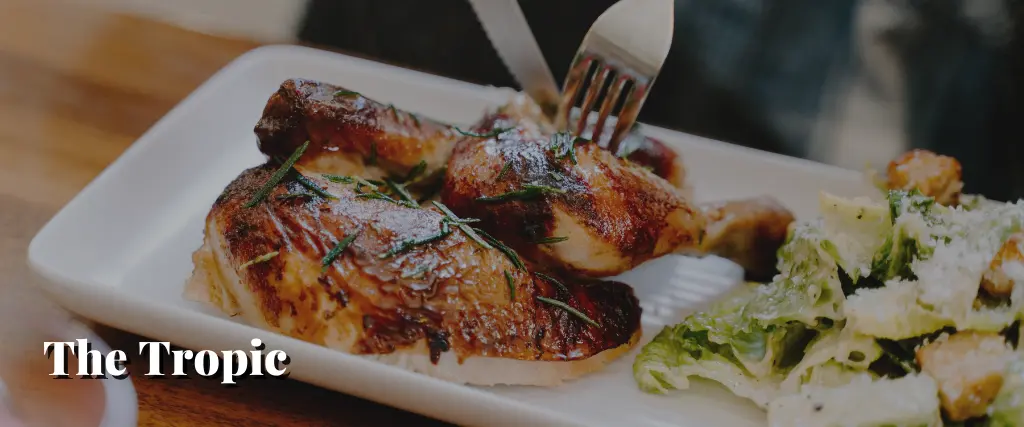 The Tropic
As the name might suggest, The Tropic is a bit of a seaside paradise. The restaurant is lovely, with pastel-coloured decorations and a chic island feeling. You'll enjoy stunning views while you dine and have one of the most relaxing and delicious meals of your trip.
The Tropic does well by incorporating fresh, local flavours into its menu. Everything is well thought out, locally sourced, and delicious. Try their fresh oyster dishes or their Free Range Roasted Chicken for a beautiful meal that comes together perfectly. The sides are really tasty too.
Rick Shores
Rick Shores is another beautiful place on the Gold Coast to get authentic Southeast Asian cuisine. This restaurant specialises in Asian fusion from Thailand and Vietnam, pairing Asian flavours with some of Australia's most cherished ingredients for a truly unique experience. Although everything on their menu is top-notch, their Soft Shell Crab is in a league of its own.
Additionally, Rick Shores does a great Kingfish Sashimi and King Prawn Yellow Curry. You can taste a beautiful balance of spice, meat, and sauce in every single bite. It's clear that the team at Rick Shores thinks through all of their menu items. If you're not in the mood for seafood, try their Duck Curry. It's decadent, flavorful, and absolutely scrumptious.
Restaurant Labart
Restaurant Labart is a local favourite and an excellent option for delicious dining out on the Gold Coast. Their elegant and innovative setup allows guests to see their food being prepared in real-time while waiting. So no matter how big or small your appetite is, there's something on the menu for you at Restaurant Labart.
Their menu often changes and uses local ingredients predominantly, so visiting is always a fun surprise. Sometimes they even have set menus inspired by select ingredients or the season. So even something as simple as scallops or kale gets an incredible makeover at the hands of Restaurant Labart's talented chefs.
Miss Moneypenny's
Miss Moneypenny's is an excellent place to get delicious Mediterranean cuisine on the Gold Coast and one that you should certainly put on your "must visit" list the next time you find yourself in that part of Australia.
While everything on the menu is phenomenal, some highlights include the Hiramasa Kingfish Ceviche and Ora King Salmon Stick. Both dishes are intensely flavoured and a perfect combination of Mediterranean and Australian cuisine.
Their vegetable dishes are great too, created and served with care. You can also find discounts and special menu items at Miss Moneypenny's, including a Bottomless Lunch Menu and happy hour pricing. There's live music too, making this restaurant a fun venue for the whole family.
Etsu
Etsu is the spot for exceptional Japanese food on Australia's Gold Coast. Yet, don't let the unassuming entrance fool you. Right behind their humble whitewashed door is a fantastic restaurant that will transport you straight to the streets of Tokyo.
Their menu is whimsical, inspired, and full of traditional items with a modern twist. Their staff is excellent and can help you pair one of their signature cocktails or sake with your meal. The sushi, tempura, and sashimi are all top-notch.
Etsu uses local ingredients and unique types of fish, making them a slice of heaven for sushi lovers and adventurous eaters. If you're in the mood for something a little more substantial, try their gyozas. Etsu cooks them perfectly and pairs each order with an addictive, delicious sauce.
Lupo
If you're looking for a gorgeous place to enjoy a spectacular meal, look no further than Lupo. This exceptional eatery is beautifully decorated and well-lit, with an attentive staff that ensures that your every need is cared for. Lupo's ambience is only matched by its food, which is tasty, elevated home-cooked European food.
Lupo specialises in comfort food at its finest, with a sophisticated twist. There are many great things on the menu, but a few that stand out are the Pork Cotoletta, Beef Tartare, and Prawn Risotto.
These dishes are decadent, perfectly prepared, and delicious. Lupo also has a great wine list and plenty of classic and signature cocktails to round off your meal. This restaurant is the complete package.
Hideaway Kitchen & Bar
If you like Asian street food, Hideaway Kitchen & Bar is an excellent place to go for great dining out on the Gold Coast. In addition to the tasty food, this restaurant has a great ambience with plenty of colourful umbrellas, street art, and eclectic furniture. Hideaway Kitchen & Bar is also a sophisticated and chic place to dine despite its whimsical nature.
In addition to their fabulous food, Hideaway Kitchen & Bar has plenty of signature cocktails and inspired takes on classic favourites. Their Tom Yum Siam cocktail is delicious, balanced, and pairs well with many of their dishes.
Try the Devil's Margarita with plenty of spice and flavour if you want something more traditional. Their Crying Tiger dish is perfect; full of flavorful, tender, beef, and tasty sauce and their Bao Buns are light and full of authentic flavour.
Gemelli Italian
Australia's Gold Coast has some exceptional Italian dining options like Gemelli Italian. This rustic and homestyle Italian restaurant has all of the comfort food classics that you crave, including pizzas, fresh pasta, and delicious plates of Antipasto. Their pizzas are delicious, topped with classic and inventive flavours, and have the perfect cheese to sauce ratio.
While all of their pasta dishes are great, their gnocchi is in a class of its own. Light, flavorful, and artfully prepared, it's a "must-have" dish at Gemelli Italian. Unfortunately, this restaurant tends to get pretty busy, so it's a good idea to make reservations well in advance, especially if you're visiting during mealtimes or holidays.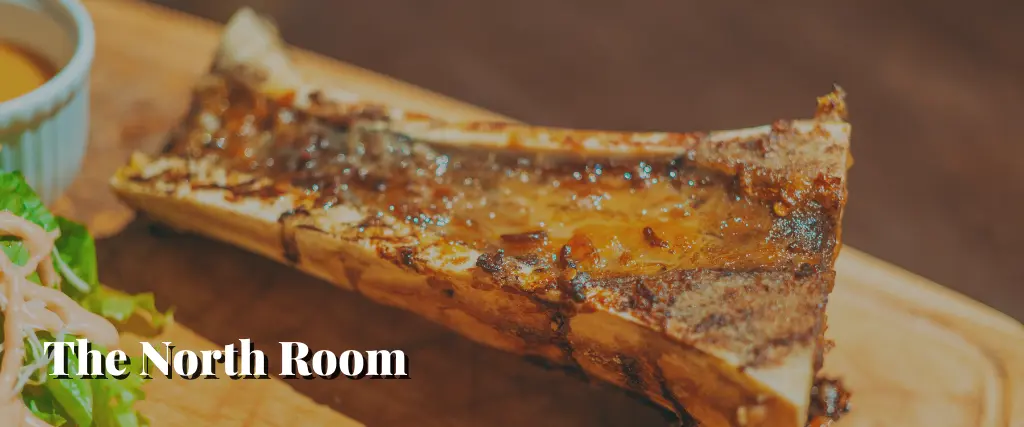 The North Room
The North Room is a cosy and beautiful little restaurant with excellent food and exceptional service. It's a great place to go for a romantic night out or split appetisers and cocktails with a group of friends.
Every item on the menu is artfully presented, delicious, and memorable. Dinner at The North Room just might be one of the highlights of your trip to Australia, which is why it is one of the best restaurants for dining out on the Gold Coast.
Try their Bone Marrow Crumpet for a luxurious and savoury treat that combines two distinct menu items perfectly. Their seafood dishes are delicious too, and The North Room uses local, fresh produce for all of their sides. If you want a more immersive dining experience, try the tasting menu. Each course is matched with wine for a series of perfect bites.
Orzo
Orzo is a newer restaurant on the Gold Coast, but it's already making waves in the foodie community for its delicious, traditional Italian cuisine and exceptional service. The ambience is casual, welcoming, and warm, but the dining experience is luxurious and high-end. This combination is truly a winning formula and rapidly puts Orzo on the map.
Orzo specialises in inspired renditions of well-loved dishes, often combining several different flavours for a unique experience. Their Gnocchi Poutine is tasty, full of traditional poutine flavours and cheese with a clever addition of gnocchi instead of French fries. Their Wagyu Steak is good too; cooked precisely to your liking and served with a smile.
Kiyomi
Kiyomi is an intimate and gorgeous Japanese restaurant in the heart of the Gold Coast. If you like seafood, traditional Japanese flavours, and sushi, you should definitely put Kiyomi on your list. Their menu is full of clever, pleasant surprises, like Hiramasa Kingfish Miso Ceviche and Oyster Yuzu Granita. Their sashimi is perfectly fresh, expertly cut, and looks stunning.
If you want something cooked, their scampi is delicious, and their Lamb Cutlet is tasty too, with hints of Japanese seasoning. Meat eaters will want to try their Waygu Striploin. It's buttery, flavorful, and seasoned to perfection. Save room for dessert too! The homemade sorbets at Kiyomi are delicious.
Wrapping Up
Australia's Gold Coast has it all. There are plenty of exciting things to do, long beautiful stretches of beaches, and some of the absolute best eateries in the country.
These fifteen places are the best restaurants for dining out on the Gold Coast, and you should certainly visit at least one of them the next time you find yourself in Australia.
Trust us. You won't be disappointed, and you might just have one of the best dining experiences of your life, as well as a gorgeous view of the Gold Coast while you dine.