Want to go camping with your dog near Brisbane but not sure where to head to?
Don't worry, we've got the scoop!
In this guide we will showcase 15 dog-friendly camping sites within a 2-hour drive of Brisbane, that should provide you with the perfect place to holiday.
Incorporating a range of different campgrounds, from those located by the beach with full power and lots of amenities to other rustic sites, in remote, rural woodland, there is an option here for every camping preference.
All you need to do is pick one! So let's go ahead and check them out.
15 of the Best Dog-Friendly Camping Brisbane Sites
Here in no given order, is our recommendation of the best dog-friendly camping spots near Brisbane that you should consider staying at next time you fancy a holiday.
Golden Beach Holiday Park
Address: 9 Onslow St, Golden Beach QLD 4551
Located just 100 metres from the Pumicestone Passage, the Golden Beach Holiday Park is a terrific place to take your dog.
Blessed with plenty of opportunities to fish, swim, SUP or bike ride, guests at the campground get to enjoy hot showers, flush toilets, a lovely swimming pool and a decent camp kitchen.
They are also based within a minute's walk to the beach and are presented with a range of accommodation options including everything from tents to units and big rigs. All of which are equipped with power, water and sullage.
Whilst at the campground, you will need to keep your dog on a leash during the entire time you are there.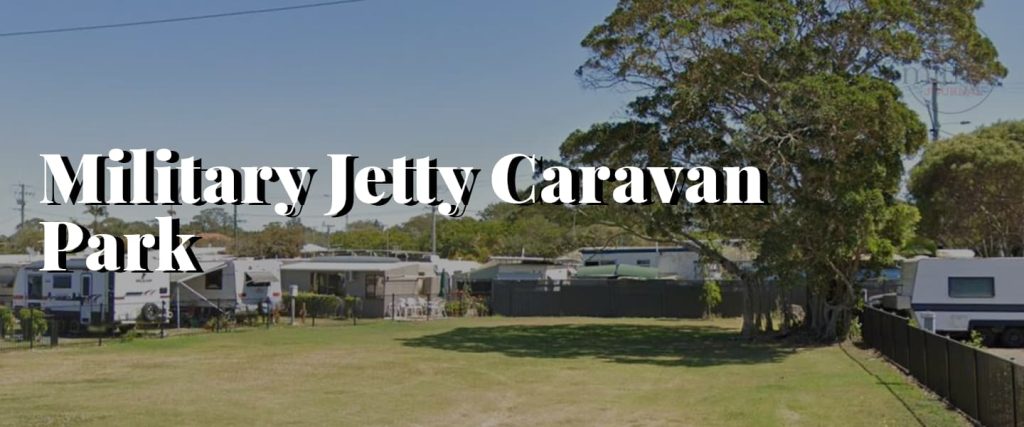 Military Jetty Caravan Park
Address: 131 Esplanade, Golden Beach QLD 4551
The Military Jetty Caravan Park is another campground near Golden Beach, that is also situated alongside the Pumicestone Passage.
Just a few minutes' walk to the Caloundra CBD, it offers excellent proximity to the beach, as well as a
wide selection of cafes, restaurants, bars and other local attractions. So it provides you with the best of both worlds.
The beach itself is a lovely one to relax, walk, swim or fish on, while the pet and family-friendly campground offer a good range of camping options.
Coolum Beach Caravan Park
Address: 1827 David Low Way, Coolum Beach QLD 4573
Also on the Sunshine Coast, the Coolum Beach Caravan Park is a terrific pet-friendly campground that gives guests direct access to one of the best beaches in the region.
Situated next to the Surf Club, and with a large parade of eateries and shops literally over the road, the caravan park offers accommodation that includes everything from powered tent sites to cabins.
It's also close to an excellent children's playground and the famous Coolum Boardwalk, which you can walk, jog or scooter along.
To stay here you will need to complete a dog-friendly acceptance application form, which is available on their website.
Once you are on-site, however, you will be able to use the camp kitchen, as well as any one of three amenity blocks.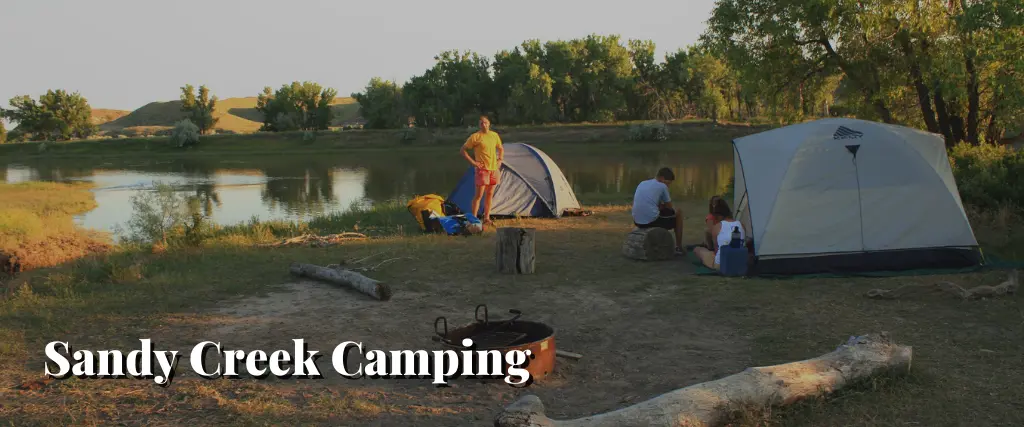 Sandy Creek Camping
Address: Sandy Creek Rd, Kilcoy QLD 4515
Fancy somewhere which offers a bit more isolation and tranquillity? Then how about Sandy Creek Camping.
Nestled within the verdant hills behind Kilcoy, this stoic campground is situated within a 500-acre expanse of lush, undeveloped land, which is ripe for exploration on foot or via bike.
Featuring a diverse range of flora and fauna, the campground does not have any power, so is more suitable for self-sufficient campers.
However it is dog friendly – so long as they are leashed at all times – and there are also hot showers and toilets.
There are also numerous sites for tents, motorhomes and caravans, spread throughout the campground, which usually means you can set yourself up with plenty of space.
Lake Maroon Camping Ground
Address: 535 Burnett Creek Rd, Maroon QLD 4310
Nestled close to the Maroon Dam, in a stunning bushland setting, the Lake Maroon Camping Ground is an excellent spot to head to if you enjoy recreational water-based activities like kayaking, SUP, water skiing and canoeing.
It is also a haven for anglers, as Lake Maroon is widely considered to be one of the best bass fishing destinations in Australia. Although you will need to procure yourself a fishing permit if this is something you would like to do.
Away from the water you can also enjoy bushwalking and picnicking.
The campground here presents a range of accommodation options that include everything from tents to homesteads.
Facilities do vary depending on the site you occupy, although there is an amenities block and camp kitchen available to use, while campfires are also allowed.
That said, caravans and camper trailers must bring their own water, although the campsites are so big, it can easily fit 2 to 3 families on any given site.
Overall Lake Maroon is a dog-friendly campground. But be aware it does have some areas that are off-limits for dogs, who must be kept on a lead or leash throughout their stay here.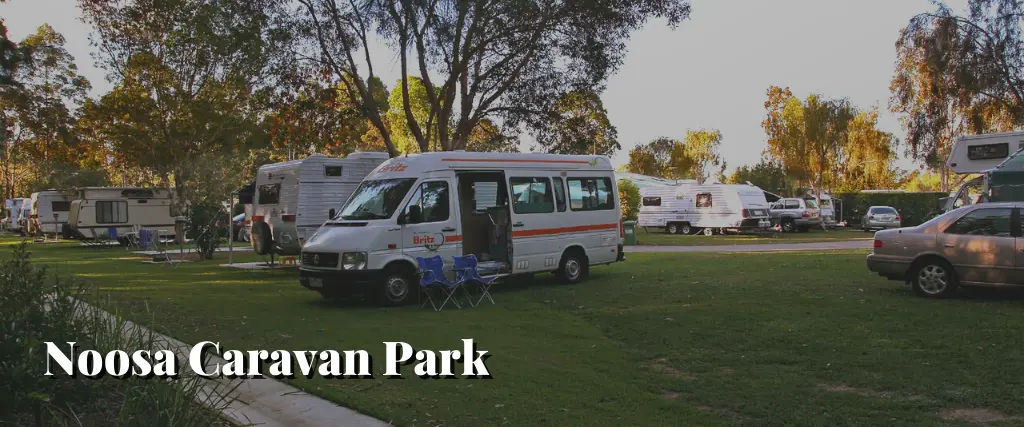 Noosa Caravan Park
Address: 143 Moorindil St, Tewantin QLD 4565
Providing a fantastic base to explore both the Noosa Main Beach and the Noosa River, the Noosa Caravan Park is another great place to stay on the Sunshine Coast.
Flanked by palm trees, the campground has a distinctly tropical feel to it, which instantly puts you in a relaxed frame of mind.
It offers a good range of powered sites which include everything from tent options to cabins, as well as a wide range of facilities and amenities, including toilets, hot showers and a camp kitchen.
The swimming pool here is heated, while there is a decent playground too for the kids, as well as a games room.
Like with most other places dogs need to be kept on a leash, except for when they are in your tent or van.
Kirra Beach Caravan Park
Address: 10 Charlotte St, Coolangatta QLD 4225
The Kirra Beach Caravan Park is a really good option for those who want to camp by the beach on the Gold Coast.
Situated just a block back from the sand, this relaxed caravan park boasts specific areas that have been designated as dog-friendly zones. It also has a big grassy parkland nearby which they can run around on.
Offering a range of accommodation options, the pet-friendly caravan park also has a good swimming pool, bouncing pillows, a well-equipped playground and decent camp kitchens, among many other amenities.
Boreen Point
Address: 1 Esplanade, Boreen Point QLD 4565
Although it's only a 30-minute drive from Noosa, the Boreen Point campground feels like a world away.
Nestled on the fringes of Lake Cootharaba, which is comfortably the Noosa River's largest lake, this is the perfect spot for those looking for a quiet and relaxing getaway.
An excellent destination to partake in water-based recreational activities like swimming, boating, kayaking, canoeing, SUP and fishing,
The area can also be explored via several walking paths that lead off in different directions from the Boreen Point campground.
Surrounded by gorgeous natural woodland and bushland, there are plenty of places on site where you can set up your tent, or station your van against fabulous water views.
There are 8 powered, and several unpowered campsites, which are dotted around either the sandy foreshore where the beach is or the bushland area.
If you stay here you will be able to make use of flush toilets, hot showers, drinking water and a range of other facilities including BBQs, camp kitchen, laundry and fireplaces. Close by, within easy walking distance, there is even a nice pub and a general store
There are dog-friendly camping spots at Boreen Point, but only for those camping in motorhomes or caravans. To enable your pet to stay with you, you will need to complete a dog application form.
Yarramalong Camping
Address: 688 Lake Moogerah Rd, Charlwood QLD 4309
Over in Charlwood, the Yarramalong Camping ground is a fabulous option for those who want to immerse themselves in nature.
Situated on Reynolds creek, with Lake Moogerah and Mt Edwards not far away, a stay at this campground provides you with wonderful opportunities to swim, kayak, SUP, or fish for bass and yellow belly.
If you love hiking, you can also make your way up Mt Edwards for incredibly scenic views, or head on up the gorge.
The campground here has many unpowered sites for accommodation options that include tents and cabins. However, they do have toilets and hot showers, while the cabins have lights, as well as a kettle and gas stove.
According to their Facebook page, dogs must be kept on a leash at all times.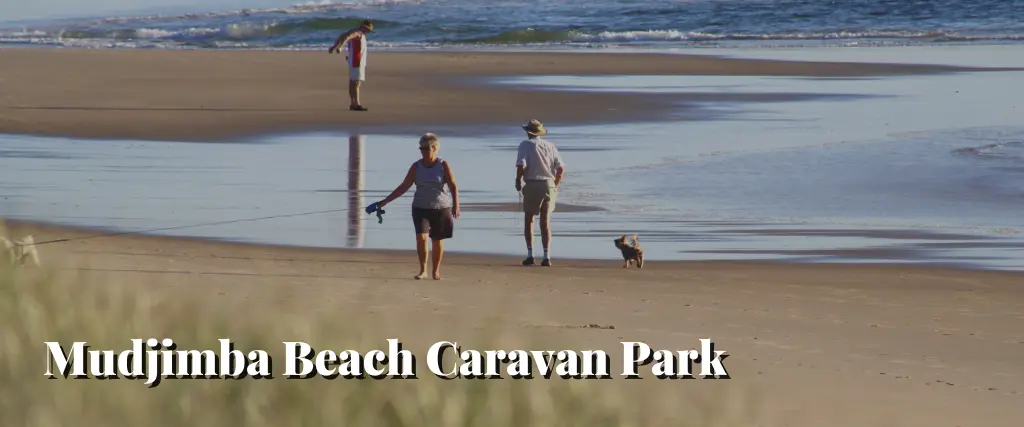 Mudjimba Beach Caravan Park
Address: Cottonwood St, Mudjimba QLD 4564
Yet another excellent camping option on the Sunshine Coast can be found at the Mudjimba Beach Caravan Park.
Quietly tucked away between the Maroochy River and the Mudjimba Surf Beach this campground resides in peaceful and tranquil surroundings.
It offers a good selection of accommodation options that incorporate everything from unpowered sites to cabins, at prices most people should find affordable.
The beach here is located about 200 metres from the campground, while onsite there is also a very good swimming pool too. It is also based close to a small parade of shops and a children's playground.
To camp there with your dog, you will need to visit their website and complete a dog-friendly application.
Imbil Camping Retreat
Address: 5 Imbil Island Rd, Imbil QLD 4570
Another very good option for those who want to be in a more rural location is the Imbil Camping Retreat.
Located within the Gympie region of Queensland, about 2 hours north of Brisbane, this is an excellent place to de-stress from the pressures of your daily or working life.
There is plenty to do here, including swim, SUP, kayak, hike or fish, but there is also plenty of places you can head to as well for some quiet time.
Set on a 12-acre property that sits adjacent to Yabba Creek, the campground offers powered and unpowered sites which are designed for both tents and caravans.
It counts toilets, hot showers, a camp kitchen, playground and even fire pits among its facilities, and is also pet-friendly – although, you guessed it, dogs must be kept on a leash.
Darlington Park
Address: 2505 Kerry Rd, Darlington QLD 4285
Thinking of heading to the Lamington National Park with your dog? Then you would be well advised to stay at the Darlington Park campground.
Enjoying a fabulous locale surrounded by shady trees and right next to the river, this cool, pet-friendly campground offers sites for everything from tent camping to big rigs.
Facilities here include toilets, bbq areas and fire pits.
Kenilworth Bluff Creek Campgrounds
Address: 44 Wilcox Rd, Kenilworth QLD 4574
Looking for a non-beach, dog-friendly campground on the Sunshine Coast? Then the Kenilworth Bluff Creek Campground should fit the bill.
Situated on a 100-acre property, which lies right beside the stunning Mary River, this is a wonderful spot for those who want a stoic location within a woodland setting.
You will not find any powered sites here, so this is another campground that is more set up for self-sufficient campers. However the non-powered sites are quite spacious, and there are also toilets, hot showers, BBQs, a camp kitchen and laundry facilities here too. In addition, you are also allowed to have open fires.
In terms of things to do whilst you are there, the campground offers several chances for swimming, river kayaking, fishing, bike riding and hiking along the local trails. The nearby town of Kenilworth is a fantastic town to explore too.

Bigriggen Campground
Address: 196 Bigriggen Rd, QLD 4287
The Bigriggen Campground enjoys a picturesque and remote setting on a 100-acre property that is surrounded by national park and bordered by the Burnett Creek and Logan River.
With so much space to explore this is a great place to bring your dog. It also offers plenty of recreational activities like fishing, swimming, bike riding, bushwalking and kayaking for you to enjoy too.
There are plenty of powered accommodation options, ranging from tents to motorhomes, while facilities include the likes of toilets, open fire pits and hot showers, the latter of which will cost you $1 per wash.
Big 4 Gold Coast Holiday Park
Address: 66-86 Siganto Dr, Helensvale QLD 4212
Possibly the best dog-friendly site of them all within a 2 hours drive of Brisbane is the Big 4 Gold Coast Holiday Park.
This awesome holiday park is well set up for both your dog and your kids to enjoy a fantastic holiday in this fabulous part of Queensland.
Close to the theme parks and the beaches, this fantastic Big 4 location includes big shaded cabanas where you can watch your children play in a water park. There is also a Kids Club here too, as well as a heated swimming pool, unpowered go-carts and a huge jumping pillow.
Accommodation options include everything from powered tent sites to cabins, some of which are deluxe, and others of which are specially set up for a maximum of 2 dogs to sleep in them.
General amenities include hot showers, plenty of toilets, a camp kitchen and an onsite café.
For your dog, there is also a very good off-leash area for them to run around in, as well as a puppy pampering palace, a doggy poolside café and even doggy day care kennels.
Final Thought
So that's that! Our review of 15 dog-friendly camping sites within 2 hours drive of Brisbane.
We hope this guide has inspired you to visit at least one of these campgrounds with your pooch.
If it has, you and your four-legged friend will be in for a wonderful time whilst you are there!