Situated about 400 km from Brisbane, Roma is a historic country town with a population of about 6,000 people.
Famous for being the location where natural gas was discovered in 1900, this remote outback town might not be the first name that springs to mind when you think of a Queensland getaway, but you would do well not to completely discount it.
Considering it is the main service centre for the outback, Roma is blessed with a good selection of attractions that appeal to couples, families, retirees and individuals alike.
If you ever find yourself in the area with a bit of time on your hands, outlined below is an overview of 16 fun things to see and do in Roma.
Stroll around the Roma Bush Gardens
On a beautiful and sunny day, the Roma Bush Gardens is a fun activity for all the family.
Set across 14 hectares, it contains 11 types of vegetation, including the likes of Brigalow, Mulga and Coolibah, that Roma is best known for.
A lovely place to stroll around, the gardens have several scenic spots that are great for picnicking too.
Those into birdwatching should particularly enjoy the opportunity to spot the kookaburras and rainbow lorikeets that rest within the tall trees, as well as pacific black ducks and swamp hens in the water.
Ride the Roma Express Miniature Train
Love trains? Then the Roma Express Miniature Train is somewhere you should definitely check out.
Providing you with the opportunity to see all of the town's main sights close up, the train covers a distance of almost 1.5 km.
All up it will take you through the Big Rig Complex and then across into Bungil Street before heading into the nearby parklands.
One of the most popular things to see and do in Roma for families with children, the Roma Express usually operates from 8:30 am to 5 pm every day of the week, during the period of November through to March.
The train is free for children under the age of 3 years old, while ticket prices are $2, (at the time of writing), for everyone else.
Marvel at the beauty of St Paul's Anglican Church
One of the most popular tourist sites in Roma is St Paul's Anglican Church.
Situated in Bungil Street, this architectural masterpiece has two distinct features – 39 sensational stained glass windows and a magnificent 576 pipe organ which resides at the rear of the church.
A lovely building to explore at your leisure, a church was originally built here in 1876, however it was replaced by the existing structure in 1913.
Observe Aboriginal Art Sites at the Carnarvon Ranges
Throughout the Carnarvon Ranges Aboriginal Art Sites provide a fascinating insight into how Indigenous Australians lived for thousands of years.
If you are interested in seeing some examples of these works they are not easy to get to. First of all, you will have to drive over to the gorge, then you will need to hike for around 6 km until you get to the Art Gallery & Cathedral Cave, where you will be able to view the revered rock art up close in person.
The depictions on the rock showcase the ceremonial objects, animals, weapons and other tools that were a part of the first people to live in Queensland.
Their incredible beauty and intricacy make the long journey very much worth the effort of getting there.
Check out the vintage cars at Up the Creek Garage
For those who love vintage cars, the vehicles on display at the Up the Creek Garage are sure to bring you plenty of joy.
Located on George Street, this family-owned vintage car museum showcases a good selection of classic cars including the likes of Lincolns, Mustangs, Camaros, Corvettes and Trans Am.
The museum is open every weekday between 9 am and 5 pm. But if you want to visit it at the weekend you'll need to make an appointment.
In addition to the cars, there are also games for the kids like Cornhole, as well as cows called Jack and Tex that you can pat.
Take a selfie by Roma's Biggest Bottle Tree
Roma has some lovely trees, and the most iconic of them is a bottle tree that is believed to have been around since the 19th century.
Transplanted to its current site at the end of Edwardes Street in 1927, the impressive tree is 15
metres high. It also has a girth of 9.62 metres and a crown of some 23 metres.
Now a major tourist attraction in Roma, taking a selfie by the tree is something you simply must do.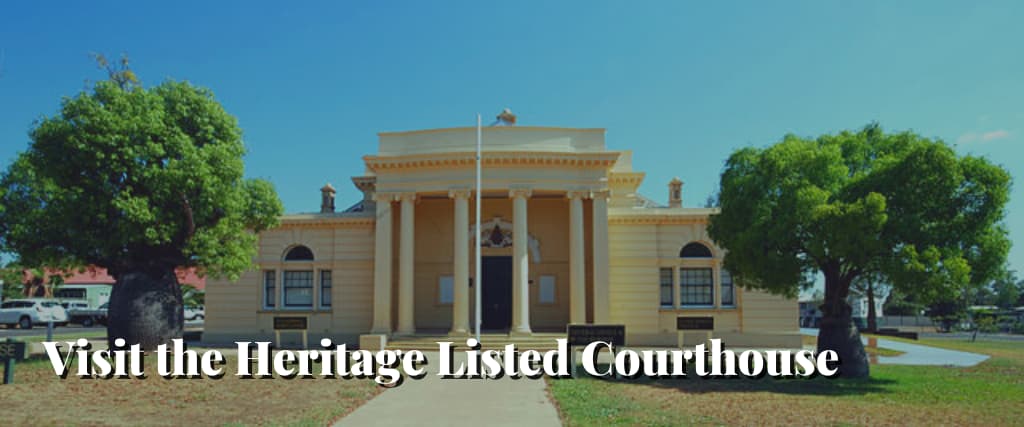 Visit the Heritage Listed Courthouse
You'll definitely want to visit Roma's Heritage Listed Courthouse of your own volition, as opposed to by the order of the police, but it is well worth checking it out.
Located at McDowall Street, this impressive courthouse oversaw its first case in 1873 during the trial of a cattle duffer called Harry Redford, who along with an accomplice is believed to have stolen 1000 cattle and driven them to South Australia.
Although the current site is not the original courthouse – this version was a new building that opened in 1901 – this historic institution of law still holds trials today.
Traverse the Adungadoo Trail
If you are looking for something to see and do in Roma that will get you into the fresh air, then you should consider traversing The Adungadoo Trail.
Following the calm waters of Bungil Creek, this concrete paved pathway extends for 1.7 km against a scenic backdrop of river gums.
Starting on Riggers Road, from the back of the Big Rig at the Warrego Highway, it is a lovely spot to walk, jog or cycle.
Those who like birdwatching will also enjoy the spotting opportunities available to them over at the adjacent watercourse.
Witness a cattle auction at the Roma Saleyards
Roma is famous for being the 'biggest cattle selling place in Australia' with upwards of 400,000 cattle exchanging hands every year. So it's definitely worth checking out the Roma Saleyards to see these transactions in person.
The auctions are a fantastic spectacle to watch, but there is so much more than just cattle to draw you here. The Roma Saleyards are also a place where people can socialise with like-minded individuals, as well as explore the inner workings of a cattle farm.
To highlight this aspect further, be sure to visit the recently constructed interpretive centre. Open every day of the year from 8 am to 5 pm, it offers exhibits and a tour that will give you an in-depth look around the saleyards, as well as some of the animals.
Put on a wager at the Roma Picnic Races
Picnic races have been a fixture in Roma since 1901 and are a major event in the community.
A great way to meet locals, the Roma Picnic Races is one of the best things to see and do in Roma. Generally, they have around five race programmes that tend to start around 1.30 pm.
Aside from the races, there is live music that goes late into the night, as well as other fun, organised events. In 2020 this included Art & Tea in the Wool Court and The Inky and Moss Fashion Fields parade, both of which went down a treat.
Do the Hospital Hill Heritage Walk
Another popular thing to see and do in Roma is the Hospital Hill Heritage Walk.
This interesting, 2-km self-guided tour will take on a journey through Australia's oil and gas industry – which is significant as it is famously the place where natural gas was first discovered.
All up the Heritage Walk will take you to a dozen different sites which hold prominence within both industries.
It is designed to give you a great understanding and appreciation of oil and gas exploration since the year 1900 and is well worth the investment in your time.
Take in a Big Rig Night Show
Still, on the natural gas theme, the Big Rig Night Show highlights the history of Roma from the point when natural gas was discovered.
Over the course of 60 minutes, this tour will take you on a light and sound exploration which conveys stories of the struggles and successes of the men and women who worked in this industry.
The tour only takes place on Mondays, Wednesdays and Fridays. Between November and March, it starts at 5.30 pm, while during the months of April and October it starts at 5 pm.
Check out the Three-Dimensional Clay Mural
One of the most arresting sites in Roma is the fantastic three-dimensional clay mural that is situated at the Roma Cultural Centre.
Created by John and Maureen Morrison, both of who are native artists of Roma, their jaw-dropping clay mural is made up of 17 different elements.
Depicting Roma's rich culture, history and industry, the mural stands at 8 metres and is accompanied by a light and audio presentation.
For those with an appreciation of art, this mural is one of the best things to see and do in Roma.
Enjoy an outback feast at the Roma Explorers Inn
During your time in Roma, you are going to need somewhere to eat and one of the best places to do this is at the Roma Explorers Inn.
A meal here is a true outback feast, with options like traditional pies, rissoles, and pasta being available in hearty portions.
The lively family-friendly restaurant is much loved by tourists and locals alike. They even have a good-sized children's menu that features a range of favourites including chicken nuggets, pizzas and other great options.
Open every day of the week for breakfast, lunch and dinner, this is the perfect venue to visit for some wholesome country cooking.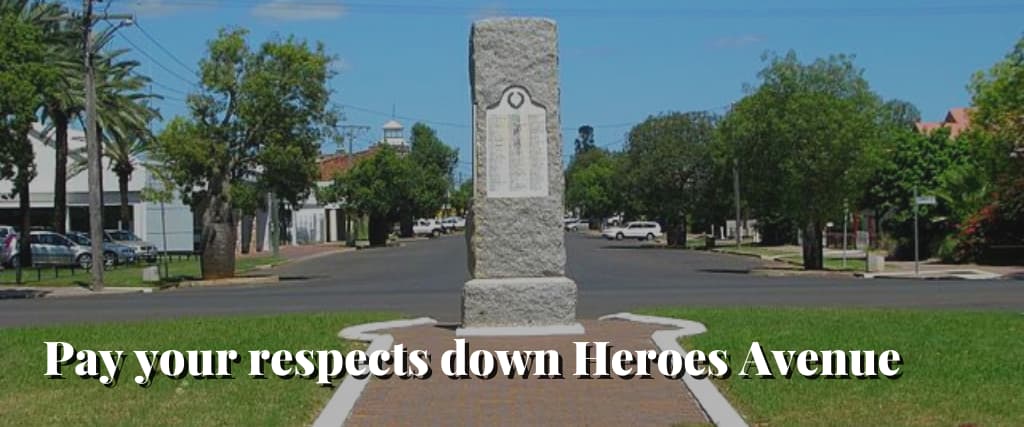 Pay your respects down Heroes Avenue
One of the most poignant landmarks in Roma is Heroes Avenue.
Taking the form of a row of 140 bottle trees that were planted to honour the bravery of the soldiers who went to battle in World War I, the first tree is believed to have been put down in 1918, with the remaining ones planted in 1920.
Outside the front of the post office, there is a cairn that conveys the names of 93 fallen soldiers.
To honour those soldiers who fought in the Second World War, an Honour Board was put up on Bungil Street, as well as a memorial in Queen Park.
Take part in Roma's Annual Easter Extravaganza
If you happen to be in Roma around Easter, one of the things you simply have to check out if you have kids is Roma's Annual Easter Extravaganza.
A very popular family-friendly event which provides fun for all ages, the main highlight, of course, is the Easter Egg Hunt, which sees children search for decorated and coloured eggs. As well as the hunt, there is also a fabulous street parade and a cool market that sells an eclectic range of foods and wares.
Additional events vary but may include things like art shows, bull rides, motocross and goat racing.
This extravaganza happens every year during the Easter period, so be sure to check out the details nearer the time of your visit.