Thinking of visiting Maleny? Well, this guide is perfect for you!
In it, we will provide you with an overview of all the things to see and do in Maleny and the surrounding areas.
From deluxe high teas and stunning waterfalls to picturesque botanical gardens and incredible art, you'll be spoilt for choice when it comes to visitor experiences.
Whether you come to Maleny for a day, or a little bit longer, you are sure to be impressed by what this delightful town on the Sunshine Coast has to offer.
Visit Waterfalls
Arguably the most impressive of all Maleny attractions is its stunning waterfalls.
Blessed with not one, or two but three outstanding waterfalls, if you like nothing more than the sight of a raging cascade then this gorgeous town in the Hinterlands has well and truly got you covered.
If you only have time to visit one waterfall then we would recommend you check out Kondalilla Falls, which is part of the Blackall Range.
However, if you find you have a bit more time on your hands then be sure to visit the scenic Gardners Falls, which is downstream from the Obi Creek, and Baxter Falls in nearby Flaxton, both of which are impressive too.
Have High Tea at Flaxton Gardens
Talking of Flaxton, don't miss the opportunity to indulge in high tea at the magnificent Flaxton Gardens.
An award-winning winery, wedding venue and function centre, Flaxton Gardens serves up the most exquisite high teas.
You can choose between a range of high tea options including tapas, seafood and smoky stack, as well as a special dietary high tea for vegans, and those with a gluten or dairy intolerance.
Beautifully presented on their stunning terrace, you will get to enjoy it whilst taking in sensational, sweeping views of the Sunshine Coast all the way from Noosa to Moreton Island.
Mary Cairncross Scenic Reserve
Arguably Maleny's most popular tourist attraction is the Mary Cairncross Scenic Reserve.
A must-do for anyone who enjoys nature, this reserve incorporates around 55 acres of sub-tropical rainforest which you can walk around via a trail and boardwalk loop.
Whilst you traverse the trail you will be able to spot lots of different species of flora and fauna, including birds, paddy melons and various other reptiles and amphibians.
In the visitor centre, there is also a museum that hallmarks the creatures that currently, or once thrived in this ecosystem.
There is also a coffee shop here where you can order something to eat or drink, whilst taking in sensational views over the road of the Glass House Mountains.
Try craft beers at the Brouhaha Brewery
It's always good to try the local beer wherever you go and the Brouhaha Brewery in Maleny won't disappoint.
Founded by locals, for locals, this cool venue is a lovely place to visit. The menu here offers good quality, locally sourced food, and the beers and wines available should appeal to a wide range of palates.
Fronted by friendly staff, and radiating a relaxed and laid-back vibe, you will be able to visit here every day of the week except Sunday between 10 am and 5 pm.
Maleny Botanic Gardens and Bird World Maleny
Easily one of the best things to see and do in Maleny is to visit the delightful Maleny Botanic Gardens and Bird World.
Centred around 18 acres of land, the botanical gardens showcase a fabulous assortment of layered and terraced gardens, as well as a stunning waterfall. It also contains a collective of eye-catching roses, azaleas and annuals.
In addition to the gardens, if you decide to take the Aviary Tours, you can also walk through four aviaries where over 700 local and foreign birds reside.
Open every day except Christmas Day, from 9 am to 4.30 pm you can buy tickets separately for the garden, or a combined ticket that will give you entry to both. To offer more value for money, family ticket passes are available.
Browse in the bookshops
Maleny has a couple of wonderful bookshops which are well worth browsing.
Both the Maleny Book Shop and Rosetta Books offer a wide selection of fiction and non-fiction books that come in hardback, paperback or limited editions.
Covering a wide range of genres, they are homely stores that have a great smell and ambience. Prices for new and old books are pretty reasonable too, so you should invest some time in thumbing through their entire range.
Visit the Maleny Cheese Factory
Are you a turophile? Well if you do love cheese then the Maleny Cheese Factory is somewhere you should definitely head to.
Back in operation, after a major fire on the premises forced them to suspend production for over a year, these guys make a fantastic range of top quality, gourmet cheeses.
Aside from their raw cheese which you can buy at the counter, they also offer an exceptional cheeseboard you can eat on site.
In addition, you can try the likes of deep-fried Camembert, Buffalo feta, scones and cheesecake.
Open from 10 am to 3 pm every day of the week except Monday and Tuesday, If you are interested they also run tours of the factory at the weekend.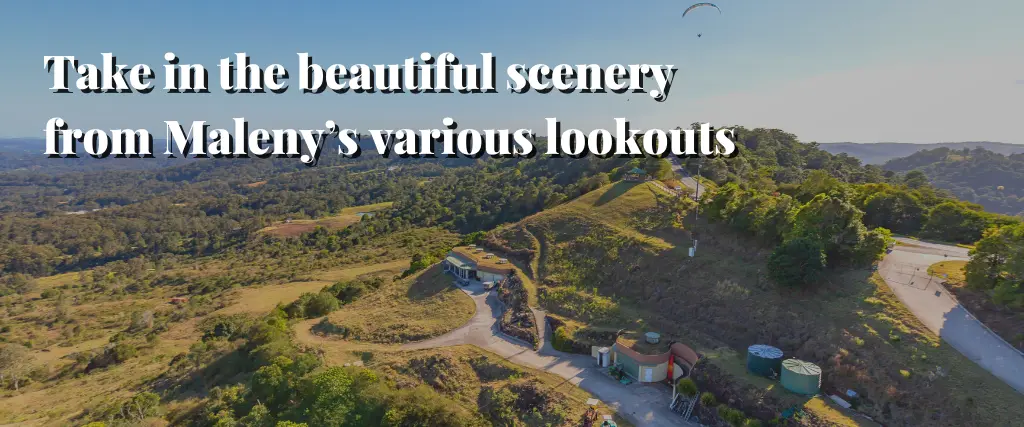 Take in the beautiful scenery from Maleny's various lookouts
The rolling hillside scenery of the Sunshine Coast Hinterlands is pretty spectacular and nowhere is this better showcased than in and around Maleny.
If you get the chance there are four superb lookouts you should try and get to – Gerrards Lookout, Obi Valley Lookout, One Tree Hill and McCarthy's Lookout. All of which present sweeping and jaw-dropping views of the Glasshouse Mountains.
All of these lookout spots provide excellent photography opportunities, and if you can get to them at sunset, the evening colours will provide you with a real visual treat.
Visit Maleny Dairies
An institution on the Sunshine Coast, Maleny Dairies is a fabulous farm and factory which provides tours of their facility to enable people to get a better understanding of how dairy facilities work.
After watching a short introductory film about the history of the farm, tour guests are then led down to the factory where they will be shown how the operation at Maleny Dairies is run.
Kids will love Milli, the dairies' cow mascot, and once the tour has finished you will all be able to sample some very tasty variations of their milk products which include milkshakes and ice cream.
As well as being very informative, the farm is based within an area of exceptional scenic beauty which only enhances the experience.
Maleny Dairies is open every day, except on Sunday, from 8:30 am to 4:30 pm. Tours are run daily.
Baroon Pocket Dam
One of the most relaxing things to see and do in Maleny is to visit the Baroon Pocket Dam.
Constructed across the Obi Creek, this gorgeous lake straddles both Montville and Maleny.
If you love nature you will find it a terrific spot, with many recreational facilities like fishing, kayaking and canoeing being open to you.
The dam also has plenty of attractive picnic spots with free barbeques by the shoreline, whilst a number of trails provide interesting walking options.
There is even a playground onsite to keep the children entertained.
Eat award-winning ice cream at Maleny Food Co.
If you love ice cream, then do yourself a favour and visit the Maleny Food Co.
Offering a fabulous range of sorbets and gelato, all of which are locally made with the highest quality milk they can source, this ice cream is unique in that it is not whipped. Rather it is churned to give it a delicious creamy texture.
Open from 8 am to 2 pm on Thursday through to Sundays, they present over 100 flavours of ice cream at their store.
Some of their most popular ones include the likes of Espresso, Blood Orange, Lychee Choc Ginger, Fruit Salad and Hazelnut.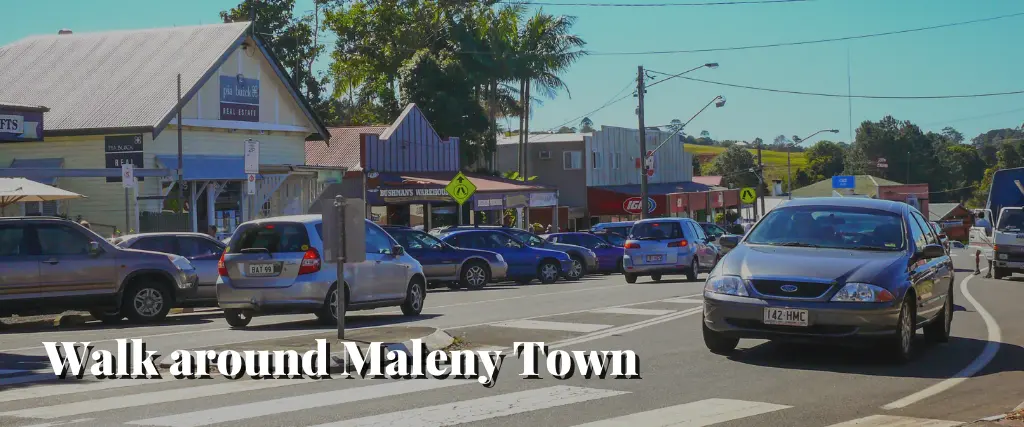 Walk around Maleny Town
If you do visit Maleny you should take some time to peruse the shops around the town centre.
In and around Maple Street, the main thoroughfare for Maleny, you will find a nice selection of clothing boutiques, gift shops and antique stores.
Some notable places to visit are Giddy and Grace, who supply a terrific selection of gifts for men, women and kids of all ages.
For shoes and clothes be sure to check out Imelda's on Maple and The Industree respectively. While
the Maleny Arts and Craft Group has an interesting mix of glass work, pottery, knitwork and wooden products.
The Soap Bar is also another fabulous speciality gift store worth visiting.
Enjoy coffee and a meal
Undoubtedly, one of the best things to see and do in Maleny is its various cafes.
Maleny takes its food and coffee very seriously and when it comes to serving good quality versions of both, then Maple 3 Café and Sarah's Unplugged stand out for their offerings.
Known for dishing up some of the best cuisine and coffee on the entire Sunshine Coast, Maple 3 Café will tempt you with everything from carpaccio to a cappuccino. Their pies are really good too whilst their selection of cakes is to-die-for.
At Sarah's Unplugged they plated up good, hearty, homemade dishes to suit all dietary requirements. As well as an exceptional range of cakes, tarts and sausage rolls.
Order from either of these venues and you won't be disappointed.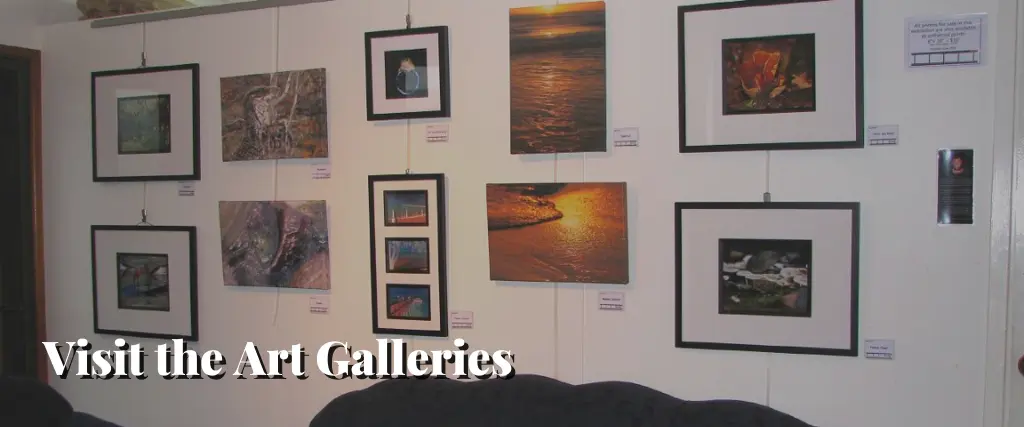 Visit the Art Galleries
Maleny and the Sunshine Coast Hinterlands in general are known as an artist's enclave. So if you love art you will be in for a treat.
There are two terrific galleries in town – Art on Cairncross and Maleny Art Direct. Both of which showcase truly stunning works.
Art on Cairncross is open from 10.30 am to 5 pm every Wednesday to Sunday. Their gallery presents a mesmeric collection of sculptures, paintings and photographic pieces, in a relaxed space which you can peruse for hours.
Maleny Art Direct is a little different, as it is essentially a shop that offers outstanding paintings, sculptures and jewellery. Open every day, they also display eye-catching whale pottery created by the acclaimed visual artist Lindsay Muir, as well as quirky artworks by Bernard O'Scanaill.
Pop over to the nearby town of Montville
Once you have checked out the delights of Maleny, why not pop over to neighbouring Montville?
It will take you about 15 minutes to drive to this slightly smaller, but no less charming town and once you are there you will be able to check out an eclectic mix of boutique stores, cafes, restaurants and art galleries.
There is also some very impressive architecture to view, as well as scenic parks to relax, or let the
children play in.
Stroll around Witta Market
If you happen to visit Maleny on the third Saturday of the month then it is worth heading to the Witta Market.
Situated in a rural village that is less than a 10-minute drive away, these markets champion the best of local produce and growers.
As well as things like fruit and veg, jams, preserves and baked goods, you can also buy live chickens, handmade soaps, bales of hay and beautiful fresh flowers.
Run from 7.30 am to midday, you can also order plenty of food here to eat straight away, while live music is played throughout its duration.
So there you have it. Our list of 16 things to see and do in Maleny!
Which of the above do you most like the sound of?
If you intend to stay in Maleny for a night or two, or maybe even longer, you are going to need to book yourself a hotel, or another type of overnight accommodation.
There are plenty of decent places to say, but we recommend Spicers Tamarind, Secrets on the Lake and the Spicers Clovelly Estate as three of the best options available in Maleny.
Stay at any of them and you won't be disappointed.