There was a time when Brisbane was ironically called Bris-Vegas because there wasn't much there to do there at night. But that has all changed now!
Today the city is blessed with a wide selection of activities to satisfy your five senses and keep you entertained.
If you live in Queensland's state capital, or you are thinking of visiting there for a few days, here is an overview of 17 fun things to do in Brisbane at night.
Eat at one of Brisbane's best restaurants
In recent years, Brisbane's dining scene has really grown, to the point where the city now has excellent restaurants on practically every street corner.
Why not spend an evening enjoying a fancy meal at one of its best restaurants?
Enjoy the delicious carte blanche menu at the French-inspired Dan Arnold, or the delightful fine-dining fare on offer at Rough Bistro.
Alternatively for something quintessentially Australia, head to The Wood Horse Restaurant for steaks, seafood and cocktails.
Skip Straight for Dessert
Don't fancy messing around with dinner? Then why not skip straight to dessert?
In Brisbane, dessert bars are a thing and there are quite a few decent ones to go to around the city. Some very good ones to try include the Flour & Chocolate Patisserie, which serves an incredible range of chocolate eclairs, chocolate drizzled croissants and sweet pastries, and Le Bon Choix is another very good bakery.
If you prefer ice cream, Gelato Messina South Brisbane offers a wide selection of refreshing flavours including lychee, Tiramisu, coconut and pear and rhubarb.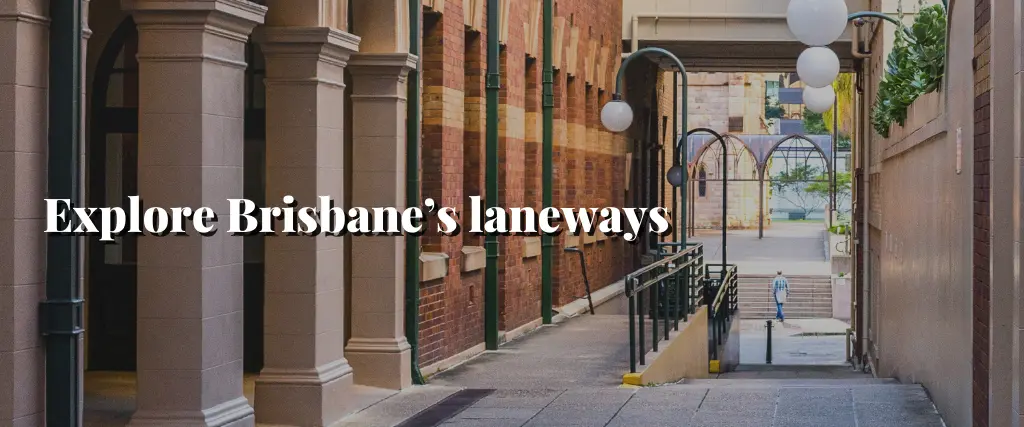 Explore Brisbane's laneways
Just like Melbourne and Sydney, Brisbane has a number of narrow laneways that accommodate the best of the city's culture.
Far from being places to be afraid of, these laneways are great to explore as they are filled with plenty of fabulous cafes, restaurants, bars, galleries and boutique shops.
Some of the best laneways to check out include Albert Lane, in the city, Winn Lane in The Valley and Fish Lane in South Bank.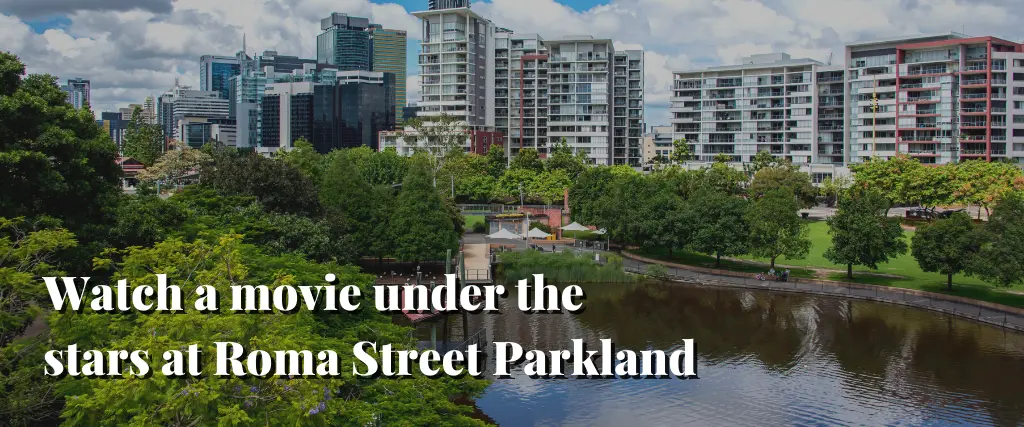 Watch a movie under the stars at Roma Street Parkland
One of the coolest ways to enjoy an evening in Brisbane is to watch a movie under the stars.
The Moonlight Cinema within Roma Street Parkland is a fabulous place to do this as they show a mix of new films and old classics.
All you need to bring along is a blanket to sit on the grass or some chairs. Although a picnic wouldn't go amiss too. That said there are plenty of food trucks in the park, should you want to buy yourself something to eat.
Watching a movie under the stars is a splendid experience and the best part of it is that it is absolutely free!
If this is something you would like to do, the period between November to April is when the weather at night tends to be at its warmest.
Dance the night away at Fortitude Valley
Want to go clubbing? Well, the best place for that is at the Fortitude Valley.
Usually referred to as 'The Valley', there are a number of very good clubs and bars you can visit in this area if you fancy a night of drinking, singing and dancing.
These include the likes of Empire Hotel, Cloudland, Press Club, Prohibition Brisbane and The Wickham. All of which offer various types of dance music, live bands and an overall good time.
Go to a Brisbane Broncos NRL Game
Brisbanites love NRL and when the Broncos are playing at home on a Friday night, many locals head to Suncorp Stadium to watch the game.
Broncos games are a big deal for the locals and the atmosphere is always electric. Tickets start from around $30, and if you show your ticket to the bus or rail staff on Brisbane City Council Buses or Queensland Rail City Network, you can enjoy free travel to the game.
Enjoy an evening kayak ride along the Brisbane River
For something a bit more out of the left field, why not enjoy an evening kayak ride along the Brisbane River?
You will get to see many of the city's main landmarks, including passing under the Victoria Bridge, and by the Treasury Casino and Brisbane Wheel.
You will also get to see the city buildings all lit up at night, which are fantastic Instagram photos waiting to be taken, as well as get plenty of fresh air and a bit of exercise too.
Go for an evening stroll at Kangaroo Point Cliffs
One of the things locals like to do in Brisbane at night is take a night stroll along the Kangaroo Point Cliffs.
Boasting a rich history, this iconic attraction is known for its rhyolite rocks, which illuminate up at night. This gives the area a romantic, otherworldly and charming feel as you walk around it, which is a joy to experience.
Aside from walking, this is a popular area to come to for rock climbing, while Captain Burke Park is one of the best places in Brisbane for a night picnic or BBQ.
Check out the Cosmic Skydome
One of the best things to do in Brisbane at night is to visit the Cosmic Skydome.
Found within the Sir Thomas Brisbane Planetarium, the Cosmic Skydome boasts advanced technology which enables them to present absorbing, highly realistic and very entertaining shows about space.
Quite a few different Cosmic Skydome shows are run, which all have the same structure as a two-part tour. During the first part, the audience gets to watch a visual presentation. Whilst in the second part they bear witness to a realistic depiction of the night sky over the city, as the tour guide points out various constellations and stars.
For those who are fascinated by the Cosmos, the shows are a fun and educational way to spend an evening.
Enjoy a romantic meal on the Brisbane River Dinner Cruise
Looking for something romantic to do? Then why not up the romance levels with a Brisbane River Dinner Cruise?
Operating every night from Thursday to Saturday, you will be able to enjoy a delicious buffet-style meal as you cruise along the Brisbane River on a vessel that was custom-made to do so.
The kind of food you can choose from includes everything from local reef fish and seafood to Caesar Salad, while for dessert there is chocolate fondant.
Whilst you eat, you will be able to take in the fabulous views of the city lit up at night, including the
Story Bridge, the Southbank precinct and the Kangaroo Point Cliffs.
Check out the sparkling lights from Mt Coot-Tha view
Talking of views, one of the best views in the whole of Brisbane can be taken in from Mt Coot-tha.
A part of the Taylor Range, a visit to this lookout affords you fantastic and expansive views of the surrounding area. Which on a clear day you can see for miles.
It is worth coming here for a sunset picnic and staying until all the lights of the city are in full glow. If you don't fancy bringing your own food, the Kuta Hilltop Café has plenty of options for you to try.
Watch a live performance at QPAC
Looking for a bit of culture? Then why not take in a performance at QPAC?
Situated in the heart of Southbank, this fantastic centre for the performing arts is a must for those who enjoy ballet, musical theatre productions, orchestras and classical musicians.
There are also gigs from comedians, as well as talks by thought leaders, performances by actors and singers and even magicians too. So there really is something for everyone to enjoy.
Throughout the year, at any given time, there are a number of shows, festivals, events and world premieres scheduled at QPAC.
So if you want to watch a live performance, or just want to immerse yourself in the arts in general, it's worth checking on their website what's on.
Go for a nighttime climb of the Story Bridge
Everyone knows how impressive a site the Story Bridge is, but have you ever seen the view of the city from the top of the bridge itself?
Well, that is exactly what you can do during a nighttime climb of it!
A real bucket list item, a climb of the Story Bridge is not for those who don't have a head for heights – although it is very safe, and you will be led by an expert guide who will accompany you on the climb.
That said, if you do climb the bridge you will be rewarded with incredibly scenic views of the Glass House Mountains in the North, the Scenic Rim Mountains towards the South and the Brisbane River below you.
Whilst at the top of the bridge, you will even get the chance to have your photo taken too.
Explore the foodie delights of Eat Street Northshore
If you love food then a visit to the East Street Northshore markets is somewhere you will definitely enjoy.
Situated in the stunning riverside suburb of Hamilton, this terrific food market resides on the former site of an abandoned docking site.
In 2013 it was transformed into a vibrant, diverse and hip dining spot that regularly draws crowds from as far away as the Northern Rivers in New South Wales and Gympie on the Sunshine Coast.
Presenting stalls that sell every kind of cuisine you can imagine, this is a great spot to indulge your passion for good food. With everything from classic burgers and spicy curries to pizza and dumplings being available.
There is also plenty of choice for desserts too, including the likes of brownies, cheesecakes and sundaes. Whilst there is a big selection of craft beers, wines and cocktails available too.
Check Out the Brisbane Jazz Club
You might not have been aware of this but Brisbane has a very good jazz club.
Situated at Kangaroo Point, just upstream from the Story Bridge, the club is a great place to visit for a night out if you love that genre of music.
Open from Thursday to Sunday at night, regular performances are put on in the evenings.
You can even enjoy dinner there as well. As the chefs from the nearby Story Bridge Hotel will provide you with a delicious meal, which you can choose to enjoy either inside the club or on its deck which overlooks the water.
Either way, the food is good and the music is great, so it's a guaranteed good time all around.
Go Ten Pin Bowling at Strike
Ten Pin Bowling is always fun, and in Brisbane, the Strike Wintergarden bowling alley is the place to go when you fancy a game at night.
Situated within the Wintergarden Complex, which resides in the Queen Street Mall, Strike has 12 lanes to play on.
In addition, it also has private karaoke rooms where you can belt out your favourite tunes, as well as a really cool laser tag arena. There are even escape rooms and pool tables, as well as food and drink available.
So as a night out in Brisbane it offers a lot of opportunities for fun.
Go for a ride on the Wheel of Brisbane
For those who love views, then an evening rotation on the Wheel of Brisbane provides them with another fantastic way to take in the city's layout.
From 60 metres above ground level, this enclosed Ferris wheel compartment showcases tremendous views of Brisbane lit up at night during its 15-minute circuit, which is well worth the admission price.
Final Thought
So there you have it! Our guide to 17 fun things to do in Brisbane at night.
We hope this guide has provided you with some inspiration on where to go on your next evening out.
Brisbane really is a lovely city that offers much to locals and visitors alike. So the more you can experience the delights it has to offer, the more you will come to love it.