Looking for date ideas in Brisbane?
Don't worry, we have got you covered!
Whether you are trying to impress a first date, looking to keep the romance going, or simply want to have some fun with your long-term partner – contrary to popular belief – there are plenty of things you can do in Brisvegas.
Outlined below is a list of 19 great date ideas in and around Brisbane for you to try.
The mix is varied and takes into account a wide range of tastes and budgets. But whatever you are into, it should provide you with some inspiration.
Date Ideas
Have a picnic at the Botanic Gardens
Picnics are always a good idea and the Brisbane Botanic Gardens provides the perfect backdrop for a romantic picnic with your date.
There are plenty of spots you can head to including the 138-acre Gardens at Mt Coot-tha, the 42-hectare City Botanic Gardens, or the 37-hectare Sherwood Arboretum.
All of these showcase fantastic views, as well as a number of lovely trails to stroll along hand-in-hand.
Enjoy a feed at the Eat Street Markets
Food is always a good date option, but it can be a bit of a minefield too when it comes to choosing a restaurant. Not least when you have to take into account tastes, allergies and cost.
For this reason, the Eat Street Markets is a fabulous choice!
Located in the suburb of Hamilton, this vibrant venue is situated within a former container wharf and features upwards of 70 stalls.
Presenting every kind of food you could imagine, from Thai, Mexican and Spanish to Moroccan, Brazilian and Indian, this is the perfect place to come for a casual eating.
There is usually some good live music to be heard as well.
Chill at the Westin Brisbane Swim-up Bar
With its humidity, Brisbane does get very hot and sticky. So what better way to cool off than by making a reservation at the Nautilus Pool Bar at The Westin.
Situated right in the heart of the CBD, this fantastic swim-up bar provides a full bar and food service, which enables you to remain in the water whilst indulging your taste buds.
As an extra 'wow' factor, the pool showcases magnificent views of the city, which certainly enhances the experience.
The hotel also hosts regular pool parties, which you could choose to attend if you feel like upping the vibe a couple of notches. While those who would like to take advantage of its accommodation can always book one of their rooms for a night or two as well.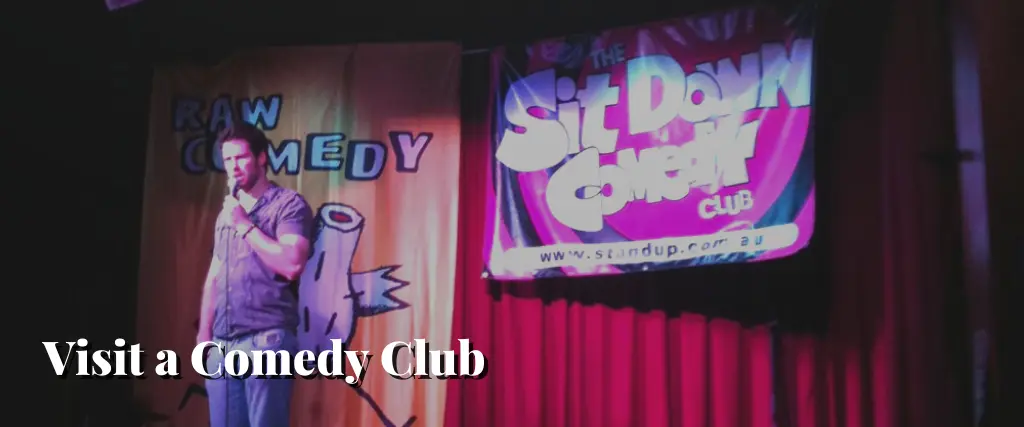 Visit a Comedy Club
Dates should be about having a good time right? Well, what better place to do this than at a comedy club?
Brisbane is home to The Sit-Down Comedy Club and the Powerhouse Comedy Club. Both of which put on regular shows that are guaranteed to give you big belly laughs.
The shows are on pretty much every day of the week, at various times, and feature both local and international comedians.
At the Powerhouse, you could combine dinner with the show, and even go on a backstage tour where you will discover more about the fascinating history of the venue.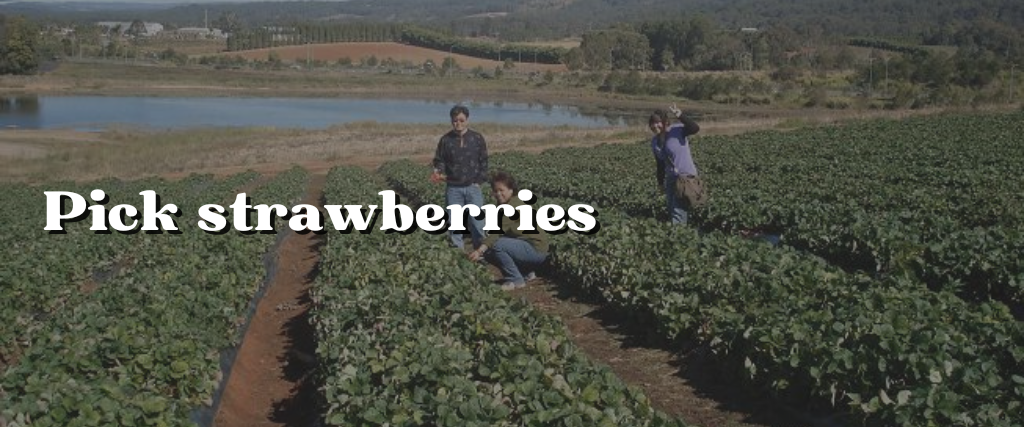 Pick strawberries
Who doesn't love strawberries?
Well at the McMartins Strawberry Farm you can take this love further, and possibly even cultivate a bit of love between you and your date, whilst picking them.
Open every day of the week between May and October, this is a fun activity that gets you out in the fresh air.
Once you have picked your strawberries you can enjoy them on the grounds of the farm, or take them home with you to eat later.
If you fancy something a bit more substantial than strawberries, the farm also runs a cafe where you can order tea and a bite to eat.
Ride along the Brisbane River
The Brisbane River is a lovely backdrop to any date, so what not grab a bike or an e-scooter and ride alongside it.
There are several bike paths you venture on, as well as city streets to zip around, that showcase the river in all its glory,
It's a great way to see the city and enables you to quickly and easily visit different parts of it.
If you plan the route out beforehand you can even combine it with a tour of some of Brisbane's best foods and coffee places.
Play Barefoot Bowls
If you and your date have a competitive side, then how about engaging in a fun game of barefoot bowls?
The Merthyr Bowls Club is a great place to do this as they don't require you to have a membership to play. Instead, you can just rock up and choose to pay $10 for a 2-hour session.
After the game, you can take the romance up a notch with a lovely meal, which you can enjoy with splendid views of the riverfront.
Catch a movie at the Yatala Drive-In Theatre
Watching a drive-in movie from the privacy of your own car is a lovely date idea.
You'll need to make sure your date will enjoy the film of course, but if it's something they want to see then it is always a nice experience.
At the Yatala Drive-In Theatre, they regularly show a range of classic films.
They also have a traditional American 1950s-style diner where you can order milkshakes, burgers, fries and other treats to enjoy in the comfort of your car, whilst watching the big screen.
Get pampered at the Cenote Casa Bathhouse
For those looking to completely relax, or get hot and steamy with their partner, the Cenote Casa Bathhouse in Woolloongabba is an excellent place to visit.
Brisbane's first outdoor Bathhouse, the venue offers a cedar wood sauna, heated hydrotherapy spa and magnesium plunge pool. It also has a steam room that is infused with essential oils, as well as a lounge area and sun deck.
Open from Wednesdays to Sundays only, you will have to make an appointment to come here, but if you are looking for a special date idea, you can't go wrong with what this place offers.
Cuddle a Koala at the Lone Pine Sanctuary
Does your date love koalas? Well, why not take them to the Lone Pine Koala Sanctuary for the chance to cuddle one?
Founded in 1927, the 18-hectare koala sanctuary is the largest and oldest koala sanctuary in the world.
Covering over 44 acres, within the suburb of Fig Tree Pocket, it showcases a number of animals and exhibits within its sanctuary. However, the highlight for many people is the opportunity to cuddle a koala.
In addition to this, visitors can also choose to hand feed a kangaroo as well. After these experiences, you can enjoy a bite to eat from its cafe.
Watch the sunrise at Mt Coot-tha
If you and your partner are earlier risers, then a fantastic date option for you may be to watch the sunrise at Mount Coot-tha.
Obviously, you will have to get up early to do this – Brisbane sunrises usually happen around 5.15 am and 6.30 am, depending on which time of the year you go to.
However, if you can make it to Mount Cooth-tha in time you will be rewarded with serenity and some truly magnificent colours as the sun rises over the city.
To make the experience that little bit more special, bring a breakfast picnic and a coffee.
Hit the Beach!
A beach date is always a good idea!
Not only do you get to see your date in their bikini or budgie smugglers, you can also enjoy swimming, sunbathing, surfing or beach walking with them.
There are plenty of beaches within an hour's drive of Brisbane you can head to. Whether you choose the Gold Coast or Sunshine Coast, or even closer beaches to Brisbane, like Redcliffe or Nudgee, is entirely up to you.
But once you are there you can throw down a towel, put up the shade, and set yourself up for sun fun in the sun.
Enjoy a Brisbane River Dining Cruise
A dinner cruise on the Brisbane River is always a solid date idea option.
There are a number of cruise companies you can make a reservation with to take you around the river, some of which you can dress up for as well.
Providing a great meal, excellent cocktails, superb views and a delightful ambience, which is sometimes created by live music, this date experience ticks a lot of boxes.
Play a round at the Holey Moley Golf Club
Another great Brisbane date option for competitive couples is a game of crazy golf.
At Holey Moley Golf Club the course is fun and a little bit challenging so is sure to get your one-up-manship levels flowing.
If the loser isn't sulking by the end of the putting session, you can extend your time at the venue by having a drink, belting out some karaoke or grabbing something to eat.
Discover the wonders of the Planetarium
If the weather is a bit too overcast to see the stars why not take your date to the Planetarium to check out the next best thing instead?
Situated in Mt Coot-Tha, next to the Botanic Gardens, the planetarium showcases a number of fascinating exhibits that relate to space in its display zone.
After you have perused them you can then head to the Cosmic Skydome, where you can check out various star formations and constellations like The Southern Cross and Orion and discover more about the wonders of the galaxy.
Undertake the Story Bridge Adventure Climb
Does your date have an adventurous side? Well why not challenge that by taking them on a climb up the Story Bridge.
Climbing to the top of the Story Bridge is a fabulous experience for those with a head for heights.
Arguably, the climb is best done at night, when you get to take in the fantastic views of the city lights, Brisbane river and of course the stars and moon.
To remember the experience be sure to have an individual photo of you and your date taken by the guide, whilst on top of the bridge – something you will be able to buy after you have finished.
Gallery of Modern Art
Come rain or shine, hail, wind or heatwave, the Gallery of Modern Art is a great place to escape the elements. It is also the perfect place to impress a date with a bit of culture.
Showcasing a fantastic collection of artworks in both temporary and permanent exhibits, there is plenty to see here.
There are also a couple of good cafes on site to enjoy a coffee or meal when you fancy taking a break.
Explore South Bank
For a low-key date idea, especially a first date, South Bank provides a really good option.
A terrific place to stroll around, there are plenty of lovely views of the river and city to enjoy. While the sandy, man-made beach that lies at the heart of it is a great place to dip your toes in as well.
In addition, there are lots of boutique shops, and market stalls (at the weekend) to peruse and numerous venues to eat or drink at.
If the weather plays up you can also head into the South Bank Cinemas to catch a film, or check out what is on display at the Gallery of Modern Art.
Go Ice Skating!
Ice skating is an activity that may fly under the radar of some people in Brisbane due to the hot weather. However, it makes for an excellent date night option.
The Iceworld Olympic Ice Rink has two locations in Brisbane, at Boondall and Acacia Ridge. Both of which offer fabulous facilities and smooth ice to skate on.
What can be more romantic than gliding around the ice, hand in hand with your partner?