Maybe it's the sheer theatre of having your food thrown at you. Or perhaps its just the incredible cooking techniques and highly skilled manoeuvres the chef's display. It might even be that the food just tastes so damn good.
But whatever it is that draws you to a Teppanyaki restaurant, its undeniable that in Brisbane the popularity for it has exploded in recent years.
If you have never had the pleasure before, or if you want to widen your dining choices, there are a number of excellent Teppanyaki restaurants in Brisbane you can go to for a fantastic meal of grilled meats, succulent seafoods and vivacious vegetables.
Here is a selection of seven of the best of them.
Oyama
Open for dinner from Wednesday to Sunday, Oyama is a bustling, restaurant that has been serving top notch, made-to-order sushi and delicious teppanyaki for more than 20 years.
Located in the Fortitude Valley gem, it prides itself on being one of the best Teppanyaki restaurants in Brisbane, offering fresh, quick and very tasty food with more than a dash of panache.
The restaurant offers a laidback space that features stunning Oriental artwork and paintings on the wall. It also boasts a head chef, who will add to your experience by singing opera as he cooks his signature teriyaki chicken – which is always juicy and tender.
Address: Shop 30/115 Wickham St, Fortitude Valley QLD 4006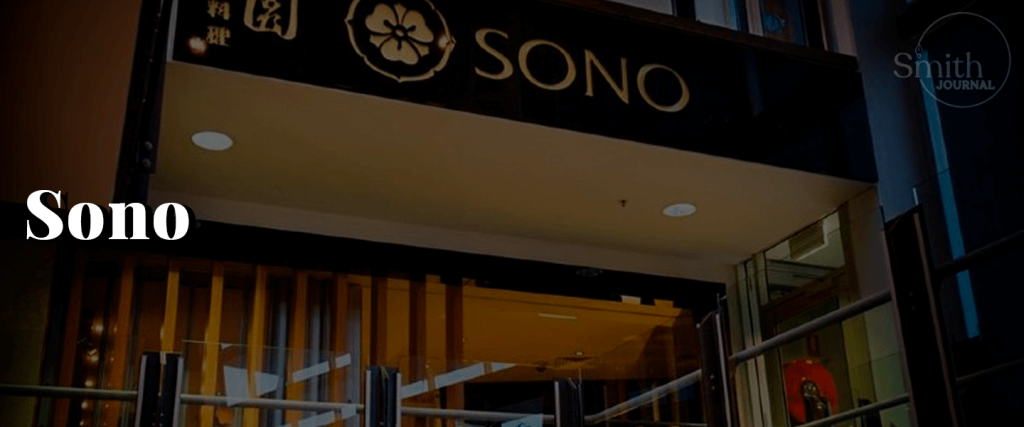 Sono
Located at the Portside Wharf in Hamilton, the Sono Japanese restaurant offers a wonderful culinary journey into the land of the rising sun.
Set within a modern and elegant riverfront space this contemporary Japanese restaurant is known for its fabulous teppanyaki bar and exceptional sake tasting menu.
The Teppanyaki options are extensive, incorporating fourthemed banquet options and an a la carte menu. They also have a strong emphasis on quality local seafood produce, with their Queensland king prawns, and oysters with lime sauce, being a particular highlight.
The dining experience here is more on the upscale side of things, with the prices reflecting that. However, the food is wonderful, and the views are great, so you are sure to have an unforgettable and enjoyable time.
Address: 39 Hercules St, Hamilton QLD 4007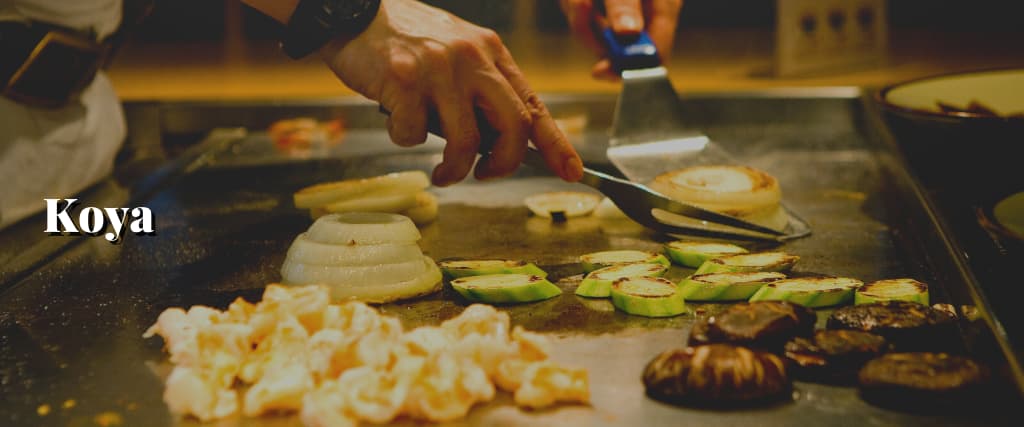 Koya
Over in New Farm, Koya is a teppanyaki and a la carte fully licensed restaurant that is open for dinner from Monday to Saturday.
Offering one of the best teppanyaki experiences in Brisbane their head chef Steve has almost 20 years' experience of cooking in Michelin star rated Japanese restaurants.
Sourcing their ingredients fresh from local farmers' markets, this venue focuses on plating top quality food and providing customers with the most enjoyable of dining occasions.
A great place for a meal out with family or friends, they present lots of meat, fish and veggie options, as well as banquets and bento boxes for those who want to try a bit of everything.
They are also a very child friendly venue and are especiallypopular for children's birthday parties too, serving up classic fried rice and some gyoza.
Address: 702 Brunswick St, New Farm QLD 4005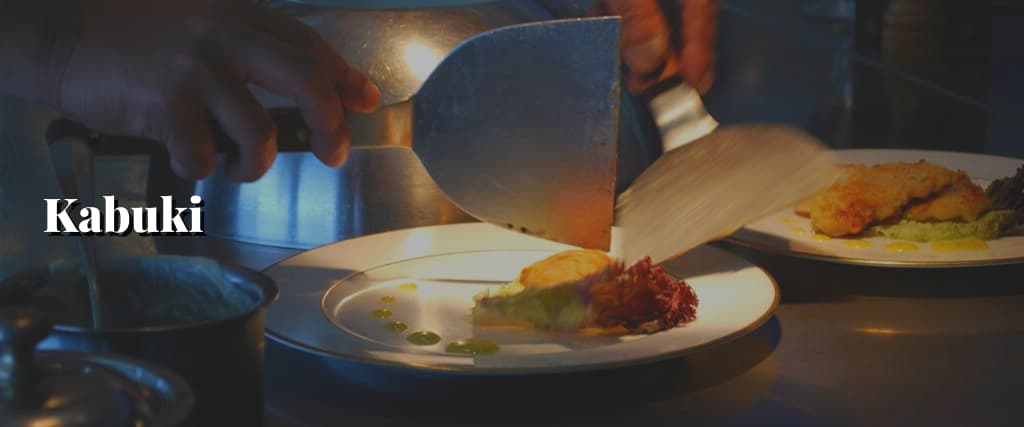 Kabuki
Kabuki is one of the signature restaurants in the Stamford Plaza.
A stylish venue that features warm wood tones and a fabulous teppanyaki grill table, they provide an authentic Japanese culinary experience that is just as much a feast for the eyes as it is for the mouth.
Going all out with the theatre, you can expect high orange flames, loud sizzles and even your food being thrown at you, so be warned!
But its all part of the fun of eating here and the restaurant's specialist teppanyaki chefs will serve up some exquisite grilled meats, seafood and vegetables that champion the best in Australia produce.
To support the teppanyaki offering, they also have an excellent a la carte menu. Whilst the robust drinks list includes a number of excellent options for wine and sake.
Address: 265 Margaret St, Brisbane City QLD 4000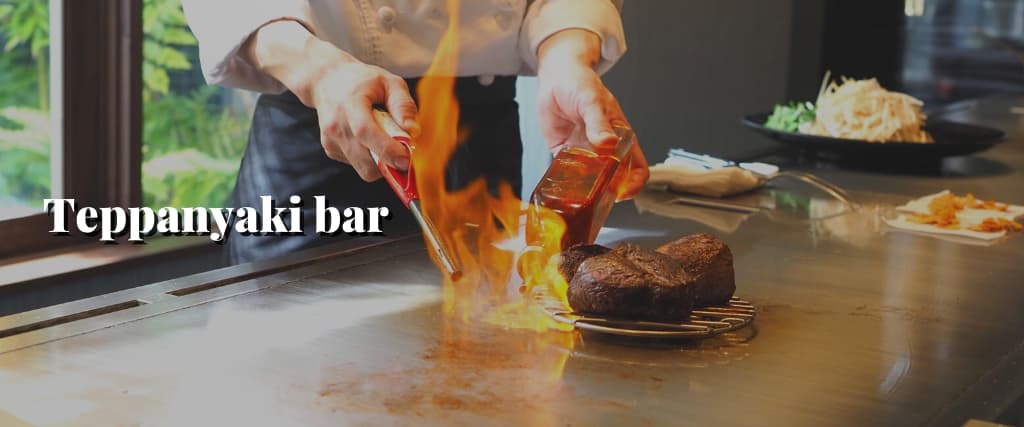 Teppanyaki bar
You won't have to guess what they offer at Teppanyaki Bar!
Situated in Cleveland, this venue was one of the first Teppanyaki restaurants to hit Brisbane. So, it has a loyal and well established following which usually means that bookings are essential.
Overlooking Raby Bay Harbour, they provide a beautiful and fun setting in which to enjoy your meal. Their chef is a highly skilled knife twirler, who theatrically cooks up food made from the freshest of local produce.
The prices of their banquets are very reasonable, ranging from $29 to $89 per head. They also have plenty of fish and vegetarian options for those who do not eat meat too.
Address: 152-166 Shore St W, Cleveland QLD 4163
Kamikaze Kitchen
Situated in Chermside, Kamikaze Kitchen has been providing a contemporary Japanese culinary experience to their customers for the last ten years.
Priding themselves on being a bit more 'funkier' than other teppanyaki restaurants in Brisbane, they offer a terrific selection of perfectly cooked meats and seafood, that will have you salivating at the mouth.
Unlike many of their competitors they are open from 11am until 9.30pm every day. So, they also accommodate the brunch and lunch crowd with their quintessential Teppanyaki offering.
Their drinks menu is equally as impressive as their food,featuring sensational Japanese-influenced cocktails like their signature Midori infused Tokyo tea.
Address: Shop R62 Gympie Rd, Chermside QLD 4032
Yoshuku
Situated in the Bracken Ridge Tavern, Yoshoku is one of the newer Japanese restaurants on the Brisbane dining scene.
Seamlessly merging Japanese and Western culture, the venue presents an intimate, relaxed and very entertaining setting, with their meal offering.
Their teppanyaki menu features three different banquet options, as well as a vegetarian one, and they are presented by highly talented chefs who are fully versed in the art of showmanship.
The buzzy venue also offers an outstanding range of Japanese whiskeys and wines in which to pair with your meal too.
Address: 154 Barrett St, Bracken Ridge QLD 4017