Located just under the midway point from Brisbane to Cairns, the stunning coastal town of Yeppoon is a popular Queensland family holiday spot.
Known for its tropical climate, sensational beaches and the various islands that are strewn across its bay, Yeppoon is a must-visit place for any holidaymaker to the Capricorn Coast.
Especially popular with families who love camping, Yeppoon is blessed with a number of suitable accommodation options.
If you are planning to go there and need some guidance as to where you can stay, then check out this list of 9 of the best caravan parks in Yeppoon.
Whether you are looking to stay near the beachfront, somewhere a bit quieter, or in a place with lots of fun things for the kids to do, we've got you covered with this guide.
So let's get started and find the right place for you!
The Best Yeppoon Caravan Park Options
Outlined below, in no particular order, is a brief overview of 9 of the best Caravan Parks in Yeppoon.
In this overview, we have provided information about what type of camping options are available, as well as some of the facilities and amenities you will find at each venue.
Beachside Caravan Park
Address: Farnborough Rd, Yeppoon QLD 4703
If you are looking for holiday park accommodation near the town centre, then the Beachside Caravan Park is a very good option.
Situated just a 5-minute drive from the main waterfront area, this caravan park, as its name suggests, enjoys a fabulous beachside location. In fact, it is the only caravan park in the whole of Yeppoon which boasts absolute beach frontage!
Set along Farnborough Beach, which runs for 17 km, the park offers 5 pathways that will bring you straight out to the beach. So it is a perfect base for those who love surfing, swimming or beach walking.
Offering a selection of grassy, or concrete slab sites, that can be powered or unpowered, the park is well set up for tents, caravans, motorhomes, camper trailers or camper vans.
Onsite, it offers a range of amenities including four amenities blocks, a camp kitchen, two BBQs, coin-operated laundry and a dump point. There is also a giant chess set, pedal karts for hire and a kiosk that sells the basics. Whilst you can enjoy free WI-FI throughout the caravan park too.
Big 4 Yeppoon NRMA Capricorn Caravan Park
Address: Wildin Way, Mulambin QLD 4703
The Big 4 NRMA Capricorn Caravan Park is one of the more popular choices for families visiting Yeppoon.
Situated about 15 minutes from the main downtown waterfront area, this fabulous caravan park is a great spot for families, on account of the terrific range of accommodation, facilities and amenities it presents.
Offering a huge range of powered sites, which are either slab or grass, as well as unpowered sites, families can also choose to stay at any of the lodges, villas, cottages and cabins that are available to book too.
Among its facilities are two camp kitchens, laundry, bbq areas, a dump point and a small kiosk that sells basic grocery and camping items.
Kids will love the swimming pool, double loop waterslide and playground that features on-site whilst the jumping pillow, pedal go-karts and games room should all entertain too. During school holidays there are also activities like scavenger hunts, and arts and crafts run on a regular basis.
The Big 4 caravan park Yeppoon also has a really cool outdoor cinema which screens family friend movies when the weather is good too.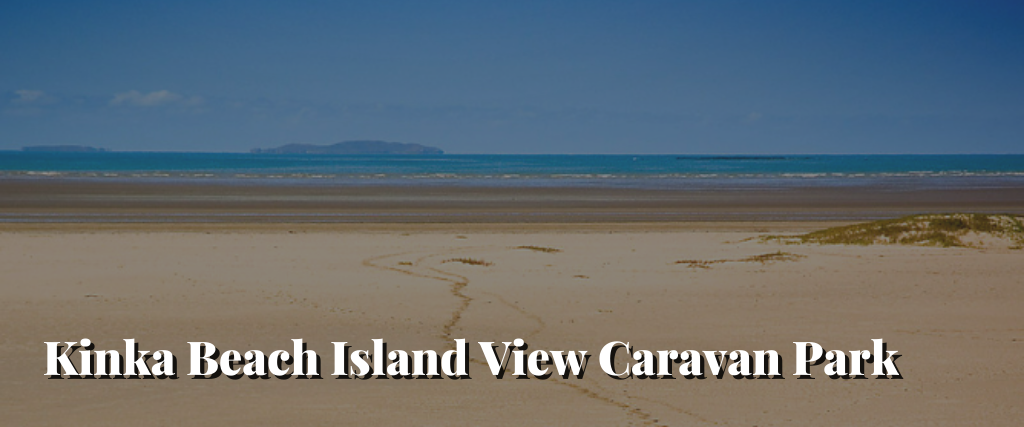 Kinka Beach Island View Caravan Park
Address: 946 Scenic Hwy, Kinka Beach QLD 4703
Also situated about 15 minutes from the main downtown waterfront area is the Kinka Beach Island View Caravan Park.
Perfectly set up for families, this fantastic caravan park has two swimming pools – of which one is strictly for adults only – as well as a children's playground, pool table and jumping pillow.
There are even farm animals to pet as well. While events like face painting, baking and craft activities take place during the school holidays too.
One of the main drawcards of this caravan park is that it is dog-friendly, so you can bring your four-legged friend with you. Although a dog bond of $60 is payable per booking for those staying in cabins – of which there are several standard, superior and deluxe options available.
Other accommodation offerings include tents that come with a choice of half slab, full slab or grass slab, as well as caravans and motorhomes. All sites of which come with water and power.
Whilst at the caravan park you can also use a range of amenities that include two BBQ areas, as well as a camp kitchen, large outdoor entertainment area, fish cleaning station, dump point, laundry, two modern amenity blocks and a small kiosk that sells all the basics you might need.
Poinciana Tourist Park
Address: 9 Scenic Hwy Via Percy Ford Street, Cooee Bay, Yeppoon QLD 4703
Situated on a 6-acre property in Cooee Bay, the Poinciana Tourist Park, is an excellent choice for those who want to be close to both the town and beach.
The shops and cafes of the main centre and waterfront area is just a 5-minute drive away, whilst Cooee Bay Beach and Lammermoor Beach are within 200 metres and 500 metres respectively.
A dog-friendly caravan park (although conditions do apply), Poinciana offers powered and unpowered campsites. They also have cabins that can sleep up to 4 people and are equipped with a queen bed and bunk beds, as well as a kitchenette that has a fridge, cooktop, microwave and a range of crockery. Some of the cabins have ensuite bathrooms too, but not all of them.
When you are not hitting the beaches or exploring the town, there is a fabulous onsite swimming pool to enjoy. While two amenity blocks, a camp kitchen, laundry, two BBQs and a dump point are also available too.
Maine Caravan Park
Address: 70 Queen St, Yeppoon QLD 4703
Maine Caravan Park is a small, yet charming caravan park that is situated just 400 metres from the main shopping area, and a short drive to the waterfront.
Beautifully presented and well looked after, it features stunning gardens and pristine lawns that radiate a distinctly genteel and relaxed vibe.
Another pet-friendly site, the Maine Caravan Park features 24 powered sites and 5 unpowered sites as well as a handful of units.
Despite not having as many amenities as other venues on this list, it is a very pleasant place to stay, and does have an amenity block, BBQ and guest laundry for you to use.
Discovery Parks Coolwaters
Address: 760 Scenic Hwy, Kinka Beach QLD 4703
Discovery Park Coolwaters is another holiday park in Kinka Beach that is popular with families.
Located just north of the beach, about 15 minutes from Yeppoon's town centre, this venue enjoys a quiet location, surrounded by spectacular beaches and a splendid landscape.
If you are looking for a place where you can relax whilst your children play, then this is it!
The park features a fantastic water park onsite, which has two massive waterslides for older kids, as
well as a couple of smaller ones for younger kids. There is also a range of water jets and other water equipment for the little ones too.
When not in the waterpark, the kids will no doubt enjoy the massive 30-metre lagoon-style swimming pool. As well as the jumping pillow, playground, tennis courts, basketball courts, pool table, table tennis, and pedal karts that are for hire.
In terms of accommodation options, there are a large number of powered and unpowered sites available, which come with grassy or concrete slabs. The park also offers a range of standard, superior and deluxe cabins too, as well as an economy lodge.
Another dog-friendly caravan park, amenities here include three toilet blocks with showers, a camp kitchen with TV, three laundries, several BBQ areas, a dump point, a communal fire pit and a small kiosk.
Causeway Caravan Park
Address: 11 Causeway Esplanade, Causeway Lake QLD 4703
Looking for a spot to go fishing? Then the Causeway Caravan Park is probably the spot for you!
Nestled on the bank of the Causeway Lake, this idyllic caravan park is situated in a picturesque and tranquil area that is also perfect for swimming, SUP and kayaking.
Another pet-friendly site in Yeppoon, the caravan park offers powered and unpowered sites, as well as self-contained, air-conditioned, budget or ensuite cabins that can comfortably sleep up to 5 people.
Although the park has limited amenities as compared to others on this list, it does have an amenities block and undercover camp kitchen,
It is also conveniently located in close proximity to the boat ramp, boat hire and Causeway Lake Kiosk.
Fisherman's Beach Holiday Park
Address: 67 Pattison St, Emu Park QLD 4710
Just a 30-minute drive south of the Yeppoon town centre, within the suburb of Emu Park, resides the Fisherman's Beach Holiday Park.
Offering an absolute beachfront in a gorgeous, yet sleepy town this holiday park is within easy walking distance of cafes, shops and supermarkets, as well as the Emu Park Main Beach and Emu Park playground.
The caravan park is pet friendly and is even located next to an off-leash beach right. While for those who would rather not camp near dogs, there is also a section of the park where canines are not permitted.
Overall the park offers 96 powered sites that are designed for tents, motorhomes and caravans, as
well as 5 unpowered sites too. There are even 3 cabins that can accommodate a maximum of 4 people, and feature a queen bed and a set of bunk beds. As well as a well-equipped kitchenette with microwave, cooktop, electric fry pan, fridge and pod machine.
Whilst staying at the caravan park you can enjoy a game of giant chess. In addition, you can also use other facilities like a camp kitchen, and any of its three amenities blocks, two laundries, bbq areas or two dump points.
Blue Dolphin Caravan Park
Address: 74 Whitman St, Yeppoon QLD 4703
If you are looking for a no-frills caravan park in Yeppoon then the Blue Dolphin Caravan Park should be just the ticket!
Tucked away in a quiet, residential part of the town, about 1 km from the main touristy area, the caravan park offers both powered and unpowered sites. In addition, they also present cabins that feature a small kitchenette and verandah as well as a queen bed and bunk beds.
Although the caravan park does not offer much in the way of facilities other than an amenities block, laundry and undercover BBQ, it is a pet-friendly site.
However, if you are looking for somewhere quiet and peaceful, that is still close to all the main attractions in the area, this is a very good, and reasonably priced option for you to consider.
Final Thought
So there you have it! Our review of 9 of the best Caravan Parks in Yeppoon.
Should you ever travel to this stunning part of the Capricorn Coast we hope this guide has inspired you to stay at one of these featured campgrounds for a few days.
If it has, you are sure to enjoy a fabulous getaway, as this whole part of Queensland is absolutely wonderful.