For those intending to explore Queensland's Gulf Country, a visit to Mt Isa should definitely be on your agenda.
Situated about 1825 km northwest of Brisbane, this marvellous outback city is actually the biggest by landmass in the world, according to the Guinness Book of Records. Encompassing a whopping 43,310 square miles!
Known for being the rodeo capital of Australia, Mt Isa is also famous for housing one of the most productive single mines in the world (for lead, silver, copper and zinc). In addition, it is blessed with some incredible scenery and offers plenty in the way of recreational activities like swimming, fishing, canoeing, kayaking, hiking and wildlife watching.
Although its location is very remote, Mt ISA is a hub for campers, with a sizeable number of them choosing to stay at Mount Isa Caravan Park.
In this guide, we will highlight what makes the caravan park such an attractive option for them. As well as showcase some of the most appealing things to see and do in the area.
So let us begin!
Discovery Mount Isa Caravan Park Accommodation
The Discovery Mount Isa Caravan Park is a pet-friendly site that offers a range of accommodation options including queen and standard villas that sleep a maximum of 4 people.
They also have studio villas that sleep two people, and unit villas that sleep four.
In addition, budget cabins which sleep up to three people are also available, although they do not have an ensuite. While powered and unpowered sites, some of which are drive-through or camping, are also offered too.
At the time of writing unpowered camping sites start from $26 per night, whilst powered sites will set you back $36.
The rest of the accommodation ranges from $80 per night to over $140 per night depending on the time of year you visit.
To make a reservation, check out their website, which often has really good deals, or phone them on 07 4743 4676.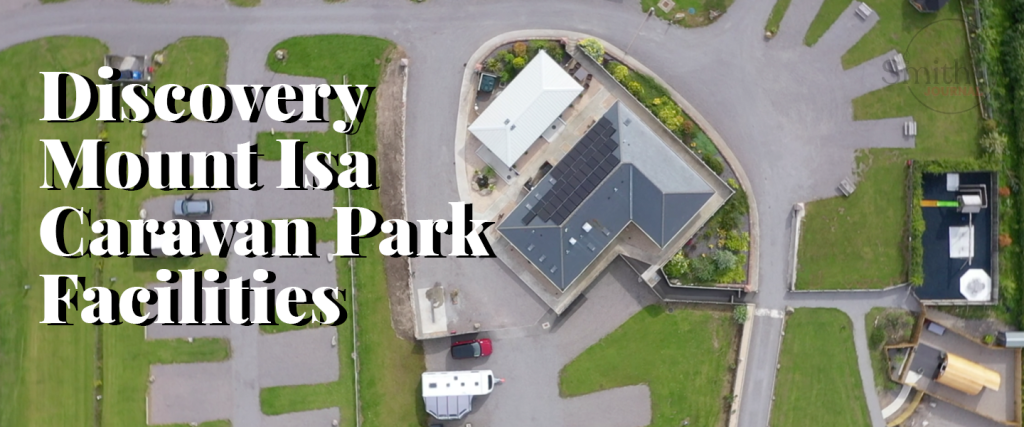 Discovery Mount Isa Caravan Park Facilities
The caravan park is blessed with a good range of facilities which include two modern amenities blocks with toilets, showers, drinking water, laundry facilities and a dump point.
There is also a large swimming pool and children's playground, as well as BBQ facilities and a covered open-air camp kitchen for guests to use.
Onsite there is also a convenient kiosk that sells a lot of basic items you might need, as well as a good restaurant, which serves a tasty range of meals.
Throughout the caravan park, mobile phone coverage is fairly decent.
How to get to the Discovery Mount Isa Caravan Park
The Discovery Mount Isa Caravan Park is situated at 185-189 Little West Street in Mount Isa, Queensland and there are two main ways of getting there.
From Cloncurry, you will need to follow the Barkly Highway/A2 west for about 121 km. At this point, you should then turn right onto Miles Street and keep going for 1.7 km.
When you see the left turn onto Hoey Street be sure to take it, before then turning right after 140 metres into Little W Street. The Discovery Mount Isa Caravan Park should appear on your left after about 65 metres.
From Camooweal make your way along the Barkly Highway for about 184 km, at which point you should turn left onto Moondarra Drive. Stay on this road for another 550 metres before turning right onto Ryan Road.
Keep going along Ryan Road for about 2.5 km and then make a right turn into Miles Street. After 550 metres you will need to turn right into Verry Street, before making a left turn into Little W Street after 270 metres.
After a further 240 metres, the Discovery Mount Isa Caravan Park will come into view on your right.
Things to do in Mount Isa
Whilst staying at Mount Isa Caravan Park there are several cool things you can see and do around the general area.
If you have the time available to you, we highly recommend you check out the following:
Get your bearings at the Mt Isa City Lookout
One of the first things you should do after your arrival is to check out Mt Isa City Lookout.
Located right near the centre of the city, this fabulous lookout showcases incredible 360-degree, panoramic views of the surrounding area.
You shouldn't have any trouble finding the lookout, as it is handily situated, a short walk to the top of a hill on Lookout Road.
A lovely spot for a picnic, the views are brilliant throughout the day, although at sunrise, sunset and in the evening they are that little bit more breathtaking.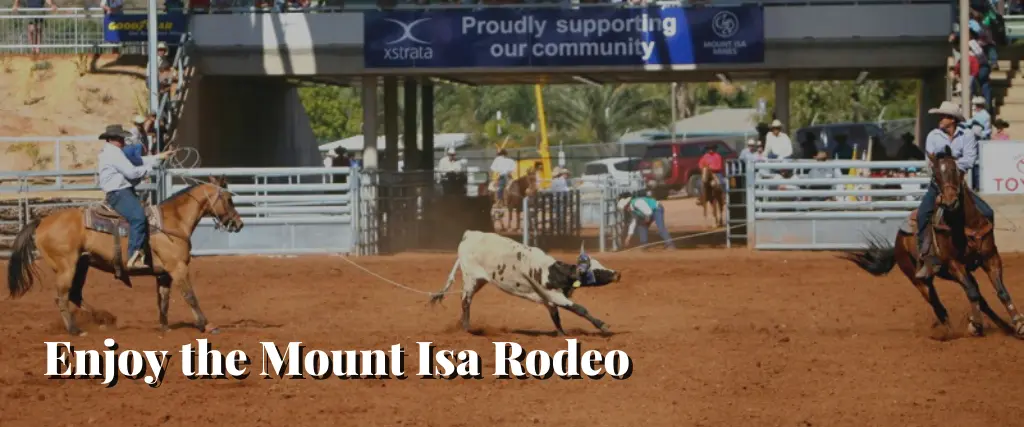 Enjoy the Mount Isa Rodeo
Did you know? Mount Isa is home to the Southern Hemisphere's richest and biggest rodeo.
For almost 65 years people from all over Queensland and beyond, have come to Mount Isa for a 3-day extravaganza of rodeo events, live music, good food and lots of entertainment.
If you are near Mt Isa in August you should definitely check the event out, as it perfectly encapsulates the culture and spirit of this charming outback city.
You can take part if you want, or just observe a number of events including rope and tie, team roping and bull riding.
For ladies, breakaway and barrel racing events take place, while kids between the age of 8 to 13 get to experience poddy riding too.
Visit the Hard Times Mine
You can't leave Mt Isa without checking out a mine and the Hard Times Mine on Marina Street is as good a one as any to see.
Conveying the history of mining within the city, the 2.5-hour tour of this mine is a captivating experience.
During it, you will get to put on real mining gear, as well as a headlamp and descend into the guts of the mine, whereupon you will see up close the machinery they use.
You will also be led down various tunnels and into a crib room, which is a lunch room for the crew.
Open every day until 5 pm, these mines are a terrific place to visit when the heat of the day gets too stifling above ground.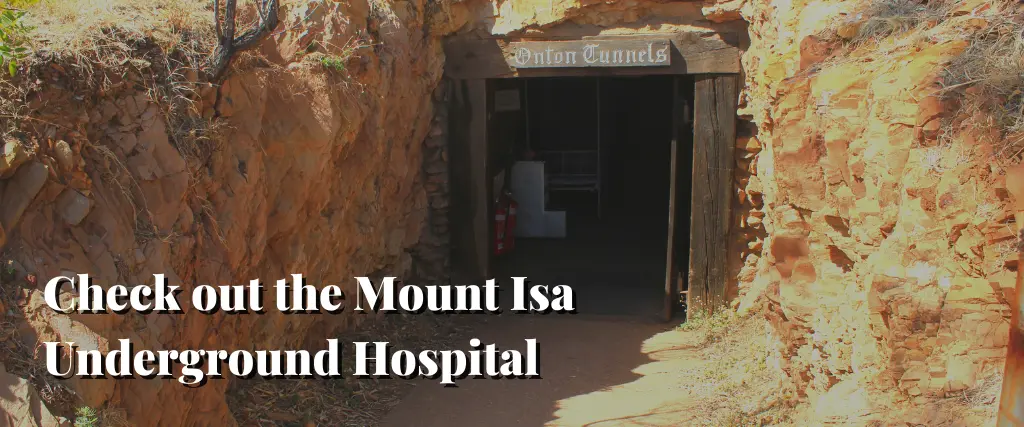 Check out the Mount Isa Underground Hospital
In 1942, after Darwin was bombed, locals grew genuinely fearful for the safety of the Mount Isa Hospital.
As a result, a special 'underground hospital' was built. Carved within hills that lie near the original Mount Isa Hospital, it was furnished with separate wards for men, women and children. There was also a maternity ward and a delivery room, as well as a surgical theatre too.
The only underground hospital in Australia, it was constructed within just 6 weeks by local miners who volunteered 4 hours of their time a day – on top of their 8-hour shift in the pit – as well as civilians too.
Fortunately, there were no further bombings of Darwin, so ultimately the hospital was not required
for medical service. Becoming temporary nurses' quarters, and then an equipment storeroom, until it was closed in the 1960s.
Nonetheless, the site, which is situated on Camooweal Street, is definitely worth checking out.
Peruse the Beth Anderson Museum
Whilst you are at the Underground Hospital be sure to check out the Beth Anderson Museum too.
Featuring antique medical equipment which was privately collected by a former matron called Beth Anderson, it highlights the extent to which medicine and technology have developed over the years.
The exhibits are fascinating and include a real skeleton that was used for training purposes, as well as a handwritten first aid manual.
Cool off in Lake Moondarra
Is the heat of the day getting too much for you? Then consider a trip to Lake Moondarra.
Located about 17 km north of downtown Mt Isa, this gorgeous artificial lake is nestled on the banks of the Leichhardt River. Which provides water to the city of Mount Isa, as well as the Mount Isa Mines.
Extremely picturesque, the lake is a terrific spot for recreational water activities like swimming, kayaking, SUP and canoeing. As the lake is also well-stocked with barramundi, fishing is a very popular activity too.
The area is home to a diverse range of pelicans, peacocks and countless species of birds. It is also a splendid spot for a picnic, while the sunsets here are out of this world!
Final Thought
So there you have it! Our review of Mount Isa Caravan Park in Queensland.
We hope it has captured your interest and brought you to mind to visit there.
If it has you will be in for a fantastic time, as the whole area is a great place to visit!