About a five and a half-hour drive north from Brisbane, the towns of Agnes Waters and 1770 make fantastic stopovers for those heading further up the coast towards Yeppoon, Mackay and Cairns.
Considered the southern gateway to the Great Barrier Reef, both towns offer fabulous beaches, excellent recreational activities, spectacular scenery and a diverse range of flora and fauna to the visitor.
Many people who choose to stay in the area do so at the fantastic Agnes Water Beach Holidays Caravan Park. Situated directly overlooking the beach, it is a great place to rest and relax.
In this guide, we will present an overview of the holiday park, as well as outline what there is to see and do in and around the area.
So let's get into it!
Where is Agnes Water?
Agnes Waters and the town of 1770 is located at the very Southern end of Australia's Great Barrier Reef.
Lying approximately 480 km north of Brisbane, and about 225 km south of Rockhampton, it is a coastal town that lies within the Gladstone Region of Queensland.
Residing on the Discovery Coast, both towns are approximately 125 km south of Gladstone too.
Agnes Water Beach Caravan Park Accommodation Options
The Agnes Water Beach Caravan Park offers a wide range of accommodation options. These include:
– Unpowered tents
– Powered tents
– Powered Van and tent sites
– Beachfront Studios
– Tree Tops Safari Tents
– Oceanview Safari Tents
– Beachfront Villas
– Beach Houses
You will find that most of the powered sites feature a concrete slab that is suitable for motorhomes, caravans and bigger campervans.
Located in a separate part of the park, the unpowered and powered tent sites are suitable for tents, as well as small campervans and swags only.
Glamping at Agnes Water Caravan Park
In addition to providing camping accommodation for visitors who have their own campervan, caravan or motorhome, the holiday park also offers a number of glamping safari tents.
Perfect for those looking for a more luxurious oceanfront experience, they provide an excellent opportunity to enjoy a getaway, without the hassle of having to bring, or set up your own gear/caravan or motorhome.
About Agnes Water Beach Caravan Park
The Agnes Water Beach Caravan Park can be found on Jeffery Court at Agnes Water in Queensland.
In terms of facilities, the caravan park features an amenities block with toilets, hot showers and a covered camp kitchen with barbecues.
In addition, it also has a coin-operated laundry, as well as a dump point and a nearby boat ramp. While there is a shaded picnic area that is the perfect place to enjoy something to eat.
The campground is pet-friendly in non-peak times, and even then conditions do apply. Your dog must be on a lead at all times and remain within your camp. While they are strictly prohibited from the chalets, apartments and studios.
Fires are not permitted within the Caravan Park or along the foreshore, although you can get refills for your gas bottle onsite.
Throughout the caravan park, you should enjoy a good mobile phone and TV reception available.
Agnes Water Beach Holidays Caravan Park Rates
At the time of writing, the cost to stay at the caravan park is currently as follows:
– Unpowered tents: From $39 per night
– Powered tents: From $59 per night
– Powered Van and Tent site: From $59 per night
– Beachfront Studio: From $187 per night
– Tree Tops Safari Tent: From $198 per night
– Oceanview Safari Tent: From $232 per night
– Beachfront Villa: From $312 per night
– Beach House: From $420 per night
If you intend to stay for a week, look out for their 'stay 7 nights pay for 6 night' deals.
To make a booking check out their website, or phone 07 4974 7279.
How to get to Agnes Water Beach Holidays Caravan Park
To get to the Agnes Water Beach Holidays Caravan Park you will need to travel on the Bruce Highway until you get to Gin Gin Road/State Route 3.
Once on this road, you will need to travel for about 20 metres before turning left onto Birthamba Road.
Continue along this road for around 11 km before turning right onto Bucca Road.
After another 11 km, you will need to then turn left onto Quinns Road and continue on it for another 1.2 km, before turning left onto Rosedale Road.
Once on Rosedale Road, you will then carry on for another 47 km until you turn right onto Tableland Road
Follow this road for 57 km until it becomes Springs Road. After 180 metres you will then turn left onto Agnes Street, before turning right into Jeffery Court about 280 metres down the road.
Once on Jeffery Court, you will see the Agnes Water Beach Holidays Caravan Park on the left.
Agnes Water Beach
Stretching for about 6 km, Agnes Water Beach is a spectacular beach.
Patrolled by Surf Life Savers, who are stationed right in front of the caravan park, the water is generally good for swimming. Although as always you should stay between the flags.
Considered the most northern surf beach on the entire east coast of Australia, this beach provides the last opportunity for you to catch some waves if you are heading up toward Yeppoon or Mackay.
If you have travelled with your pooch, you will be able to take your dog to certain, clearly designated, parts of the main beach. Please note they are not permitted to be in the patrolled area.
In case you were wondering, there are no crocodiles in the part of Queensland, so you will be able to enjoy the beach and ocean without having to look over your shoulder.
Things to do near the Agnes Water Beach Holidays Caravan Park
Although one of the main things to do whilst staying at the Agnes Water Beach Holidays Caravan Park is to just enjoy the beach, there are several other attractions you can check out whilst you are there.
These include the following:
1770 Larc! Tours
Whilst staying at the caravan park, it is a good idea to head on over to 1770 to book a tour with 1770 Larc!
One of their most popular tours is the Full Day Paradise Tour, which involves making a 4WD journey over land and ocean, up to Bustard Head where there is a stunning Lighthouse.
Queensland's first coastal lighthouse, you will be able to climb up to the top of it to take in sensational panoramic views.
Once you have done that you will also get to race down the sand dunes at Middle Islands as well.
Paperbark Forest Boardwalk
The Paperbark Forest Boardwalk is a real 'must visit' attraction whilst in Agnes Water.
Situated just a short drive from the caravan park, this wonderful forest of cabbage palms and paperback trees is a joy to walk on.
Family-friendly, and suitable for people of all ages, the walk involves hopping over stepping stones when you come to water crossings. Which is something the kids, in particular, will love to do.
Whilst traversing the boardwalk, you can also look out for frogs, butterflies and a range of other flora and fauna.
Lady Musgrave Island
Beautiful Lady Musgrave Island is another 'must visit' destination which you can do via a tour or a separate trip – where you can stay at the campground there.
Once you get to the island, you will be able to undertake a range of activities including snorkelling amongst the coral, swimming with turtles and fishing in the reef that frames it.
If you choose to do a tour you will also get to see the spectacular colours of the coral and marine life in a glass-bottom boat, as well as embark on a guided walking tour around the island too.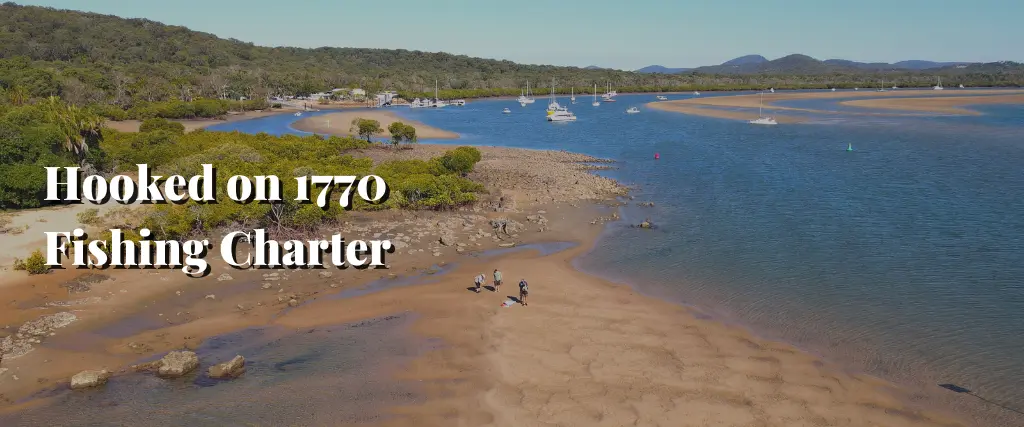 Hooked on 1770 Fishing Charter
If you love fishing then you may want to book a trip with Hooked on 1770 Fishing Charters.
Over the course of a half-day charter you will be able to enjoy some incredible reef fishing opportunities, while if you choose to do a full-day charter, you will be taken out towards even deeper reefs.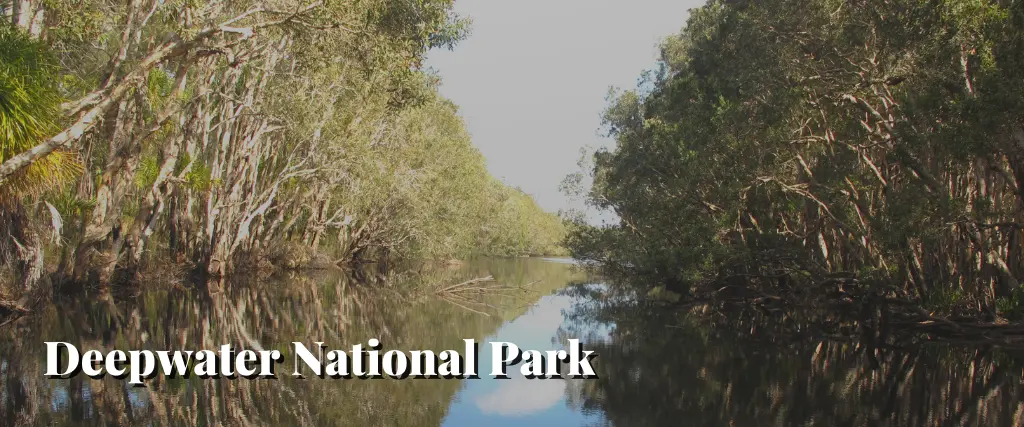 Deepwater National Park
If you have travelled in a 4WD consider taking a trip to the stunning Deepwater National Park.
Although it is not that far south from Agnes Waters, as the crow flies, it will take you about an hour to drive there.
But once you arrive you will be able to check out its three areas – Wreck Rock, Middle Rock and Flat Rock – at your leisure.
At each of them, you will be able to swim, fish and generally explore their rocky outcrops.
Places to Eat in Agnes Water and 1770
Whilst you are staying at the Agnes Water Beach Holidays Caravan Park there are a number of very good places for you to eat at, both within Agnes Waters, as well as neighbouring 1770.
Here is a selection of some of the best cafes and restaurants you should check out.
Agnes Water Tavern
Address: 1 Tavern Road, Agnes Water, Queensland
The Agnes Water Tavern is a fabulous place to enjoy a meal.
Known for its excellent service, they offer a lunch menu which features a tasty range of burgers, sandwiches, steaks and other mains, whilst the dinner menu has a delicious range of hearty, traditional mains, chef specials, risotto and pasta dishes.
There is also a big beer garden for you to enjoy a drink and your food outside.
Holidays Cafe
Address: Jeffery Court, Agnes Water, Queensland
The Holidays Cafe is the most convenient dining option you will have whilst staying at the Agnes Water Beach Holidays Caravan Park because it is located directly on its grounds!
Providing stunning ocean views, and a menu of healthy food options for breakfast and lunch, you can walk directly off the beach to the venue.
So you don't have to stay at the caravan park to enjoy a bite to eat here.
1770 Marina Cafe
Address: 535 Captain Cook Road, Seventeen Seventy
Situated in the LARC precinct, the 1770 Marina Cafe is another lovely place to eat.
Serving up a terrific range of gourmet breakfasts, as well as delicious burgers and several healthy lunch options, the venue is a top spot by the water to have a leisurely breakfast or lunch.
The coffee is very good too!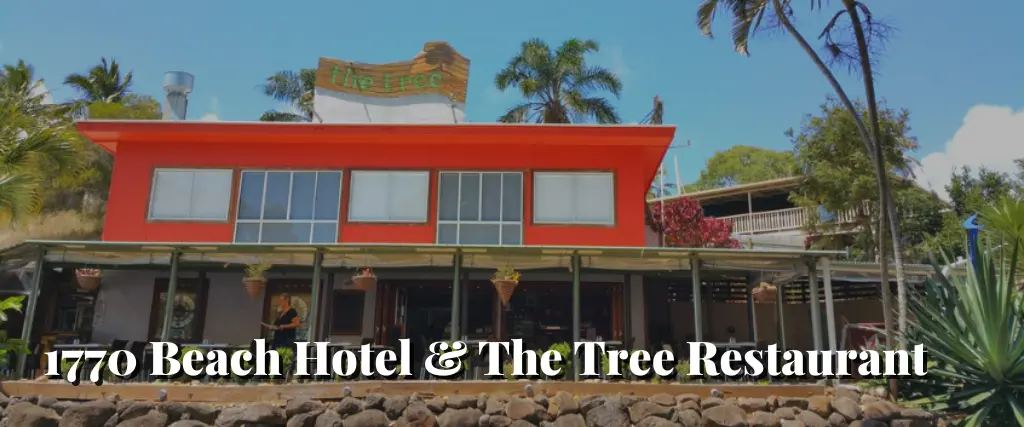 1770 Beach Hotel & The Tree Restaurant
Address: 576 Captain Cook Drive, Seventeen Seventy, Queensland
The 1770 Beach Hotel and Tree Restaurant is situated directly across from the beach. So it is another convenient place to head to for lunch or dinner.
In view of its location, you won't be surprised to hear that the restaurant is very popular. So be prepared for a little wait.
But once you are seated on its open deck, you will be able to enjoy a lovely meal with excellent views – which reach sublime levels come sunset.
Final Thought
We hope you have enjoyed our review of the Agnes Water Beach Holidays Caravan Park in Queensland.
If you have then perhaps you will consider staying there the next time you fancy a camping holiday.
Were you to do that, you will be in for a fantastic and relaxing getaway, as the whole region is simply fabulous.