If you are camping around Far North Queensland, especially in the area between Mackay and Clairview, the Carmila Beach Campground is a very good option.
Overlooking the beach, which extends up to a kilometre in width at low tide, the campground is a great base for those who love strolling on the sand, beach combing, fishing and enjoying some magical sunrises.
Owned and managed by the council, it is situated just five minutes from the tiny town of Carmila and is a popular stopover for campers travelling along the Bruce Highway.
In this guide, we will showcase what makes the campground such an attractive option, as well as outline what there is to see and do in the surrounding area.
About Carmila
Carmila is a tiny rural town in the Isaac Region of Far North Queensland.
Accommodating a population of around 300 residents, it lies about 110 km south of Mackay and about 72 km south of Sarina.
Located 6 km from the township, Carmila Beach is the main attraction here and boasts amenities blocks, a playground, BBQs and a boat ramp.
The town itself does not have much to see other than a handful of heritage-listed structures. But it does have a 24-hour service station, general store, library and post office which may come in handy.
About the Carmila Beach Campground
The Carmila Beach Campground enjoys a beautiful setting right by the beachfront.
Located about 6 km east of the small town of Carmila, the rustic campground is an untarnished paradise that provides a convenient camping and rest area for those who are exploring the area around Rockhampton and Sarina.
Definitely one for the self-sufficient campers, there is not much in the way of facilities here, other than two drop toilets, bins and a dumping station.
There is no power or water, so you will need to bring all your own supplies. That said, when it is open, you can buy water at the nearby Puma service station.
The campground is pet friendly and has different sizes of sites available for tents, camper trailers and caravans. Based on the size of the sites, it is not suitable for a big rig though.
Whilst at the campsite fires are allowed, though you should exercise the usual caution and make sure your fire is completely out.
Phone coverage is virtually non-existent.
How to get to the Carmila Beach Campground site
The Carmila Beach Campground is located at 29 Esplanade in Carmila.
To get there you will need to follow the Bruce Highway, either from the north of Clairview, or the south of Mackay, until you reach the highway town of Carmila.
Once at Carmila you will need to head north at the Puma servo, before turning right onto Music Street.
This eventually becomes Carmila Beach Road which you will need to follow for around 6 km until you come to a T junction, at which point you turn right. The road to the campground is sealed, but once there it turns to a hard-packed sand track.
How to book a Carmila Beach Campground site
There is no online booking available for the campground. So, as phone coverage is practically non-existent it is imperative to pre-book a space prior to heading there.
To do this you will need to phone the Izaac Regional Council on 1300 47 22 27 during business hours, or visit one of their offices at Clermont, Moranbah or St Lawrence and pay over the counter.
As of June 2022, the cost per vehicle, per night was $12.50. The maximum length of stay is 14 nights.
Are there Crocodiles at Carmila Beach?
While crocodiles are not that common on Carmila beach, the odd one has been sighted there before. So you should be vigilant as to the possibility of them.
On either side of the campground, there are creeks which, although terrific for fishing, do contain Salt Water Crocodiles.
So again be careful there.
Things to do in and around the Carmila Beach Campground
The Carmila Beach Campground is the perfect oceanside location to chill and relax. However, if you did want to head out and about here are some things you might want to see or do.
Go Fishing!
Carmila Beach is an excellent spot to go fishing.
Whether you choose to cast a line near the creek mouth or launch a boat from Carmila Creek you should be able to catch some trevally, barramundi, flathead or mangrove jack, especially around sunset when they are aplenty.
Check out the Carmila Cane Lift
Located on Hindles Road, The Carmila Cane Lift is a heritage-listed piece of agricultural equipment that was added to the Queensland Heritage Register in 2010.
Built at some point between the 1920s and 1960s, the lift is seen as being important in demonstrating the evolution of Queensland's history, so is worth checking out if you are passing the area.
Visit the Sarina Sugar Shed
Situated 72 km north of Carmila, the Sarina Sugar Shed is an award-winning miniature working sugar mill and distillery which offers interesting tours of its premises.
A major tourist attraction, you can go on a one-hour fully guided tour which will showcase their historic machinery and sugar cane patch.
Once the tour concludes, you can also get to taste some of their rums, chutneys, sauces, relishes, fruit liqueur products, and for the kids, non-alcoholic ginger beer and fairy floss which is freshly spun.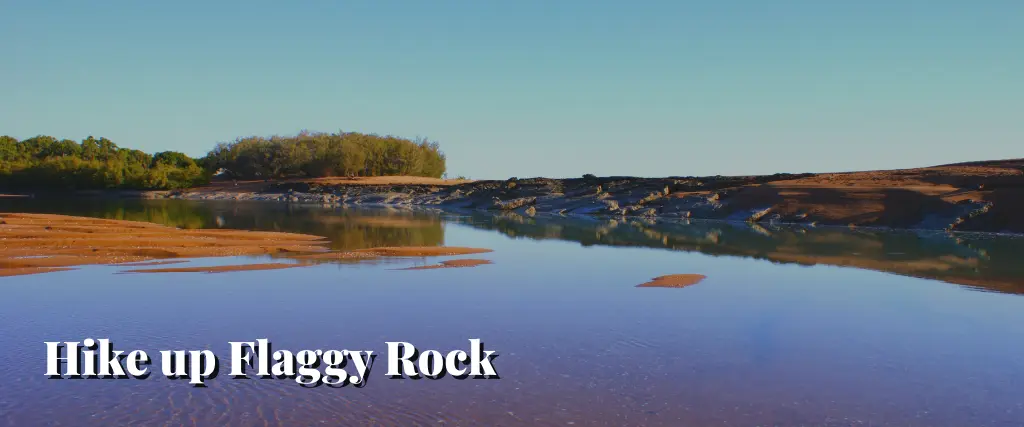 Hike up Flaggy Rock
About 20 km south of Carmila lies the picturesque Flaggy Rock.
A great place to visit for 360-degree views of the Coral Sea and the stunning rural horizons, it's a lovely spot to hike or 4WD up.
Final Thought
So there you have it! Our review of the Carmila Beach Campground in Far North Queensland.
Should you ever travel to the Isaac region of FNQ, we hope this guide has inspired you to stay there.
If it has, you will be well geared up to enjoy a gorgeous, scenic and relaxing camping experience.