When it comes to free campgrounds in Far North West Queensland, many visitors rave about the one near the town of Gregory.
Offering an excellent location for camping, right near the banks of the Gregory River, the area is a popular stop-off point for those travelling towards the Boodjamulla National Park.
Providing all the benefits of remote and rustic camping in natural surroundings that are truly beautiful, this is a spot all avid self-sufficient campers should put on their list.
In this guide, we will showcase how to get there and what there is to do when you arrive.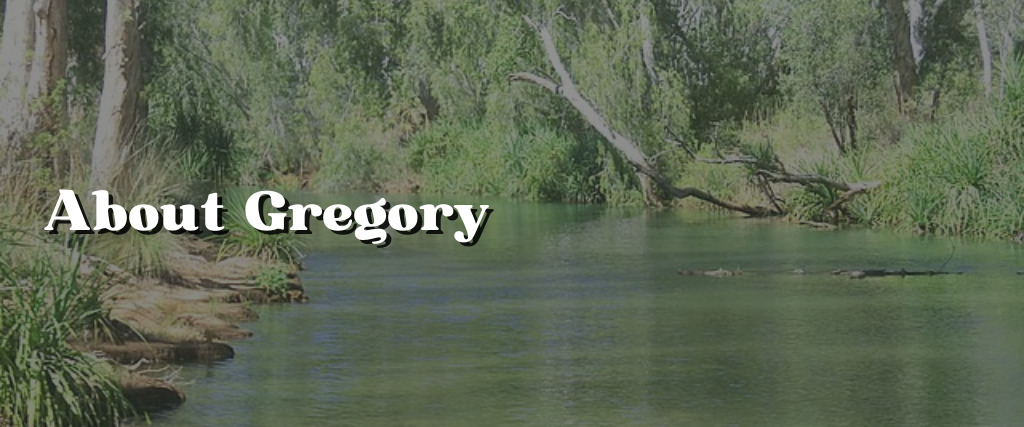 About Gregory
The town of Gregory is situated in the Burke Shire, which falls within Far North West Queensland.
It is situated about 2010 km northwest of Brisbane and about 1010 km west of Cairns.
In addition, it lies about 235 km from Mount Isa and around 120 km south of Burketown.
The town resides within easy walking distance of the Gregory River and is considered the gateway to the magnificent Boodjamulla National Park.
It is a fantastic place for fishing, swimming, boogie boarding and drifting down the river on a blow-up tube.
The town has a population of around 50 people, but despite this, it possesses a general store which serves up an excellent cup of coffee and good, hearty food. There is also a pub, a motel, public toilets and a playground area with BBQs, tennis courts, a race track, a community hall and an airstrip.
Originally called Gregory Downs, the town officially changed its name to Gregory in 2013.
It is famous for its outback ball, rodeo, horse racing and canoe race that takes place every year on the May long weekend.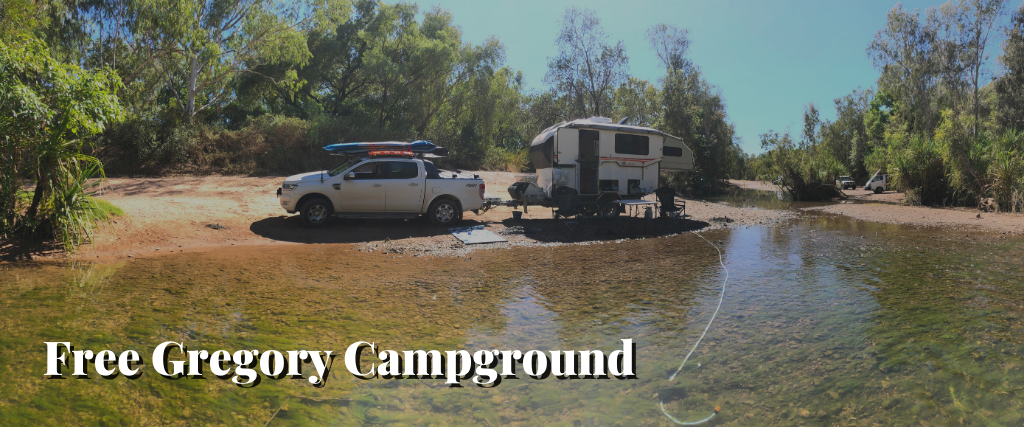 Free Gregory Campground
Close to the Gregory River, the Burke Shire Council manages a free and low-impact campsite.
While it is unpowered, it does feature toilets and a dump point. In addition, this campground is pet-friendly and has showers and shade.
Unfortunately, there is no drinking water available here, but you can rent a canoe, as well as bring your big rig too.
At the time of writing, you are not permitted to camp right by the river. This is due to concerns that the water levels could rise and thus entrap those who are camping.
For this reason, it might not be the best idea to stay here during the wet season, or if there has been heavy rain upstream.
How to get to the Gregory Downs Campsite
Coming from the south, there are basically two ways to reach the Gregory free campsite from the south.
From the town of Cloncurry, you should head north on the Burke Development Road, until you get to the Burke & Wills Roadhouse.
This is a seal bitumen road all the way, although some sections of it are a one-lane road.
When on this road you will need to make a left turn towards the Boodjamulla National Park, which will eventually lead you into Gregory.
An alternative option is a much shorter journey north from Camooweal, the final stop off before crossing the border from Queensland to the Northern Territory.
This is an unsealed stretch of road, which can be rough and involve you taking river crossings.
Take your jewellery off before swimming
Although the water in Gregory River is cool, it can run very fast in certain sections. So it is well worth bearing this in mind.
It is also a good idea to take your jewellery off before you swim and store it in a safe place in your vehicle, as quite a number of visitors have reported losing their rings after taking a dip in there.
A combination of the cooler water shrinking your skin, and the river's fast running currents can often dislodge your jewellery – particularly when attempting to grab hold of rocks or branches to reduce your speed.
To avoid any potential disappointment, it is better to be safe than sorry and take the precaution of removing these items.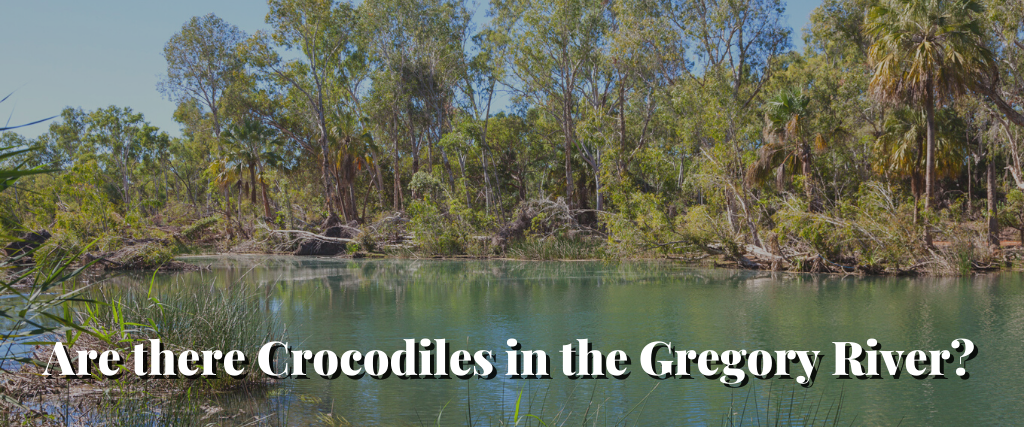 Are there Crocodiles in the Gregory River?
The short answer to this is generally no, but possibly, yes.
While the water is quite shallow and usually pretty clear, many campers and locals swim there throughout the year.
However crocodiles have been sighted in the area recently, so it is also worth getting local advice.
You probably shouldn't swim if you are on your own, just to be on the safe side. But if others are in the water, especially locals, then you should be okay.
What else is there to do outside of the Gregory Free Campground?
If you fancy a change of scene during your stay at the Gregory free campground, why not consider a visit to the following places?
Boodjamulla National Park
With just 70 residents, the township of Burketown provides a fascinating insight into outback life.
Situated about 120 km north of Gregory, it is known as the barramundi capital of Australia, with annual competitions taking place around Easter.
The town has a small collection of general stores and takeaway shops, as well as a service station, bakery, butcher and post office.
It also has a few heritage-listed sites including the Landsborough Tree, the former post office on Musgrave Street and the Boiling Down Works on the Truganinni Road.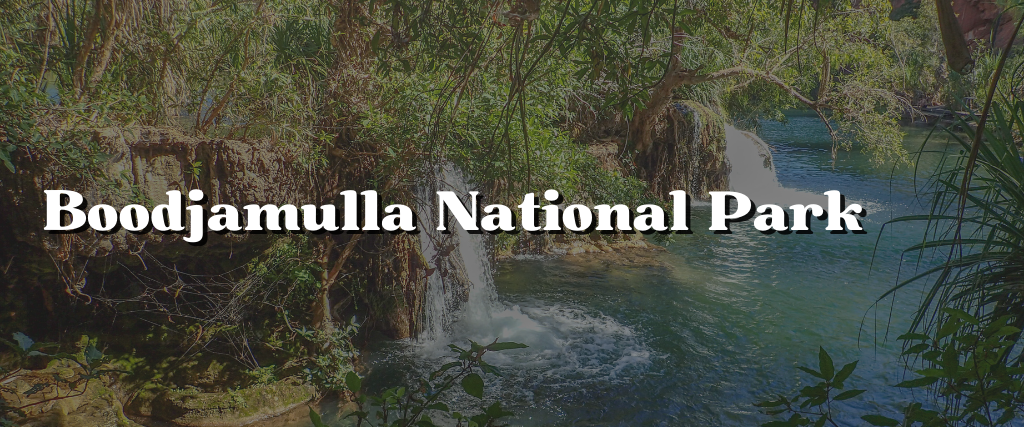 Boodjamulla National Park
Previously known as Lawn Hill National Park, the Boodjamulla National Park is a fabulous place to visit.
Situated about 135 km from the Gregory River, within the stark and isolated north-west highlands of Queensland, the park is noted for its magnificent gorge country, impressive sandstone ranges and World Heritage fossils.
A breathtaking national park, that is fed by several freshwater springs that come from the limestone plateau to the west, Boodjamulla is a great place for fishing, hiking and generally exploring.
It can easily be visited as a day trip from the Gregory River campground. But if you want to stay for a night or two here as well, you can camp at the Adels Grove, which is about 10 km away.
So there it is!
Our guide to the free campground near the town of Gregory on the Gregory River.
We hope this guide has inspired you to pay a visit to this campground. If it has we are sure you will be in for a wonderful time there!