So you've heard all the hype about Alma Bay on Magnetic Island and now you are seriously thinking of going there.
Well in this guide we will provide you with everything you need to know about visiting this fantastic Queensland beach holiday destination.
So without further ado let's get into it!
About Alma Bay?
Magnetic Island lies just 10 km off the coast of Townsville, which makes it one of the easier Great Barrier Reef Islands to get to.
Nestled on its eastern coast, Alma Bay is one of over twenty beaches and bays that are dotted around the island.
Known for its outstanding natural beauty, which features massive boulders, sparkling turquoise waters and gently swaying palm trees, it consistently ranks in Queensland's top 10 beaches.
Facing due east, Alma Bay is defined by two imperious granite headlands that run for about 300 metres on either side of the beach.
This very picturesque bay is also notable for its poignant war memorial, which honours the fallen military personnel who died during World War I, II and the Vietnam War, and is in itself a major tourist attraction.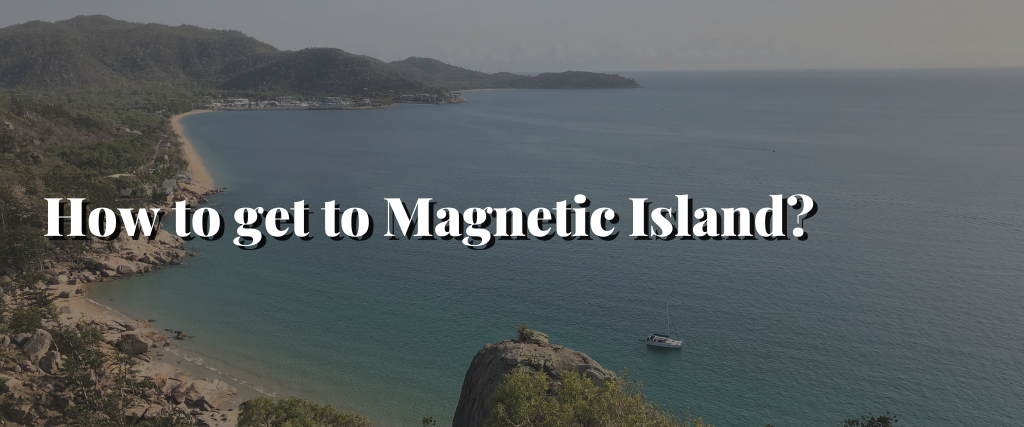 How to get to Magnetic Island?
To get to Magnetic Island you will need to get the ferry from Townsville.
Townsville itself can be reached by car along the Bruce Highway, which runs all the way from Brisbane to Cairns.
Alternatively, you can fly into Townsville Airport, with Qantas, Jetstar, Virgin Australia and Airnorth all running regular services from all over the country.
To get from Townsville to Magnetic Island you basically only have two options.
If you are not travelling in a car you can take a fast passenger ferry that will transport you to the island in half an hour.
For those who are driving, you will need to take the car ferry, which takes around 45 minutes to complete the crossing.
Rates vary depending on the time of year in which you are travelling. So it is worth checking with the ferry company prior to your departure.
How do I reach Alma Bay?
The ferry port on Magnetic Island is located on Nelly Bay, which also acts as the main hub for tourists and holiday accommodation.
Once you have got your bearings on the island, and have decided to head to Alma Bay, you can get there by car, public transport or taxi.
If you did not bring your own car, you can hire one from Nelly Bay, with 'Barbie Cars' being a very popular option.
Those who intend to visit Alma Bay by bus will need to get the 250 bus from the ferry terminal to Hayles Avenue, which is situated near Appian Way.
At the ferry terminal, and from various points on the island, you will be able to catch a ride with Magnetic Island Taxis.
What to do at Alma Bay?
At just 150 metres wide, Alma Bay is only a small bay, but there is plenty to keep you occupied there including the likes of sunbathing, swimming and snorkelling. The latter of which showcases a wide range of fish, and even the odd stingray, that darts around the rocks near the beach.
For those who like to be a bit more active, you will also find sporting facilities like a basketball court right next to the beach too. While kids will love the playground that is also located near the sand.
Aside from just relaxing in this little piece of paradise, a very popular thing to do here is have a picnic. There are several tables and BBQs in the area to cook up a terrific feed, which you can enjoy against a backdrop of the beautiful surroundings.
As previously mentioned, the memorial, which is denoted by a flagpole that is positioned in front of it, is also worthy of your attention.
One thing you are not allowed to do at Alma Bay however is go fishing. That is because it is a protected marine national park.
If you are looking for a place to cast a line, the nearby Horseshoe boat ramp is a very good spot.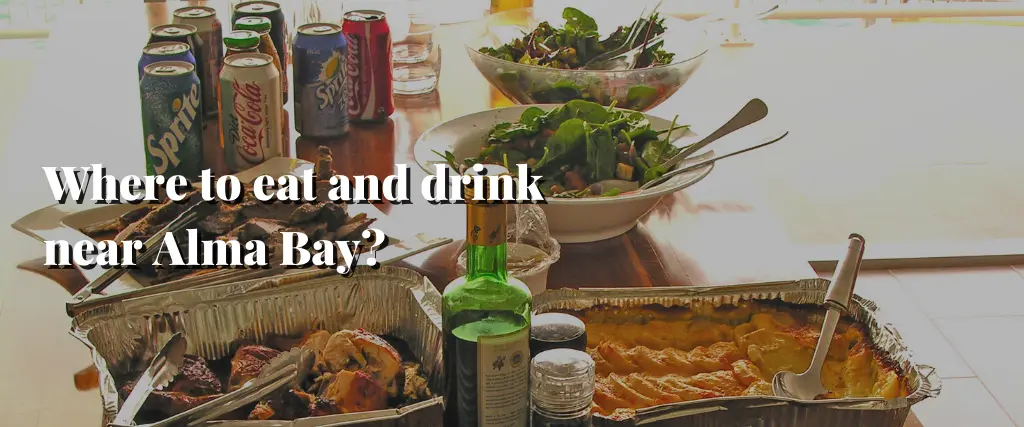 Where to eat and drink near Alma Bay?
If you plan to stay at Alma Bay for a prolonged period and haven't brought your own food, you will want to find somewhere to eat and drink.
When the hunger pangs or thirst hits, the best thing to do is make your way up to the Acadia Village Hotel.
It's not too far to walk from the waterfront and it serves a delicious range of meals and beverages at its fabulous Bistro Restaurant. So whether you are after breakfast, lunch or dinner you will be accommodated for.
The food here champions the best in local and Australian produce, with some of its signature offerings including the fish of the day – which can be grilled, battered or crumbed, and Southern fried chicken.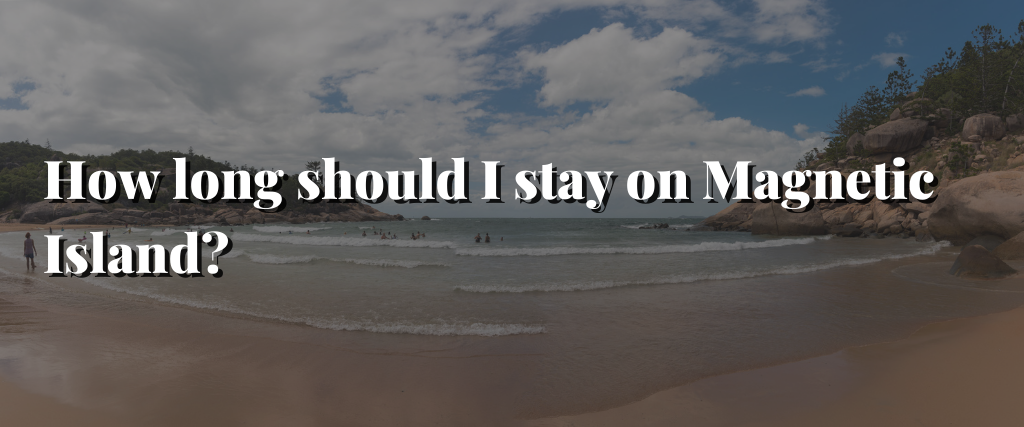 How long should I stay on Magnetic Island?
Essentially this is entirely up to you.
Although Magnetic island is a small island, there is quite a lot to see and do, so you should consider two factors when deciding your length of stay.
Firstly, the time you arrive on the island and secondly, whether or not you will have the use of a car whilst you are there.
If you do have the use of the car and you arrive on the island before 12 pm, two to three nights should suffice. However, if you don't have a car, or first arrive later in the afternoon, you could probably stay a night or two more.
When is the best time to visit Alma Bay?
Magnetic Island is a lovely place to visit all year round.
That said it is a very popular destination during the school holidays and summer months, so you might want to avoid the crowds then.
Being located in Tropical North Queensland the hotter and more humid months of December and January might not suit either.
Prices for the ferry, accommodation, hire cars and food all tend to be at a premium during these peak levels, so that is another reason to consider visiting at other times of the year.
Considering all these factors, the months of November, February and March might represent the best time to visit Magnetic Island.
In terms of Alma Bay, you can visit it any time of the day. However early in the morning, or around sunset are probably the best times to go there.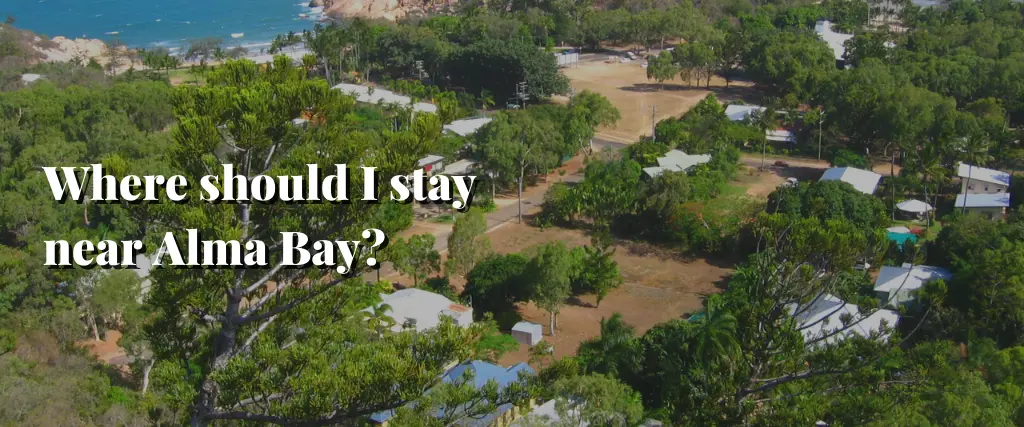 Where should I stay near Alma Bay?
There are plenty of accommodation options near Alma Bay in which you can stay. One of the most popular of them is the Arcadia Village Motel which offers comfortable rooms and a good range of amenities.
Another terrific option is the Dandaloo Gardens which provide guests with really quaint beach chalets to enjoy.
Each of their chalets is air-conditioned and is furnished with a private bathroom, parquet floors, a fully equipped kitchen, flat-screen TV, living room, free WiFi and a patio which showcases views over the pool.
For recommendations of where to stay elsewhere on Magnetic Island, the likes of Driftwood, Peppers Blue on Blue and Absolute Waterfront Magnetic Island are very decent and affordable choices.