Longreach in Queensland has been affectionately dubbed the 'heart of the Outback'.
Home to some of the warmest and friendliest people in the whole of Queensland, the town is a wonderful place to visit and boasts a number of compelling attractions to keep you entertained whilst you are there.
If you are on a self-sufficient camping holiday around the area, one place you should know about is the Darr River Longreach Camping Area.
Situated about 30 km north of Longreach, it is a terrific spot to base yourself for a few days, right beside the water's edge. Not least, because the campground is rarely visited, and offers lots of space to plonk yourself.
But also because it is completely free!
In this guide, we will provide further details about this picturesque campground. We will also advise you on how to get there, and showcase what else there is to see and do in the surrounding area.
About the Darr River Longreach Camping Area
The Darr River Longreach Camping Area is situated about 20 minutes from Longreach, so it serves as a fantastic base to explore the town.
A pet-friendly campground, it is suitable for tent camping, as well as camper trailers, campervans, caravans, motorhomes, and even big rigs.
There is nothing in the way of facilities here other than rubbish bins. So you will have to bring your own water, power generators, and other amenities like a portable toilet and gas oven etc. Gas fires are allowed though.
However, what you will get at the Darr River Longreach Camping Area is peace, solitude and a gorgeous riverfront location – all set against a backdrop of outstanding natural beauty.
Overall the campground is a great spot for fishing, swimming and generally relaxing from the pressures of everyday life. That said, Telstra and Optus get decent coverage here. So you can stay in contact with the outside world if you want.
How to get to the Darr River Longreach Camping Area
The Darr River Longreach Camping Area is located at 55474 Landsborough Hwy in Longreach.
To get there from Longreach you will need to head out along the Landsborough Road towards Winton.
After about 20 minutes of driving on the Landsborough Road, just before you get to the bridge, you will arrive at the campground.
You will see tracks that lead on either side of the road. Both of these lead to free camping areas where you will be able to camp at either of them.
In dry conditions, both of these tracks can be accessed by 2WD or 4WD. During the wet season, you might struggle to traverse these tracks in the former though.
The spaces in this free campground operate on a first come first serve basis. So you don't need to make a reservation before going there.
Things to see and do around the campground and beyond
Aside from swimming, fishing and other water activities like kayaking or SUP, the campground is located within easy driving distance to both Longreach and Winton.
Both of these towns are well worth visiting, especially to pick up supplies, enjoy a meal or check out their local attractions.
Should you do the latter, consider going to the following places:
Longreach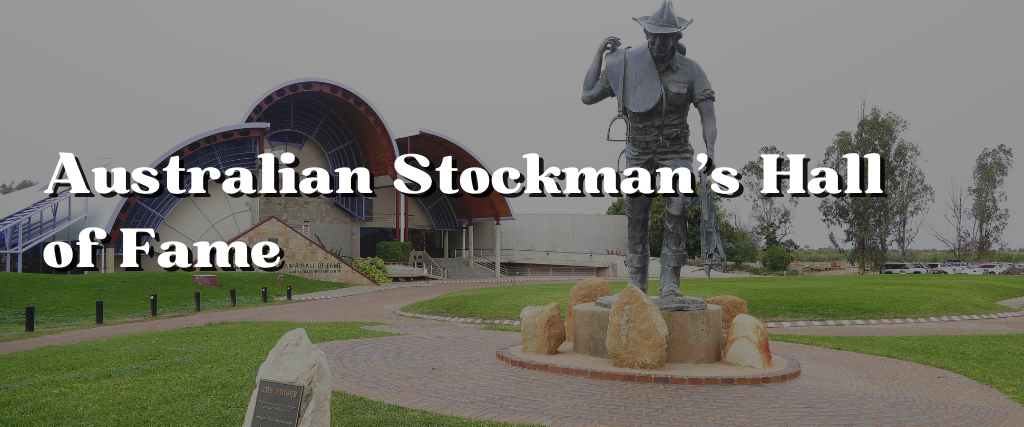 1. Australian Stockman's Hall of Fame
Not far from the campground on the Landsborough Highway is the famous Australian Stockman's Hall of Fame.
For over 40 years this centre has been delighted visitors and it is now even more impressive than ever, having recently undergone a $15 million makeover.
The Live Stockman's Show is particularly noteworthy, and its interactive exhibits and enchanting galleries, are not to be missed!
2. Qantas Founders Museum
Longreach is also famous for being the birthplace of Qantas.
Over at Sir Hudson Fysh Drive, you can check out the wonderful Qantas Founders Museum that showcases its fascinating history.
This unique museum is a must for anyone who loves aviation, not least because of all the exhibits on display at the heritage-listed old QANTAS hangar.
Be sure to leave plenty of time to explore this area and pay particular attention to the Airpark Tour
and the 747 Wing Walk. Both of which are fantastic.
The art Light and Sound Show is another notable feature to look out for.
3. Outback Pioneers Tours & Experiences
While in Longreach, be sure to check out the Outback Pioneers Tours & Experiences.
Offering you the chance to experience a little of what the pioneers did back in the day, you'll be able to do cool activities like a ride in a historic Cobb & Co Stagecoach, or enjoy a cruise along the Thomson River.
Very family-friendly, it is a great way to spend an afternoon.
Winton
1. Australian Age of Dinosaurs
Situated some 26 km out of Winton, on the rather coolly named Dinosaur Drive, The Australian Age of Dinosaurs is a fantastic place to visit.
A fully operational and working museum, it boasts the largest collection of Australian dinosaur fossils in the world.
The 3-hour tour of the facilities is well worth it and during that time you will visit a bona fide laboratory, as well check out the Collection Room and explore a Dinosaur Canyon.
Fun, and educational for all the family, tours run every day from 9 am to 2 pm.
2. Waltzing Matilda Museum
Sadly the original Waltzing Matilda Museum was destroyed in 2015 by fire. However, in its place, a splendid new museum has been built on Elderslie Street.
The first museum in the world to be dedicated entirely to a song, the venue features exhibits that champion the lyrics and music, as well as some really good interactive displays that relate to the story of the Waltzing Matilda.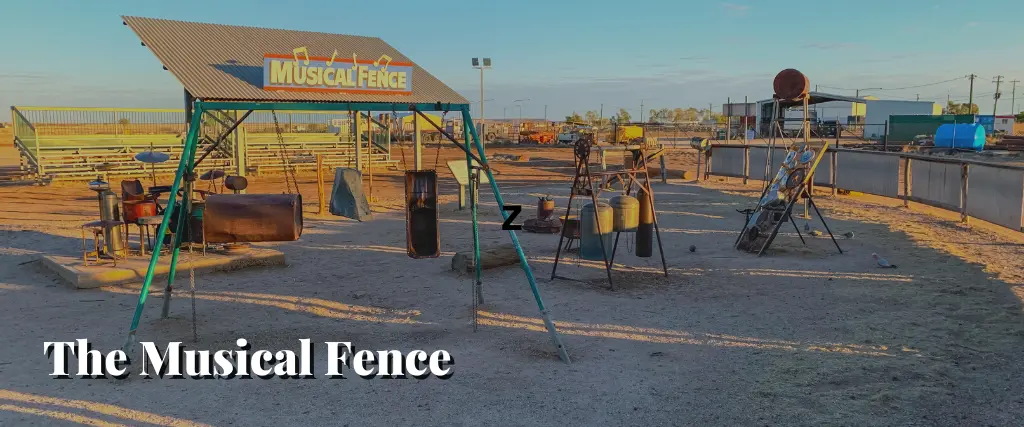 3. The Musical Fence
Another first that hails from Winton, is the fabulous Musical Fence.
The only permanent musical fence installation in the world, this cool attraction is situated behind the Diamantina Heritage Truck and Machinery Museum – just outside of town.
Designed by Graeme Leak, who is a very talented composer and a percussionist, this wonderful,
interactive, art installation enables you to explore your creative talents.
Something both kids and adults love, a great thing about this attraction is that it's free!
Final Thought
So there it is!
Our review of the Whalebone Bay Campground near Denham in Western Australia.
We hope this review has provided you with excellent insight into why the campground is such a great place to visit for 24 hours.
If it has inspired you to make a booking, then rest assured. You will be in for a fabulous stay during your time there!