Sunflowers are magical, aren't they?
Possessing the ability to instantly lift your mood, there is nothing quite like the feeling of looking at, or even better, walking through endless rows of vibrant yellow sunflowers.
The epitome of brightness, vitality, energy and life, southeast Queensland is blessed with some truly incredible sunflower fields. Some of which are so big, that they grow up to 30 inches in diameter!
If you want to see Australia's response to the tulip fields of Amsterdam, there are a number of places you can go to in Queensland to see them.
In this guide, we outline some of the best of them.
When to go?
Sunflowers are quite an apt name for the genus as they love the sun!
In Queensland, because of this, they tend to bloom during the warmer months in and around summer. Most typically they come out in full force between late December and March, though it does depend on weather conditions.
If it has been especially cold in the months of spring then they might take a little longer to flower. Similarly, if there has been a drought, they do not come out quite as voluminously as they do, after prolonged bouts of rain.
That said, if there have been good weather conditions in the run-up to summer, the various sunflower fields in southeast Queensland will look incredible, and therefore well worth visiting.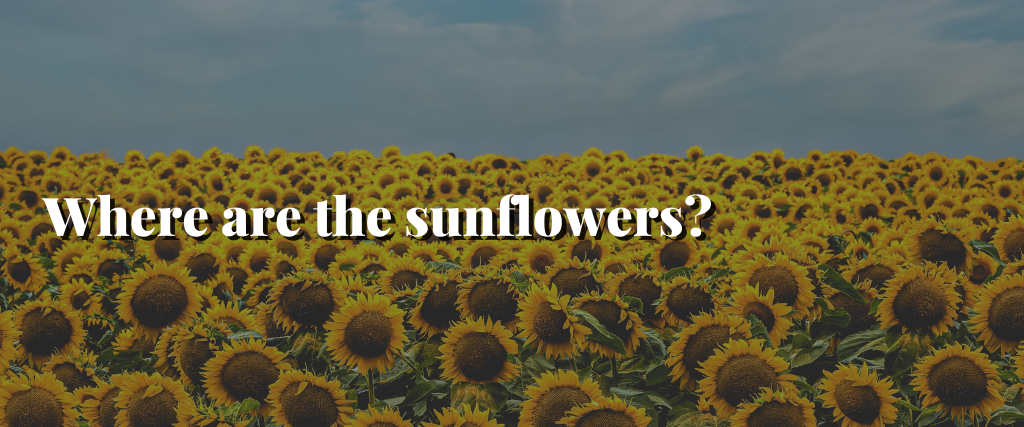 Where are the sunflowers?
Sadly there aren't any sunflower fields in, or around Brisbane, though you might find a patch at the Brisbane Botanic Gardens. So if you want to see them in all their natural glory you will need to take a bit of a road trip.
Luckily you won't have to go too far, because within a two-hour drive southwest of Queensland's state capital you will find plenty of gorgeous sunflower fields you can visit across the Southern Downs, Darling Downs and the Granite Belt region.
Surprisingly, there does not seem to be an exact science as to where the sunflowers grow. They have a tendency to pop up at random places every year. But there are some regions and locations where they are more prevalent – which collectively is known as The Sunflower Route.
The Sunflower Route
It's important to note that sunflowers generally only survive for around 3-4 weeks, so it is imperative to get your timing right when going searching for them.
At any given time, to ascertain where the best sunflower fields are located, it is a good idea to contact the Toowoomba Visitor Centre on 1800 331 155, or the Warwick Visitor Centre on 07 4661 3122.
The team at both places are very helpful and will be able to provide you with the most up-to-date information. It's also worth following both of their social media channels for tips as well.
As a general rule, however, the towns which tend to be blessed with blooming sunflower fields are as follows:
– Allora
– Cambooya
– Drayton
– Felton
– Nobby
– Toowoomba
– Warwick
To visit them, you would be best advised to take Tourist Route 11, which is a 50 km round trip that will take you from Warwick to Allora.
Along this route, you should find several fields of sunflowers to walk in, and photograph, just by driving arbitrarily around. So it would be a good idea to allocate at least two or three hours to traverse it.
However, if you would prefer to drive straight to a sunflower field that represents more of a surefire bet, then the following locations are worth typing into your Google Maps.
– Old Allora Racecourse, Allora
– Hoey Road, Spring Creek
– Saal Road, St Helens
– 468 Willowvale Road, Willowvale
– Rickert Road Nobby
– Richards Road Nobby
– Newman Road Drayton
– Hancock Lane Mount Marshall
– Glengallan Road Warwick
– Felton-Clifton Road Nobby
It is important to note that sunflowers are generally located on working farms that rely on their crops to survive.
So if you are planning to visit any of the sunflower fields in Southeast Queensland, please be respectful to the farms and the farmers, by not trespassing on their property, or damaging their livelihood.
Best Sunflower Field for Photographs
If you are looking for a sunflower field to take that perfect photo for Instagram then the field just off the New England Highway at Cambooya is probably your best bet.
Be mindful, however, that this is a popular spot. So to ensure you are able to find a quiet and picturesque patch of sunflowers to photograph, without interference from others, it is worth getting here early.
The added bonus of doing this is that the morning colours of sunrise add a special glow to the area. Similarly, if you come to the field at sunset you will be blessed with exceptional photographic opportunities too.
Where to stay in the area?
If you want to see the sunflower fields of southeast Queensland, but live further away from them than Brisbane, it is a good idea to turn your visit into an overnight or weekend trip.
Should you want to do this the likes of Warwick and Allora both make excellent destinations on which to base yourself.
Warwick is a charming country town, with great architecture, stunning churches and a number of very good pubs and restaurants. As one of the oldest European settlements in Queensland, 'The Rose City' is also full of history too.
If you do choose to stay in Warwick, the Coachmans Inn and the Criterion Hotel are very good accommodation options.
Referred to as 'The best little town on the Darling Downs', Allora is another lovely town.
It is best known for the Mary Poppins House, the childhood home of P.L. Travers, who famously wrote Mary Poppins. However, it also hosts a number of other historic buildings and an engaging old-time streetscape.
You can actually stay overnight at the accommodation on the property of the Mary Poppins House. Although the Allora Lodge Bed and Breakfast is somewhere else you should consider.