When it comes to getting your hair cut, some blokes are happy with a quick and cheap grade 4 all over. While others want the full 5-star salon grooming treatment.
The problem is, that finding a decent barber who can do this is sometimes a bit of a lottery. After all, how do you know for sure how skilled a person is with a pair of scissors, shears, clippers and trimmers?
This is why reputation matters.
Thankfully, in Perth, there are plenty of barbers who have forged themselves a reputation for being highly skilled and trustworthy when it comes to cutting, shaping and styling your hair to whatever way you want it.
In this list, we'll look at 11 of the best barbers in Adelaide. Choose any of these guys, and you won't be disappointed with the quality of their work.
Barber Society
Address: Shop 7/1 Payneham Road, College Park, SA 5069
If you are looking for a barber that will engage with you, as well as give you an awesome haircut, then the Barber Society in College Park is a great place to visit.
A small boutique that is situated just five minutes from the CBD, these guys operate predominantly on an appointment basis. So you will need to book to get in there.
But once you are there, you will be entertained with some excellent conversation, as well as being offered a cold beer or a barista made coffee.
You can rest assured of getting an exceptional haircut too.
Hours: Tues & Thu 9:30 am – 8 pm, Wed & Fri 9:30 am – 6pm, Sat 8:30 am – 2 pm
House of Lords Barbers of Distinction
Address: Port Mall Shopping Centre, Shop 8B-178 St Vincent St, Port Adelaide, SA 5015
While the name might be a bit on the intimidating side, a visit to the House of Lords Barbers of Distinction is highly recommended.
Tucked away in the Port Mall Shopping Centre, this versatile establishment caters to both men and women of all ages, races, creeds and body sizes.
Whether you are after that quick buzz cut or want a style currently being rocked by the latest pop idol, this Adelaide hair salon will exceed your expectations.
Boasting some of the best stylists in the city, one of their most popular areas of specialisation is hair tattooing. Although this is just one of a massive range of hair technique services they offer to their clients.
Hours: Mon – Wed & Fri 9 am – 5:30 pm, Thu 9 am – 8 pm, Sat 8:30 am – 4 pm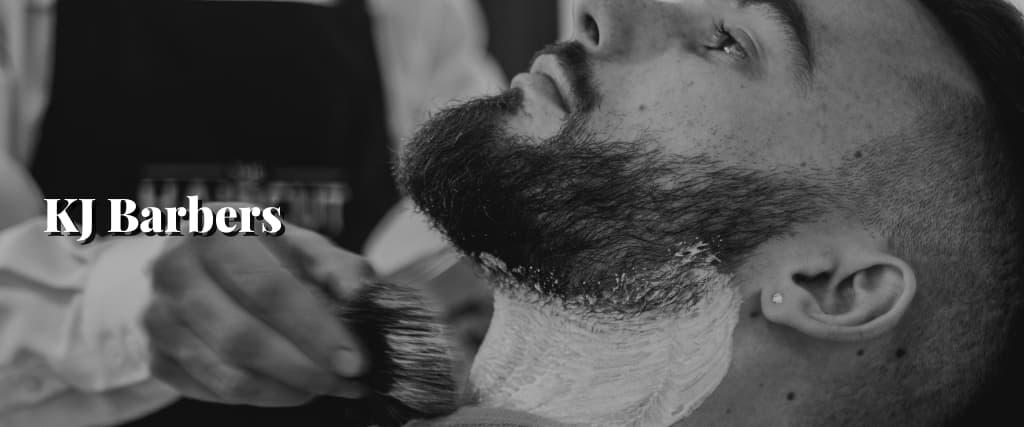 KJ Barbers
Address: Shop 2/44-52 Hawson Ave, North Plympton SA 5037
KJ Barbers isn't so much of a barber, as a total grooming service.
Championing an innovative concept that fuses premium barbering standards, with top-notch skincare, this is the place to come if you want to get spoiled whilst your hair is being done.
With a decor that includes a sleek, modern fit-out, as well as a high-quality Italian espresso machine, and a fully stocked beverage bar, this venue treats its clients like royalty.
The complimentary drinks they give out are not just any old cheap pour. They are superior beverages that proudly support the products of other local businesses including SOHO Coffee Roasters, Pirate Life, Ounce Gin and Hustle & Vine. They even offer espresso martinis on tap, should you want one.
Once they have give you the quality style, buzz cut or fade you were after they can also give you skincare treatments that are derived from their own private, branded range which you can buy online or in-store.
Hours: Tue – Wed & Sat 10 am – 6:30 pm, Thur – Fri 10 am – 9 pm
Phone: (08) 8246 3197
The Mens Room
Address: 109 Hindley St, Adelaide SA 5000
Situated right in the heart of the CBD, The Mens Room, is a flexible establishment.
Catering to both those who want a grooming experience, and those who want a quick short, back and sides, before they go on their busy way, this popular venue is known for the friendliness and high skill levels of their team.
Given the fantastic standard of their haircuts, their prices are quite affordable. With the grooming service appearing to be very reasonable, considering how luxurious they make the treatments for you.
Hours: Mon – Thu 8:30 am – 5:30 pm, Fri 8:30 am – 6:30 pm, Sat 9 am – 3 pm
Born Barbers Collective
Address: 512A Cross Rd, Glandore SA 5037
Possessing what they believe is the most exciting, experienced and highly skilled team of barbers in the city, Born Barbers enables you to get your hair cut from people, who were born to be barbers.
One of the leading hairdressers in the city, this establishment treats its customers to an old-style barbering experience that features classic cuts, hot towel shaves and wonderful beard trims.
Run by Ash Well, who undeniably ranks as one of the best barbers in Adelaide, Born Barbers also offers a complimentary beer and engaging conversation.
If you are after a contemporary style to impress the ladies, they will concoct something for you that will make their eyelids flutter.
Hours: Tues, Wed & Fri 10 am – 6 pm, Thu 11 am – 9 pm, Sat 7 am – 1 pm
Barber Boys
Address: City Cross, 7/32 Grenfell St, Adelaide SA 5000
Although the name might bring to mind a slightly cheesy boy band from the 1990s, Barber Boys is in fact one of the most established and decorated hairdressing businesses in Adelaide.
Founded in 2004 by Don De Sanctis, it received the AHIA Best Barber Business in Australia from 2017 to 2019.
Spread across multiple outlets in the city, Barber Boys pride themselves on being a traditional barber with a modern twist.
At all their venues, the vibe is friendly and relaxed, and you get the feeling the staff are more like a family, than a salon of individuals. Which always makes for a pleasant experience.
Hours: Mon – Thu 9 am – 5:30 pm, Fri 9 am – 9 pm, Sat 9 am – 4 pm
Bladez The Barber Lounge
Address: Adelaide Central Plaza Shopping Centre, Shop 9, Adelaide SA 5000
Bladez The Barber Lounge is a CBD-based outlet, that is renowned for providing its customers with exceptional haircuts.
Set within a traditional barbershop environment that has a warm and friendly atmosphere, and focuses on the time-honoured concept of customer service, this business works on a no appointment, no bookings basis. So as they are often busy, you might need to wait sometimes to be seen.
But don't let that put you off going there, because they specialise in contemporary skin fades and the latest trending styles.
In addition, they are also very adept at hair tattoos, as well as the old-style barber services that come with a beard trim, hot towels and a razor face shave.
For those getting married, or attending a big event, they also have a wedding and formal grooming packages available.
Hours: Mon – Thur 9 am – 5:30 pm, Fri 9 am – 7 pm, Sat 9 am – 5 pm, Sun 11 am – 4 pm
Phone: (08) 8225 6216
Just Guys Mens Hairdresser
Address: Dacosta Arcade, 18/68 Grenfell St, Adelaide SA 5000
Established in 1993, Just Guys Mens Hairdresser is one of the longest-serving barbers in Adelaide.
Based on Grenfell Street, within the CBD, the establishment is run by a team of brothers who have collectively tendered to tens of thousands of haircuts over the years.
This means they have done them all. Buzz cuts, fades, mullets, short back and sides – anything you request, can be done.
Another establishment that does not require bookings, walk-ins are treated to outstanding customer service and the benefit of all their hairdressing expertise and experience.
Hours: Mon-Thu 9 am – 5:30 pm, Fri 9 am – 7 pm
Babylon Barber
Address: 108 Gawler Pl, Adelaide SA 5000
Operating out of several locations within the city, including the CBD and offering very affordable prices, Babylon Barber is a major force in the Adelaide hairdressing scene.
Run by owner Sam Ahmad and his highly talented team, they showcase an impressive set of barbering skills that are hard to find in the city.
Not only will you get one of the best fades and undercuts within the state, you could also be treated to innovative grooming methods like 'threading'. A process that involves painlessly removing hair from your beard via the weaving of a cotton thread.
The salon here is relaxed and inviting, and the prices are very affordable. You'll also get some quality conversation from the barber, which will round off your visit nicely.
Hours: Mon-Wed, Fri & Sat 10 am – 6 pm, Thu 10 am – 7 pm, Sun 11 am – 4 pm
Robbie's Chop Shop
Address: 149 King William Rd, Unley SA 5061
Over in the suburb of Unley, Robbie's Chop Shop likes to keep things easy, traditional, yet spectacular.
Solely a walk-in establishment, the team here have been cutting hair for decades and will give you one of the best haircuts in the city. Whatever style you want.
You can also get a shave that will leave your skin smoother than a baby's bottom, and even try out some funky grooming products.
All in a friendly setting, and for a price that is very reasonable by Adelaide standards.
Hours: Mon 8 am – 12 pm, Tues-Fri 11 am – 7 pm, Sat 9 am – 5 pm
Legendary Barbers
Address: Shop 5/68 Reservoir Rd, Modbury SA 5092
If you are looking for that authentic 'classical' barbering experience then it is worth heading on over to the Legendary Barbers in Modbury.
Presenting seats with leather upholstery, this establishment provides you with a total, old-style barber shop experience. We're talking outstanding haircuts, cut-throat razors, hot towels and face massages – even free coffee. All that is missing is the quartet of singers!
Run by Ramat Karimiyan who owns the business, you'll know where the shop is as soon as you see the rotating barber's pole.
Armed with nearly 30 years experience in cutting men's hair, he is an artist when it comes to the short back and sides, or the square cut. As well as being a ripping bloke as well.
Hours: Mon – Wed & Fri 9 am – 5:30 pm, Thu 9 am – 7 pm, Sat 9 am – 5 pm
Final Thought
So there you have it! Our selection of the 11 best barbers in Adelaide.
Regardless of which one you choose, they will all provide you with outstanding haircuts and in many cases, a fantastic and holistic grooming experience.
So whatever style you want, you can rest assured that they will be able to provide you with the haircut you want, at a price that would represent outstanding value for money.