Port Lincoln is a popular tourist destination on the Lower Eyre Peninsula in South Australia.
Every year thousands of visitors come here to enjoy its stunning waterfront location, eat some of the best seafood in Australia and check out the Lincoln National Park, which is home to a diverse range of rare flora and fauna.
For many people who come to the area the Port Lincoln Caravan Park provides an excellent place to stay.
Situated in the small historic town of North Shields, which lies just 10 km to the north of the Port Lincoln CBD, the campground showcases the most amazing ocean views over Boston Bay.
In this guide, we will outline what makes this popular caravan such a terrific place to stay, and also let you know what else there is to see and do in the surrounding area once you are there.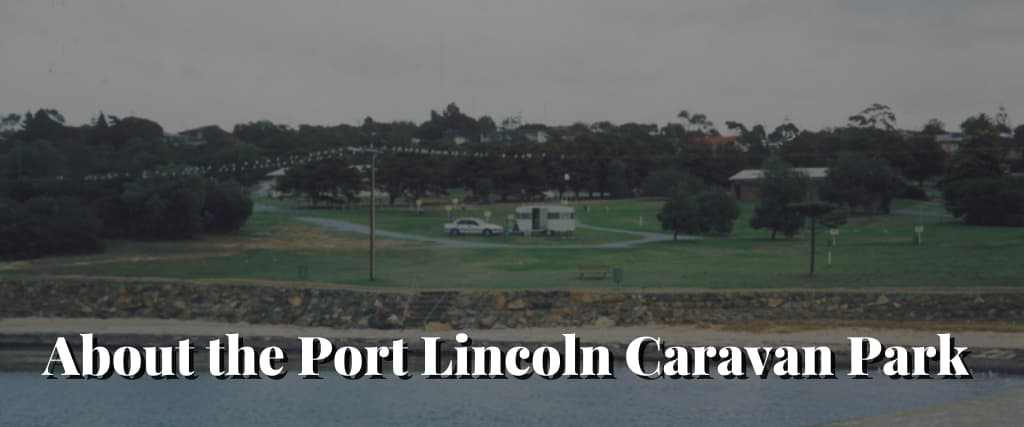 About the Port Lincoln Caravan Park
The Port Lincoln Caravan Park is a pet-friendly camping ground that is located right near the beach. It is notable for the scores of bunny rabbits that come out to feed during the afternoon.
Featuring an excellent range of facilities and amenities, the caravan park has several very good amenities blocks onsite that have hot showers with terrific water pressure. They also have two well-equipped camp kitchens with undercover BBQs, a fridge and a TV too.
In addition, you will also find a laundromat here with washing machines and driers that are coin-operated, as well as a playground which the children will love.
Rainwater is also available onsite, as is a sewerage dump point for caravans, while the WI-FI is very reliable and quite fast.
For those needing to top up on supplies, the Port Lincoln CBD is just 10 km away.
Port Lincoln Caravan Park Accommodation & Rates
The Port Lincoln Caravan Park offers a range of ensuite cabins, as well as powered and unpowered sites.
The ensuite cabins start from $90 a night and can sleep between 2 to 6 people. They are equipped with a double bed and kitchen that has a fridge, microwave, kettle and toaster, as well as a digital TV.
For $32 a night they also have a range of drive-through and beachfront powered sites available all year round, on large and levelled grass areas. While the unpowered sites will set you back $15 a night.
All of these accommodation offerings come with a 'stay 7 nights, pay for 6' special offer.
If you would like to make a reservation you can call them on 08 8621 4444. The staff at the Port Lincoln Caravan Park are very helpful and friendly, so will be able to assist you with any questions you may have.
How to get to this Port Lincoln Caravan Park
The Port Lincoln Caravan Park is located at 11 Hindmarsh St, in Port Lincoln, South Australia.
To get there from the Lincoln Highway, you will need to take the Light Street exit from the roundabout. After 110 metres you will then need to turn right onto Tasman Terrace.
Whilst on this road you will need to carry on straight through 2 roundabouts before eventually turning left onto Hindmarsh Street.
Having done that you will need to turn right after 50 metres turn right, before making another left turn after 50 metres. The Port Lincoln Caravan Park will then appear shortly on your left.
Things to do in and around the Port Lincoln Caravan Park
There are plenty of things to see and do in and around the Port Lincoln Caravan Park when you are there.
These include the following: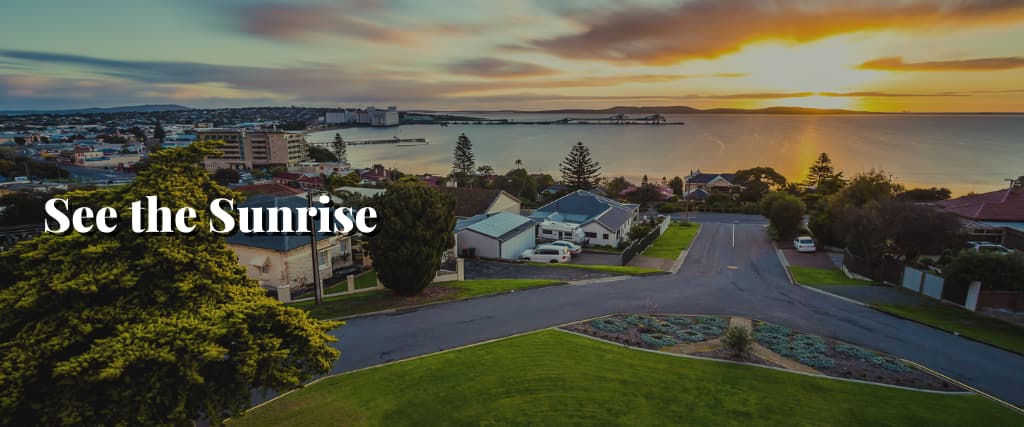 See the Sunrise
Taking in the sunrise is one of the biggest drawcards of staying at the Port Lincoln Caravan Park.
Set your alarm early for at least one of the days you are then to see the spectacular colours of the break of dawn over the ocean.
Walk the Parnkalla Walking Trail
The caravan park is close to the starting point of the 14 km long Parnkalla Walking Trail.
It follows the coastline around Boston Bay, passing magnificent stretches of coastline and several historic sites before eventually bringing you to the marina in Port Lincoln.
Even if you choose not to walk the whole way it is worth undertaking at least some of this trail for its sheer natural beauty.
Check out the views from the Winter Hill Lookout
Located about a 10-minute drive from the Port Lincoln Caravan Park, the Winters Hill Lookout showcases some wonderful views of the bay, Boston Island and Port Lincoln.
The lookout is a good place to linger for a while with a coffee or a picnic, whilst taking in the scenery.
The road up to it is also relatively easy to access by car or even motorhome, so it is somewhere you could even visit before arriving at the campground, or after leaving it.
Marvel at the Makaybe Diva Statue
Makaybe Diva is one of the most famous thoroughbreds in Australian horse racing history
The first racehorse to win the Melbourne Cup 3 times (and for that matter in consecutive years between 2003, 2004 and 2005), she also won the Cox Plate in 2005.
Ken Martin, a local artist, has created a wonderful bronze statue of Makaybe Diva which took him 9 months to sculpt.
Officially unveiled in 2006, this awesome statue resides on the Port Lincoln waterfront and is well worth checking out.
Visit the Axel Stenross Maritime Museum
Also situated on the waterfront is the fascinating Axel Stenross Maritime Museum.
If you love all things ship-related this is a nice place to visit, as it features a range of exhibits including historic sea vessels, as well as various other marine artefacts and relics.
The museum is also a part tribute to Axel. A Ships Carpenter from Finland, he originally sailed to Port Lincoln in 1927 to find work loading grain. However, as he loved the place so much he decided to stay.
Open on Tuesdays, Thursdays and Sundays from 9.30 am to 4 pm, as well as on Saturdays from 1 pm to 4.30 pm, his story is related in the museum, through intriguing interpretive displays and by very knowledgeable volunteers.
You can also see his original living quarters and workshops, as well as the slipway that still operates. In addition, the museum also showcases the lost art and skills involved in wooden boat building.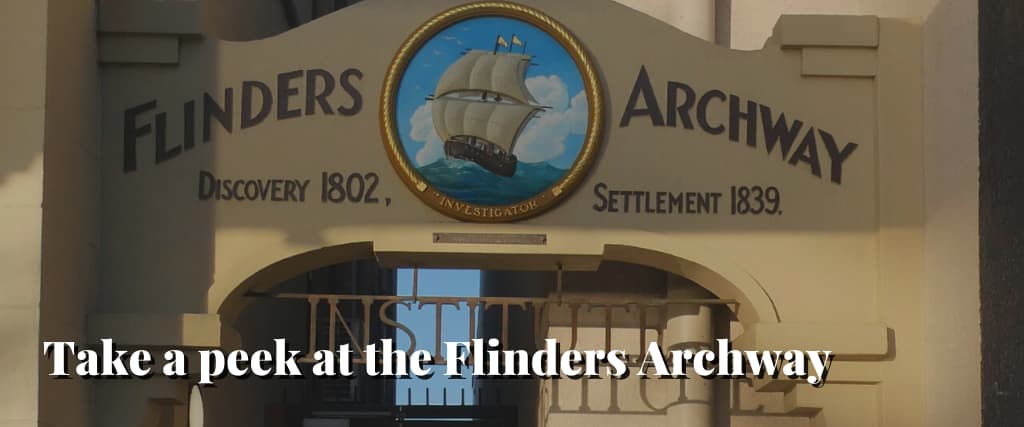 Take a peek at the Flinders Archway
Located between the Civic Hall and Port Lincoln Institute, The Flinders Archway commemorates the life and achievements of the famous navigator Matthew Flinders.
First arriving on the west coast of South Australia in 1802, he devoted much of his life to exploring, mapping and naming much of South Australia and its coastline.
Erected in 1936, this notable stone archway features a ship engraved in a circle within the middle of the arch, with Flinders Archway written on either side of it.
If you find yourself in town, it's well worth checking out.
So there it is! Our review of the Port Lincoln Caravan Park in South Australia.
If you ever find yourself in the Eyre Peninsula we hope this review has inspired you to stay at the caravan park.
If it has, you will be well set up to enjoy a lovely and relaxing camping getaway.