Defined by its gorgeous long sandy beach and the towering cliffs that frame it, Rapid Bay is one of the most popular camping destinations in South Australia.
Sitting between two hills in the Fleurieu Peninsula, it boasts calm and relatively safe waters which are a haven for swimmers and fishermen.
It is also very popular with snorkelers and divers who explore the remnants of shipwrecks and spectacular marine life too, most notably the rare Leafy Sea Dragons.
For those who want to stay in these beautiful surroundings for a few days, the beach also features the wonderful Rapid Bay camping ground, which enjoys a fantastic location right next to the sand.
In this guide, we will outline what makes this popular campground such an attractive option to so many campers in South Australia.
We will also confirm the best way to get there and how much the camping rates are too.
So let's get into it!
How do I get to the Rapid Bay Campground from Adelaide?
The Rapid Bay Campground is nestled on the eastern coast of St. Vincent's Gulf, within South Australia's beautiful Fleurieu Peninsula.
Just over 100 km south of the Adelaide CBD, it will take you about 90 minutes to drive between the two destinations.
To get to the Rapid Bay Campground from there, the best thing to do is follow the M2 and Main S Rd to Rapid Bay Road in Delamere.
From there you will need to turn right onto Colonel Light Drive, before making another right onto Essington Lewis Drive, which will then lead you onto the campground.
About the Rapid Bay Campground
Located right on the beachfront, the Rapid Bay Campground is the only park to camp within the vicinity of Rapid Beach.
Essentially a large, open space, the unpowered, pet-friendly campground features grassy areas at its rear and gravelled areas towards the beach.
Facilities are basic, with outside cold water showers, flushable toilets and limited supplies of drinking water being available.
There are no dump points here, while campfires are not permitted and it is prohibited for you to camp on the beach. But you can use electric BBQs that are coin-operated, and generators are allowed until 10 pm.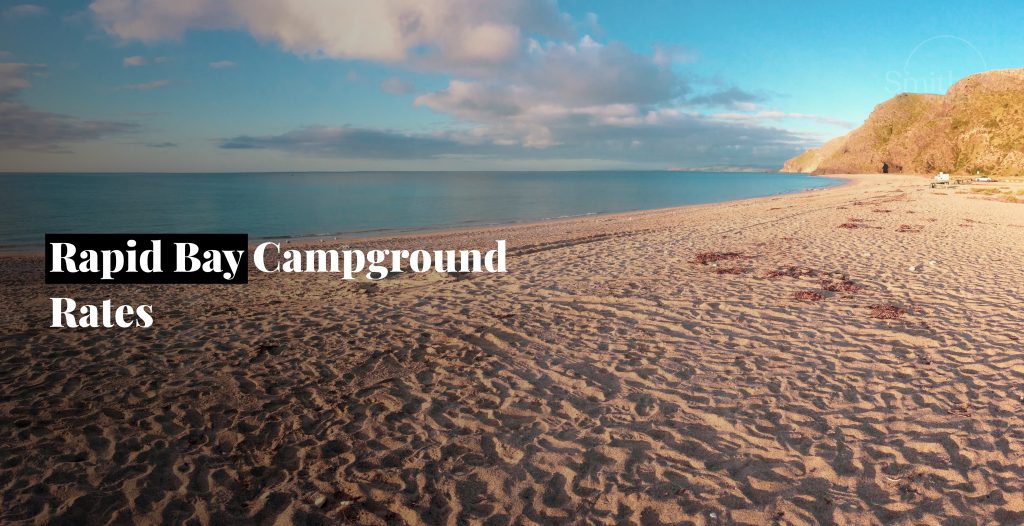 Rapid Bay Campground Rates
If you would like to stay at the Rapid Bay Campground, the cost per night, as of December 2020 is $12.50 per adult and 7.50 per for all children aged between 8 and 17 years old.
For long weekends there is a peak rate of $15 per adult, while the $7.50 cost per child remains the same.
If travelling as a family of 2 adults and 2 children, there is a special rate of $30 per night.
Bookings are essential at this campsite and the best way to do that is by phoning (08) 8598 3003.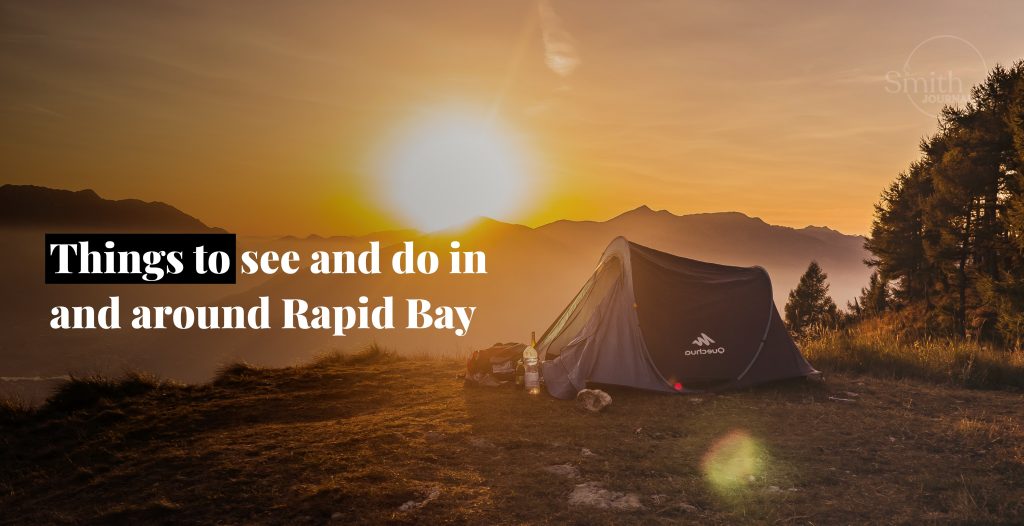 Things to see and do in and around Rapid Bay
Around Rapid Bay, you will find plenty of things to see and do. However, if you get the chance we highly recommend you do the following:
Fish off the Rapid Bay Jetty
There are two jetties at Rapid Bay, one of which is operational, and the other in a state of total disrepair.
The original jetty was badly damaged in a storm in 2004 and is now permanently closed. It has been replaced as a functioning platform by another one that was built in 2009.
Extending for 240 metres it is a haven for anglers who catch squid. The jetty also has stairs which makes it a great jump-off point for divers, swimmers and snorkelers.
Explore the Rapid Bay Cave
While at Rapid Bay, be sure to check out the large cave that resides at the end of the beach.
It is easy to access, fun to explore and you will be able to take lots of great photos of it too.
Visit Kangaroo Island
Kangaroo Island is a must-visit!
Lying just off the South Australian mainland, southwest of Adelaide this stunning island is home to a wide range of native wildlife including kangaroos, koalas, sea lions and several species of sea birds.
Over a third of the island is designated as protected in nature reserves, which means it has a wild, pristine and beautiful landscape.
The western area, most notably around the Flinders Chase National Park is especially stunning. Showcasing spectacular coastal rock formations like the Admirals Arch, which is covered in stalactites, and the Remarkable Rocks, as well as a large colony of penguins.
Aside from the wildlife and landscape, other reasons to come here are to visit some wonderful beaches and go kayaking, canoeing and hiking.
The Kangaroo Island Wineries and Kangaroo Island Brewery also make interesting diversions too.
Check out the Cape Jervis Lighthouse
From the mainland, Cape Jervis serves as the exit point to Kangaroo Island, so if you intend to visit the island you will need to take the ferry from this small town.
The drive over from Rapid Bay Campground will take about 20 minutes, but instead of heading straight onto the ferry why not pay a quick visit to the Cape Jervis Lighthouse?
Built in 1972, on the site of an original structure that was there over 100 years ago, the stunning white concrete building is a very Insta-worthy photo opportunity.
Head on over to Yankalilla
Nestled in the heart of the Bungala River Valley, just below the Mount Lofty Ranges, Yankalilla is a charming and historic town to visit on a day trip.
It will take you about half an hour to drive there along a very scenic stretch of road, and once you arrive you will be able to stock up on groceries, do your washing at the laundromat and enjoy a quick bite to eat at the bakery. You will also find a dump point in town should you require one.
The town of Yankalilla also has some excellent beaches to visit, as well as the arresting shrine of the Our Lady of Yankalilla church.
So there you have it! Our review of the Rapid Bay Camping Ground in South Australia.
We hope this guide has inspired you to visit the area one day. If it has you will be in for an amazing
time, as Rapid Bay is a beautiful part of the world.