Fancy a night out in Melbourne? Let's face it, who doesn't?
Melbourne is one of the coolest cities in the world at the best of times, let alone at night. And there is so much to do to keep you entertained.
There are lots of great restaurants, bars and clubs of course – and we will mention one or two of them. But if you are looking for other forms of fun and mental stimulation, there is plenty of other things you can do.
From visiting amusement parks, or eating fondue, to ice skating and ghost hunting this wonderful city offers it all.
So check out our list of 14 fun things to do in Melbourne at night, and get inspired to have an awesome time!
Hit the Crown Casino!
If you don't mind the odd flutter then Australia's largest casino is a great place to head to for a night out.
Located on the south bank of the Yarra River, the Crown Casino is actually open 24/7. So it is a great place to visit at any time of the day. But it comes alive at night when the bright lights and cacophony of noise really become infectious.
Overall the casino has 50 poker games which include the likes of Caribbean Stud. They also have a big selection of other games you can play too, such as Big Wheel, Pai Chow, Blackjack, Craps, Baccarat and Casino War.
If you do choose to go for a night of gambling, just know where to draw the line if you are on a losing streak.
Check out the interesting street art in the Melbourne laneways
Melbourne is famous for its fabulous laneways, and one of the best things to do at night in the city is to check out the amazing street art that is on display at them.
Considered the street art epicentre of Australia, these laneways showcase some of the world's best street art. With many incredible examples adorning the walls of Hosier Lane, Duckboard Lane and AC/DC Lane. The latter of which features portrayals of various musicians.
Be sure to also check out Croft Alley, Rankins Lane and Caledonian Lane for lots of other fantastic examples too, which you can enjoy with a coffee, as you stroll around and take them all in.
Have fun at Luna Park Melbourne
If you are looking for something to do at night in Melbourne with your kids. Or indeed if you are a big kid at heart yourself, a great place to head to is Luna Park.
Situated on the foreshore of the Port Philip Bay, this fantastic amusement park opened at St Kilda in 1912.
A total funhouse, it features some pretty cool rides and very fun games. One of the best of which is the Great Scenic Railway, which showcases superb views of Port Phillip Bay and the wider city.
Other rides like the Speedy Beetle, Twin Dragons, Supernova and Moon Balloons will have you whooping and hollering at full voice.
If you have little kids in tow, they are sure to love the many carnival-style games that are available too.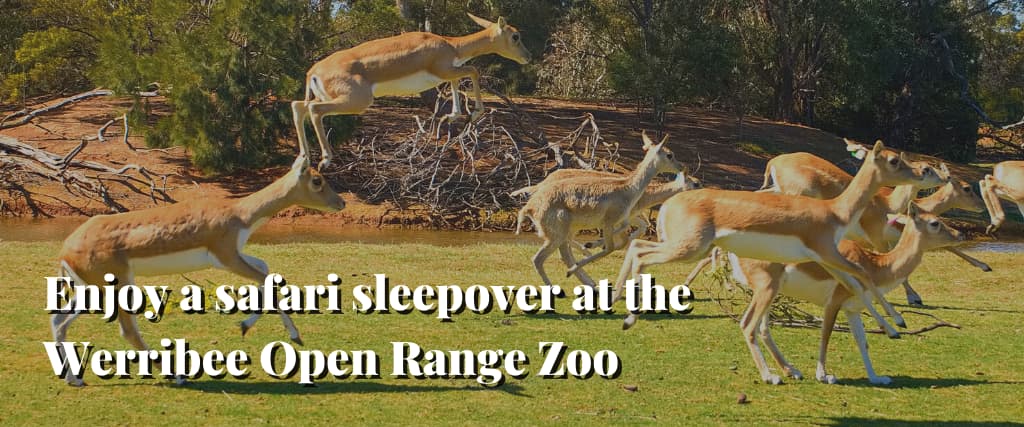 Enjoy a safari sleepover at the Werribee Open Range Zoo
Love animals? Well, why not have a sleepover with them?
That is exactly what you can do at the Werribee Open Range Zoo.
During their Slumber or Overnight Safari, you will have full access to the entire zoo for two whole days. Which will enable you to check the animals out at your leisure.
Whilst there, you will be taken on a fantastic fully-hosted safari tour, as well as a really cool African Cuisine dinner at night.
You will also get to sleep in safari-style glamping tents and then when you wake up the next morning you can enjoy a buffet-style breakfast and more animal viewing.
Take drinks at the Loop Roof Cocktail Bar
There are many awesome bars in Melbourne, but one of the best to visit at night is the Loop Roof Cocktail Bar.
Showcase jaw-dropping views of the city, as well as boasting a comely garden setting, this is a great spot to enjoy an inventive range of cocktails that have been curated by highly skilled bartenders.
Along with the show-stopping panorama, the vibe is always good here, and even if you don't like cocktails there are plenty of other craft beers, regional wines, spirits and champagne to choose from.
If you are feeling peckish, Long Roof also has a good food menu too that presents options like chicken bits and calamari strips.
One of the great things about the rooftop bar is that it is a year-round destination – as it has awnings that are retractable, which protects patrons from the rain, and also accommodates heaters for when
it is cold.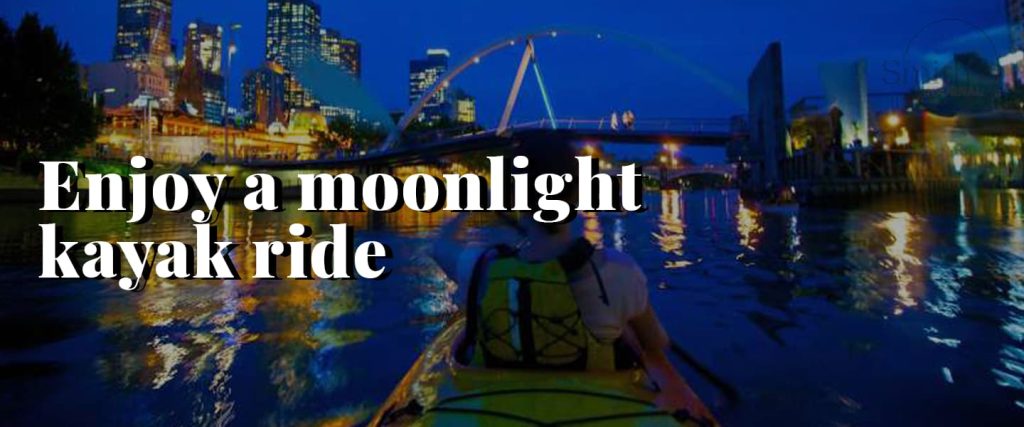 Enjoy a moonlight kayak ride
Melbourne is well known for its gorgeous waterways. But have you ever experienced them at night in a kayak?
Well, that is exactly what you can do on a 2.5-hour moonlight kayak ride, which showcases the city in a unique way.
Starting off at Victoria Harbour just sunset, you will travel a course all the way towards the boat landing area at the Rowling Sheds.
Along the way you will be fed a fish and chips dinner in the boat. Best of all this is not an experience you need to be a skilled kayaker to undertake, as a tour guide will accompany you and teach you the basics.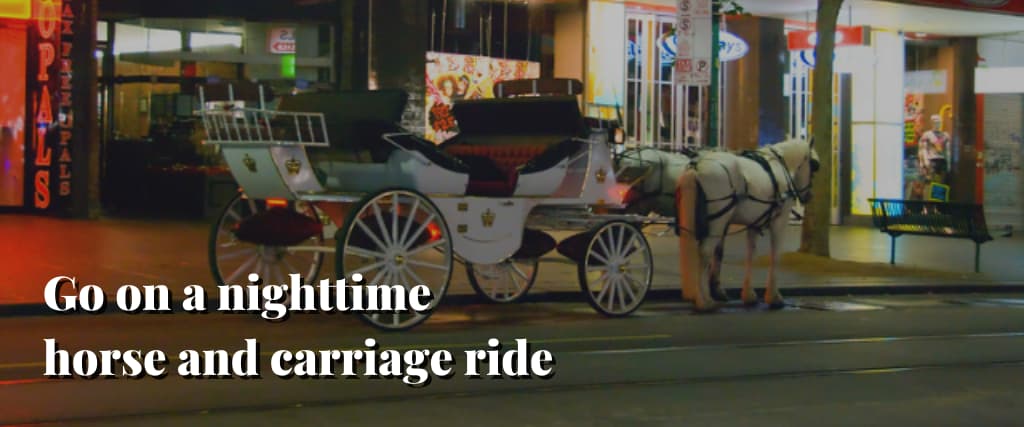 Go on a nighttime horse and carriage ride
Looking to up the romance levels?
Well, what better way to do that than on a horse and carriage ride around the city of Melbourne at night?
Starting from Federation Square, a coach driver, dressed in traditional clothes, will be waiting to whisk you around the streets of Melbourne, where you will see the city's main landmarks and attractions.
During your ride, you can even choose to have the carriage hood up or down as you wish.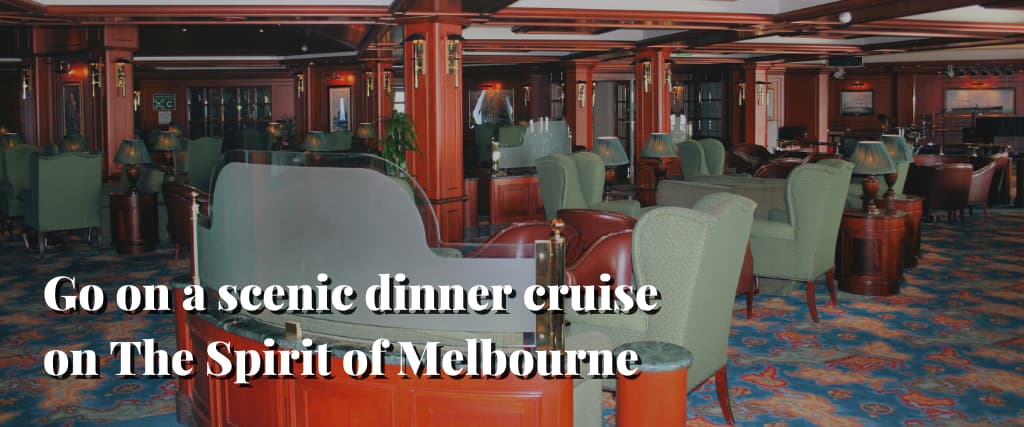 Go on a scenic dinner cruise on The Spirit of Melbourne
If the thought of kayaking at night along the Yarra River doesn't appeal to you, then maybe a scenic dinner cruise along it might be more to your liking instead?
The Spirit of Melbourne is a terrific cruise restaurant that serves diners top-notch meals as the ship glides across the water.
A great way to take in many of the city's major sites and landmarks, the restaurant operates on a reservations-only basis.
Operating from Friday to Sunday, the dinner cruise lasts for 3 hours, during which time you will be presented with a 4-course menu that also features drinks. You also have the option of choosing what you eat, and there are plenty of vegetarian and dietary requirement choices too.
If you like the sound of a dinner cruise but would prefer something a bit more intimate, you can
always choose to do a private romantic dinner cruise for 90 minutes. Which offers a 3-course meal in a setting where you and your partner are the only people.
Watch a film on a Melbourne Rooftop Bar
We have already mentioned one rooftop bar on this list, but another very good one that needs reference is the Lido Rooftop at Curtin House.
Notable for its open-air cinema, this fantastic rooftop cinema showcases spectacular views of Melbourne city.
It also regularly screens several Hollywood blockbusters and classic arthouse movies throughout the course of a month.
Some of the films they have shown in the past include everything from Charlie's Angels, The Two Popes and Jumanji, to Ford V Ferrari, Frozen 2 and Doctor Sleep by Stephen King.
The cinema also operates as a bar, which serves a good selection of alcohol and food, so offers a total destination for a night out in Melbourne.
Indulge in late-night fondue at Milk the Cow
Love cheese? Then you should definitely head on over to Milk the Cow.
A quirky late-night bar, with venues in both Carlton and St Kilda, it features over 180 different varieties of cheese sourced from all around the world – including sheep's cheese and goats cheese.
Kept within a 6-metre cheese cabinet, and skilfully curated by the cheesemonger team who work there, the cheese bar is open from Monday to Friday.
You will be able to dine on choice cheeseboards that are complimented with bread, crackers, quince paste and other accoutrements.
It certainly offers a different experience when it comes to eating out, but if you love cheese, then this place is your Disneyland!
Visit the National Gallery of Victoria
Melbourne is a city dripping with culture and the National Gallery of Victoria is no exception.
Housing more than 75,000 artworks, across two gallery locations which are situated a short walk from each other, they showcase some of the finest works ever produced from Australia, Oceania, Europe, Asia and America in their collections.
Entry is free into the National Gallery and on Fridays, they open late, which means you can take in some of these awesome artistic treasures at your own leisure.
As well as the collections, the gallery puts on live music and regularly holds talks, tours, films and other displays. They even have programmes for children on occasion too.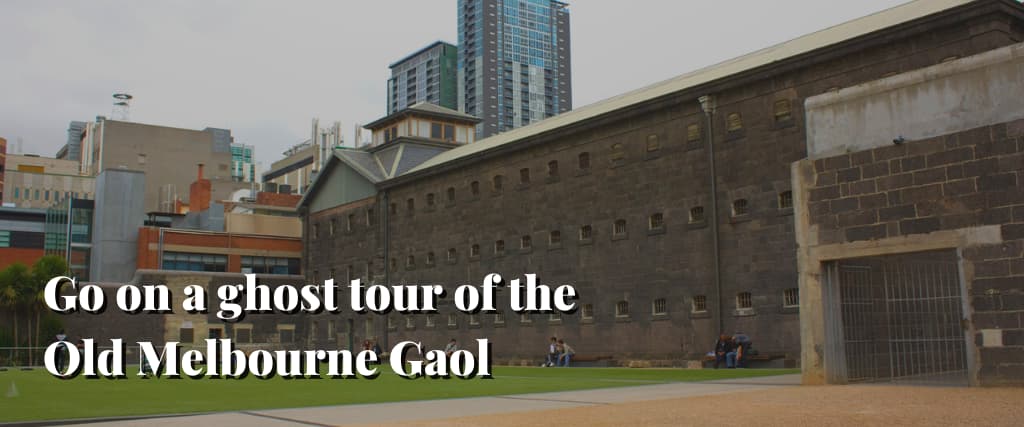 Go on a ghost tour of the Old Melbourne Gaol
If you are of a nervous disposition you will definitely not want to go on a ghost tour of the Old Melbourne Gaol. But if you have the stomach for it, then it is a fascinating thing to do.
Now a museum, the former jail on Russell Street is an imposing and unnerving place that possesses a very dark history behind its eerie walls.
Dating back to the 1840s there are plenty of ghostly stories about the jail which relate to former inmates, which you will discover as you check out the notorious site.
Of all the stories you hear, the ones pertaining to cell 17 are particularly interesting, as it is said to have been the scene of a number of supernatural events which include a journalist being pulled from the doorway into the cell by a spirit, and trained dogs going berserk when inside it.
Dare you go there at night?
The Comic's Lounge Comedy Show in North Melbourne
Need a good laugh? The head on over to The Comic's Lounge Comedy Show in North Melbourne.
This iconic, year-round Comic Festival in Melbourne attracts hundreds of punters every day with some of the funniest local and international comedians on the circuit.
Live shows usually run for about 2.5 hours and are followed by an excellent food menu and a great selection of drinks.
The shows are for adults only, and they are seriously funny, so don't be surprised if your jaw and belly hurts from all that laughing!
If you are looking for a way to totally de-stress from a tough week at work, then this is a great way to do it.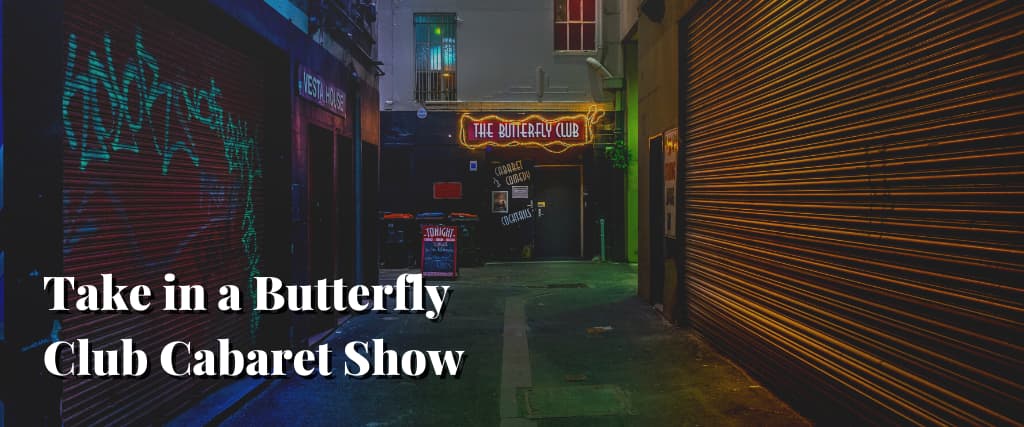 Take in a Butterfly Club Cabaret Show
As an alternative to a comedy show, how about a good old-fashioned cabaret instead?
Located in Carson Place, the Butterfly Club is a relatively small-scale theatre that is well known for its cabaret, burlesque and comedy performances.
Open from Monday to Saturday, the club runs between 2 to 8 shows every night, all throughout the year.
If you love to sing along, whilst you are being entertained, then this a great choice for you.
Final Thought
So there it is! Our guide to 14 fun things to do in Melbourne at night.
Melbourne is an awesome city, and with this guide, we hope to have provided you with some new ideas of where you can go, and what you can do there on your next evening out.
Do any of the suggestions on this list, and you are sure to have an enjoyable time, partaking in an activity you might not previously have been aware that you could actually do there.