As the old saying goes. breakfast is the most important meal of the day, and when it comes to dishing it up, the Melbourne CBD has plenty of great options.
From New York Bagels and shakshuka to smashed avo and the good old hearty fry-up, there are lots of cafes dotted in and around the laneways, whose Instagrammable food offerings will make your eyes pop and taste buds sing.
Whether you are looking for something to grab and-go, or to sit down and really savour, here are 16 of the best places to get breakfast in the Melbourne CBD.
Order from any of these places, and it will really set you up for the day.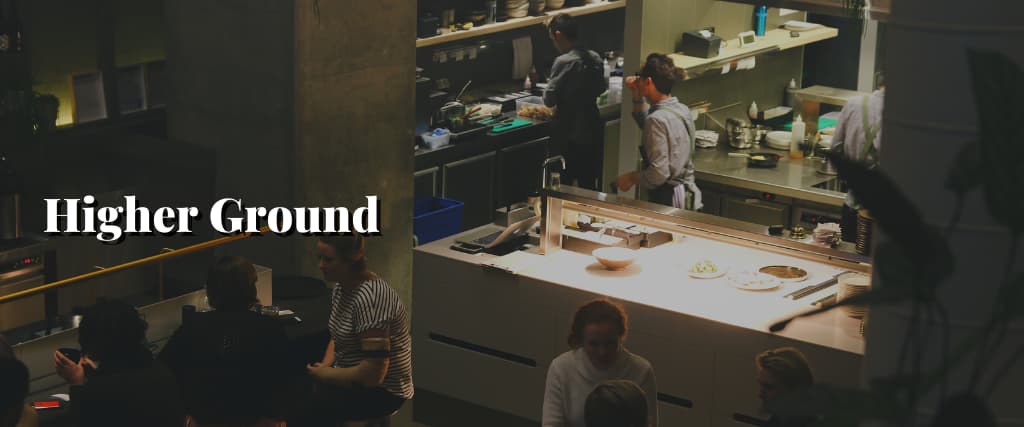 Higher Ground
Address: 650 Little Bourke St, Melbourne VIC 3000
Arguably the trendiest breakfast joint in town, Higher Ground is the very definition of hipster central.
Set within a renovated warehouse that features exposed brick walls and an abundance of plants, this venue on Little Bourke Street has more than a little panache.
Inspired by the lobbies of luxury hotels you will find in London or New York, the cafe presents a delicious food menu whose options include the likes of Spanner Crab Benedict, Harissa Cauliflower Salad and Biscoff Waffle.
The coffee is sensational too, while the vibe is relaxed and laid-back and relaxed.
Krimper Cafe
Address: 20 Guildford Ln, Melbourne VIC 3000
Tucked away on one of Melbourne's signature coddled stone laneways, the Krimper Cafe, is easily one of the best places in the Melbourne CBD to enjoy breakfast.
Another exposed brick cafe that is located in a converted heritage warehouse, Krimper is a warm, cosy and low-lit cafe that features quirky furniture that is made from old lift doors.
Known for its terrific coffee, its small breakfast food menu includes Almond French Toast, Bacon and Waffles and Coconut Bircher.
The food is beautifully plated, prepared with the best in organic and local produce, and always quickly served.
Cafe E Torta
Address: 314 Little Collins St, Melbourne VIC 3000
Anywhere that has been favourably featured in the New York Times, is well worth visiting. This is why you should make a point of checking out Cafe E Torta.
Located on Little Collins Street, this superb Italian cafe is renowned for its authentic Italian coffee – the smell of which alone will make your heart sing.
Focusing on high-quality, fresh and sustainable ingredients, their breakfasts are simply prepared, but big on flavour and taste.
Among their most popular offerings are Belgian Waffles and Smoked Salmon Eggs. They also present a fantastic range of pastries too.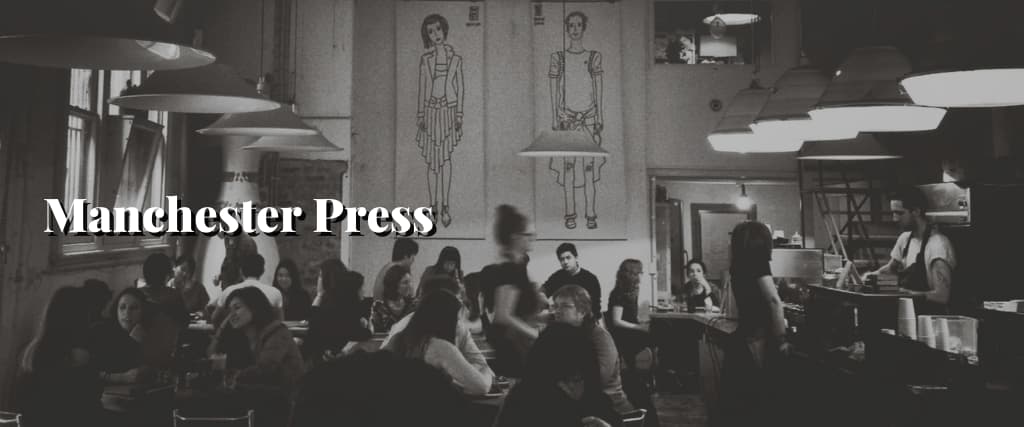 Manchester Press
Address: 8 Rankins Ln, Melbourne VIC 3000
Another fabulous cafe that is nestled in the laneways, the Manchester Press is worth going to just to see the incredible street art that adorns its facade.
Carrying on the theme, its interior is just as attractive, with eclectic decor and a retro-chic vibe bursting out of bright and airy space.
Specialising in 'amazing bagels', these guys also offer a great range of toasted sandwiches and healthy bowls on their excellent all-day menu. Many of which are gluten-free and vegan, or can be prepared as that option.
Their coffee is very good too and the atmosphere is always really congenial.
Axil Coffee Roasters
Address: A number of locations across Melbourne
A bit of an institution in Melbourne, Axil Coffee Roasters is the place to go for great coffee and a delicious smoothie bowl.
Located at a number of sites around Melbourne, including Bourke Street within the CBD, Axil Coffee Roasters also specialise in that good old Aussie favourite, jaffles.
Definitely a place for hipsters, this cafe is open from 7 am until 3 pm Monday to Friday. It is also a fabulous spot to people-watch the rush hour foot traffic, as you tuck into your breakfast meal.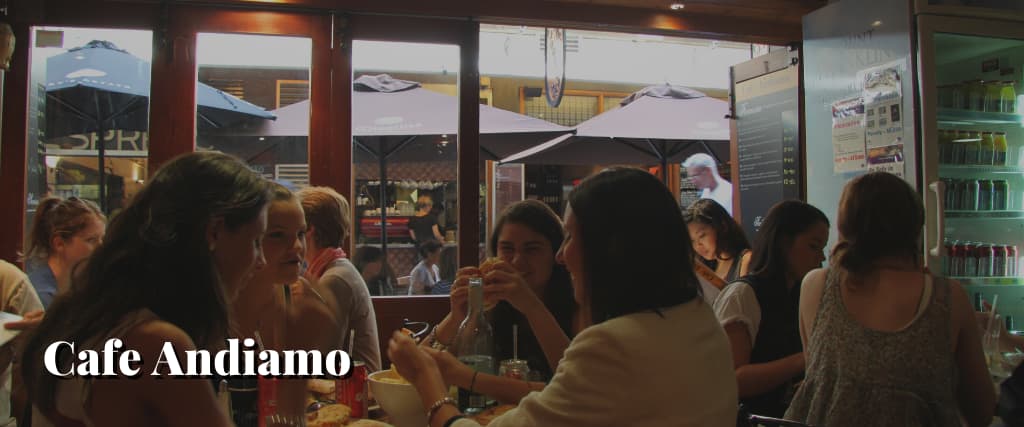 Cafe Andiamo
Address: 36-38 Degraves St, Melbourne VIC 3000
Another excellent breakfast spot in the Melbourne CBD for people-watching is Cafe Andiamo.
Lying in the heart of Degraves Street, this bustling Italian cafe offers terrace seating and a fabulous range of brekkie options that include everything from New York Bagels and Avo Smash to French Toast and Andiamo.
Dishing up hearty portion sizes, with friendly and fast service, this cafe also presents very good coffee and a nice range of juices.
If you are looking for something tasty, filling and reasonably priced in the CBD, this place is a decent option.
Industry Beans
Address: 345 Little Collins St, Melbourne VIC 3000
Looking for something to grab and go? Well, head on over to Industry Beans.
Presenting award-winning cafes in Melbourne, Brisbane and Sydney, this speciality coffee roaster has a great outlet on Little Collins Street that serves up some truly spectacular coffee.
This includes their Seasonal Espresso or Rose Street for those who enjoy milk-based espressos, or their rotating single origins which are reserved for black espresso.
The food offerings include some terrific toasties and pastries, as well as a very good avo smash.
Boasting what they called 'considered architecture and responsive design' their store is an oasis of white. It's always very busy, although service is usually prompt.
White Mojo
Address: 115 Hardware St, Melbourne VIC 3000
If you think you've had avo smash before, then believe me you have not. Well not until you have tried the incredible version they serve at White Mojo.
Situated on Hardware street, this fantastic Asian-inspired cafe serves one of the best avo smashes you could ever wish to eat.
It also offers a very creative and eye-catching menu of other breakfast dishes too, including Princess Hot Cakes and Matcha French Toast, which will have you posting to your Instagram as soon as they serve them to you.
In addition to their excellent breakfast options, White Mojo is also a speciality coffee roaster, that makes a sensational in-house blend that is as good as anything you can get in the city.
Their coffee art is always very Instagram-worthy too. To the point that it's almost a shame to ruin it by taking a sip.
30 Block Place
Address: 30 Block Pl, Melbourne VIC 3000
Nestled in the heart of Melbourne's vibrant laneway scene, 30 Block Place presents a modern take on Mediterranean breakfast cuisine.
If you like chorizo with your eggs then this is the place to come, because the food on offer is superb.
For those who prefer a sweeter start to the day they also have an excellent range of pastries too, which go wonderfully well with any of their signature blends of coffee.
The vibe here is always friendly and warm, while the cafe's decor is intimate and contemporary.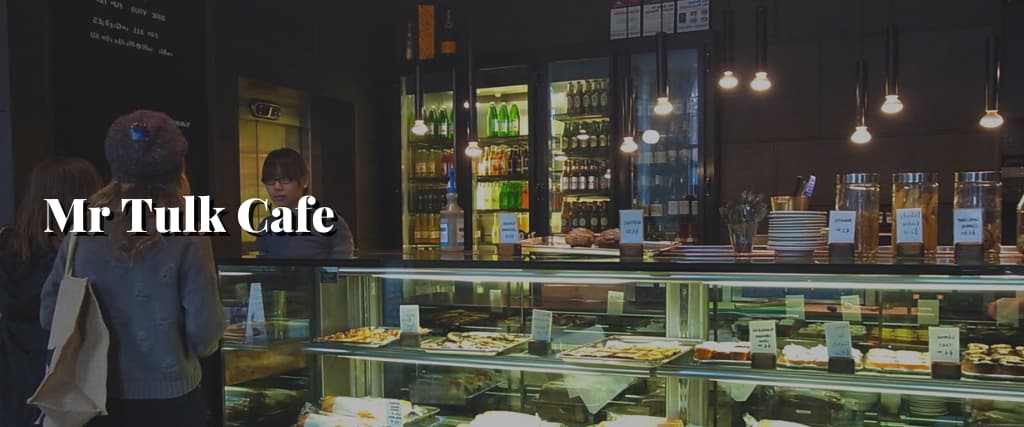 Mr Tulk Cafe
Address: 328 Swanston St, Melbourne VIC 3000
Mr Tulk is one of Melbourne's best-loved brekkie joints amongst university students.
Set within the State Library of Victoria, this spacious, high-ceilinged dining hall honours Augustus Henry Tulk. The Library's inaugural Chief Librarian, who is acknowledged as being the driving force behind building its extensive collection.
Showcasing a range of bread and pastries, as well as avocado or egg-based dishes, the menu here ticks all the boxes of being nutritious, delicious, freshly made and excellent value for money.
Their crispy polenta and mushrooms are particularly popular too, as is their Eggs Royale, which comes with smoked salmon and avocado.
If you are into juices, be sure to try one of their freshly squeezed concoctions – most notably their Purple Rain. Which is a delectable mix of lemon, apple, beetroot, carrot and ginger.
Chapter House Coffee
Address: 209 Flinders Ln, Melbourne VIC 3000
Situated close to Federation Square, you will know you are near Chapter House Coffee when you see a queue of Melbourne city workers lining up outside to get their daily fix.
Serving what many people consider to be the best coffee in town, this boutique coffee shop also offers a good range of food which you can either take away or eat in.
Their buttermilk pancakes which they serve with a delightful butterscotch sauce are a great way to kick start your morning. While the egg and bacon toastie is sure to satisfy too.
The Hardware Societé
Address: 10 Katherine Pl, Melbourne VIC 3000
If you have a bit of time at your disposal, then consider breakfast at The Hardware Societé.
The perfect place to enjoy a leisurely breakfast, you'll find this cosy, rustic-chic French-style cafe over on Katherine Place, tucked away within the laneways of the CBD.
Presenting a varied food menu, the food here is delicious, with dishes like twice-baked cheese souffle croque madame and lobster and prawn roll spoiling you for choice.
If you have a sweet tooth you won't be disappointed either – their strawberry cheesecake is to die for. While their coffee is inspired too, with the hand-crafted macha latte being a particular favourite.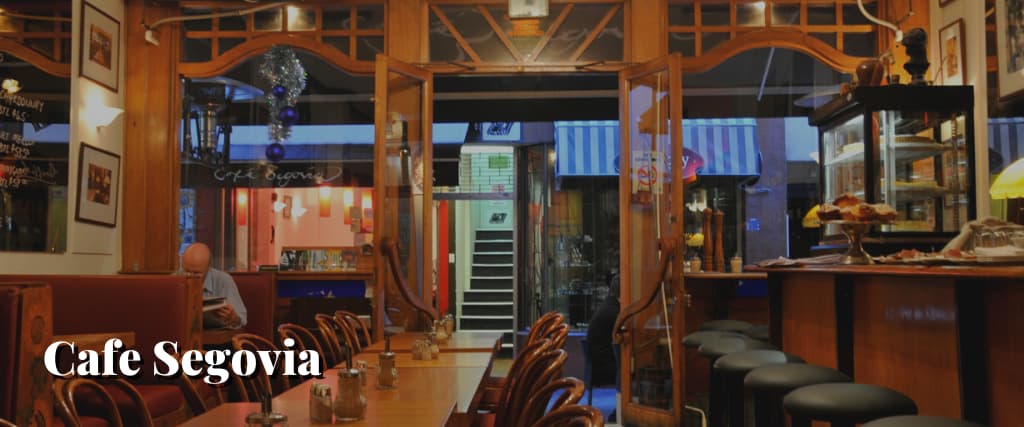 Cafe Segovia
Address: 33 Block Pl, Melbourne VIC 3000
Over on Block Place, Cafe Segovia is a casual Italian café that is set within a charming space that boasts simple decor, and a good selection of tables, booths and stool seating.
Another prime spot for people watching, the cafe dishes up superb and genuine Italian coffee and pairs it with a delicious food menu.
Service is renowned for being fast and courteous, and in good old Italian fashion, the portion sizes are huge.
If you like a full-cooked breakfast you won't be disappointed with what you get served here, and if you are vegan you will love the option they have for you too!
The Journal Cafe
Address: 253 Flinders Ln, Melbourne VIC 3000
Despite being open for almost 20 years, and being only a minute's walk from Flinders Street Station, The Journal Cafe remains one of Melbourne's best-kept secrets to many.
Although it is tucked away in a laneway, it is hard to understand why because the coffee is incredible and the breakfast menu is really inventive. With dishes like the smashed peas, mushroom benedict and chia pudding provide plenty of options for vegetarians and those with gluten or dairy intolerances.
Part of the Melbourne City Library, this venue features high ceilings, cool retro furniture and suspended bookshelves.
It is another popular spot with students, as well as those who want to escape the hustle and bustle
of the city for a while.
The Fair Trader
Address: 11 Exhibition St, Melbourne VIC 3000
The Fair Trader is a trendy, industrial restaurant that is all about delicious food, fantastic coffee and exceptional customer service.
A stalwart on Exhibition Street for a decade, the venue prides itself on being the inventor of the Moringa Latte. So this is a 'must try' if you were to come here.
Their all-day breakfast and brunch menu features a number of excellent egg dishes, including chilli eggs and dukkah eggs. While their health food bowls and artisan sandwiches are pretty deluxe too.
The venue is open for dinner too and if you happen to be here on a Friday night you might even catch a live DJ set.
Cuff Food + Wine
Address: Customs House, Ground Floor, 325 Flinders Ln, Melbourne VIC 3000
Located in Customs House, Cuff Food + Wine is a great little cafe that features a stylish decor that includes low-hanging wire lampshades.
Open Monday to Friday from 7 am to 4 pm, their all-day menu includes some really tasty Acai Bowls, as well as an excellent avo smash and dreamy shakshuka. For those who fancy something a bit lighter, their muffins are also delicious too.
Boasting expert house baristas, who brew and serve fresh coffee every day, this is a fantastic place to meet up with friends in the morning, before heading off to work.
So there you have it, our list of 16 of the Best Breakfasts in the Melbourne CBD.
Now that Covid restrictions are well and truly over, we hope this has inspired you to get out there and enjoy the city's breakfast scene once again.