The vegetarian food scene is no longer the source of disdain it once was. With many cities around the world, including Melbourne, championing a food revolution which brings it very much at the fore.
In terms of places to eat, Victoria's capital now boasts a plethora of cafes, restaurants and other eateries that are exclusively meat-free. Or, at least, have a significant portion of their food menu devoted to vegetarian dishes.
From fancy fine dining restaurants, that offer a wonderful 5-star experience, to cheap and cheerful venues, that serve delicious food at a price that won't break the bank, your options are huge.
Outlined below is a selection of 17 outstanding vegetarian restaurants in Melbourne. All of which are excellent places to go for your next date night. Or catch up meal with family or friends.
Lentil as Anything
Arguably the greatest name ever bestowed upon an Australian business, Lentil as Anything isn't so much a restaurant, as a wonderful, community-based initiative, that is really taking off across the country.
Boasting several cafes across Melbourne, this innovative venue allows you to pay what you like for the meal you ordered. Sounds too good to be true?
Well its not, because all profits they make are put towards socially conscious projects that include helping refugees and migrants.
Featuring a vegetarian menu of predominantly Indian and Sri Lankan cuisine, that promotes healthy eating and sustainability, Lentil as anything offers 'good food for a good cause'. Which is a beautiful philosophy that provides reason enough to visit it.
Address: 207 Albert St, Brunswick, VIC 3056
Phone: (03) 49419 6444
Trading Hours: Sun – Wed 12 pm – 4 pm Thur – Sat 12 pm – 4 pm, 5 pm – 8 pm
Mukka
Over in Fitzroy, Mukka is a delightful Indian restaurant that is notable for its really cool decor.
Dishing up both meat and vegetarian comfort food that is perfectly spiced and flavoured, this restaurant caters to all, with an atmosphere that is warm and engaging.
On the menu, you will find classics like South-Indian dosa chicken curry for the meat lovers. While
vegetarians can enjoy the likes of paneer tikka and Tandoori mushroom skewers.
Whatever you order, be sure to pair it with a rose and cinnamon lassi whilst you are here.
Address: 365 Brunswick Street, Fitzroy, VIC 3065
Phone: (03) 9917 2224
Hours: Tues – Thurs: 5 pm – 9:30 pm, Fri – Sat: 5 pm – 10 pm, Sun: 5 pm – 9:30 pm
Smith & Daughters
Once occupied by a small Spanish restaurant, award-winning chef Shannon Martinez has transformed a failing space on Brunswick Street in Fitzroy, into one of Melbourne's best vegetarian restaurants.
Bursting with rock 'n' roll tunes and outstanding vegan dining, Smith & Daughters is a fantastic restaurant that promotes her unwavering commitment, to bringing good food and good vibes to the people of Melbourne.
Italian-inspired, the menu here is eye-catching, to say the least. With dishes like plant-based gnocchi with broccoli pesto are as good as anything that is served up in Naples or Rome.
You'll definitely not be disappointed by a visit here.
Address: 175 Brunswick Street, Fitzroy, VIC 3065
Phone: (03) 99393293
Trading Hours: Tues – Wed 5 pm – 9:30 pm, Thurs – Sat 11:30 am – 3 pm, 5 pm – 9:30 pm Sun – Mon Closed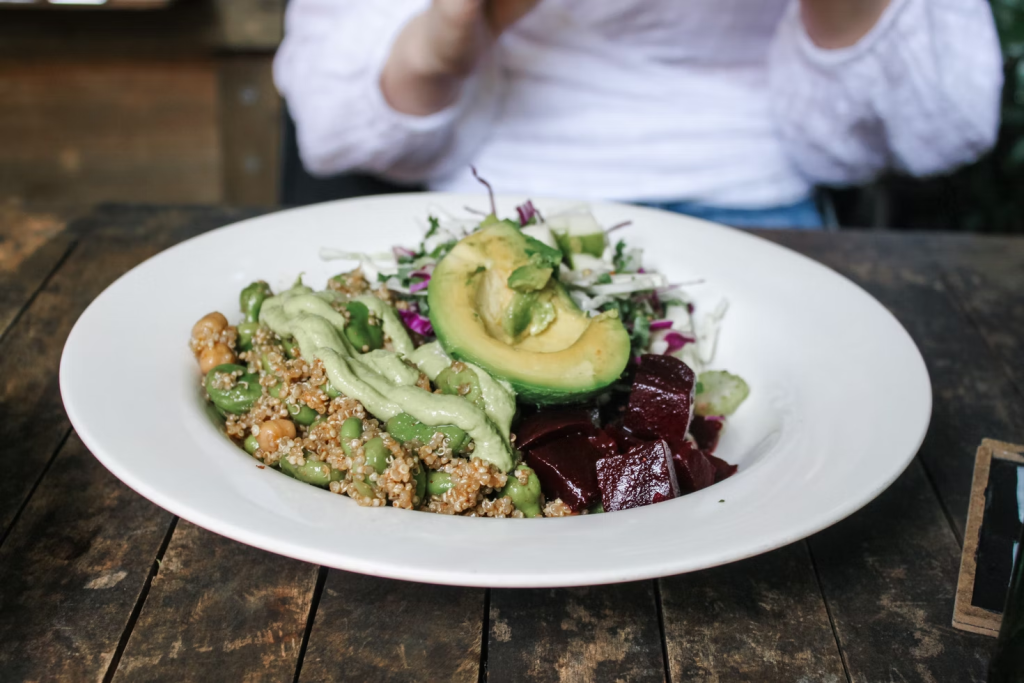 The Green Man's Arms
Situated in the heart of Lygon Street in Carlton, The Green Man's Arms is a terrific venue for a night out.
Not only is the vegetarian food sensational, featuring a number of classic Israeli dishes like Cous Cous, tabbouleh, hummus and falafel, but the retro decor that makes up its setting is pretty cool too.
Add to that several beers on tap, live music, trivia competitions and even bingo, and you are guaranteed a delightful and fun-filled evening.
Address: 418 Lygon Street, Carlton, VIC 3053
Phone: (03) 9347 7419
Hours: Thurs – Sun: 4 pm – 8 pm
Maha
Right in the heart of the CBD on Bond Street, you'll find the wonderful Maha.
Heavily influenced by Middle Eastern flavours, the restaurant offers a delicious, fine dining, set menu that showcases the best in seasonal produce.
Described by some food critics as a joyful experience for the senses, the food is served to you in a setting that is modern and creative.
Run by acclaimed chef Shane Delia, it is very popular. So be sure to make a reservation before you intend to dine there.
Address: 21 Bond Street, Melbourne, VIC 3000
Phone: (03) 96295900
Hours: Mon – Sun: 12 pm – 10 pm
Feast of Merit
Any restaurant that has the word 'feast' somewhere in its title, promises good things. And at Feast of Merit in Richmond, they deliver on it in spades.
Another restaurant that operates with a charitable mindset, this establishment is an initiative of Y-Generation Against Poverty. Which aims to facilitate permanent funding for the charity.
Curated by head chef Ravu Presser, this Middle Eastern inspired restaurant offers both meat and meat-free options that include vibrant, hearty salads that are full of harissa and freekeh flavours.
Once you have eaten, be sure to check out the funky rooftop bar here as well.
Address: Restaurant 117 Swan Street, Richmond, VIC 3121
Phone: (03) 9428 8480
Hours: Wed – Thurs: 5 pm – 10 pm, Fri: 5 pm – 11 pm, Sat: 9 am – 11 pm, Sun: 9 am – 10 pm
Onda
When in Richmond, be sure to give Onda a try.
Heavily influenced by South America, this restaurant derives its name from the Spanish word for vibes. Which is a very apt description of what this place has.
Blessed with a laid-back and casual ambience, Onda presents a chic menu of both modern and traditional dishes that have a rather soulful edge to them.
For starters, it's hard to go past the polenta chips, which come with pickled jalapenos and lime aioli. While the red pimento puree burger, which also features maple chipotle glazed eggplant and a delicious coleslaw is nothing short of sensational.
The drinks menu offers a selection of Argentinian and Spanish favourites, which includes a rather spicy Cusco cocktail.
Address: 280 Bridge Road, Richmond, VIC 3121
Phone: (03) 9429 8589
Hours: Mon – Wed: 10am – 6pm, Thurs: 10am – 8 pm, Fri: 10 am – 6 pm, Sat: 10 am – 5 pm, Sun: 11 am – 5 pm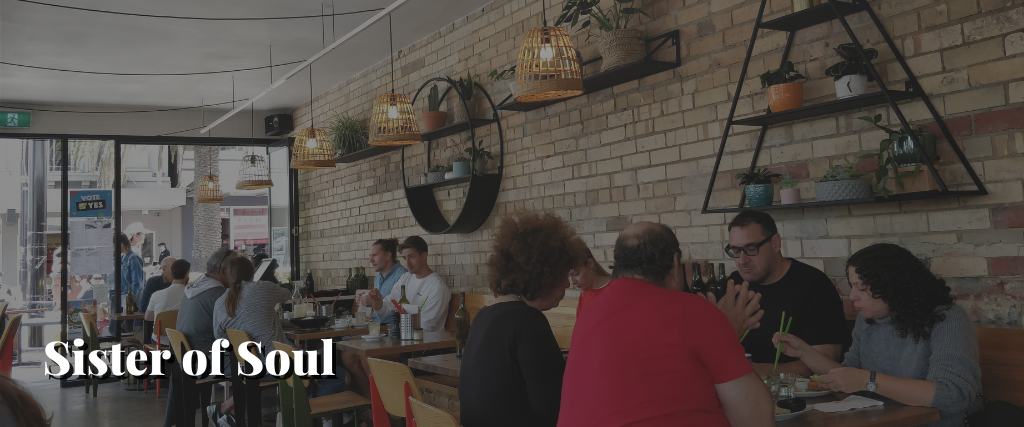 Sister of Soul
If you like the idea of eating at a restaurant that has a social conscious then you will love Sister of Soul.
Located in Richmond, this community and sustainably focused restaurant offer a full vegetarian menu that comes with lots of vegan and gluten-free options.
Sourcing their produce from community gardens, they also donate their green waste every week too. So if you do eat here, you can do so knowing you are part of a bigger movement.
Open every day for breakfast, lunch and dinner, their range of dishes is always beautifully plated and packed full of flavour.
Address: 73 Acland Street St Kilda & 77 Swan Street Richmond, VIC 3121
Phone: (03) 9593 8550
Trading Hours: 7:30 am – late, daily
Transformer
A major player in the Melbourne vegetarian dining scene, Transformer continues to push the envelope of what we come to expect from a vegetarian restaurant.
You'll find it on Rose Street in Fitzroy, within a space that is unrecognisable from its former days as an electrical transformer workhouse (hence the name).
Offering a truly international flavour, the restaurant draws inspiration from several genres of cuisines, including Asia, the Mediterranean and the Middle East.
One of their signature dishes is the Beetroot tartare, which they serve up with cattle seed cream, Davidson plum and a delicious stack of russet crisps. A delightful treat for your senses, it pairs perfectly with one of their unique cocktails.
Address: 99 Rose Street, Fitzroy, VIC 3065
Phone: (03) 9419 2022
Hours: Mon – Thurs: 5:30 pm – 10:30 pm, Fri: 5:30 pm – 11 pm, Sat: 12 pm – 3 pm, 5:30 pm – 11 pm, Sun: 12 pm – 3 pm, 5:30 pm – 10 pm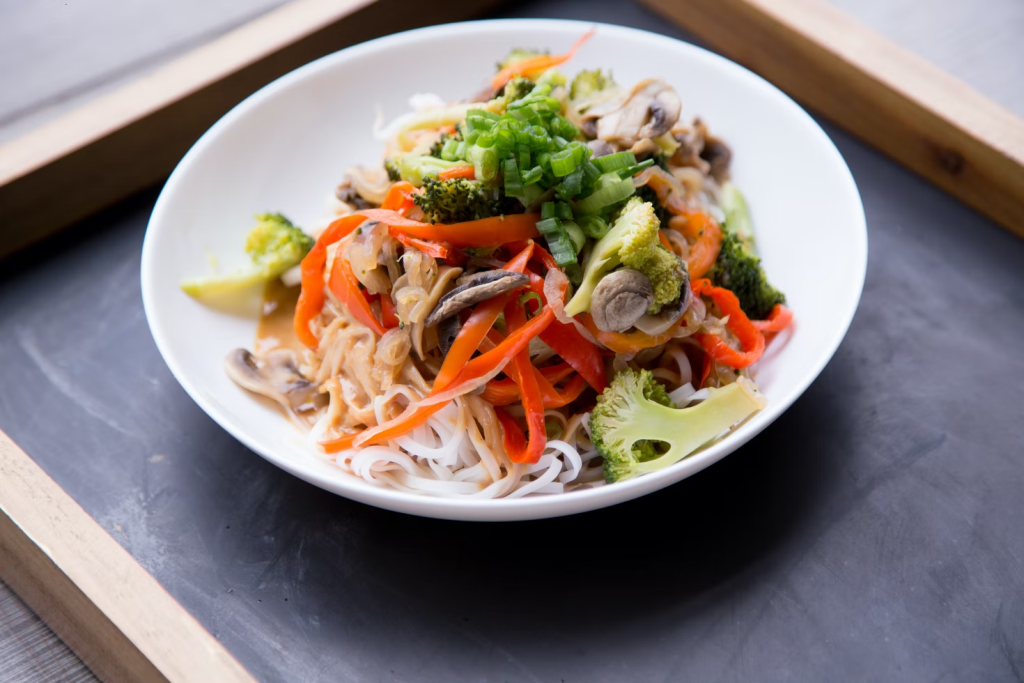 Trippy Taco
When it comes to vegetarian options, Mexican food has always been a favourite, and Trippy Taco in Fitzroy does it very well.
Tucked away on Gertrude Street, among a parade of cute stores and quaint cafes, this cantina-style venue offers fast service, mouth-watering food and a relaxed, casual setting.
The size of their tacos is massive and comes with plenty of vegan and gluten-free options. They also offer an excellent range of burritos.
Whatever you eat for your main, be sure to try their signature dessert. Which takes the form of a large, heated, flour tortilla that has Nutella spread on it. Take it from us, it is absolutely delicious!
Address: 234 Gertrude Street, Fitzroy, VIC 3065
Phone: (03) 9415 7711
Trading Hours: Sun – Wed 5 pm – 8:30 pm Thur – Sat 12 pm – 3 pm, 5 pm – 8:30 pm

Horn Please
Got a party of meat eaters and vegetarians? Then Horn Please in Fitzroy North is a great option.
Championing locally sourced products on an Indian-inspired menu, this place has something for everyone.
The authentic street food section on its menu is particularly noteworthy and includes for vegetarians, such delights as Papdi Chaat. A mouthwatering bowl of fried wafers, that also features chickpeas and soft potato cubes which are covered in yoghurt, pomegranate seeds, and chutney.
One bit of this and you will be exclaiming 'he bhagavaan', which loosely translates in Hindi as 'OMG!'
Address: 167 St Georges Road, Fitzroy North, VIC 3068
Phone: (03) 9497 8101
Hours: Mon – Thurs: 5 pm – 9 pm, Fri – Sat: 5 pm – 9:30 pm, Sun: 5 pm – 9 pm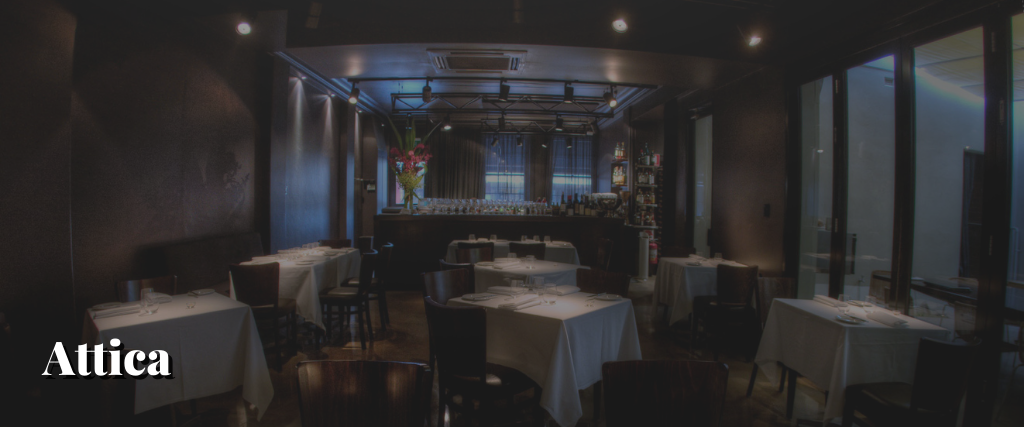 Attica
If you ever find yourself in Ripponelea, then be sure to head on over to Attica.
Should you go there, you will be treated to an exquisite fine dining experience in the form of a specialised degustation menu that is specifically designed for vegetarians.
Curated by owner-chef Ben Shewry, the innovative and highly appealing menus heavily utilise native ingredients.
Set within a stylish space that incorporates an Australian interior, replete with designer tables and chairs, the long multi-course meal is a real treat to your senses.
Served up with a healthy dose of panache and a sprinkling of theatre, Attica is undoubtedly one of the best vegetarian restaurants in Melbourne. If not Australia.
Address: 74 Glen Eira Road, Ripponelea, VIC 3185
Phone: (03) 9530 0111
Hours: Tues – Sat: 6 am – 7:30 pm
Admiral Cheng-Ho
Fancy something with a bit more of a laidback vibe? Then Admiral Cheng-Ho in Abbotsford could well be your spot.
Well known for its artisanal coffees, which are house-roasted from Disciple Roasters, the restaurant is a real hit with the hipsters. Presenting a fully plant-based, all-day, vegan brunch menu that often makes people queue out the door.
Their toasties are very popular, but if you have a bit of a hunger on, then be sure to tackle the 'Northside Jimbo'. A delightful meal that comes with cornbread, roasted tomatoes, avo, miso Vegemite, cheese and chilli oil.
Perfectly fusing fine vegetarian dining with Australian brunch culture, this restaurant will soon become a firm favourite of yours.
Address: 325 Johnston Street, Abbotsford, VIC 3067
Phone: (03) 9417 1887
Hours: Mon – Fri: 6 am – 3:30 pm, Sat – Sun: 8 am – 4 pm
Vegie Bar
A veritable institution in its own right, Vegie Bar is one of the leading lights in the Melbourne vegetarian food scene.
Operating out of Brunswick Street, this vegetarian and vegan only restaurant draws on the flavours of Asia for its inspiration.
Radiating a solid, down-to-earth vibe, this establishment lets its food do the talking with an incredible array of curries and fried noodle dishes.
The restaurant is massive and is always busy, which is a testament to the food they offer. The service is quick, and also friendly, so you are such to leave with a happy heart and full stomach.
Address: 380 Brunswick Street, Fitzroy, VIC 3065
Phone: (03) 9417 6935
Hours: Mon – Thurs: 11 am – 9:30 pm, Fri – Sat: 11 am – 10 pm, Sun: 11 am – 9:30 pm
Shop225 Pizzeria
Fancy a gluten-free or vegan pizza that will make your taste buds hum? Then make your way over to Shop225 Pizzeria in Pascoe Vale South and prepare to be wowed!
Snug and compact, this fabulous eatery dishes up divine pizzas that are made with locally sourced ingredients. Priding themselves on making crusts that are fluffy, light and easy to eat, their authentic homemade pizzas are to die for.
All their pizzas can be made vegan and gluten-free, while their homemade pasta dishes are sensational too.
Address: 225 Melville Road, Pascoe Vale South, VIC 3044
Phone: (03) 9077 4904
Hours: Mon – Sun: 5 pm – 9:30 pm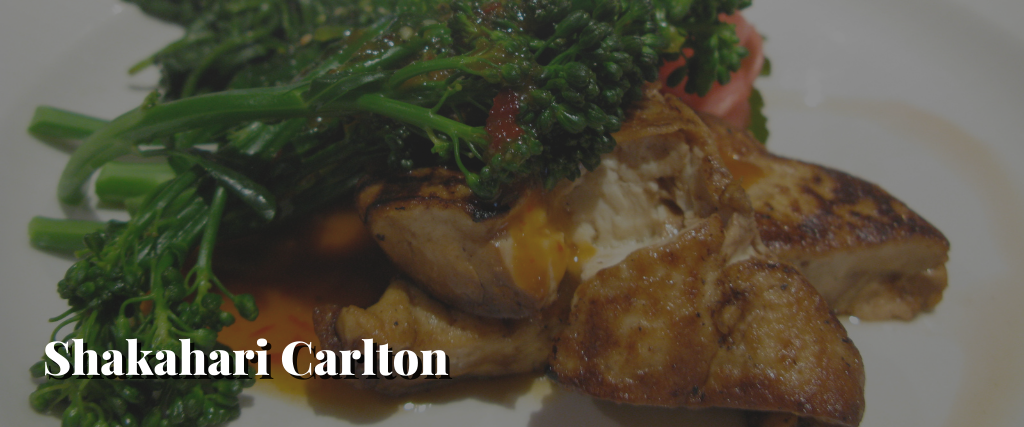 Shakahari Carlton
Another excellent restaurant in Carlton that boasts an extensive vegetarian menu is Shakahari.
Situated on Faraday Street, this fabulous Indian-inspired restaurant strives to serve its customers with dishes that are nutritious, inventive and full of flavour.
To keep things fresh, the menu here changes quarterly, so as to make the best use of seasonal fruit and vegetables. Which is reason enough to come here on a regular basis.
Address: 201 Faraday Street, Carlton, VIC 3053
Phone: (03) 9347 3848
Hours: Mon – Fri: 12 pm – 3pm, 6pm – 9:30 pm, Sat: 12 pm – 3 pm, 6 pm -10:30 pm, Sun: 6 pm – 10:30 pm
Evie's Bar & Diner
For a night out you won't forget in a hurry head on over to Evie's Bar & Diner in Fitzroy.
Open every day for lunch and dinner, this place not only serves up a wicked range of vegetarian delights, it also has a healthy side of 80s flavour.
The diner-style food options here include a vegan chilli-cheese dog, amongst many other delicious options.
After you have eaten you can shake your booty on the dancefloor, and if you get thirsty, you can always cool yourself down with a vegan deluxe milkshake.
Best of all this place is open until between 11 pm and 1 am depending on when you go. So there, you can really settle in for the night.
Address: 230 Gertrude Street, Fitzroy, VIC 3065
Phone: (03) 9419 4192
Trading Hours: Mon – Wed 4 pm-11 pm Thur 4 pm-1 am Fri – Sat 11:30 am – 1 am Sun 11:30 am – 11 pm