Its fair to say Melbournians love Italian food. So much so there is practically a ristorante, trattoria or osteria down every street and laneway.
Some of the best Italian restaurants in Melbourne rank also amongst the best in the world. But which ones are they?
It's almost impossible to come up with a definitive list by rank. So instead, after scouring the city, we bring you this selection of outstanding pizza, and pasta places, in Melbourne you simply have to go to.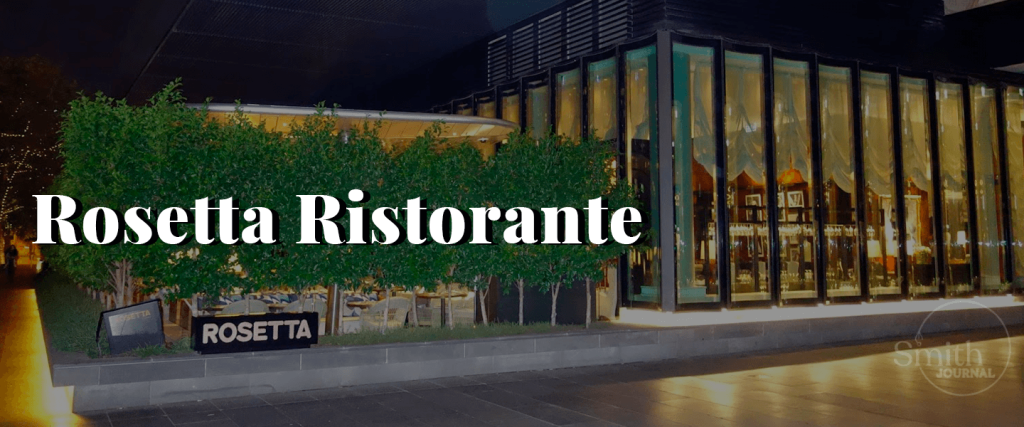 Rosetta Ristorante
Run by celebrity chef Neil Perry, Rosetta Ristorante is undoubtedly one of Melbourne's finest Italian restaurants.
Located in Southbank and presenting outdoor seating that overlooks the stunning Yarra River, a meal here is a fabulous dining experience.
The menu features exceptional woodfired lamb dishes, as well as over 16 types of pasta dishes that are all handmade. Paired with a robust wine list, this is the perfect spot for date night or a celebration.
Address: 8 Whiteman Street, Southbank 3006
Scopri
Over in Carlton, Scopri has been steadily making waves for a few years now.
The Italian word for discover, the restaurants name reflects the chef's personal culinary discoveries whilst travelling around the Azurri.
Offering a seasonally changing menu that champions only the freshest and best quality ingredients – which the team have grown themselves – this restaurants offers a true farm-to-plate dining experience.
Address: 191 Nicholson Street, Carlton VIC 3053
Emilia
Located on Little Collins Street in the CBD, Emilia is a very popular lunchtime spot with city workers, who come in their droves to feast on delicious spinach and ricotta ravioli, and freshly made Bolognese.
An authentic Italian eatery that follows the recipes of the owner's grandmas, this charming trattoria uses ingredients which are sourced from the Emilia Romagna region in Italy, hence the name.
The meals are an exceptional tip of the hat to Nona's cooking, while the wine list is very impressive too.
Address: 360 Little Collins Street, Melbourne VIC 3000
Capitano
If you love pizza then one of the best purveyors of pizza in Melbourne is Capitano.
You'll find this American-Italian inspired venue in Carlton, and the first thing you will noticed about it is that it actually has a really cool bar that serves an excellent selection of drinks.
Pizza is an important part of the experience here and they offer a terrific range of square and round pizzas, all of which come with mozzarella and parmesan. The 'Antony' which is made with vodka sauce and 'The Cha' which has roasted pineapple (yes they are definitely team pineapple on pizza here!), are among their best sellers.
For those wanting a pasta dish their 'Conchigle', which features Crystal Bay Prawns is delightful. But whatever you order this Italian eatery provides a very enjoyable dining experience.
Address: 421 Rathdowne Street, Carlton VIC 3053
Cicciolina
Another spot with a great bar is Cicciolina. Opened in 1993, it has been a stalwart on the Italian dining scene for almost 30 years, so it won't surprise you to learn that its always busy here.
Situated in St Kilda, the venue is a sleek and modern and boasts a sophisticated ambiance with Eames-style seating and eclectic art.
Renowned for being one of the best Italian restaurants in Melbourne for traditional and authentic pastas, their regularly changing menu may include such upscale dishes as spaghetti vongole and dry aged pork cutlet.
Address: 130 Acland St, St Kilda VIC 3182
Smith & Daughters
Think Italian food is all veal, beef and pork? Well think again.
Located in Fitzroy, Smith & Daughters is a kickass vegan restaurant that will challenge your perception not just of Italian food, but vegan food too.
Set within a hip and trendy former pub that showcases industrial-chic décor, a congenial atmosphere and a lovely, well stocked bar, the menu here is very inventive.
Bursting with colour and flavour which is a feast for your eyes as much as your tastebuds, dishes like gnocchi broccoli pesto and their Triple cooked andean sunrise potatoes will delight, and maybe even surprise you.
Address: 175 Brunswick Street, Fitzroy VIC 3065
Agostino
Agostino is technically a wine bar, but it makes this list because it has a fantastic Italian restaurant out of the back of it.
Served up downstairs in the wine cellar you will find an excellent mix of wines and antipasti. Whilst upstairs there is a larger set menu which showcases a sensational range of dishes like Tagliolini Nero, which includes Moreton Bay bug and bottarga, as well as Pici, a type of sausage ragu.
Located in Carlton, the restaurant is charming and intimate, and through the service of very friendly staff it makes the perfect spot for date night.
Address: 297 Lygon Street, Carlton VIC 3053
48h Pizza e Gnocchi Bar
You are no doubt familiar with the term pizzeria. But have you heard of a gnoccheria?
Well out at Elsternwick, the 48h Pizza e Gnocchi Bar is possibly breaking ground with their offerings of all things gnocchi.
Presenting a delicious menu of mouthwatering dishes, the restaurant is set up to allow you to watch how the gnocchi is made first, before being given a bowl to eat yourself.
A real selling point for this eatery is that they also serve up gluten-free gnocchi, which is something that can't be found in too many other places around the city.
Address: 15 Gordon Street, Elsternwick VIC 3185
Grossi Florentino
For an unrivalled fine dining experience be sure to check out Grossi Florentino.
A stalwart in the CBD, this is the go to place for corporate executives and business types who want to impress clients, as well as people who just love outstanding Italian food in an elegant and sophisticated atmosphere.
Priding themselves on offering world class service, the restaurant houses three different dining areas, one of which includes all day dining, as well as a grill and a bar.
Address: 80 Bourke Street, Melbourne 3000