When it comes to international cuisines it's hard to beat the French.
Bona fide experts when it comes to flavour profiles, time honored cooking techniques and presentation, their culinary offerings boast standards of taste and pleasure that few other gastronomic regions can beat.
In Melbourne there are a number of excellent French restaurants, bistros and brasseries that serve up all the trusted favourites like Boeuf Bourguignon, Coq Au Vin and Potatoes Dauphinoise. In addition to a selection of innovative new dishes that champion the best of local Australian produce.
Outlined below is a list of the best French Restaurants in Melbourne. Be sure to check them out the next time you go for a meal in the city.
Hell of the North
Want to impress a date? Then take them to Hell of the North.
Located in Fitzroy, this venue is the perfect spot for date night as it oozes charm, class and ambiance.
Boasting a fabulous a la carte menu on Wednesday through to Friday, which features the most amazing gnocchi Parisienne, their Saturday 'Feed Me' four course meal is the closest you will get to gastronomic heaven all week.
Think mussels in Pernod and fennel cream, cured ocean trout and ox cheek with bordelaise sauce. If that is not enough to have you salivating at the mouth, then their Crème Brulee is arguably the best on offer in Melbourne.
Address: 135 Greeves St, Fitzroy VIC 3065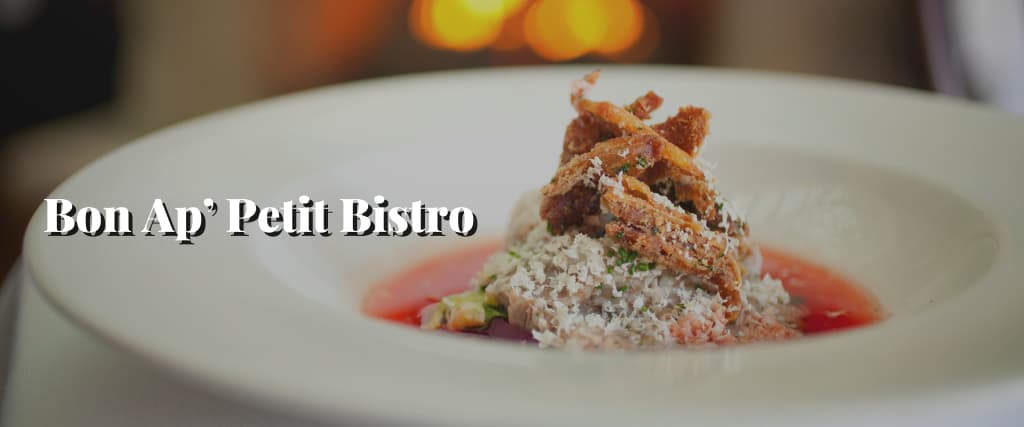 Bon Ap' Petit Bistro
Another popular venue in Fitzroy, Bon Ap' is collectively a café, restaurant and bar. So you can literally stay there all day for different dining experiences.
In the morning their coffee and croissants rival anything you would find in Paris. Whilst their lunch and dinner menu features an exciting range classic dishes like chicken liver parfait, steak tartare and mussels in cider, which are served up in a pleasant setting with a genteel ambiance.
Address: 193 Brunswick St, Fitzroy VIC 3065
Bistro Guillaume
Located right in the heart of Southbank, at the Crown Melbourne Hotel, Bistro Guillaume is a popular restaurant which occupies a refined and sophisticated setting.
Presenting a classically authentic menu, they excel at serving such exotic Gallic dishes as Bannockburn chicken with black brioche and blue eye trevalla with Grenobloise. The food is delicious and beautifully plated.
Although the temptation will be for you to order seconds, be sure to leave some room for dessert, which includes chocolate fondant, vanilla bean soufflé, profiteroles and a wonderful selection of cheeses.
Address: 8 Whiteman St, Southbank VIC 3006
Bar Margaux
If you like to eat late then Bar Margaux on Lonsdale Street is the perfect venue for you.
A stylish brasserie and late night bar, it serves up mouth watering comfort food along with a great range of cocktails and wine, in a setting that is relaxed and contemporary.
Their menu includes classic bistro dishes like pomme frites, braised meats and escargot, which you can eat until the early hours of the morning.
Address: Basement/111 Lonsdale St, Melbourne VIC 3000
Noir
Over in Richmond, Noir has been cooking up a storm with locals for many a year now.
A lively, vibrant bistro, that is known for their outstanding service, they offer a wonderful menu of French inspired dishes that are crafted with the best quality ingredients they can source.
These include confit duck with spiced lentils, rabbit gnocchi and caramelised Atlantic scallops which are perfectly paired with a range of exceptional French and local wines.
Address: 175 Swan St, Richmond VIC 3121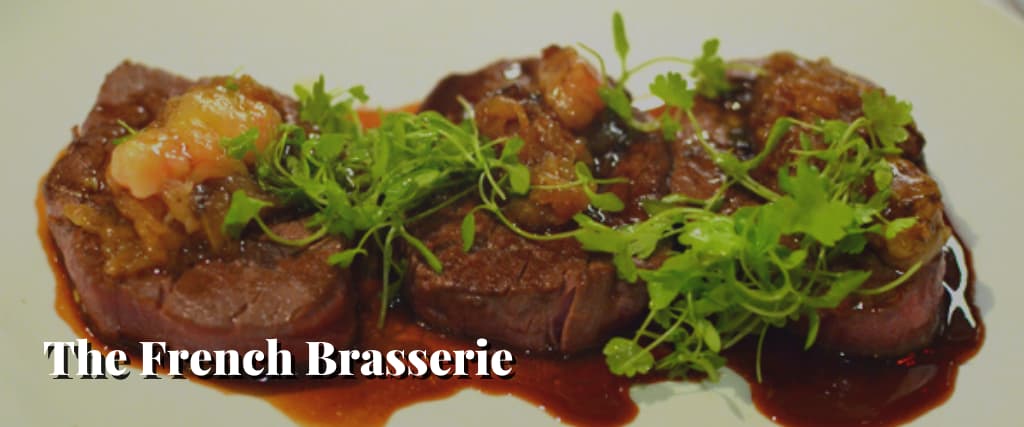 The French Brasserie
Arguably the best thing about The French Brasserie is that you could be forgiven for thinking you had been transported to Paris or Bordeaux.
Located in the Melbourne CBD, the restaurant showcases a chic and modern setting that is quintessentially French. Its menu too is authentically Gallic, with classics like escargot, French onion soup and Fried calamari served with rémoulade sauce created to perfection.
Renowned for their fantastic service, the restaurant also has a chocolate fondant which is so good, you will almost want to order it as your starter!
Address: 2 Malthouse Ln, Melbourne VIC 3000
Bistro Gitan
Situated within a stunning Victorian building in South Yarra, Bistro Gitan is regarded by many as being among the best French restaurants in Melbourne.
Inspired by more than a hint of Mediterranean influence, their inventive menu features such delights as Tasmanian bush pepper berries which they serve with chicken liver parfait, and spatchcock with mustard crust.
One of the main selling points of this restaurant is its fantastic fireplace, which adds a touch of romance, and warmth to its charming setting.
Address: 52 Toorak Rd West, South Yarra VIC 3141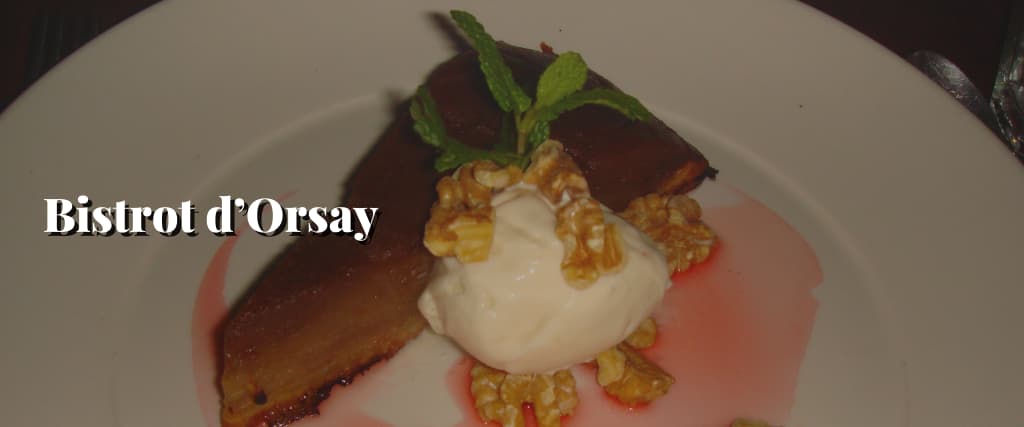 Bistrot d'Orsay
For over 25 years Bistrot d'Orsay has remained a leading player on the Melbourne French restaurant scene.
Presenting a setting of dark wood paneling that is complimented with painted ceilings and low, mood lighting, it is the perfect venue for a relaxed evening of conversation and exceptional food. And the food is exceptional!
Boasting a sumptuous menu with such delights as Bouillabaisse with incredibly fresh seafood, goat cheese soufflé and roasted lamb shoulder, you will have a hard time deciding what to eat at this fantastic Collins Street eatery.
Address: 184 Collins St, Melbourne VIC 3000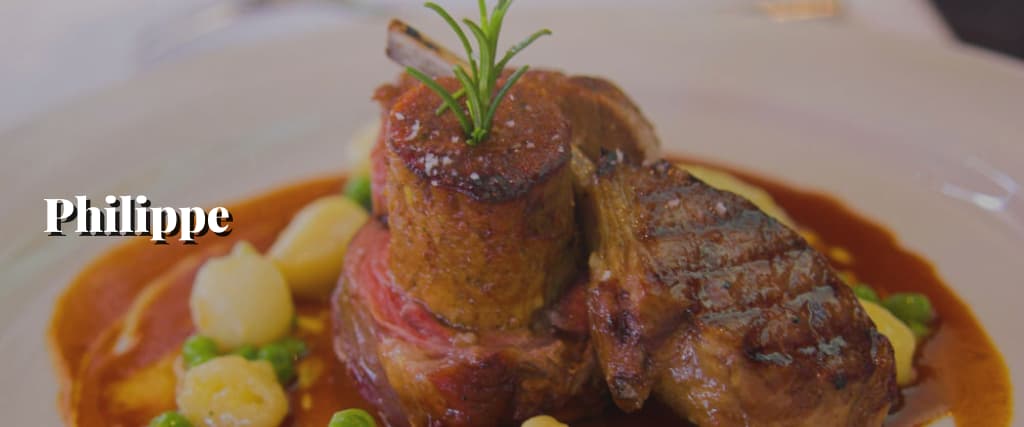 Philippe
Run by a chap called Philippe Mouchel, who not only grew up in Normandy but also was mentored in the art of French cooking by the Michelin award winning chef Paul Bocuse, Philippe is another fabulous restaurant on Collins Street.
An upscale venue that features a classic white-tablecloth dining room and a raw bar, he showcases his talents via a small menu of modern and delectable dishes.
Known for their high quality and outstanding presentation, the food here is traditional yet innovative, with the Burgundy snails cocotte en persillade and Charcoal grilled rump tournedos being a couple of his signature dishes.
To accompany his meals, Phillipe also presents a robust wine list of exceptional labels from France and Australia.
Address: 115 Collins St, Melbourne VIC 3000