For a few years now Thai food has been Australia's favourite international cuisine.
Known for its subtle, balanced flavour profiles and fragrant mix of herbs and spices, a good Thai curry, stir-fry or soup is like a warm hug on a cold day.
Melbournians love Thai food, so much so that there is a restaurant on pretty much every street.
Serving up everything from classics like Red Curry Beef andChicken Pad Thai, to more inventive street food options that have been inspired by the hawkers of Bangkok, the best Thai restaurants in Melbourne provide a wonderful gastronomic treat.
Here are some of our favourite places to go.
Mango Tree
Offering a simple, yet authentic Thai dining experience Mango Tree has been wowing patrons with delicious food since 2015.
Located in Mount Waverley, they offer a menu of dishes whose flavours are 'fierce, deep and sweet' – and thus represent the heart of Thailand.
Made with fresh Thai ingredients, the food is served quick and hot. The staff are also very friendly and the setting is intimate and relaxed.
Address: 315 Stephensons Rd, Mount Waverley VIC 3149
Thai 29
A real favourite in South Melbourne, Thai 29 boasts one of the best Southeast Asian kitchens in the city.
Serving up an authentic Thai experience out of a charming and intimate venue, their delicious menu showcases all the classics like Green Curry, Red Curry and Pad Kra Pao, in addition to more inventive dishes like Pork Neck Salad.
Always busy, this BYO venue also offers a pleasant alfresco dining option too.
Address: 29 York St, South Melbourne VIC 3205
Pok Pok Jnr
Quietly tucked away within the St James Mall, Pok Pok Junior is a hidden gem in the Melbourne CBD.
Offering mouthwatering, street-style, Thai hawker food, that tastes exactly like it has just been made in Bangkok, the venue has a simple, modern menu of dishes that are bound to satisfy you.
The setting is lovely too. A glass walled space that boasts chequered floors and walls replete with Melbourne laneway street art, it's the perfect spot to pull up a pink stool and people watching whilst you eat.
Address: 9/555 Bourke St, Melbourne VIC 3000
Chin Chin
Situated in the heart of the CBD, Chin Chin is one of the coolest restaurants in town!
Literally an overnight success, queues have been snaking round the block at this rad venue ever since it opened up over a decade ago.
Dishing up an exquisite range of South East Asian inspired meals, their cocktails are pretty incredible too.
But this place isn't just about food, it also boasts flashing neon lights, live DJ performances and some really awesome local art exhibits too.
Address: 125 Flinders Ln, Melbourne VIC 3000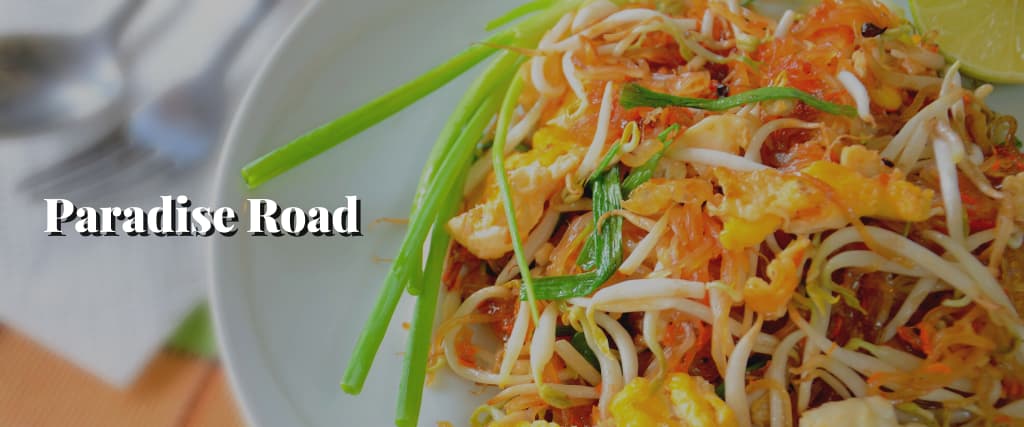 Paradise Road
Who says all the best Thai Restaurants in Melbourne are located within the CBD? Not Paradise Road that is for sure!
Situated in the residential suburb of Glen Waverley this elegant restaurant features an eye-catching decor of traditional red and gold monastery style doors, as well as a terrific range of Buddhist monk prints, which apparently come from a genuine Thai Monastery.
Serving up authentic Thai fare, the food here is nothing short of amazing. With sizzling hawker-style chicken satay dishes, and mouthwatering curries, guaranteed to satisfy your tastebuds.
Address: 171 Coleman Parade, Glen Waverley VIC 3150
Soi 38
After a successful trial as a pop-up, Soi 38 now opens 7 days a week and enjoys a permanent home in a car park within Melbourne's CBD.
Named after the famous street food region in Bangkok, they specialise in serving up authentic noodle dishes for lunch and exceptional Bangkok-style street food for evening meals.
Their signature dish is Boat Noodles. A traditional, little known dish from the central Thailand region, similar to Vietnamese Pho, but with more of an intense flavour.
One mouthful of that and you will be hooked.
Address: 38 Mcilwraith Pl, Melbourne VIC 3000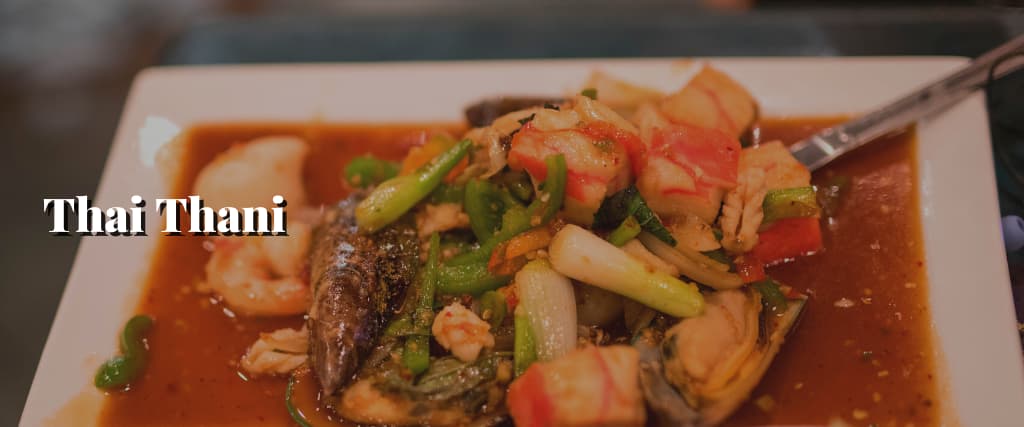 Thai Thani
Set within a gorgeous heritage-listed building that boasts a fabulous glass fronted locale, Thani Thani is a buzzy hawker style Thai kitchen and bar on Brunswick Street in Fitzroy.
Featuring a large mural on the wall, and plenty of verdant greenery within its monochrome theme, the restaurant specialises in spicy curries and flavoursome stir-fried noodles.
Signature dishes include Tom Kha Soup, which is considered by many to be amongst the best in Melbourne, and the Braised Pork Hock, which is a real hawker favourite.
Address: 293 Brunswick Street, Fitzroy VIC 3065
Ladyboy
Ladyboy in Richmond is not so much of a restaurant, but more like an experience!
A funky venue that features graffiti wall art, large neon signs and colourful paper lanterns, it's decor reflects the frenetic vibe of Bangkok streetlife.
Like the setting, its food menu is fresh and innovative, boasting a range of seasonal Thai dishes that are presented in share style formats.
The drinks list is pretty fabulous too, showcasing a selection of creative cocktails that include the saucily named Phuket Bucket and Lychee Long Time.
Address: 394 Bridge Rd, Richmond VIC 3121
Tom Phat
Another Brunswick favourite, Tom Phat is a cosy Thai restaurant whose quaint dining space features a rather cool tatami ceiling.
Located in the heart of Sydney Road, the venue provides guestswith a pleasurable and spirited gastronomic experience that showcases the best of Southeast Asian food.
All their dishes are designed for sharing and include an excellent range of curries and noodles. Many of which have punchy flavours that will surprise and delight you.
Address: 184 Sydney Rd, Brunswick VIC 3056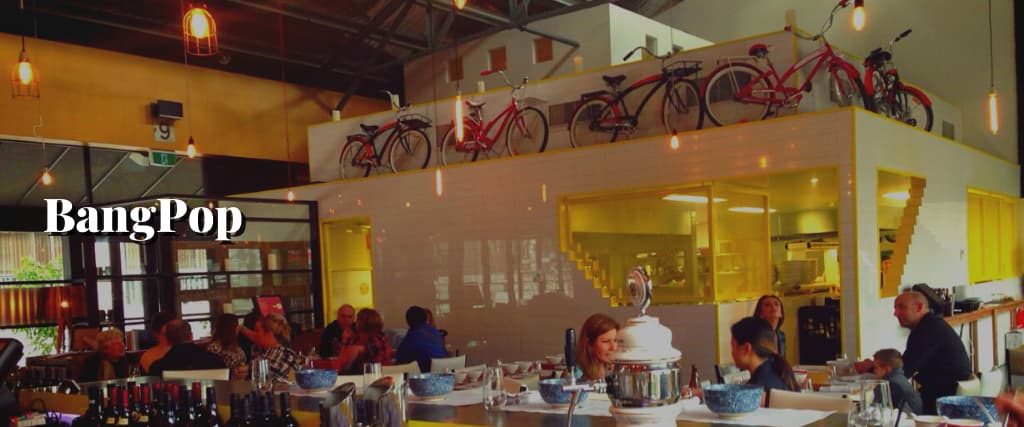 BangPop
BangPop is another funky Thai restaurant in Melbourne.
Situated in the South Wharf, and riverside to the Yarra, the colourful venue offers terrific views of Melbourne's city skyline.
The restaurant's philosophy is 'fresh fragrant and fun', which manifests itself in a menu that features a wonderful range of curries, deluxe salads and hawker-inspired dishes, all made with outstanding Australian produce.
Be sure to try their Gaeng Gati Gung Curry, which features black tiger prawns and Red Roasted Duck Curry, both of which are incredible.
Address: 35 South Wharf Promenade, South Wharf VIC 3006
Isan Soul
Found within a vibrant two-storey eatery on Bourke Street, Isan Soul is a Thai Street Food venue that is much loved amongst locals.
Considered by many to be Melbourne's best Thai restaurant it showcases a fantastic menu of classic dishes from the Isan region of Thailand.
Presented within a casual, laid back venue whose interior boasts rather kitschy Thai decor, their versions of massaman curry and crispy pork feature the perfect balance of sourness, heat and punchy flavour.
Address: 98 Bourke St, Melbourne VIC 3000