While many people find Sundays the best days to go thrift shopping, these places are often crowded over the weekend. However, some op shops within Melbourne are convenient for all Aussies to shop from on Sundays.
Many Vinnies locations open on Sundays, joining the ranks of the excellent Sacred Heart Shops open every day of the week. Savers is another option because it is open seven days a week. While they aren't technically a thrift store, they are a good option for anyone looking to support recycling.
If you're curious about the best spots to go thrifting on a Sunday in Victoria and Melbourne, you'd appreciate the additional suggestions in this post.
Let's get started!
1. Vinnies, Ascot Vale
The Ascot Vale Vinnies are situated on the busy Maribyrnong Road. This store has become well-known for its stylish women's vintage clothing.
Vinnies is a fantastic shop for household goods, books, or furniture.
Location: 155 Maribyrnong Rd, Ascot Vale
Hours: From 10:00 AM to 4:00 PM
2. Vinnies, Bayswater
This Bayswater branch is among the largest Vinnies stores in Australia. Moreover, the location boasts ample parking space for all clients.
You can find anything you need for your home or office at this Bayswater store.
If you're in the area, stop by Vinnies Bayswater; they have a great deal.
Location: 700 Mountain H/W,
Hours: from 10:00 AM to 4:00 PM
3. Vinnies, Bendigo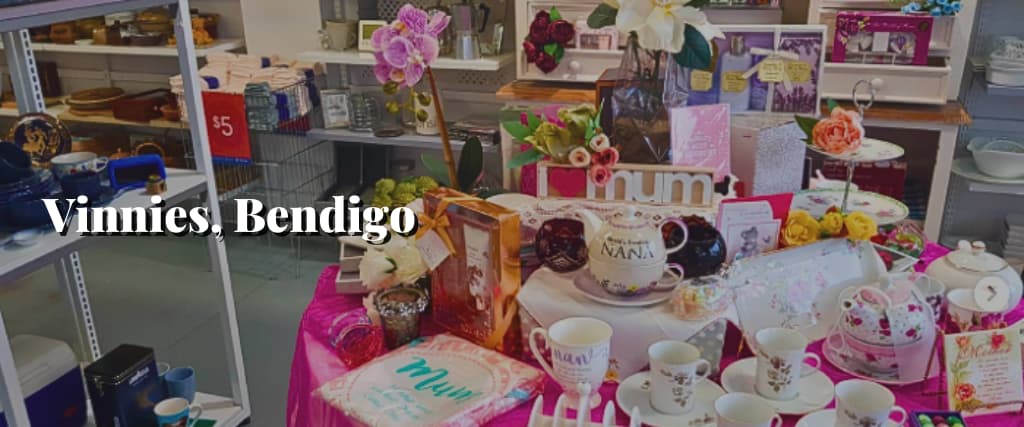 Vinnies Bendigo has an extensive selection of items in various areas, including clothing, homewares, publications, and furniture.
It is almost certain that a store of this magnitude will have something of interest to sell to every customer. So, visit them today!
Location: 31 Chapel Street
Hours: From 9:00 AM to 4:00 PM
4. Sacred Heart, Bentleigh
Frequent visitors to the Bentleigh op shop have helped it gain a dedicated following.
The place boasts an excellent linen area with the best-recycled goods and boutique staff, making it especially popular among sewists. These products feature hand-made garment lines draped with quirky tea towels. The odd, the unusual, and the extraordinary abound in this thrift store.
Location: 271 Centre Road (Bentleigh)
Hours: from 10 am to 5 pm
5. Vinnies, Bentleigh
The Bentleigh store, conveniently located directly near the train station, is bustling with activity. It has a wide variety of clothing, making it perfect for anyone searching for a one-of-a-kind piece to add to their wardrobe.
Location: 394 Centre Rd (Bentleigh)
Hours: from 10 am to 5 pm
6. Brotherhood Stores, Bentleigh
This Bentleigh store has an exciting combination of products and staff. This Centre Road institution has been a mainstay of the neighbourhood for almost 35 years, and it continues to draw customers with its unique selection and friendly, helpful staff.
The store boasts a vast collection of Bric a Brac and eye-catching window displays.
You can now buy electronics and some smaller pieces of furniture in this fantastic store.
Location: 518 Centre Rd (Bentleigh)
Hours: From 10 am to 3 pm
7. Savers, Brunswick
This Savers thrift store sells new and moderately used apparel, accessories, home goods, and more. In addition to working with local organisations to promote community initiatives, they also welcome donations of gently used things.
Location: 330 Sydney Road, Brunswick
Hours: From 9 am to 7 pm
8. Brotherhood St Laurence, Brunswick
This shop is customer-friend and has support staff to ensure you get something special. It enjoys a massive selection of goods, including but not limited to books, clothing, and furniture.
Location: 109 Brunswick Rd, Brunswick
Hours: From 10 am to 5 pm
9. Vinnies, Brunswick
This Brunswick store is quickly becoming well-known for its excellent selection of vintage clothing. The increasing popularity can be accredited to its strategic location, directly across from Barkly Square, and easily accessible by tram. There is a wide selection of vintage and one-of-a-kind furnishings and decor at Vinnies in Brunswick.
Location: 107 Sydney Rd, Brunswick
Hours: From 10:00 AM to 4:00 PM
10. Helping Hands, Bridgewater on Loddon
This is arguably the best thrift shop in Melbourne, found in the northwest suburbs of Melbourne. There are racks of $2 clothes, vintage apparel, retro records, inexpensive second-hand books, and one-of-a-kind home décor and knickknacks.
Every week, more than 500 families benefit from the emergency and material assistance given by the Helping Hands Mission. In times of crisis, they provide aid and supplies to needy individuals. They distribute food, toiletries, beds, furnishings, and other household basics through these help programs, and the money for doing so comes from their Op Shops.
Location: 15 Main St, Bridgewater
Hours: From 10 AM to 4 PM
11. Red Cross, Camberwell
This thrift store sells used clothes, furniture, publications, and other products. The money from these sales goes to help the Australian Red Cross do its work. They also take donations of things that are still in good shape.
Volunteering is also a good idea for people about to start working. Volunteers are taught how to help customers, use cash registers, prepare stock, and make the store look good.
Location: B/666 Burke Road, Camberwell
Hours: From 10 am to 4 pm
12. Vinnies, Carrum Downs
Carrum Downs justifies its status as one of their largest businesses with a wide selection of clothing, furniture, literature, manchester, and other household goods. You're sure to find what you need at this Carrum Downs shop.
Location: 562 Frankston or Dandenong Rd, Carrum Downs
Hours: From 10:00 AM to 4:00 PM
13. Sacred Heart, Cheltenham
This Cheltenham thrift store has been a bayside attraction since it opened in late 2016, which has led to a rapid increase in customer traffic.
There are countless racks of high-end and semi-designer labels for ladies and men and stunning women's headwear, shoes, and accessories exhibitions.
The shop has an impressive book area, linens, a haberdashery nook, and excellent window displays of antiquities and bric-a-brac. This thrift store is like a treasure trove, with glass cases stuffed with valuables, including antiques and jewellery.
This business blends the cutting-edge model with traditional op shop ideals, as a constant flurry of volunteers is engaged in the back room, setting out products to the rhythm of classic classics.
Location: 261 Charman Rd, Cheltenham,
Hours: From 10 am to 5 pm
14. Vinnies, Chelsea Heights
An abundance of women's clothing is available here.
The store also stocks various men's and kids' apparel, including housewares, books, toys, and miscellaneous knickknacks.
Huge windows and excellent donated furnishings provide for a one-of-a-kind retail environment.
Check out their Chelsea Heights shop right now!
Location: Hartwood Court, Chelsea Heights
Hours: From 10:00 AM to 4:00 PM
15. Red Cross, Collingwood
This Collingwood Red Cross op shop sells many items, which include clothing, accessories, homewares, books, and more. Most of their stock is donated from all over Australia, and they use the money raised to do charity work.
For example, they always help those in need during emergencies, strengthen marginalised communities, and train and educate future humanitarian workers.
Location: 328 Smith Street, Collingwood
Hours: From 11 am to 5 pm
16. Vinnies, Cranbourne
This store, conveniently located in the middle of Cranbourne, is stocked floor to ceiling with clothing, home decor, and many furnishings. As one of their flagship stores, it carries a wide variety of products from which you will discover something you'll like.
Location: High St, Cranbourne
Hour: From 11:00 AM to 4:00 PM
17. Red Cross, Dandenong
The Dandenong Red Cross op store sells various products, including accessories, clothes, homewares, books, and more.
The funds raised through sales are then used to carry out humanitarian initiatives like disaster assistance, community aid, and educational and vocational training opportunities for disadvantaged people.
All Aussies are encouraged to give their used products to help this organisation raise funds.
Location: 279 Lonsdale St, Dandenong
Hours: From 10 am to 3 pm
18. Vinnies, Dandenong
This Vinnies Dandenong store will surprise you as it receives hundreds of new goods weekly.
Location: 119-123 Lonsdale St, Dandenong
Hours: From 10:00 AM to 4:00 PM
19. Brotherhood Stores, Deer Park/Burnside
The Brothers of St. Laurence only operate thrift stores in the Melbourne neighbourhoods of Deer Park or Burnside after September 2021. Nevertheless, other western Melbourne neighbourhoods feature op stores, too.
Thrift stores like these offer a great selection of moderately used clothes, shoes, bags, other accessories, furniture, kitchenware, and other household goods; all purchased through donations. The organisation then uses the funds raised to benefit the less fortunate.
Location: Westwood Drive, Deer Burnside
Hours: From 10:00 AM to 4:00 PM
20. Sacred Heart, Elsternwick
While this is among Sacred Heart's smallest thrift stores in Elsternwick, its charm is quite impressive.
The shop's window exhibit features artifacts and collectibles and regularly has shelves of brand and antique clothing and accessories.
The business always has a fantastic assortment of antique books and cameras behind the desk, and the showcase cabinets are packed with shiny cutlery and other antiquities.
Jase, the business's manager, is a vinyl expert happy to impart his skills to customers and whose store is always filled with fantastic tunes.
There are more than five op shops along Glen Huntly Road, so when you're out and about, be sure to stop by the coolest one and check out the awesome stuff that's been donated.
Location: 486 Glenhuntly Rd, Elsternwick
Hours: From 10 am to 5 pm
21. Vinnies, Epping
The Epping Vinnies store ranks as the busiest within the metro region, and it sells various donated goods, including apparel, household items, and furniture.
Location: Store 4/500 High St, Epping
Hours: From 10:00 AM to 4:00 PM
22. Sacred Heart, Brunswick Street, Fitzroy
This Fitzroy store is the newest addition to Sacred Heart Mission's expanding family of Melbourne opportunity stores. It has quickly become a favourite among locals, for whom a strong sense of community and a love of antiques is central to the neighbourhood's identity and success.
You'll find Adrian's Space Van parked smack dab in the middle of the shop; it's a tribute to a beloved volunteer who frequently hailed the thrift store as "the best op store on the planet!"
Various carefully curated men's and women's apparel is available, from laid-back to expensive, depending on the establishment you frequent on Brunswick Street.
The store's shelves are stocked with high-end accessories for fashion designers, vintage, and antiques. On the other hand, the back of the store features a great entertainment area.
The Brunswick Street location has a warm and inviting vibe thanks to the volunteers who help manage the business.
Location: 433 Brunswick St, Fitzroy
Hours: From 10:30 am to 5:30 pm
23. Sacred Heart, Nicholson St, Fitzroy
This modest thrift store in the middle of Fitzroy North embodies the neighbourhood's welcoming spirit.
The store's quirky window displays (take a look if you're on Park Street) and its one-of-a-kind selection of houseplants, ceramics, and gently used clothing are all thanks to the kind gifts of the neighbourhood.
The business has a lot of character and is well-liked by the neighbourhood residents; customers come to shop for pottery, high-quality shoes, antiques, bags, and accessories.
This thrift store is open seven days a week and always has high-quality items.
Location: 806 Nicholson Street, North Fitzroy
Hours: From 10 am to 5.30 pm
24. Savers, Footscray
This Footscray Savers thrift stores offer a great selection of second-hand clothing, shoes, bags, other accessories, furniture, kitchenware, and other household goods; all purchased through donations. They donate all the money made from the sales of these items to various good causes.
Location: 33 Albert Street, Footscray
Hours: From 10 am to 6 pm
25. Savers, Fountain Gate
The Savers thrift store in Fountain Gate offers many used clothes, footwear, accessories, and household items. Every penny that is made from the sale of these things is going to be sent to a variety of charitable organisations.
Location: 352 Princes Highway, Fountain Gate
Hours: From 10 am to 6 pm
26. Vinnies, Fyans Street, Geelong
The Geelong South store is well worth a visit because it has an impressive selection of various products, including books, home goods, and furnishings.
Location: 162 Fyans t, Geelong South
Hours: From 10.00 AM to 4.00 PM
27. Vinnies, Pakington Street, Geelong
At this Vinnie location in Geelong West, you'll find an incredible selection of clothing, housewares, and literature, so there's something for everybody.
Location: 53-55 Pakington St, Geelong West
Hours: From 9.30 AM to 4.30 PM
28. Savers, Greensborough
The Saver thrift store in Greensborough offers various pre-owned goods, such as clothing, footwear, accessories, home goods, and more. The organisation donates all funds to various humanitarian organisations and activities.
Location: Main Street, Greensborough
Hours: From 9 am to 7 pm
29. Vinnies, Grovedale
Vinnies Grovedale has an excellent selection of homewares, booklets, and kid's toys, among other things. You'll also find plenty of clothing to choose from here. The shop focuses heavily on providing fashionable options for everyone; women, men, and children of all ages.
Visit the Vinnies Grovedale store, which is open for your convenience seven days a week and has lots of parking available for customers.
Location: Marshalltown Rd, Grovedale
Hours: From 10:00 AM to 4:00 PM
30. Vinnies, Hampton
The Vinnies store in Hampton adds to the pleasure of going shopping.
Vast selections of women's clothing and accessories are available here. There's a great selection of men's and kids' clothes, high-quality furniture, and decorative accessories. In addition to clothing and accessories, the shop also sells a variety of carefully curated furniture pieces.
The newly remodelled store on Hampton Street is conveniently located in the city's heart.
Location: 501 Hampton St, Hampton
Hours: From 10:00 AM to 4:00 PM
31. Sacred Heart, Hawthorn
The Hawthorn location, formerly a Chinese restaurant, now displays several Asian artifacts, antiques, and collectibles.
The store is decked out in stunning decorations and packed to the rafters with donations by peering through the unusual circular windows.
If you're looking for trendy clothes at a discount, you can't miss their infamous "dollar bin." You can also find various high-quality, name-brand, antique apparel, housewares, curiosities, and more!
These rummage bags, sports gear, knickknacks, mirrors, wacky lighting, shelves, and racks of fantastic pre-loved clothing are just a few examples of the strange and unusual items their clients can find here.
This is one thrift store you can't miss because the fantastic staff and volunteers are always on hand to receive your contributions.
Location: 86 Riversdale Rd, Hawthorn
Hours: From 10.00 am to 5.30 pm
32. Vinnies, Hawthorn
Its Hawthorn location, accessible from Auburn Road and several public transportation options, makes Vinnies a must-shop for the style-conscious shopper.
You can visit us any day of the week, from Monday through Sunday.
Location: 254 Auburn Rd, Hawthorn
Hours: From 10:00 AM to 4:00 PM
33. Brotherhood St Laurence, Hoppers Crossing
This thrift shop in Hoppers Crossing sells a wide variety of pre-owned items, such as garments, footwear, bric-a-brac, electrical items, books, and furniture, among other things.
34. Vinnies, Hoppers Crossing
Everyone can find something at the Vinnies Hoppers Crossing location, which has over 10,000 items of clothing.
35. Vinnies, Kew East
At Vinnes Kew East, you'll find a wide variety of high-quality, one-of-a-kind furnishings and decorative accents. Its boutique in East Kew has a wide variety of women's clothing, including some unique vintage treasures.
Location: 735 High St, Kew East
36. Vinnies, Malvern
You can locate that one-of-a-kind item in the excellent selection of high-end and vintage apparel at Vinnies Malvern.
The Malvern store provides a variety of items, including home furnishings, books, and furniture.
Location: Glenferrie Rd, Malvern
37. Brotherhood St Laurence, Moonee Ponds
The Brothers of St. Laurence Shop (secondhand shop) is at the Moonee Ponds train station.
The vast, family-owned shop has been serving the neighbourhood for over a decade, and in that time, it has amassed an impressive selection of goods, all available at meagre costs.
Clothing, footwear, electronics, furniture, books, home goods, and curiosities are all available in the shop, among other things.
Location: 24 Margaret St, Moonee Ponds
38. Vinnies, Newport
Vinnies Newport is located right on the main drag of shops and cafes. Get your caffeine fix, or meet up for lunch with friends before hitting the stores for a deal.
Newport Vinnies have various clothing, accessories, home goods, furniture, and books.
Location: 3-5 Mason St, Newport
39. Vinnies, Niddrie
If you're looking for a high-end boutique atmosphere, look no further than Vinnies Niddrie. The store has unique displays and well-polished floorboards with the latest fashions and accessories.
Once used as a deli, the store's historic cool room has been transformed into a one-of-a-kind home goods department and display space. There is a plethora of reading materials, playthings, and manchester.
Location: 481A Keilor Rd, Niddrie
40. Vinnies, Oakleigh
When you walk into VinniesOakleigh, you'll first notice the excellent selection of home goods and bric-a-brac. You'll quickly become aware of this store's size as you navigate it. The Oakleigh store has a wide selection of clothing, a library, and a massive selection of mattresses and manchester.
Location: 20 Crewe Rd, Hughesdale
41. Sacred Heart, Prahran
The Chapel Street thrift store, located at 86 Chapel St. for nearly 15 years, relocated in 2019 to a larger and brighter location two blocks up the road.
One of the largest and busiest op shops, this location is well-liked by Chapel Street regulars and has replaced the storied American Apparel storefront.
The business has a vast floor space stocked with white goods and furnishings and a huge showroom full of designer men's and women's clothing, bric-a-brac, vintage, and valuable items. Decorated with paintings and mirrors on every available surface, this shop contains anything and everything you could need.
Location: 86-88 Chapel St, Prahran
42. Vinnies, Queenscliff
The Queenscliff shop may be compact, but don't let that fool you; they stock a wide selection of exciting and unusual clothing, home decor, and literature.
Location: 31 Hesse St, Queenscliff
43. Vinnies, Ringwood
If you're looking for a beautiful place to shop, look no further than Vinnies Ringwood! They have a wide selection of men's, women's, and children's clothing, as well as vintage treasures, home decor, and furniture.
Location: 2/82 Maroondah Hwy, Ringwood
44. Vinnies, Rosebud
The newly renovated shop is roughly four times larger, so they can stock significantly more merchandise. The shop caters primarily to women and stocks men's and children's apparel and footwear.
This shop has excellent furniture and other household goods, so you know you're getting something special when you shop here.
Location: Point Nepean Rd, Rosebud
45. Brotherhood St Laurence, Seaford
The Brothers of St. Laurence Store (op shop), located in the heart of Seaford, is entirely staffed by volunteers and is well-known for its low prices and pleasant atmosphere.
It's convenient to all the local services and is easily accessible from Station Street; stop by the next time you're in the neighbourhood.
You can find clothing, footwear, books, decorative objects, and small electrical items (like lamps) in stock.
46. Sacred Heart: South Melbourne
Even though it has changed uses, the glitz and glamour that once made it a Lamborghini showroom remains. The store's high ceilings, airy atmosphere, plentiful natural light, selection of high-quality goods, and spare, sophisticated layout create an atmosphere of seamless warmth.
The business is well-known for the high-quality vintage and designer items, bric-a-brac, and accessories that customers have generously donated.
You can find affordable, high-quality apparel and shoes, bags, scarves, jewellery, sunglasses, and other accessories necessary for any trip to an op shop.
There is a beautiful assortment of books, modern and stylish bric-a-brac, vintage items, paintings, and frames.
Donations of gently used treasures are always welcome at their South Melbourne op shop, and you can rest assured that they will be purchased and sold with the utmost care.
Location: 365 Clarendon St, South Melbourne
47. Vinnies, South Morang
The shop has a wide variety of women's clothing, so you'll undoubtedly discover something you'll like.
Men's and children's apparel, toys, books, home goods, and collectibles are available at the shop.
The South Morang location is dedicated to providing customers with a pleasant shopping experience.
48. Sacred Heart, Grey Street, St Kilda
It was the first of its kind, and many people still consider it the best thrift store in the area.
This 100-year-old Sacred Heart Mission Church Hall is the location of its proud showroom. You may find everything from furnishings to stacks of beautiful bric-a-brac to trendy and vintage apparel, books, jewellery, and music here.
A large, bright red flag welcomes shoppers and donors to the thrift store. This op shop's authenticity stems from the fact that it serves customers from all walks of life.
The shop has a wide variety of rarities and antiques, in addition to its industrial shelves full of bags, footwear, electronics, cookware, and more.
The unique op store is a St. Kilda institution and a gathering spot for the community.
Location: 87a Grey St, St Kilda
49. Sacred Heart, East St Kilda
This thrift store in East St. Kilda is an actual treasure chest.
The op shop, formerly a milk bar, is spread across three rooms and is jam-packed with goodies, including gently used men's and women's items and children's clothing and toys. This convenient corner business is a popular thrift store among residents of St. Kilda East.
The walls are covered with artwork, literature, and decorative items, and the closets are packed with name-brand apparel.
The store was recently remodelled, creating a more spacious and inviting shopping experience. One of their more unusual thrift store configurations; browse all the aisles!
50. Vinnies, Sunbury
You can find a wonderful assortment of clothing, homewares, and select pieces of furniture in Sunbury. Come to see us today, and you might be startled by what you find here.
51. Vinnies, Traralgon
This business, which they have just moved to a more prominent location to exhibit their wares better, has been completely redesigned. Their flagship location could be more attractive due to the extensive selection of clothing, accessories, housewares, literature, furnishings, electronics, and new fabric.
Location: 70 Argyle St, Traralgon
Hours: From 10:00 AM to 4:00 PM
52. Brotherhood St Laurence, Wantirna South
This year marks the beginning of Brotherhood of St. Laurence Store Knox's tenth year in business. They're conveniently located across from the library and can handle any event!
If you're interested in what they offer, stop by and look around; you'll be pleasantly surprised.
You will find apparel, shoes, furniture, refrigerators, electricity, books, and knickknacks in the store.
53. Vinnies, Warragul
Visit the Warragul shop; you will be satisfied. Always a hidden gem among the wide selection of women's, men's, and children's clothing, as well as housewares, books, furnishings, and electronics.
Location: 14 Gladstone St, Warragul
Hour: From 10.00 AM to 4.00 PM