Did you know Melbourne has the largest Greek population outside of Greece? So it follows that the city's dining scene is heavily influenced by Hellenic culture and gastronomy too.
Perhaps the ultimate in comfort food, dishes like souvlaki, lamb gyros, moussaka and kolokythokeftedes always deliver big, bold flavours that make your heart sing. Which is probably why it is so popular amongst diners of all ages and nationalities.
There are many excellent Greek Restaurants in Melbourne, mostof which are located around Lonsdale Street, Richmond, Albert Park, Southbank and Collingwood. Here is our recommendationof some the best of them.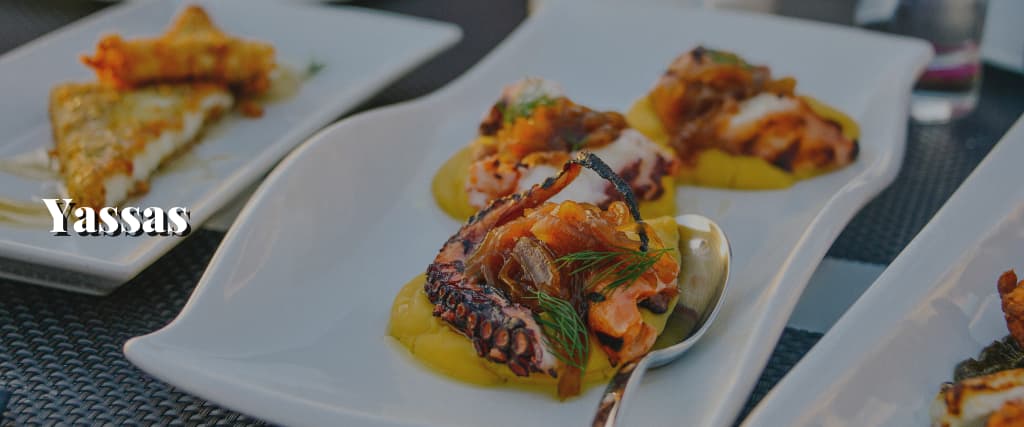 Yassas
Priding themselves on serving authentic Greek street food that is made with the freshest, locally sourced produce, Yassas presents a fast and casual dining experience in the heart of Southbank.
Set within a delightful venue replete with classic blue and white decor, they provide a vibrant Greek experience with a discernible Melbourne edge.
Boasting a wall-to-wall menu there is something for everyone here. But their signature dish is the mouthwatering gyros, which pairs perfectly with one of their fantastic Greek-spirit infused cocktails.
Address: 4-9, Level M/3 Southgate Ave, Southbank VIC 3006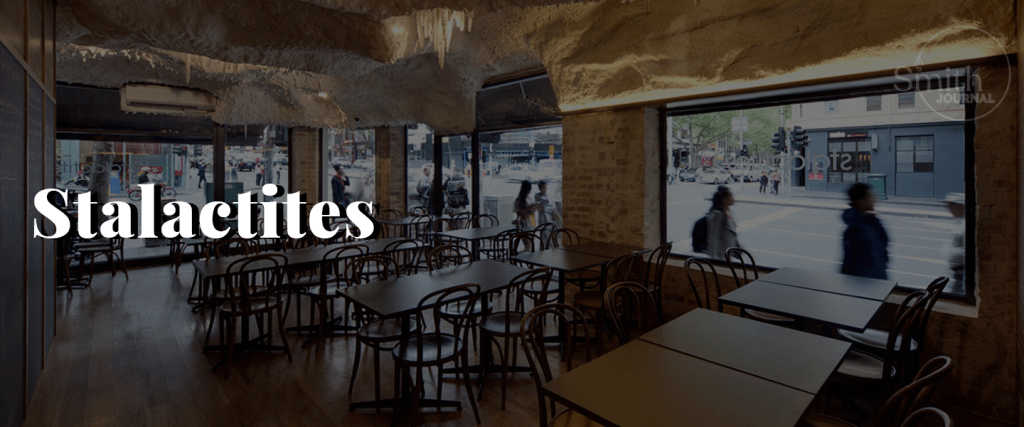 Stalactites
One of the oldest and arguably most famous Greek restaurants in Melbourne is Stalactites. Located on Lonsdale Street this fabulous restaurant is set within a stylish dining room that features exposed stone walls and a wonderful ceiling of – yes you guessed it – stalactites!
For almost 45 years this terrific family-run restaurant has served up iconic souvlaki and other authentic home-style dishes, like chicken and lamb gyros and moussaka, with a consistency and excellence that hasn't wavered throughout the years.
Known for their great service, the atmosphere is friendly and convivial, and as it opens until 2am at the weekend, you can enjoy the experience until the wee hours of the morning.
Address: 177/183 Lonsdale St, Melbourne VIC 3000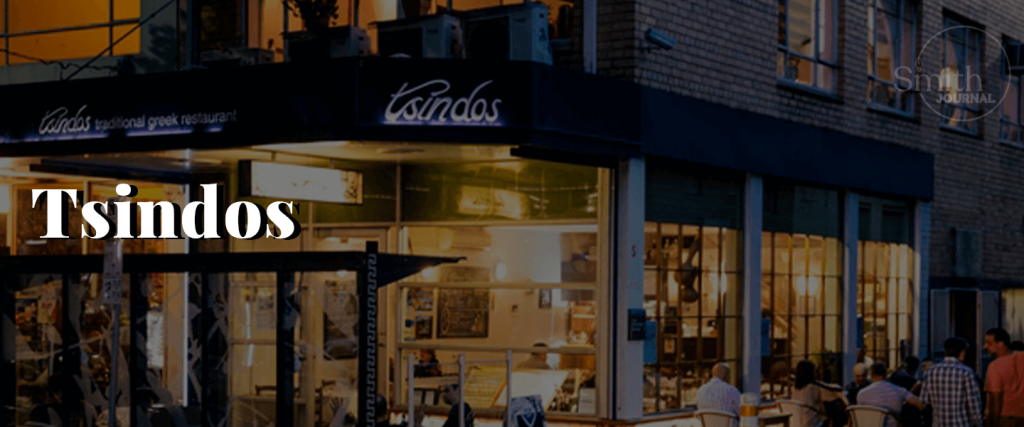 Tsindos
Many restaurants have come and gone on Lonsdale Street over the years but one that has stood the test of time is Tsindos.
First opened in 1975, it is a delightful family run restaurant that presents a fabulous menu of traditional Greek meals and banquets. The setting is lovely, and the vibe is laid-back and congenial. With live music every Friday and Saturday night adding to its ambience.
They don't have a signature dish as such, as all their offerings are fantastic. But the meat platters souvlakis and grilled artichoke and feta, are consistently among their best sellers.
Address: 197 Lonsdale St, Melbourne VIC 3000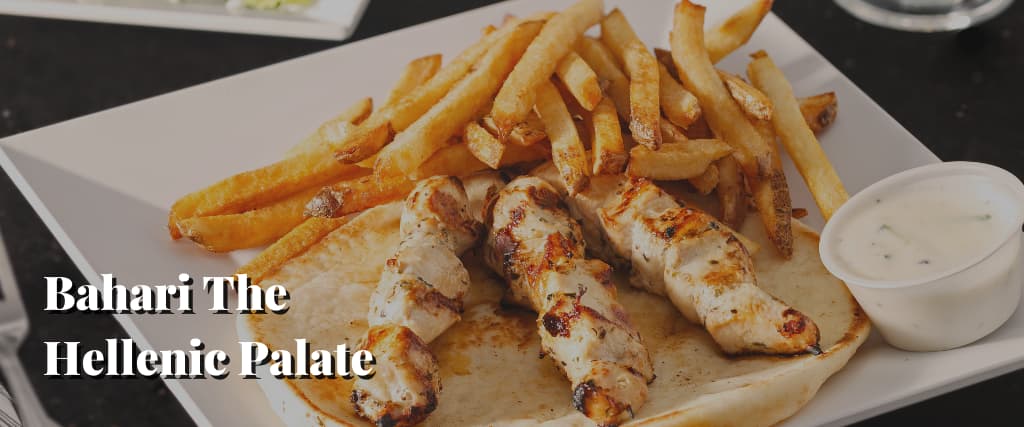 Bahari The Hellenic Palate
With a name that sounds a bit like a Greek gastronomic superhero, Bahari The Hellenic Palate is a vibrant restaurant in Richmond that is known for its exceptional menu of creative Hellenic dishes.
Presented within a lively and comfortable setting that radiates a rustic-chic 'Gringlish' vibe, the service is quick and the portion size hearty – as well as being stylishly plated too.
Some of their most popular dishes include the moussaka, Kataifi prawns and their chicken 'spanakopita sauce' meatballs, which is so good, you'll definitely be wanting to order a second helping.
Address: 179 Swan St, Melbourne VIC 3121
Salona
A family run business that has passed along three generations, Salona continues to be one of the best Greek restaurants in Melbourne.
Located in Richmond, it's a classic Greek restaurant that gives you the feel of dining in Athens, albeit with a modern twist.
Their share style menu showcases the best in local produce, including the likes of chicken gyros, zucchini and smoked feta kofte, seed crusted saganaki croquettes and chips crowned with oregano.
All of which are served with warm hospitality, in a narrow space that features splendid Hellenic style murals.
Address: 260A Swan St, Richmond VIC 3121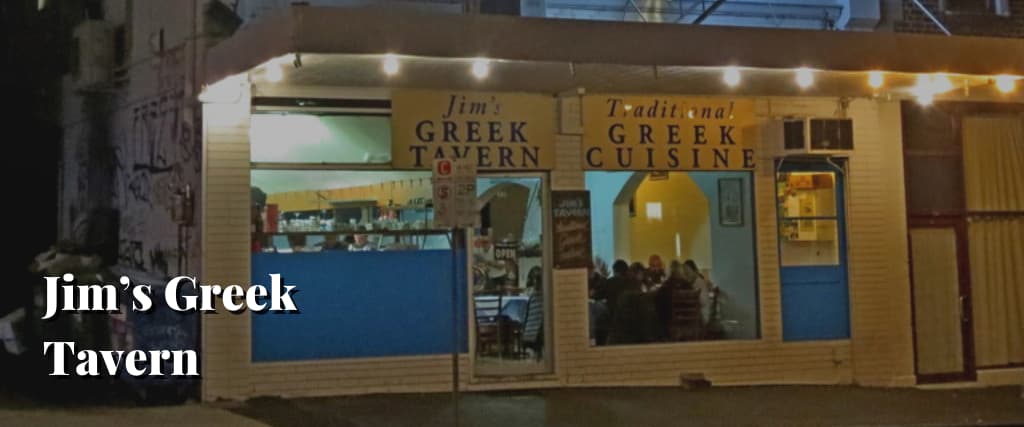 Jim's Greek Tavern
No, it's not an extension of the franchise that performs duties like mowing, cleaning and plumbing. Jim's Greek Tavern is infact the oldest Greek Mediterranean restaurant in Melbourne, having opened its doors for the first time in 1967.
Boasting an open fire, this well-established taverna in Collingwood features ornate Greek goddess statues and a lively dining atmosphere where waiters shout out orders in Greek, whilst waving their arms in the air.
Specialising in lamb, seafood and their signature traditional Galaktoboureko, they also have an excellent set menu, for those who want to try a bit of everything.
Address: 32 Johnston St, Collingwood VIC 3066
Venus & Co. Kitchen and Bar
Over in Albert Park, the Venus & Co. Kitchen and Bar does Greek food a little differently from the norm. But it's no less delicious!
Run by head chef and owner Steve Watson the menu can be best described as Greek Cypriot and Middle eastern inspired, with a fresh and modern twist.
Priding themselves on using the best produce, their food is authentic and delicious. With the slow-roasted lamb shoulder, which comes served with honey and a pomegranate glaze, as well as confit garlic and mint yoghurt, being a particular stand out.
Address: 183 Victoria Ave, Albert Park VIC 3206
Demitri's Feast
Boasting a canopied, plant-filled courtyard that has to be one of the nicest alfresco settings in Richmond, Demitri's Feast is a popular and cosy cafe that serves up a fabulous range of traditional Greek food options.
A local favourite for over 12 years, this moodily lit establishment is busy every day of the week. But the service is quick and the food delicious – taking the form of classic brunch dishes and Hellenic inspired mains, as well as a terrific selection of mezze, grilled meats and fresh seafood.
Their drinks list is very good too, including a good portfolio of wines, cocktails and ouzo, which pair perfectly with the food.
Address: 141 Swan St, Richmond VIC 3121
Agapi
Located within a refined and elegant venue in Richmond, Agapi is an institution amongst those who love traditional and authentic Greek food.
Known for its charming Athenian ambience, this stylish restaurant presents a relaxed setting that features exposed-brick walls and white tablecloths.
Offering a menu of rustic dishes inspired by the beaches and streets of Greece, their food is served in generous portions which is designed to share with family and friends.
Address: 262 Swan St, Richmond VIC 3121