There are five words that are guaranteed to get all food lovers in a tizzy.
Yes, you've guessed it – 'all you can eat buffet'!
Few feelings in life compare to the sheer anticipation of approaching a long table full of beautifully presented, and wonderfully aromatic dishes, knowing you can scoop as much of it onto your plate as you want.
In Perth, the all you can eat buffet is an institution, with many cafes and restaurants across the city offering a fantastic selection of cuisines from all around the world.
Whether you are looking to set up your day with a filling, hearty breakfast, partake in a delicious lunchtime feast or enjoy an indulgent evening meal of banquet proportions, there is a buffet in the city for you.
Outlined below is a selection of 16 of the best all you can eat buffets in Perth. Dine at any of them and you will be in for a great feed!
Crown's Atrium
Address: Crown Metropol, Crown Perth, Great Eastern Hwy, Burswood WA 6100
Located in the plush Crown Metropol Hotel, the all you can eat buffet they offer ranks as one of the best in Perth.
Incorporating everything from antipasto and fresh seafood dishes to an extensive Asian selection, and a good range of European and Western dishes, the offerings here are wide and varied.
Buffets are available here for breakfast, lunch and dinner, with the food options changing accordingly. If you choose to eat here for lunch or dinner be sure to save a bit of room for dessert. The choices are incredible!
A very popular venue, it is well worth booking if you want to come here. Although if you come on a Sunday, you will pay a slightly higher rate than you otherwise would during the rest of the week.
Lapa Brazilian Barbecue
Address: 375 Hay St, Subiaco WA 6008
If you love meat then the Lapa Brazilian Barbecue is the one for you!
Dishing up authentic Brazilian food, which includes up to 16 different and succulent cuts of meat their Rodizio, or 'Endless Feast' is an 'all the meat you can eat' style pig out, for a set price, that comes with flamboyant table-side service.
If you aren't in the mood to fill your boots, this Subiaco restaurant also has an a la carte service for diners to enjoy.
Named after one of Rio de Janeiro's most famous boroughs, the hip and airy churrascaria also offer an infectious, buzzy ambience and a fabulous range of cocktails.
Agni Fine Cuisine
Address: 17 Wotan St, Innaloo WA 6018
Indian food is perfectly suited to a buffet style, which is something Agni Fine Cuisine fully tap into.
Situated in the suburb of Innaloo, they present a fantastic selection of Indian meals, as well as a buffet in a stylish space that features a centrepiece chandelier and pristine white tablecloths.
Featuring over 35 items, their buffet menu has something to suit all tastes, including meat curries, seafood and vegetarian dishes, dahls and other snack types items like pakoras and samosas.
Perfectly cooked and spiced, the buffet will have you coming back for seconds, thirds, fourths and maybe more!
Epicurean at Crown Towers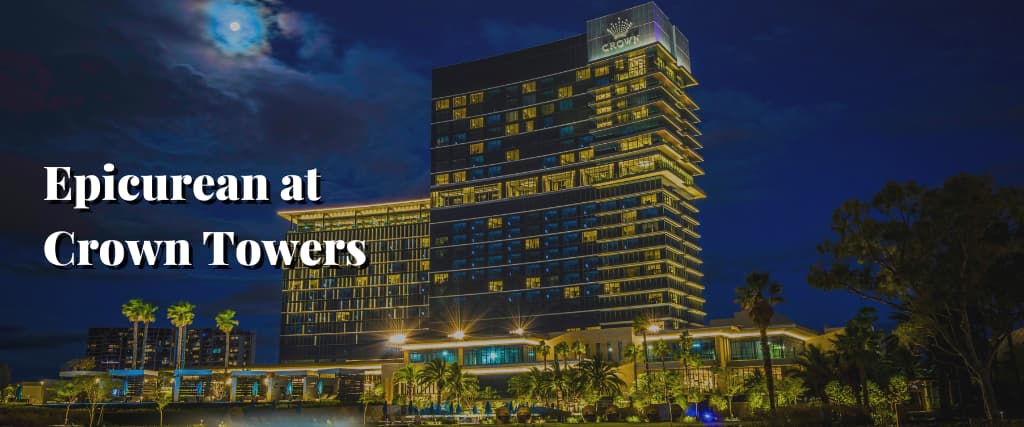 Address: Crown Towers, Crown Perth, Great Eastern Hwy, Burswood WA 6100
Presenting a veritable buffet extravaganza, the Epicurean at Crown Towers offers no less than 250 different dishes for you to choose from.
Encompassing an array of Australian, western, Indian and Asian cuisine their buffets operate for breakfast, lunch and dinner and feature a wide range of local and sustainably sourced products.
The quality of the food is in keeping with the luxe nature of the venue, so a visit here promises an exquisite gastronomic experience, which is topped off by their grandiose chocolate fountain that stands out among numerous other mouthwatering desserts.
Springs Kitchen
Address: 27 Rowe Ave, Rivervale WA 6103
Over in Rivervale, Springs Kitchen has steadily developed a solid reputation for offering one of the best all-you-can-eat breakfast buffets in Perth.
Open from 6 am, this modern cafe puts together an excellent spread that includes chilli eggs and omelettes as well as all the usual suspects that go in a fry up.
In addition, they also have a range of healthy options, as well as sweet and savoury pastries. All of which is accompanied by locally roasted Humblebee Coffee.
Run by a group of passionate foodies who strive to deliver a fresh, inclusive and satisfying dining experience for everyone, the venue features cosy tables for two people, high tables for those who casually drop in, and long tables for larger groups.
On Sundays, the buffet is available as a brunch.
Jaws Sushi
Address: 1/726 Hay St, Perth WA 6000
When the clock strikes 5.30 pm on a Saturday, you will find lots of people making a beeline to Jaws Sushi on Hay Street, for their 'all you can eat' promotion.
Prior reservations are not taken, so people tend to rock up on mass.
But once they are seated, they are treated to a fabulous selection of sushi and sashimi delights, as well as noodles, curries and other side dishes that will make your eyes roll with satisfaction.
Café 196 Restaurant
Address: 196 Adelaide Terrace, Perth WA 6004
Another excellent Indian all-you-can-eat buffet option can be found on Adelaide Terrace at Café 196 Restaurant.
Typically, the buffet consists of up to ten items, which usually includes a selection of curries, as well as vegetarian dishes, naans and both basmati and pilau rice.
As a dining experience this buffet ticks all the boxes. The food is well cooked and full of flavour, and provides value for money, while the setting is casual and laid-back. You can't really ask for much more.
Montereys Brasserie
Address: Pan Pacific Perth, 207 Adelaide Terrace, Perth WA 6000
Located on the lobby level of Pan Pacific Perth, the fabulous buffet restaurant at Montereys Brasserie showcases a splendid range of dishes.
Strong on the seafood; the prawns, oysters, mussels and crabs are so fresh, that they are almost dripping with seawater!
On the meat side of things, their range incorporates a selection of curries, roasts, chicken dishes, noodles and vegetables, as well as other items like pies, soups, salads and rice. While the decadent desserts feature everything from cakes and mousses to tarts and meringues.
Situated within the heart of the Perth CBD, the venue is stylish and relaxed. The staff are very friendly and courteous too, which makes the experience of dining here all the more pleasant.
Miss Maud Hotel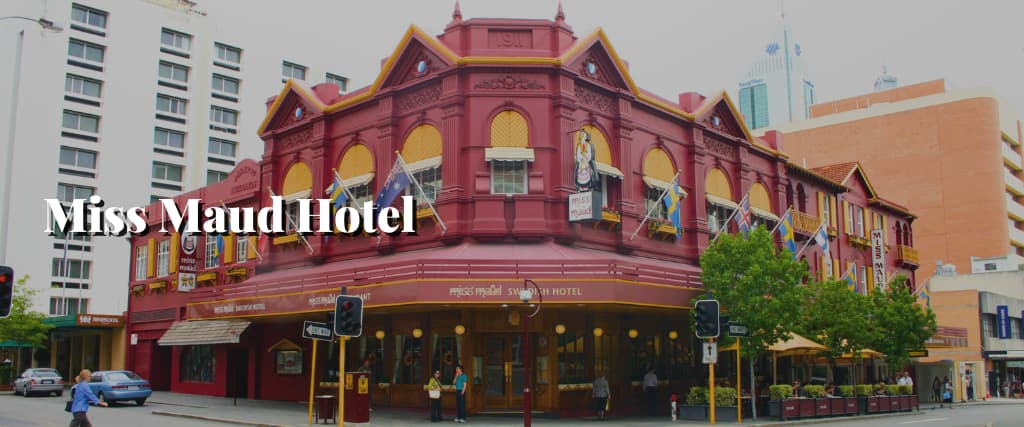 Address: 97 Murray St, Perth WA 6000
Another excellent buffet option in the Perth CBD can be found at Miss Maud Hotel.
Open for breakfast, lunch and dinner, their buffet presents a range of items that change throughout the day.
In the morning they offer all the staples that make up a cooked or continental breakfast. Come midday, their Power Lunch buffet menu offers a gastronomic tour of the world with the likes of Egyptian falafel balls sitting alongside saganaki cheese and other international delights.
At dinner time, the buffet includes a range of sides like pasta, to accompany other hot meat and vegetable dishes.
Regardless of what time you go, the quality and range of food will please even the most discerning of palettes.
Pagoda Resort And Spa
Address: 112 Melville Parade, Como WA 6152
If you love nothing more than a good old breakfast buffet, then head on over to the Pagoda Resort And Spa.
Offered at the weekend, within their Waterwall Restaurant and Bar, the buffet incorporates a fabulous continental and bakery selection, as well as all the usual hot breakfast foods, between 6 am to 10 am.
Overlooking the tropical pool and courtyard area, the dining space offers a lovely setting and really ambience in which to enjoy your meal.
The Atrium Garden Restaurant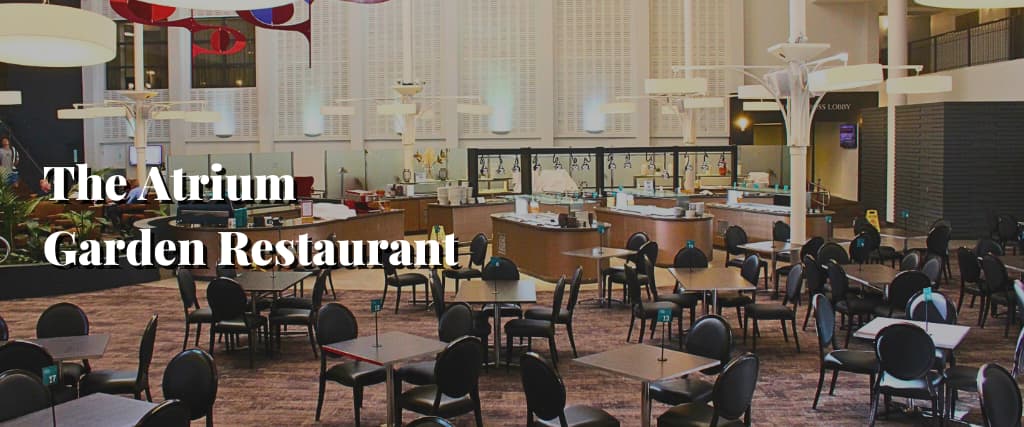 Address: Esplanade Hotel Fremantle by Rydges Marine Terrace & Essex St, Fremantle WA 6160
Say the words 'buffet breakfast' in Fremantle and people will automatically think of The Atrium Garden Restaurant.
Situated in the Esplanade Hotel, their buffet breakfasts have assumed legendary status amongst locals.
Open 7 days a week from 6 am to 10 am, all your favourite breakfast items are available including bacon, sausages, hash browns, grilled tomatoes and mushrooms.
The buffet also features omelette stations, as well as eggs cooked to order. While the barista-made coffee is of the highest order.
Operating within a sleek and airy space, outside of breakfasts this venue also offers fantastic lunch and dinner specials, which include a delicious range of seafood and roasted meats, as well as fresh sandwiches served up fresh every day.
Red Bill Restaurant in the Metro Hotel
Address: Metro Hotel, 61 Canning Hwy, Perth WA 6151
For an uplifting start to your day, head on over to the Red Bill Restaurant for their generous buffet breakfast.
Located on the ground floor of the Metro Hotel Perth, adjacent to the hotel lobby, the restaurant's buffet incorporates both a continental and hot Aussie cooked breakfast style.
They also offer the likes of waffles and pancakes too, which many other buffet providers don't. This goes some way to explaining why this venue is always busy and very popular.
Seoul Buffet
Address: 425 Albany Hwy, Victoria Park WA 6100
Offering both a Korean bbq buffet and a steamboat for just one price, Seoul Buffet is a wonderful place to go if you want to feast on classic Korean dishes.
There are actually three locations you can visit – at either Victoria Park, Northbridge or Subiaco – to get your fix. All of which is pretty busy most of the time.
The food here sizzles and tantalises your senses with its aroma long before you scoop it on your plate. You can also enjoy your meals with a drink from their full-service bar.
If you feel like cooking for yourself, all of the tables also feature a built-in cooking grill and steamboat burner, for you to use.
Muscats Restaurant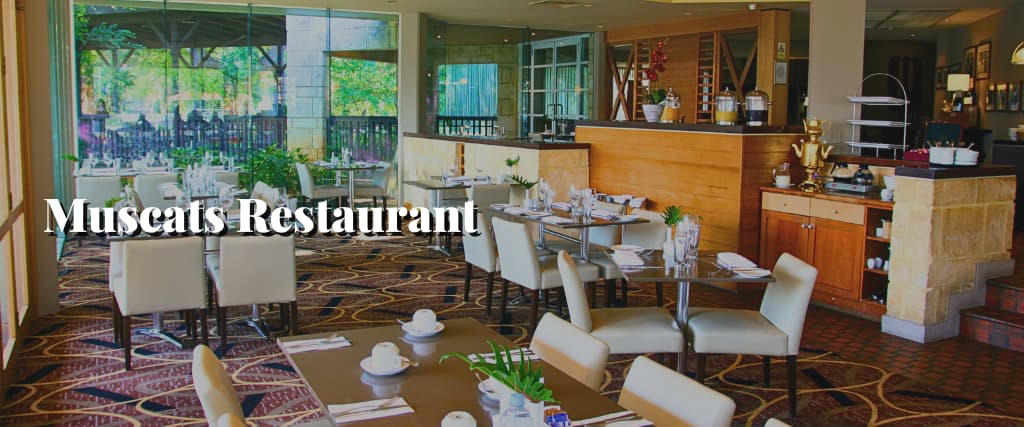 Address: Novotel Swan Valley Vines Resort, Verdelho Dr, The Vines WA 6069
One of the more notable all-you-can-eat breakfast buffet options can be found at the Novotel Swan Valley Vines Resort.
Offered within the Muscats Restaurant, their breakfast buffet covers a host of options for cooked and continental.
They even offer hot, fluffy pancakes, made by in-house chefs, using only natural ingredients like honey.
Set within a relaxed and informal location, this award-winning restaurant also allows children under the age of four to eat for free. So it is a really nice option for young families.
Duxton Hotel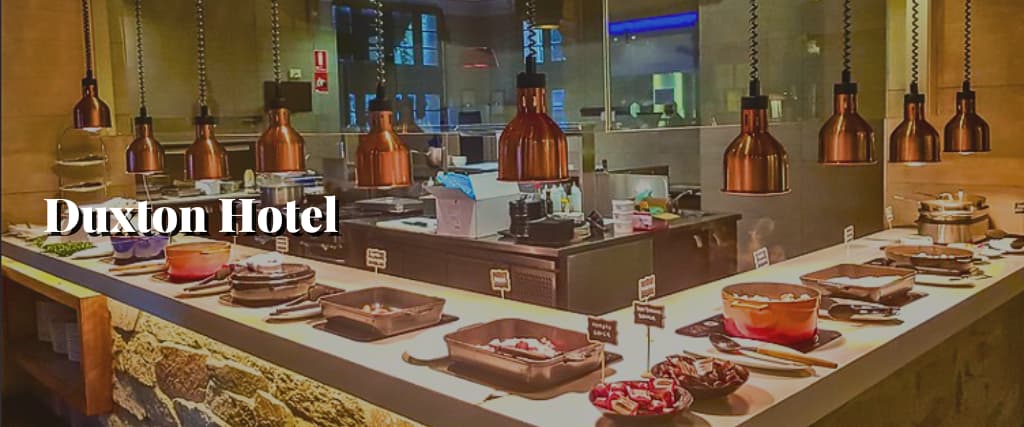 Address: 1 St Georges Terrace, Perth WA 6000
A stalwart on the Perth all-you-can-eat buffet scene, The Duxton Hotel offers fantastic options for breakfast and lunch.
Nestled on St George's Terrace, within the heart of the Perth CBD, the breakfast buffet encompasses a wonderful selection of hot and cold dishes, as well as cereals, seasonal fruit and a variety of bread.
They even offer eggs cooked your way, in addition to a congee station, pancake station and a delectable range of pastries.
For the lunch buffet, the selection includes the freshest seafood, prime cuts of cold meats, mouthwatering salads and other savoury finger bites.
Beautifully presented, and made to an exceptionally high standard, regardless of when you eat at The Duxton, they provide you with one of the best culinary experiences you can have in the city.
Straits Cafe at Rendezvous Hotel
Address: Rendezvous Hotel, 24 Mount St, Perth WA 6000
Boasting sensational views of the Indian Ocean, the Straits Cafe is arguably one of the nicest spots in Perth to eat a buffet breakfast.
The perfect way to kick start your day, their food champions the freshest and finest of West Australian produce.
Located within the Rendezvous Hotel, the restaurant lays out a massive buffet breakfast that incorporates a terrific range of cooked and continental favourites.
Offered 7 days a week, from 6.30 am to 10 am, the breakfast buffet is presented in a refined setting that facilitates a relaxed vibe.