There are few things as synonymous with Christmas as beautiful, twinkling light displays. Who's childhood wasn't filled with memories of trees and houses adorned with strings of bright colour? There are abundant opportunities for you and your family to enjoy some gorgeous arrangements of Christmas lights in Perth, WA. Homeowners, event planners, and even businesses go all out during the holiday season.
Popular Displays
You won't have to look far if you're on the hunt for some excellent light exhibits. Here are some of the best places to see Christmas lights in Perth if you're in the area.
Mandurah Canal Christmas Lights Cruise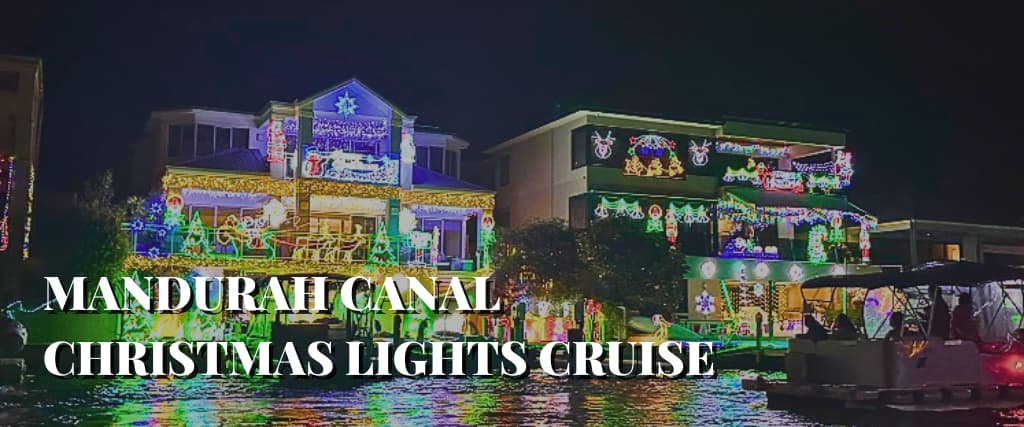 The residents living along the Mandurah Canal put together some incredible displays annually. These homeowners use thousands of lights to give the water a little extra sparkle come Christmas.
You and your family can book a boat tour down the canal and enjoy the breathtaking arrangements. The open water gives you an unimpeded view of each home as you pass by. This canal is just waiting for you and your kiddos to set sail and make memories.
Alinta Energy Christmas Pageant
If you want to indulge your family and a true Christmas spectacle, you'll undoubtedly enjoy the Alinta Energy Christmas Pageant. Plus, Christmas lights are not the only thing you can adore here, but there are certainly plenty to admire.
Since 1972, families of West Australia have been looking forward to this magical event every year. Your kids will love waving to Santa and his crew and become dazzled by his beautiful sleigh. Get ready for some of the best Christmas-themed food, fun, and entertainment.
Christmas Lights Trail
Everyone's favourite Perth Christmas tradition, the Christmas Lights Trail, returns each year to the joy of residents and visitors alike. Travel around Perth to some of the most iconic light displays in the city. Walk the entire trail or pick and choose your favourite collections and devise your own route.
Your children will love admiring the reindeer at the Perth Cultural Centre. Or, stroll hand in hand with that special someone through the constellation tunnel. While you are out and about, stop for some excellent food and drink at one of Perth's finest restaurants and bars. Talk about Christmas shopping in style.
Samson Court, Duncraig
If you're interested in taking your kids to see some favourite local streets, start at Samson Court. This cul-de-sac comes together to create a light display enjoyed by people for miles around.
Many of the residents create interactive displays for your kids to get up close and personal with the Christmas spirit. Plus, they are famously known for syncing their light shows to all of your favourite Christmas tunes. Don't forget to bring some spare change, because residents usually take donations for charitable causes.
Consulate Court, Thornlie
Yet another classic residential Christmas arrangement. Consulate Court has all its residents in on the fun when it comes to displays. Several houses on this street are alight with thousands of lights, projections, inflatables, and other excellent annual decorations.
Park your car nearby and take your family for a walk around the street. This safe and exciting option is great for getting your kids in the spirit. This is another street that collects for charitable organizations, so you can feel good about your decision to celebrate with the homeowners here.
Myamba Court, Carramar
Located in another residential area, the locals put on an incredible display for the public. Bring your kids to see thousands of beautiful lights, laser shows, and their favourite characters.
These homes even provide a place to play in the snow. Your family will have a great time watching Santa through his window, checking his list, and getting ready for Christmas Eve. Of course, the ever-generous residents of Perth are just as open-handed here as anywhere else. Bring a donation and teach your kids about gifts that keep on giving.
8 Pontiac Avenue Cloverdale
Image Source- Instagram
If you're looking for all of the bells and whistles all in one place when it comes to Christmas lights in Perth, look no further than 8 Pontiac Ave. The owners of this home have been creating displays for over 20 years.
It isn't your average Christmas, however. Each year the owners incorporate a fun, modern twist on this holiday. In 2021, they held a "Merry Christmas Down Under," where families could check out some of Australia's most iconic wildlife, like the koala bear and kangaroo. Plus, Santa's Disco, where visitors were able to get funky with the man in red.
Tips for Visiting Light Displays in Perth
Before taking your family out to appreciate the twinkling displays, take a few steps to get the most out of your trip. Here are a few tips for visiting light displays in Perth.
Pack light layers. Unlike our northern hemisphere neighbours, Christmas is a summer celebration in Perth, which means the festivities are usually balmy and warm. It is a good idea, however, to pack a light layer. It can get chilly after the sun goes down.
Be courteous to those around you. Every child deserves a chance to interact with their favourite displays, so don't forget to take turns.
Be respectful of the displays. It's essential to keep in mind that many of the displays are created by the residents. The city features some of its most fabulous creations on suburban streets, which means they are personal items. Try not to touch or change any displays without consent from the owner.
Make a day of your adventure. While it can be a lot of fun to spend an hour or two admiring the incredible displays, sometimes it's best to devote an entire day to the occasion. Shop, eat, and play throughout the entire season in Perth. Your family will thank you.
Make Perth Your Christmas Destination
There are endless things to do and see in the city of Perth. Its strong community atmosphere reflects the joyous holiday season we all wish to experience. By bringing your family the Christmas lights in Perth, you will gain the opportunity to laugh, love, and create memories. Make the most of your season and visit one of these locations.