Whalebone Beach is a gorgeous beach that is tucked away within a remote area of the picturesque Fitzgerald River National Park.
Lying within two rocky headlands, this wonderful stretch of scenic sand is renowned for being an excellent destination for swimming, fishing, hiking, sunbathing and taking in some truly magnificent sunsets.
It also has a very good, secluded campground which is the perfect place to base yourself for a night of rest, relaxation and digital detoxing.
If this sounds like your idea of heaven, keep on reading!
We are going to outline how you can secure a permit for the campground. We will also showcase what there is to do in the area whilst there, and beyond in the wider region after you have left.
Where is Whalebone Beach?
Whalebone Beach lies within the Gascoyne Region of Western Australia, which itself comprises two peninsulas that reside at the westernmost point of Australia.
Situated about 830 km north of Perth, it is an isolated area that sits 410 km to the north of Geraldton and some 680 km south of Exmouth.
The closest town to it is Denham, which is about 26 km to the south of it.
How to get to the Whalebone Bay Campground
The Whalebone Bay Campground is located on Whalebone Road, within the Francois Peron National Park.
To get there from Denham you will need to drive along Shark Bay Road, before taking the turn off to Whalebone Bay. This will lead you on a dirt road that runs for about 2 km until it hits the beach.
The road was a bit corrugated, however, if you drive slowly you should not encounter too many problems, even if you are driving a 2WD Motorhome.
The Whalebone Bay camping area is situated directly on the water's edge, overlooking the bay. So once you get there you can camp anywhere you want within that space.
About Whalebone Bay Campground
The Whalebone Bay Campground is situated within the spectacular Shark Bay Shire, which is an area known for its sensational beaches, gorgeous waters and imposing rugged cliffs.
It is a very rustic camping ground that offers nothing in the way of facilities, which means it has no power, water, toilets, showers or bins. Therefore it is probably only suitable for experienced, self-sufficient campers.
Fires are also prohibited, and mobile phone reception is limited. However, what you will get for staying here is the chance to experience the outstanding natural beauty of the area in virtual solitude.
Only 4 permits are issued for the Whalebone Bay Campground every day, which means it is pretty much always quiet. There is also a good chance you might have the entire place to yourself, especially if you visit outside of the school holidays.
If you need to top up on your supplies the nearby town of Denham has everything you would need including food, petrol, fuel and drinking water, which is priced at $20 for 20 litres.
There is also a dump point near the Information Centre too.
How to book a site at the Whalebone Bay Campground
If you want to stay at the Whalebone Campground you will only be able to do so for 24 hours. In addition, you will need to get a permit as well.
To procure your permit you will need to get in touch with the Shark Bay World Heritage Discovery and Information Centre, which is located in Denham.
You can pop into their office, or call them on 08 9948 1590.
Once you have secured a permit it will entitle you to stay at one of four Shark Bay campgrounds – namely Eagle Bluff, Goulet Bluff, Fowler's Camp and Whalebone Bay.
At the time of writing the cost to camp for the night is $15.
Things to see and do around the campground and beyond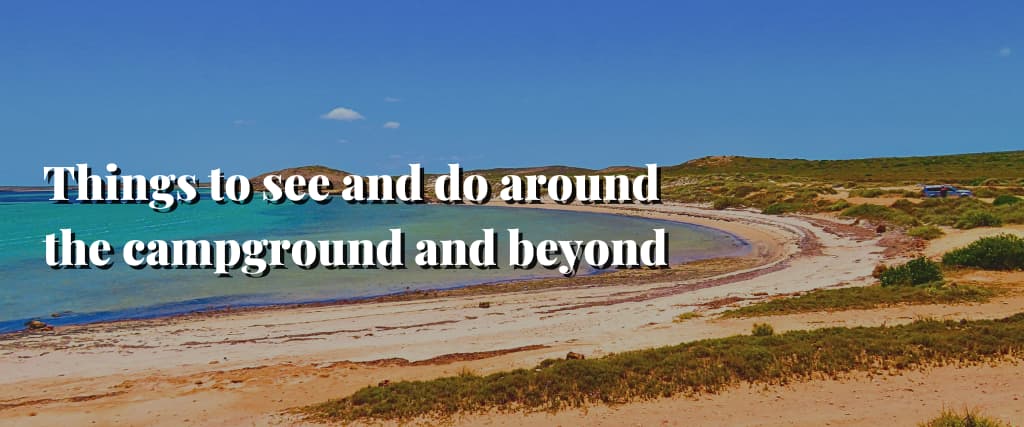 While staying at the Whalebone Campground near Denham, and after you have left, there are plenty of things you can see and do in the area.
Some of the activities we most recommend include the following:
Take in the view from the top of the hill
Whilst at the Whalebone Bay Campground be sure to walk up to the small hill that resides next to the camping area.
Once there you will be able to take in sensational views of the bay and overall coastline.
If you are lucky, you may even see sharks and stingrays from this vantage point, in the stunning turquoise waters below.
Go Fishing!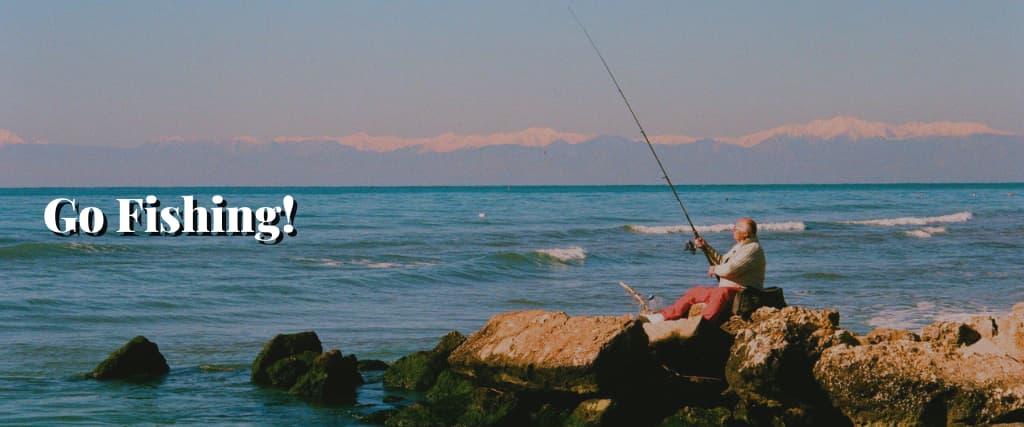 The shallow waters of Whalebone Beach make for excellent fishing, especially at high tide, in the afternoon and after dark.
If you cast a line at these times, you should catch plenty of bream, flathead and whiting.
Check out the cliffs and cave around Whalebone Beach
Whalebone Beach comprises a shallow bay, replete with a shell-sand beach, that is framed by the porous Tamala limestone cliffs.
Created around 125,000 years ago from the shells on the beach, as well as marine skeletons, the cliffs are an arresting sight, which you will definitely want to explore.
If you do you will see a fabulous cave that is well worth checking out too. On a really hot day, the cave provides a welcome shade from the sun.
It also makes a great spot for a picnic if you brought your own supplies along. (Just be sure to take all your rubbish with you afterwards).
Hike the Hakea Trail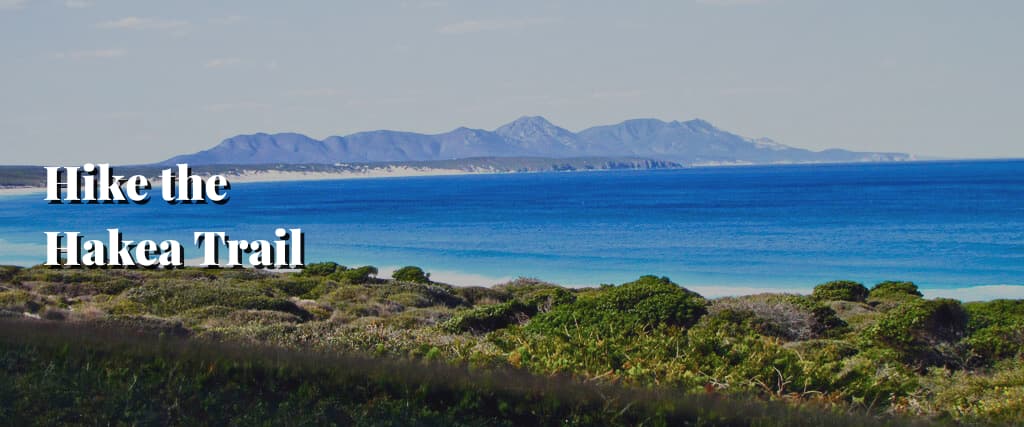 The Hakea Trail is a wonderful coastal path that meanders its way through the vegetated dunes that flank the beach before turning inland at Whalebone Cove.
Showcasing spectacular views of the surrounding wilderness, it's a great spot for spotting humpback whales and the odd green turtle, as well as taking lots of fantastic photos.
Head on over to Monkey Mia
The Monkey Mia Reserve is well known for the dolphins which swim to the shoreline most days to get fed and interact with humans.
However, even if this is not enough of a drawcard for you it is worth coming to the area to relax in stunning coastal nature.
Situated about 70 km northeast of the Whalebone Campground, Monkey Mia boasts an impressive landscape of spectacular ochre sand dunes and gorgeous turquoise waters.
Not only is it a great place to swim, kayak, canoe and fish, but it is also a place where you will find emus splashing about in the shallows, as well as dugongs raising their young in tall swaying seagrass.
The area is also rich in stromatolites, which are amongst the oldest living lifeforms in the world, and something you will definitely want to snap for your Insta.
Visit the Ocean Park Aquarium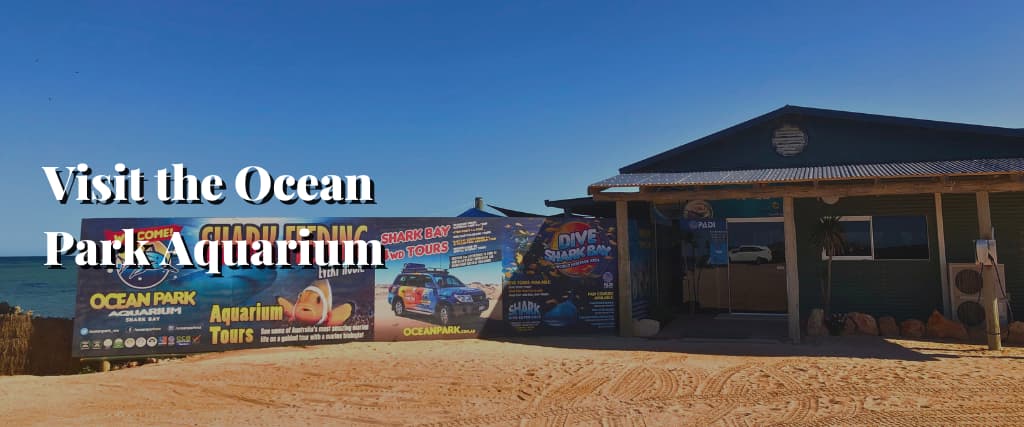 Located over in Shark Bay, about 18 km north of the Whalebone Bay Campground, the Ocean Park Aquarium is a fantastic oceanarium that you simply must visit, especially if you are travelling with kids.
A major tourist attraction in the local area, its flagship exhibit is a 3.5 ML 'Shark Lagoon' which features tiger sharks, sandbar sharks and sicklefin lemon sharks, which are fed publicly six times every day.
The oceanarium also showcases plenty of other marine life including everything from coral fish and stingrays to crustaceans and octopus in their indoor aquarium.
Reasonably priced, the Ocean Park Aquarium costs $27 per adult and $19 per child (at the time of writing). It is a great day out for all the family and also offers a good range of food options too
Check out Shell Beach
Shell Beach is a truly incredible beach which you should really try and visit if you get the chance.
Situated in Shell Bay, which is roughly 20 km southeast of the Whalebone Bay Camping area, this spectacular beach comprises entirely of cockle shells.
Running for around 60 km, with a depth of up to 10 metres, it is one of only two beaches in the world that is made up only of shells.
Created by a unique fusion of climate, geography and marine vegetation, the beach is located on a slim isthmus within Shark Bay.
A stunning beach to photograph, its gorgeous ocean water is known for having a very high salinity content.
So there it is!
Our review of the Whalebone Bay Campground near Denham in Western Australia.
We hope this review has provided you with excellent insight into why the campground is such a great place to visit for 24 hours.
If it has inspired you to make a booking, then rest assured. You will be in for a fabulous stay during your time there!