Mini golf is a sport that everyone loves! The golf balls are colourful, each hole is unique, and the opportunity for a different winner every time!
Whether it is just you and some friends or your kiddos in tow. Mini golfing in Perth will take your latest evening out to the next level with memories you will not make anywhere else!
Here are the best places for mini golf in Perth!
Glowing Rooms in Hamilton Hill 
Glowing Rooms in Hamilton Hill is an experience that will delight you and everyone at your party!
Glowing Rooms combine the family-favourite activity of mini golf with 3D magic. Your typical miniature golf outing takes a twist under the neon lights, providing a glow-in-the-dark atmosphere with 3D goggles that provide tricky and trippy holes!
Glowing Rooms pay tribute to gorgeous Australian landmarks with themed holes and specially drawn artwork. Enjoy the sights in Perth, swim through the ocean, and float through space with the unique and spectacular glowing golf at Hamilton Hill!
The Maze Mini Golf 
The Maze is one of Perth's favourite attractions, especially for little children. And their year-round mini golf is always sure to impress.
Their mini golf course is shorter than others, with nine fun-filled holes to propel you and your family through a breathtaking garden. Take a break from the water parks and lie in the sun to enjoy the shade as you battle for the title of best mini-golfer!
Goanna Golf in Point Walter
Goanna Golf in Point Walter is another wonderful mini-golf attraction for children and adults alike. It is also one of the newest 18-hole mini golf courses in Australia. And will bring something different to the table than courses past.
Goanna Golf features an Australian-themed course with traps and tricks that make the golf course difficult for even the golfing expert! Aim one way and be surprised by what happens with your putt!
Wanneroo Botanical Gardens 
Wanneroo Botanical Gardens and Mini golf are another beloved attraction in Perth! This mini golf course allows you and your guests to keep out of the heat. With 36 holes, this is the largest mini golf park in Australia!
Enjoy the cool shade and the beautiful scenery as you compete for hole after hole. This scenery is unable to be found anywhere else and will make for a memorable golf outing time and time again.
Switch it up by going at night on the weekends. Wanneroo provides you with an LED golf ball, so the fun does not have to stop after the sun goes down.
Oasis Supa Golf and Adventure Putt Miniature Golf 
Enjoy golfing in a beautiful valley; they were not wrong when they named it Oasis!
What is unique about Oasis Supa Golf is it presents a new version of the game that makes it easier and more enjoyable for players of all ages. With large balls and rubber-headed putters, Supa Golf gives a less challenging course so newcomers can get the hang of it without feeling frustrated.
Their adventure putt miniature golf is complete with breathtaking scenery and wildlife. So you will have something to distract you if the game is not going your way.
Wembley Golf Course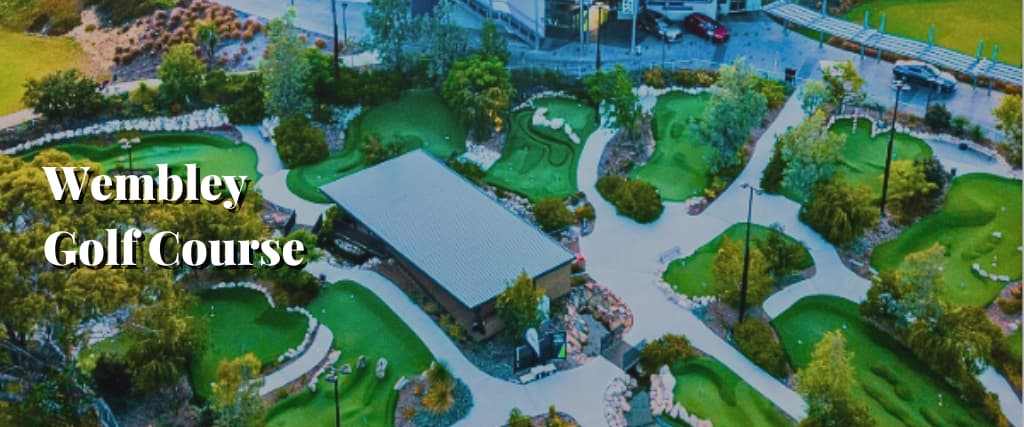 Wembley golf course can fulfil all golfing needs, mini or otherwise! Their facility is built to cater to golfers everywhere. And their mini golf has been rated as one of the best in Australia! A food kiosk provides an extra hospitable atmosphere so you can snack as you wait for the green to clear, or afterwards to celebrate a well-deserved victory!
What is unique about Wembely's mini golf course is it is just that- mini! Inspired by traditional golf courses, the mini golf course is a scaled-down replica of your typical 18-hole golf course. Complete with sand traps, bridges, and more, Wembley offers a fun and challenging outing!
Amaze Miniature Park 
Formally known as Abingdon Miniature Village and Mini Golf, Amaze Miniature park packs plenty of eye-catching attractions and activities in a unique setting. Pay admission to check out the hedge maze and miniature buildings, and receive free entry into their mini golf course!
Golf past mini villages, trains, and more as you compete with a challenging 12-hole miniature golf course. Amaze Miniature park allows you to make an entire day of fun!
Masonmill Gardens Mini Golf 
Masonmill Gardens mini golf introduces mini golf to lush greenery! With a unique path and unique set of holes to compete on you will enjoy the beauty while enjoying a mildly challenging game.
Take your kids along with you! Or enjoy the lush green on your own as you try to stick to par.
Adventure Golf at King Carnival
King Carnival is a beloved amusement park attraction known for its many rides, games, and awesome prizes. However, their mini adventure golf deserves its accolades.
The Adventure golf at King Carnival is one of the top 5 courses in Australia and features a challenging course that even the most seasoned players might struggle in. Found right on the water's edge, players can enjoy the breeze as they putt their way up to the top!
Holey Moley
Holey Moley will have you saying just that! This course is unique and boasts of pop culture references you'll love to discover every time you putt a ball. Pretend you're a movie star as you strut down to your next hole, ready to get a hole-in-one!
Pose and take pictures with the one-of-a-kind props that will have you feeling like you're in your favourite show.
Conclusion
Mini golf is an activity beloved by both parents and children alike! Whether you consider yourself an expert, brand new, or an occasional golfer, mini golf is an activity that shakes things up from a typical movie or a boring night out to a restaurant. You'll be amazed by all the fun you can have putting away!
The challenges and unique entertainment at each course will change how you think about mini golf. Never play at another boring course again by visiting one of Perth's top-rated courses!