Nestled within the craggy ranges of Queensland's central highlands region, the Carnarvon Gorge National Park exhibits some of Mother Nature's finest work.
Boasting soaring sandstone cliffs, prehistoric cycads, brilliantly coloured side gorges and over 2,000 examples of Aboriginal rock art, this stunning nature escape provides a fascinating insight into a landscape that is over 200 million years old.
Located about 720 km northwest of Brisbane, and some 268 km north of Roma, a trip to Carnarvon Gorge National Park is a 'must do'.
For most people who do come here, the visit will involve an overnight stay at a nearby campground. Whilst there might not be too many options around, the good news is that whatever your preferred camping style you should be able to find somewhere suitable for you.
Whether you are after a cheap and rustic campsite, something a bit more akin to glamping, somewhere to take your dog, or simply a place that offers incredible views, in this guide, we will highlight all of the choices available to you.
So let's get into it.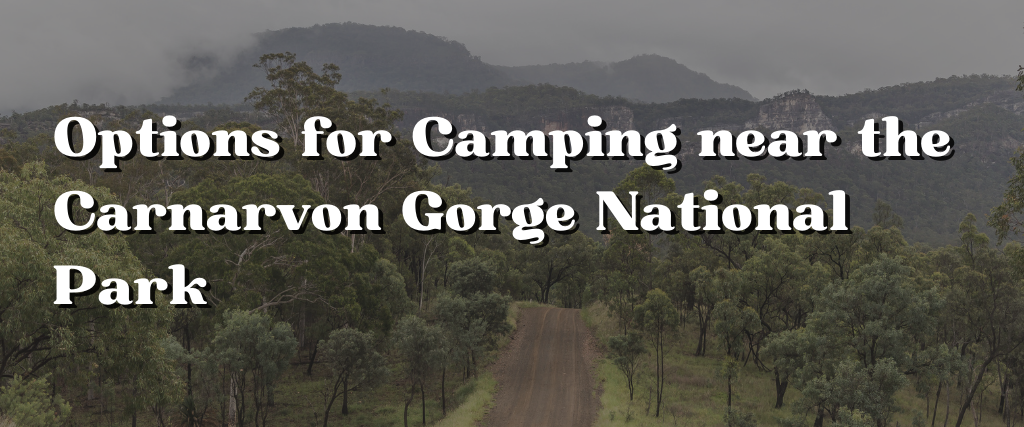 Options for Camping near the Carnarvon Gorge National Park
Outlined below, in no particular order, is an overview of the 4 best options for camping near the Carnarvon Gorge National Park.
Carnarvon National Park Camping
For those who want no-frills, the best option for camping near the Carnarvon National Park is the actual Carnarvon National Park camping area.
Providing the cheapest option available, campsites here are just $6.75 a night per person, while the cost for a family of two adults and up to six children is only $27.
This campground enjoys a beautiful setting amongst lots of greenery. It offers plenty of grassy and shady campsites that are suitable for tents, camper trailers and off-road campervans. However, it does not accommodate large motorhomes or caravans.
It is important to note that this particular campground is only open at certain times of the year. Namely during the school holidays at Easter, and between the months of June and July, and September and October. So if you plan to visit the Carnarvon National Park outside of these times you will need to find alternative accommodation.
If you are able to secure a booking here, you will be able to take advantage of the free electric BBQs,non-flushing toilets and picnic tables that are available. Though be aware, that there are no showers for you to use.
Big4 Breeze Holiday Parks
Previously known as the Takarakka Bush Resort and Caravan Park, you will find the Big4 Carnarvon Gorge just 4 km from the national park's visitor centre, close to where the walking track is located.
Covering more than 100 acres of verdant bushland, and flanked by the stunning Carnarvon Creek, the rebranded Big4 site provides visitors with a range of camping and other accommodation options that are very reasonably priced.
Offering a range of unpowered and powered sites that start from just $35 and $45 respectively for two adults, the campsites are organised into small pockets at various locations throughout the property. This ensures you get a bit more privacy to enjoy your surroundings.
Most of these pockets have their own fire pit, large camp kitchen and amenities block, which is handy because irrespective of where you are, you won't have far to walk to use the toilet.
If you would prefer an accommodation option that is a bit more upscale, the Big4 also provides a number of glamping tents, some of which come with a private bathroom. In addition, they also offer several cabins and a self-contained cottage that can sleep three people.
In terms of amenities, the Big4 features a laundry, general store and dump point, They even regularly lay on a roast dinner at least two or three times a week, and operate a bush bar that runs from 4 to 5 pm every day.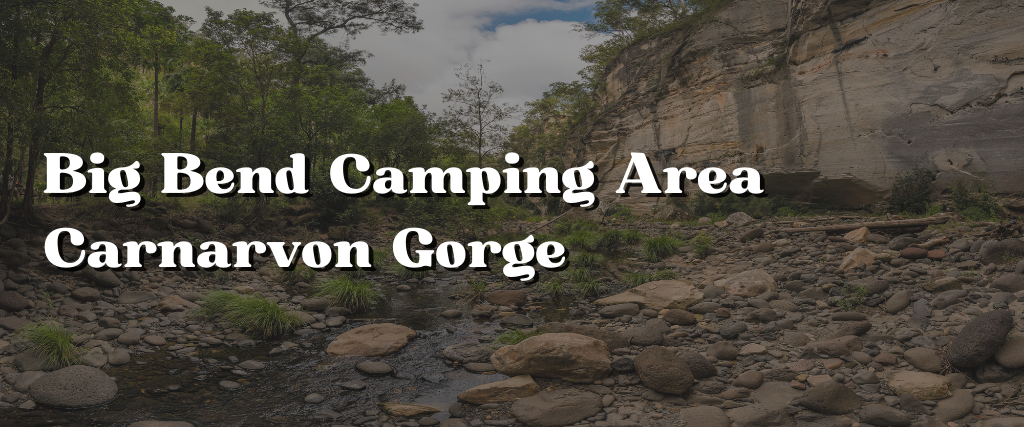 Big Bend Camping Area Carnarvon Gorge
If you are an experienced camper and hiker, the Big Bend Camping Area Carnarvon Gorge may be an interesting option for you.
Located at the end of the main gorge walking track, which is almost 10 km from the car park, you will need to hike with all of your gear if you want to go there. However, if you do this it is a wonderful way to explore the sheer majesty of the gorge.
The price of $6.75 per person per night reflects the rustic nature of the site, which features non-flushing toilets and picnic tables.
You won't be able to shower or use public BBQs here, as these facilities are not available. But you will be able to see some incredible views of the stars at night.
If you do decide to visit here, essential stuff to bring with you includes drinking water, a gas stove, insect repellent and animal-proof sealable rubbish containers.
Whilst here, be sure to treat any water you collect from creeks before drinking it.
Sandstone Park Carnarvon Gorge
Situated just 5 km from the Carnarvon Gorge visitor centre, where the main walking track resides lies the Sandstone Park campground.
A picturesque facility, where every site showcases spectacular 360-degree views of the surrounding ranges, this is the only pet-friendly campground in Carnarvon.
Offering limited facilities, all campsites are unpowered, drive through flat sites – although they are quite spacious.
For self-sufficient campers, it is a decent option as there is drinking water, toilets and a dump point on-site, and you are welcome to have fire pits at your campsite.
As Carnarvon Gorge is a National Park, you are not able to take your dogs on hikes with you. But thankfully Sandstone Park has kennels for hire, starting from only $10 for half a day.
The campsites here will set you back $30 per night for two people. Each extra adult will cost you $12 per night and while the price for children is $7 per night. Children under the age of 5 can stay for free.