Trampoline centres are the perfect activity whether you're flying solo or looking for family fun.
In addition, jumping on a trampoline is good exercise. Trampoline jumping has few risks associated with it and provides healthy cardiovascular activity. It's so beneficial that it burns as many calories as running.
If you're in Perth and looking for a good jumping time, look no further because we've got you covered.
Trampoline Centres in Perth
If you're looking for trampoline centres in Perth, you're in luck because there are several to choose from.
1. Bounce Inc Cannington
Bounce Inc Cannington is an indoor trampoline park that is great for families with kids of all ages. (As long as your children can jump independently, they are good to go.)
Activities you can look forward to at Bounce Inc Cannington include:
Free-Jump Arena
Dodgeball
Slam Dunk
High Performance
The Wall
Big Bag
Cliff Jump
X-Park
Soft Play Area
Super Tramp
Free-jumping is always a good time. With a giant network of 50 interconnected trampoline flooring for you to run, jump, and do parkour on, it's the perfect setting for working out and jumping for fun.
If you have young children in your group, they're guaranteed to love the Junior Jumper area. Ideal for toddlers and preschoolers, this multi-sensory environment is safe and helps children work on their balance and coordination.
The adventurous at heart will enjoy the X-Park, which has a ninja parkour course that will put all your skills to the test.
All the activities at Bounce Inc Cannington are fun, and they're open relatively late from Monday through Saturday.
Hours of Operation: Monday – Saturday, 9:00 am to 9:00 pm; Sunday, 9:00 am to 7:00 pm
Closed: Christmas Day and New Year's Day
Address: 13711 Albany Highway, Cannington, WA 6107
Phone: 08 6183 6945
2. Rebound Arena Port Kennedy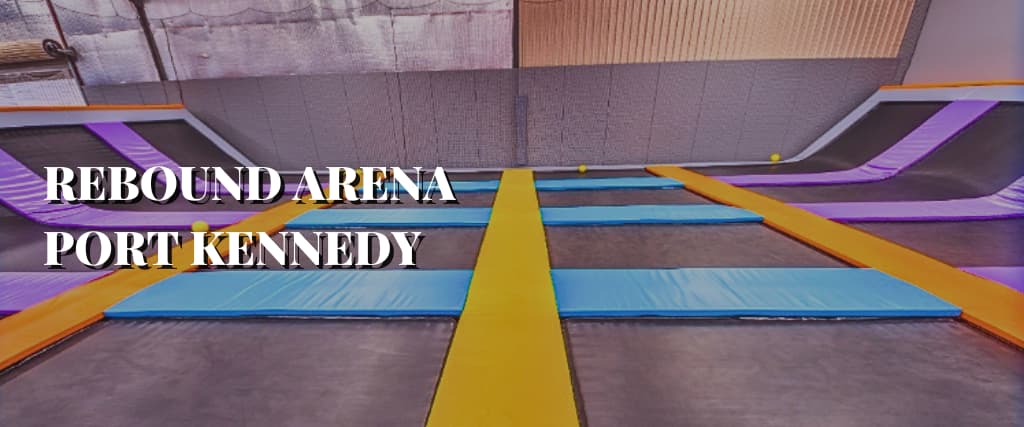 Rebound Arena Port Kennedy is home to a world of fun. Whether you're a kid or a kid at heart, you'll find something to keep you entertained.
There's more than jumping available at this trampoline centre. You'll find everything from free bouncing to bouldering.
Other activities you'll find at Rebound Port Kennedy are:
Airbag Jump
Dodgeball
Performance Trampolines
Tumble Runs
Performance Wall
Slam Dunk
Kids will enjoy the Free Bounce Main Court that allows them to defy gravity with over thirty connected trampolines. They can jump as much as you want and practice their fancy tricks to level up their skill level.
You'll appreciate their Performance Wall if you're a more experienced jumper. The wall changes how high you can get using their Olympic elite trampolines to tackle different milestones. If you're unsure where to begin, a staff member will happily demonstrate for you.
Hours of Operation: Subject to season
Closed: Subject to season
Address: United 6/2 Blackburn Drive, Port Kennedy, WA 6172
Phone: 08 9524 5440
3. Bounce Inc Joondalup
Bounce Inc Joondalup is another excellent choice for a trampoline centre in Perth. Just like their Cannington location, there are many activities you can look forward to, with a few differences.
Bounce Joondalup features the following activities:
Free-Jump Arena
Dodgeball
Wall Climb
Slam Dunk
High Performance
The Wall
Big Bag
Cliff Jump
X-Park
High Ropes Course
Minibounce Zone
Bungee Tower
Compared to their Cannington location, Bounce Joondalup also offers a Wall Climb, High Ropes Course, Minibounce Zone, and Bungee Tower.
The Wall Climb is suitable for any age and skill level, whether you're a beginner or a seasoned pro. They also offer an auto belay system, which means you don't need to worry about having a partner watch you from the bottom.
After bouncing along with your family, their on-site cafe will quench your thirst if you're feeling peckish. As a bonus, you can enjoy air conditioning in the dining area.
Hours of Operation: Monday – Thursday, 9:00 am to 6:00 pm; Friday, 9:00 am to 9:00 pm; Saturday – Sunday, 9:00 am to 6:00 pm
Closed: Christmas Day and New Year's Day
Address: 35/37 Joondalup Drive, Edgewater, WA 6027
Phone: 08 6183 7645
4. Flip Out Mandurah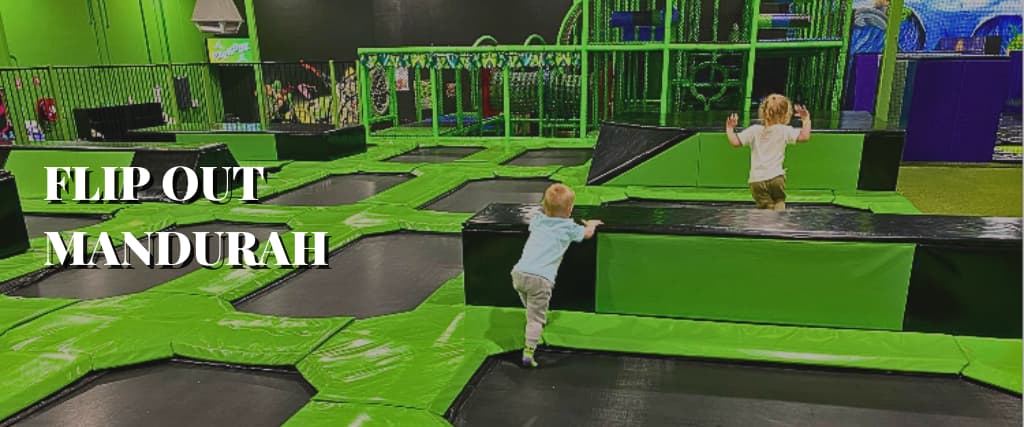 Flip Out Mandurah is proud to be more than just a trampoline park. They offer a safe, supportive environment for people of all ages to have fun. Their arena is custom-designed and ideal for hours of fun.
This community hub offers general admission, which you can book online. They also offer classes, including Ninjas Classes and Mini Ninjas Classes for children between 2 and 5 years old.
If you're looking to take your toddler to play dates, they happily host weekday Toddler Time sessions. They also do birthday parties and do all the planning, so you don't have to.
Educators looking for fun activities for students, or parents who are homeschooling and looking for a way to spice up P.E. class will be glad to know that Flip Out also has trainers specializing in school group activities.
Hours of Operation: Monday – Saturday, 9:00 am to 6:00 pm; Sunday, 10:00 am to 5:00 pm
Closed: Subject to season
Address: 3/65 Reserve Drive, Mandurah, WA 6210
Phone: 08 9584 4980
5. Gravity Etc Bunbury
Gravity Etc Bunbury is located in the Dalyellup Shopping Centre. Their goal is to help provide a place for fun, good health, and mindfulness for the local youth and community.
Concerned about drug addiction, teen suicide, and youth isolation, among many other current issues, Gravity Etc is a place that is safe for teens to get out and enjoy life while developing social skills. Playing around at a trampoline centre is so much fun that people don't often realize they're socializing while getting exercise.
In addition to jumping, Gravity Etc has the following activities on offer:
Skillz Academy
Gravity Fitz Fitness Classes
Little Gravity Fitness Classes
Dodgeball League
Gravity Rock
In addition, they also host parties, groups, and events. Whether you're looking to book something for a school group or a corporate event, they've got you covered.
Hours of Operation: Friday, 12:00 pm to 5:00 pm; Saturday, 10:00 am to 9:30 pm; Sunday, 10:00 am to 4:00 pm
Closed: Monday – Thursday
Address: 43 Norton Promenade, Dalyellup, WA 6230
Phone: 08 9707 3813
Summary
There are several excellent trampoline centres in Perth to choose from, whether you're looking to do a ninja course or throw a party.
Regardless of which you choose to go to, you're sure to have a bouncing good time – and don't forget to bring your bouncy grip socks with you!