Todo Santos is a small laidback town located one and a half hours from Mexico's popular town, Los Cabos. Enjoy amazing cuisine, breathtaking beaches, boutiques, and restaurants in this small, picturesque town in Mexico.
Finding an old beachside town with almost perfect weather, excellent delicacies, friendly locals, and white sandy beaches is rare. Not even the popular tourist destinations Tulum or San Lucas can boast of all Todos Santos has to offer.
While Tulum and Cabo San Lucas are beautiful, they are big and attract large tourist numbers. Consequently, these two areas tend to have more visitors than locals, which sucks out the magic they have to offer.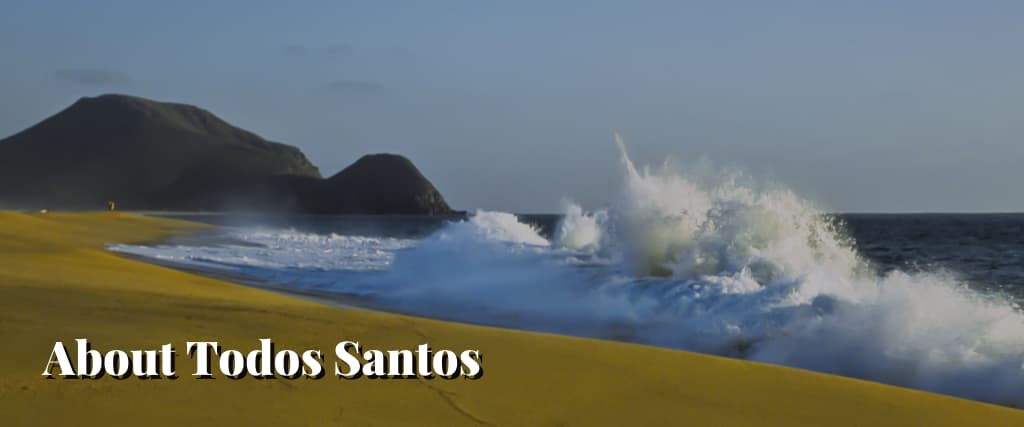 About Todos Santos
The town was founded in 1723 after Jesuits built a regional mission center. The missionaries were trying to spread Christianity in the area to convert natives residing in the neighboring mountains.
Eventually, the Jesuits made the most out of the region's arable land and planted crops. With time, the region became a leading sugarcane producer. There's some evidence of "Molinos" (sugar processing factories) operating in the area for more than 100 years.
During the 1950s, the area was ravaged by drought, which reduced the groundwater level, and the sugar processing plants were closed down. The town essentially went underground till 1984 when the government paved the road connectingTodos Santos and San Lucas. The town became popular among artists and other creatives who were attracted to the town's quiet life of a typical Mexican village.
The town has kept rising in popularity; however, it's yet to hit a significant boom. In 2016, the Mexican government designated it as a town owing to its natural beauty, rich culture, and historical relevance.
Even though the town is only one and a half hours from Cabos, when you're in Todos Santos, it feels like you've been transported to a simpler, slower time. As residents and tourists continue to enjoy Todos Santos's under-the-radar vibe, it's edging towards the limelight.
It won't be long before this hidden gem in Mexico becomes public knowledge. Although the locals don't want the town to become the next Tulum or Cabo, the ongoing wrangles with developers might soon lead to a different landscape.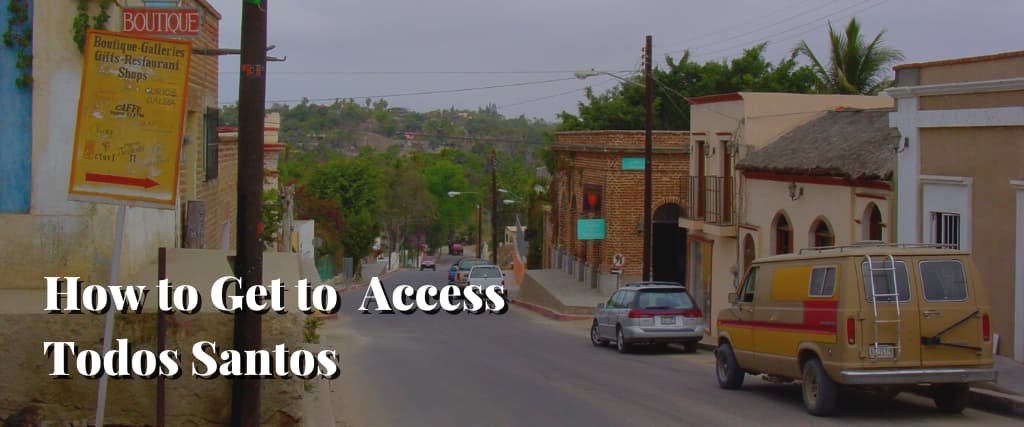 How to Get to Access Todos Santos
The town is situated in Mexico's Southern region of Baja Peninsula near the Pacific on the heights of the Sierra Mountains.
Many people prefer to fly into SJD (Los Cabos Airstrip), which is approximately one and a half hours or 110 km away. There's another airport slightly closer to the town, La Paz; however, SJD has the best offers.
You can sign up for a bonus credit card program before traveling to get a companion pass. Nevertheless, companies don't always have this program throughout the year.
Once you get to the airstrip, there are a few ways you can reach Todos Santos. The best way to get there would be to rent a car as there are limited taxis in the town. Additionally, with a car rental, you can take several trips during the day and explore the area.
There are various sites like Rentalcars.com where you can contrast the cost of the leading car hire services globally, including Budget, Avis, and Hertz.
If you prefer to explore another option, Eco Baja Tours offers transportation services several times during the day on the town center and SJD airport routes. The cost is roughly $17 and takes slightly more than one and a half hours.
Accommodation
The town has small hotels that are full of character. Here's a list of luxurious and cost-effective options:
Hotel San Cristobal
San Cristobal is a seahorse resort near Punta Lobos. San Cristobal has put the town on the map since it was listed in popular travel destination magazines.
Liz Lambert, a bunkhouse hotelier, designed this boutique resort, and it has cactus-lined pathways, colorful robes, and swirling pastel tiles.
This is an adult-only hotel (12 years and above) and rooms start at $350. Visitors can stop for brunch at Benno (San Cristobal's restaurant) if they choose not to sleep in this hotel.
Todos Santos Hotel
This inn is located in an estate established by a sugar tycoon in the 19th century. As you walk through the hotel, you'll be taken back to Todos Santos's sugarcane farming boom.
The baron's wealth can be seen in the tall wooden ceilings and fading frescoes. The hotel is situated in the town center, and the rate of each room starts at $200 per night.
Hotelito
This hotel values privacy and peace. It has bright colors that pay tribute to local architectural designs. Hotelito's owner carefully selected the decor and furniture for every room. The hotel rates start at $150, and you must book the hotel for at least two nights.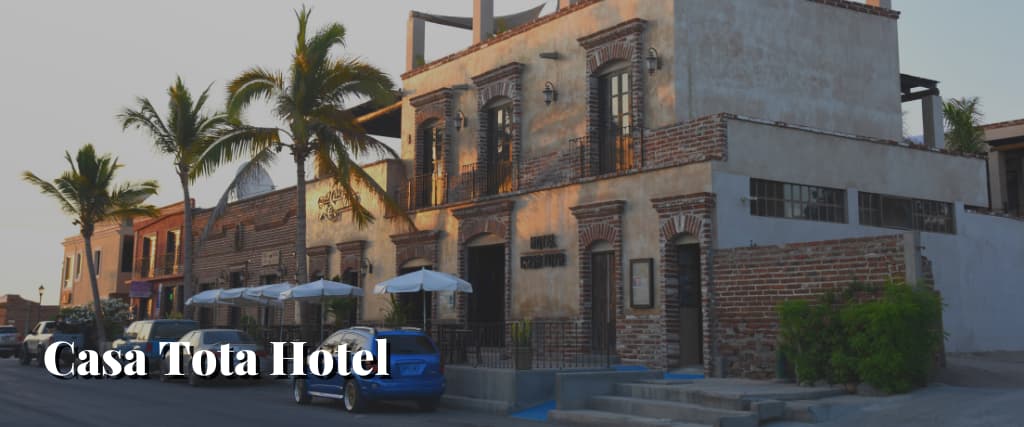 Casa Tota Hotel
This is located near the town's center and has a modern and minimalistic aesthetic. Casa Tota features a roof garden and rooms surrounding a patio with a swimming pool. Rooms go for $130 per night.
Villa Bugambilias
Villa Bugambilias is situated near the town's center and has a pool, free parking, and clean, simple rooms at an affordable rate. Double rooms go for $75 every night. Villa Bugambilias also has bigger rooms with a living room and a kitchen.
Airbnbs
If you wish to stay in the area for long, you should consider renting an Airbnb with additional amenities and space. Some condos come with a sea view and a swimming pool. Use the Airbnb app to find accommodation that best suits your needs.
Restaurants
Copa Cocina
Situated behind the Todos Santos Hotel, this restaurant offers mouth-watering fish tacos accompanied by mango salsa.
Hierbabuena
This is the most popular restaurant in Todos Santos. It is located on a dusty road a short distance away from town. Hierbabuena is a fresco restaurant surrounded by a kitchen garden.
Its menu is quite pricey, and its vegetables and herbs are fresh from its garden. The seats are lined with Mexican covers to keep customers warm when it's cold.
Santa Fe Café
Although Italian cuisine may be the last thing to cross your mind when you're in Mexico, this is one of Todo Santos's oldest restaurants and the best establishments in the entire Baja region. The chef serves large servings of handmade pizza, lobster ravioli, fish, and pasta.
Fun Activities for Tourists Visiting Todos Santos Town
1. Explore Nearby Areas
Taking a single-day trip is worthwhile if you've chosen to stay in this small town to steer clear of Cabo San Lucas's crazy scene. You can travel by boat to El Raco or sail across neighboring areas. Here are some of the nearby places you can visit:
Isla Espiritu Santo: Often referred to as the gem of the Cortez Sea, this tiny rocky island has more than a dozen sandy beaches with crystal-clear turquoise water. Many boats ride out to Isla at Playa Pichilingue, approximately one and a half hours from the town.
Balandra Beach: This is easily the best beach in the country, and it has crystal-clear blue waters and dunes set to a background of prickly Cardon cactus and red-hued valleys. These features make Balandra seem like a distant, isolated beach while it's just a 30-minute drive from Lapaz.
2. Surf in Playa San Pedrito or Playa Los Cerritos
San Pedrito and Los Cerritos offer the most incredible surfing experience in Todos Santos. Located nearby, Playa Pedrito is a blend of rocky patches, sandy beaches, and places where you can camp.
Playa Cerritos is approximately 20 minutes from the town and has a soft beach break. You can hire a wetsuit and surfboard from various vendors on the beach.
3. Swim at the San Cristobal Pool
Even if you check in to San Cristobal, lounging by the swimming pool or having lunch at Benno's restaurant are more ways to have fun. You can take a walk at the hotel after lunch; however, dining at the restaurant doesn't give you pool access.
You must book and buy a pass for $75 in advance to access the swimming pool. The hotel is situated in Punta Lobos and offers ocean views.
4. Visit Hotel California
Hotel California is a must-go destination for anyone visiting Todos Santos. Even though the renowned musician Don Henley passed on, it's believed he got the inspiration to write the hit song Hotel California while visiting the area.
You can have lunch at its La Coronela restaurant or stroll through the pathways up to the rooftop to view the entire town.
5. Take a Walk and Explore the Town's Local Architectural Designs
Most of the town's cobblestone and downtown streets were constructed in the 19th century during the sugar cane farming era. Although the insides were redesigned, the vibrant colonial exteriors remain unscathed. Tourists can also visit the Mission of Our Lady Del Pilar chapel, constructed in the 1700s.
6. Visit A Local Tourist Shop
This small town has several tourist shops with brightly colored ornaments and tchotchkes. Nevertheless, several shops have unique, top-quality items.
Nomad Chic: This is a women's clothing store with unique jewelry, dresses, swimsuits, caftans, and hats.
Etnica: This shop is full of alluring locally-designed men's and women's clothing and leather products such as boots and purses.
La Katrina: This surf shop offers beach equipment such as surfboards which you can rent or purchase.
Del Opalo Jewelry Shop: This shop has a range of handcrafted jewelry made using unique gems.
7. Release Hatchlings (Sea Turtles) into the Ocean
Releasing hatchlings into the ocean helps them safely get to the water for their initial swimming experience. The beaches located in the town are breeding grounds for three different sea turtle species: Blacks, Leatherbacks, and Ridleys.
Hatching typically occurs in the evening from December to February and occasionally in March and April. The turtle releases are usually run by Las Playitas, a charitable organization that works to save sea turtles. They are open to all, and there are no entry charges.
8. Enjoy an Ice Cream or Paleta
A paleta is ice cream from Mexico; there are several heladerias and paleterias in Todos Santos. Therefore, you can buy ice cream while strolling the streets. The best heladerias and paleterias include:
La Paloma Paleteria y Heladeria: This ice cream palour makes in-house paleterias and ice cream. There are more than 30 flavors you can choose from, including a few unique ones like rose petals, avocado, bacon, and corn. They are also available if you prefer to stick to the traditional flavors.
Nevería Rocco: Offers many ice cream flavors, the best-being paletas immersed in nuts and chocolates.
Baja Tasty: It is situated opposite Hotel California. Baja Tasty offers coffee, frappes, and shakes.
9. Sign Up for Yoga Classes
Yoga classes are rising in popularity in this small town — you can pop in for a yoga training session which usually takes place in Cuatro Vientos.
10. See Whales Migrating During the Winter Season
The town is an excellent place to view migrating gray and humpback whales in the winter. The ideal time to watch gray whale migration is from January to March. Every year, gray whales come from Alaska to the tranquil lagoons and sheltered bays in the peninsula.
Humpbacks can be seen in Todos Santos between October and January, then in April.
11. Take a Hike to the Top of the Punta Lobos Hill
Punta Lobos is an area where resident fishermen set sail their panga boats; therefore, the beach's edge can have a strong fishy smell.
The Punta Lobos Hill is located at the edge, and its trail isn't marked and can be difficult to spot initially. However, when you start climbing the rocks, you'll encounter a narrow track that leads to the top of the hill.
While trekking, you'll come across a small segment before the track begins around the hill's rear end. The track is narrow, and you'll practically be on the cliff's edge; thus, it's advisable not to take children on the hike.
You'll scramble a little before getting to the top; however, the views are worth the effort. There are many spider webs with massive spiders; keep an eye out for them.