Heading to the outback in Queensland? Then be sure to pencil in a visit to Charleville!
Set approximately 750 km west of Brisbane, this charming outback locality is the largest town in the Murweh Shire.
Although it has a remote location, there are plenty of attractions here to pique the interest of the visitor.
In this guide, we will outline some of the most notable of them with our review of the 15 best things to see and do in Charleville.
So let's get into it!
Best Things to do in Charleville
Here, in no particular order, are some of the best things to see and do in Charleville.
Charleville Bilby Experience
One of Charleville's most popular attractions is the Bilby Experience.
Situated on King Street, this animal protection organisation is committed to protecting and saving the species.
On a visit here you will get to discover more about the methods that are being employed to preserve these animals, and of course, you will get to have lots of personal interaction with these very cute bilbies as well.
It's a fun, family-friendly experience that children will love, and as it is a non-profit sanctuary, all the money they make is put straight into the coffers to save these gorgeous animals.
Go for a walk
If you love nature then you will love walking around Charleville!
There are a handful of very good walking trails around the town and wider area including the Outback Native Timber Walk, the Charleville Heritage Trail Walk and the Warrego River Walk.
All of these walks provide you with fabulous ways to enjoy the region's outstanding natural beauty, as well as familiarise yourself with your surroundings.
You'll see plenty of flora and fauna along the way, including a diverse range of birdlife, and you will also walk through a lush terrain that varies from woodland to river.
Be sure to have your camera, or iPhone at the ready as you will want to snap loads of photos whilst you walk.
Put a wager on at the Yabby Races
If you are in Charleville between the months of April and September you simply have to check out the Yabby Races!
Practically a religion for locals, these races are hosted every Wednesday and are a fun way to meet locals and have a rip-roaring good time.
Attendees get the chance to purchase their own yabbies, place bets on their participant and watch the race unfold.
Although the races can take a bit of time to complete they are always good fun to watch and people get really into them.
All of the proceeds for this fabulous event go towards fundraising for the Royal Flying Doctors Service.
The Royal Flying Doctor Service Visitor Centre
On the subject of The Flying Doctors, this legendary institution has played a major role in the history and development of the Outback over the years.
Still active today, you can find out more about their history and service at The Royal Flying Doctor Service Visitor Centre.
Located at the Charleville Airport, the visitor's centre highlights the incredible lives, experiences and stories of the doctors who have worked for the service.
You will get to see an introductory film that explains the vital medical work the service provides, as well as exhibits of current and old-school medical equipment that has been used.
While the centre is free to visit, you are encouraged to make a small donation to the cause.
Embark on a Secret WW2 tour
If you are a history buff then you should jump at the chance to embark on the Secret WW2 tour the town has to offer.
It is a little-known fact outside of the area that in 1942, Charleville airport officially became part of the USA (it is not now) when the USAAF handed engaged it as a top-secret military site during World War II. During that time some 3,500 U.S. servicemen and women were deployed to the area.
In the subsequent years, several sites have been discovered, with guided tours now being offered at
the base for many of them.
Bookings are essential and to procure yours you will have to contact the Charleville Cosmos Centre.
Check out the Charleville Cosmos Centre
Talking of the Charleville Cosmos Centre, it offers a fantastic insight into all things space.
Housing a number of fabulous exhibits, that includes space junk that landed in Charleville after falling from the skies, the centre also features a fantastic Astro Dome.
Offering two incredible viewing experiences – 'Beyond the Sun' and 'Birth of Planet Earth', it provides a fascinating insight into life beyond our solar system and how planet earth came to be.
During their visit here, families can embark on self-guided tours of the facilities, where they will discover how astronauts live whilst in space, as well as even look directly at the sun with specially made eclipse glasses.
Situated at 1 Milky Way, arguably the best thing about the Charleville Cosmos Centre is that entry to it is absolutely free!
See Charleville from the sky!
One of the best ways to see Charleville, and the outback in general, is from the sky and that is exactly what Southwest Air Services gives you the opportunity to do.
Offering 20-minute tours that fly over this stunning, yet arid area, you will get to experience the Outback's natural wonders from a sensational birds-eye-view perspective.
Several tours run throughout the day, but for an extra special experience try and book one that coincides with the sunset.
Check out the Charleville Weather Station
If you have more than a passing interest in meteorology a trip to the Charleville Weather Station is something you are sure to enjoy.
Based near the Charleville Airport, this interesting attraction offers visitors a fun-filled insight into how the weather station works.
Educational guided tours are given of the facilities by one of the meteorologists who work there. Although if you would prefer you can choose to take in the automated balloon release process in your own time.
Tour bookings are highly recommended and can be made directly with the Charleville Weather Station.
Watch Hobby Horse Racing
If you love racing, then head on over to the Bailey Bar Caravan Park on a Wednesday night for a Caravan BBQ Dinner and Hobby Horse Racing.
Starting at 6 pm, not only is the feed one of the best you will get in the whole of Charleville, but the entertainment is also fabulous too.
After dinner, when the races begin, guests are encouraged to place bets. Should they win, they will be able to pocket a quarter of the prize pool if their chosen steed comes out on top overall.
The remaining funds in the pool go toward the Rural Fire Service, to keep that fantastic service operational.
Check out the Angellala Bridge Explosion Site
You may remember that back in September 2014, a truck was involved in a single-vehicle incident some 30 km from Charleville. Onboard, it was carrying over 50 tonnes of ammonium nitrate, which subsequently exploded, causing an explosion that measured 2.1 on the Richter scale.
Creating the equivalent in power of between 10–15 tonnes of TNT, the force was so powerful that many residents in Charleville actually believed an earthquake was happening. Unbelievably no one died in the blast.
The biggest non-military inflicted explosion in the history of Queensland, a memorial has now been placed on the site to mark the event.
Today the site stands adjacent to a newly rebuilt road and is well worth checking out, Around the area, several interesting informational billboards highlight what happened that day.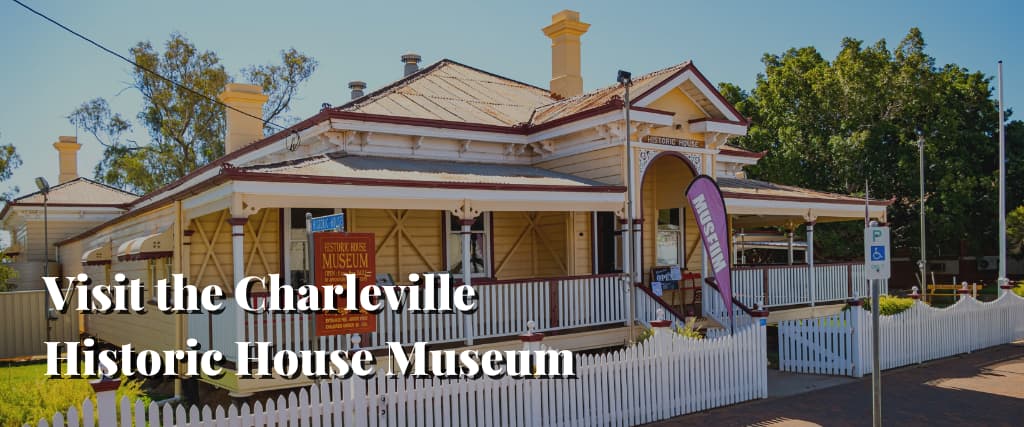 Visit the Charleville Historic House Museum
Once a bank, then a boarding house and now a museum, the Charleville Historic House Museum, is an intriguing place to visit.
Situated on Alfred Street, this stunning local history museum features original marble fireplaces, an impressive bank vault, and a diverse selection of early machinery.
Within the grounds, you will also see a life-size steam train engine, a life-size replica Cobb & Co Coach, and a life-size rail ambulance
Open 7 days a week, and pet-friendly, this fabulous, and entertaining exhibition makes for a fascinating detour whilst in Charleville.
See the Charleville Water Tower Mural
Completed in 2019, the Charleville Water Tower Mural is an endearing beacon of art for the town of Charleville,
The work of artist Guido van Helten, the monochromatic mural has been painted in an incredibly realistic 3D style. Standing at a height of thirty metres, the narrow mural showcases groups of rival children engaging in sport.
A representation of a game that was played between Charleville and the nearby city of Cunnamulla, it serves to inspire and symbolise community, diversity and cooperation in the outback and Queensland in general.
Located in Parry Street, the tower is a magnificent site which stops you in your tracks.
Stroll around the Graham Andrew Parklands
If you are looking for a place where all the family can relax and hang out, then you should make your way over to the beautiful Graham Andrew Parklands.
Known for its gorgeous botanical gardens, which feature a stunning range of lovingly crafted and maintained flowers, the park offers something for everyone in a peaceful locale.
As well as the gardens there is a working windmill, a lake, an Outback Timber Walk and a really cool adventure playground. In addition, there is an eye-catching Vortex Gun display for you to check out too.
It is a great spot to walk around, picnic, or just generally hang out amongst beautiful surroundings.
Indulge in the Corones Hotel Stories and Scones Tour
One of the few masonry buildings constructed in Charleville in the 1920s, the Corones Hotel has a rich history.
On its popular Stories and Scones tour, you will be able to discover its captivating history whilst indulging in tea and delicious scones.
Relating the quintessential rags to riches story that is rife with healthy doses of drama and humour, tour guests are regaled with stories of the celebrities and rich folk who have either visited or stayed overnight at the hotel.
These tales include everything from royalty to ghosts and is a fascinating way to get to know Charleville's fascinating past.
Take a day trip to Augathella
Probably the most unique and unusual of all the things to see and do in Charleville is a visit to Augathella.
A part of the Shire of Murweh, the small town of Augathella attracts the majority of its visits for one reason only – the remarkable meat ant.
Only native to Australia, the meat ant has been so-called as a result of its penchant for consuming the rotting flesh of vertebrate animals who have perished.
Promoting itself as the 'Home of the Meat Ant', the town has a designated park that features a sculpture of the insect.
In addition to this, it also showcases several arts and crafts which are locally produced, as well as rustic metal sculptures which are sure to catch the eyes of any visitor.
Where to Stay in Charleville
Considering it is a relatively small outback town, Charleville boasts quite a decent range of overnight accommodation.
If you are camping, The Red Lizard Camping Ground, Charleville Bush Caravan Park & Cottage and Cobb & Co Caravan Park all provide a nice range of camping options that include cabins, lodgings and numerous powered and unpowered sites all within easy driving distance of town.
For those who prefer hotels and motels, The Rocks Motel is an excellent option which is situated right in the heart of the town centre. Alternatively, the Charleville Waltzing Matilda Motor Inn and the Hotel Corones, are both very good options too.
Final Thought!
So there you have it, our overview of 15 of the best things to see and do in Charleville.
We hope this guide has provided you with a lot of food for thought, and even inspired you to take a trip out to this fabulous part of outback Queensland.
If it has, we know you will absolutely love your time there.