Summer is fast approaching, which for many people in Australia means beach.
If you are planning to spend a lot of time down by the ocean, you are going to need some good quality protection from the sun.
In this guide, we will highlight 7 of the best beach tents you can buy in Australia in 2023.
Whether you are a regular beach bunny who wants to upgrade their current shade protection or someone who is looking to buy a tent for the first time, we've got your needs covered with this fabulous selection below.
So let's begin with our reviews!
Best Beach Tents to Buy
While presented in no particular order of importance, all of the beach tents outlined below will make great purchases – depending on your requirements.
Hopefully, after you have read them, you will have a much clearer understanding of which portable beach shade is the most appropriate one for you.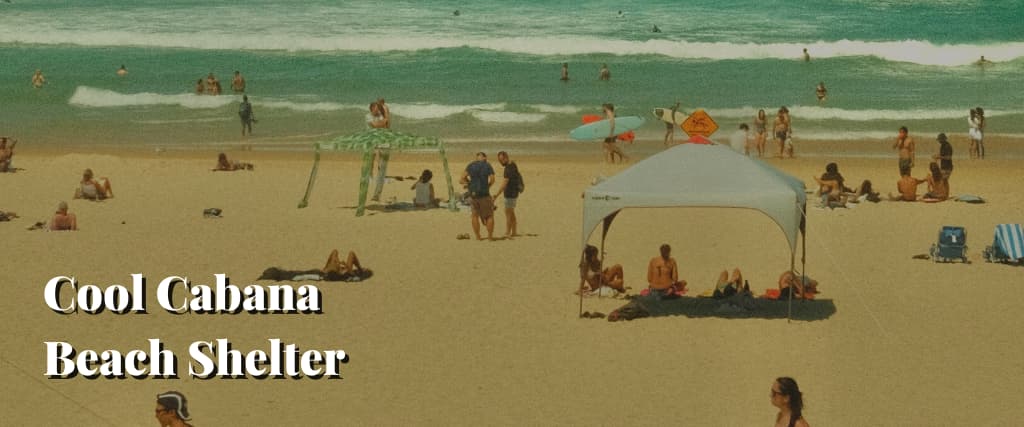 Cool Cabana Beach Shelter
Probably the most popular brand of pop-up beach tent in Australia right now is the Cool Cabana Beach Shelter.
With dimensions of 2 x 2 metres, this fabulous canopy offers plenty of room for a young family. Most adults won't be able to stand up in it, as its height is 1.55 metres, however, there is more than enough room for full sized chairs and your other belongings.
Made from cotton-poly canvas, this tent provides 50+ UPF protection, which gives you both protection and shade from the sun.
It comes in just two pieces, the first of which is the pole that goes into the sand, while the other is the top part of the pole that also has the canopy attached to it. Once you have erected the canopy, you can fill its legs to stabilise it.
Aside from being very simple to set up, the beach tent is pretty lightweight at just 5.3 kg. It also folds down to a length of less than a metre and can be stored in a compact bag that is easy to carry from your vehicle to the sand, over your shoulder.
A cool feature about this model is that its pockets are high up in the canopy. This provides excellent storage for smaller items like sunglasses, sunscreen, car keys and phones, as well as the ability to
hang a towel over its arms to ensure they are free from sand.
If you are looking for a very good quality, value for money, lightweight and very simple to set up beach tent shelter, this is a terrific choice.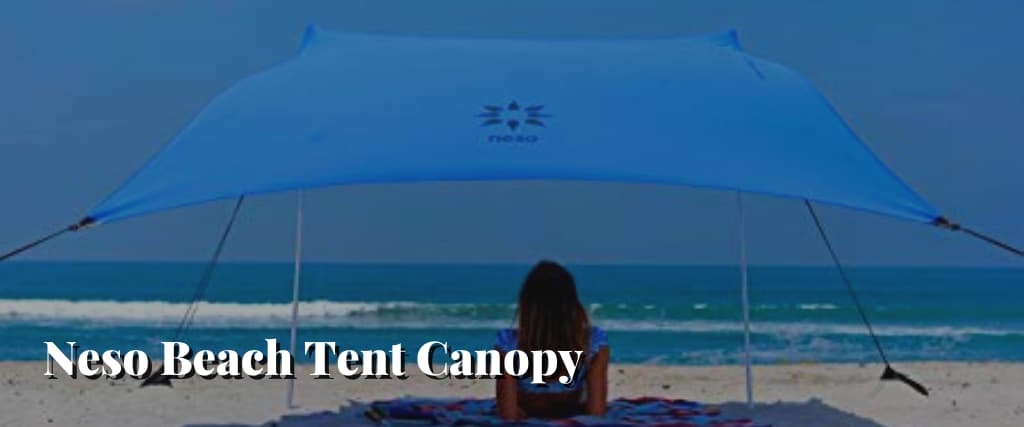 Neso Beach Tent Canopy
Neso is a very good brand in the beach tent market who are known for making massive tents that are surprisingly compact and lightweight.
Very easy to construct, requiring just two lightweight poles to erect, this model is made from a top quality mix of lycra and nylon. It also has reinforced corners which are securely kept in place by four sandbags.
One of the best qualities of this beach tent is that it has a UPF 50+ rating. It is also water repellent, so it will provide you with excellent protection from the sun and the rain.
While the fact it does not have sidewalls, and therefore won't provide much in the way of blockage from wind, might be a negative for some, this brand does come in three massive sizes.
The smallest of these sizes is the 'standard' version which measures 2.1 m x 2.1 m x 2.1 m. The 'Grande' tent has dimensions of 2.1 m x 2.8 m x 2.8 m. While the Gigante Beach Tent is a whopping 3.4 m x 3.4 m x 2.5 m in size!
Remarkably, given that you could fit lots of people and beach related gear under each one, the sun shades only weigh between 1.8 kg for the smallest and 4.3 kg for the largest.
They are all available in a range of stylish designs including flashy flamingo prints and bright blue shapes. While the beach tents come in a carry bag too – which you can easily put in your suitcase if you are travelling overseas, or out of state.
This carry bag also possesses a pocket where you can put drinks and snacks, which is a pretty cool feature too.
If you are looking for a tent that will allow you to completely set yourself up for a full day at the beach, this is a fantastic option.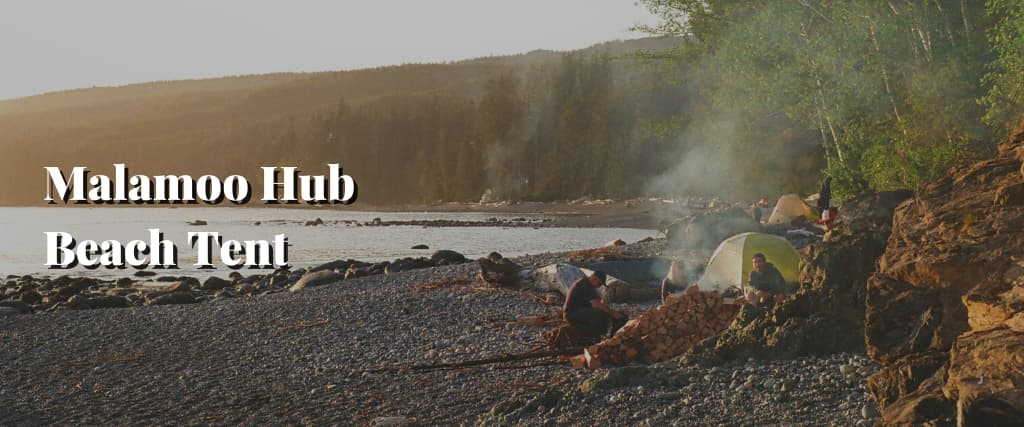 Malamoo Hub Beach Tent
With its unique cube shape, the Malamoo Hub tent is one of the coolest looking tents on this list.
Taking less than a minute to set up, and pack up, this beach tent can be secured in place by either filling its four sandbags or via the nine included pegs – if you are on harder ground. It also has guy ropes which can add further stability on a windy day.
The tent is made with a UPF 50+ polyester fabric, which is designed to provide maximum protection from the sun. It also has a polyethylene floor, while all of its walls possess a mesh panel at its base that allows for extra ventilation.
This brand of sun shelter is available in two sizes, both of which have a 2 metre length. The smaller 2-person version has a 1.5 metre width, while the bigger 4-person hub is 1.75 metres wide. As the walls are not rounded, space is maximised, so either will provide you with plenty of space to sit and put your things.
Unfortunately, unlike other canopy style options, the Malamoo Hub Beach Tent only has a height of 1.25 metres in the 2-person hub, and 1.5 metres in the 4-person hub. So most adults will not be able to stand up in it.
It is a great option, however, for a small family who can't afford it, or would rather not purchase a huge tent for their time at the beach. While this version also has the added bonus of being very easy to transport around with you.
Tropical Wanderer Beach Shelter
If size is important to you then the Tropical Wanderer Beach Shelter could well fit your needs,
With dimensions that cover 1.8 m x 1.8 m, you will be able to fit a lot of people and your possessions around this fabulous beach tent.
To give you a bit of extra privacy this UPF50+ beach sun tent features a sidewall which offers good protection from the sun and the wind. Conveniently, you can also move the sidewall in any direction, to accommodate the sun's movements throughout the course of the day.
A key feature of this beach tent is that it can be adjusted to three different heights, so again you can adapt to the conditions when it is very windy or sunny.
The Tropical Wanderer Beach Shelter is very easy to set up and has sand pockets which act as its anchor. All you need to do, to ensure it stays secure and stable, is to simply fill it up with sand.
It also packs up very compactly too, which makes it very easy to take it from the boot of your car to the beach and back.
Outdoor Connection Sun Shelter
Want a canopy or beach tarp style of shelter? Then you should consider the Outdoor Connection canopy.
One of its main selling points is that it offers a huge amount of shade for a group of family or friends to relax under. It is also compact and lightweight, so very easy to transport for regular beach or even camping trips.
Covering 2.3 m x 2.3 m, this portable beach tent can accommodate full size chairs, as well as a table, bags, esky and lots of your beach gear. Despite its size, it is only 3.3 kg in weight, so it is easy to carry in one arm.
The tent is constructed from a fabric that is UPF50+ lycra and also comes with two aluminium poles that are very light. To set up, all you need to do is stretch out the canopy on the ground and fill up its
sandbags.
Once you have done this, to prop it in place you will then have to slide two poles under its canopy. If you are on more solid ground than sand, it also comes with pegs which will help you secure it.
The Outdoor Connection Sun Shelter is available in a range of stunning bright colours including blue, green or purple. It also comes with a carry bag which makes it very easy to transport around to whichever beach or campground you decide to pay a visit to.
OZtrail Beach Tent
If you are in the market for a pop-up dome tent then the OZtrail Beach Tent is worth considering.
While it is one of the smallest sun shelters on this list, this model is light, compact and very affordable. So it does tick several boxes, which thus makes it an attractive option to purchase.
Featuring a fibreglass frame, which is very straightforward to set up, as well as a cross brace design that provides good protection against the sun and wind, this is a strong and sturdy model. While sandbags and sand pegs add further stability and security.
Constructed out of a tough fabric that is UV sun and water repellent, this sun shade has three walls for extra privacy, as well as a heavy duty floor which is puncture proof. It also has mesh panels on all of its sides to provide very welcome cross ventilation.
The OZtrail Beach Tent comes in a couple of different sizes. The smaller, Multi Shade 4 has dimensions of 2.1 m x 1.5 m, while the bigger Multi Shade 6 stands at 2.15 m x 3.35 m.
Both have a height capacity of 1.5 metres, as well as plenty of space for a group of you to sit in some low beach chairs, as well as to keep your possessions.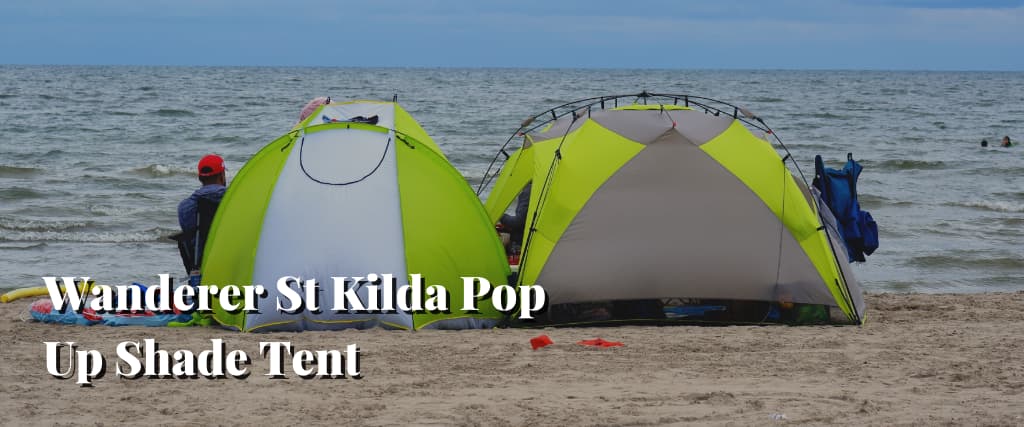 Wanderer St Kilda Pop Up Shade Tent
Similar to the Oztrail Multi Shade brand, the Wanderer St Kilda Beach Shelter is another very good example of the half dome shelter style.
Although it is only a small shelter, it is perfect for couples, or those who do not have much space in their car.
Comprising an instant fibreglass frame, the shelter is very easy and quick to set up. All you need to do, to keep it in place, is to fill its anchor bags with rocks or sand. For further stability, it also comes with four sand pegs too.
This pop-up beach tent is made with a PE floor that is not only durable but also very effective in preventing sand from getting on your possessions. As well as UPF 50+ sun and sunlight protection, it also has window panels that roll up to allow for extra airflow.
At just 2.4 m x 1.45 m, this is the smallest of all half dome tents highlighted in this list, and with a height of only 1.43 m, most people won't be able to stand up in it. Though you should be able to comfortably fit a full size chair.
Compared to other tents on this list, the Wanderer St Kilda will not provide you with anywhere near as much shade. However, it is a very cheap option, as well as being lightweight and easy to transport around with you. So it is worth considering if you are not a regular beach goer.
Conclusion
So there it is! Our guide to 7 of the best beach tents you can buy in Australia in 2022.
Having read these reviews, we hope you have a much clearer appreciation of which of them is best for you.
We don't need to tell you how hot Australia can get in its coastal areas!
But if you buy any of these brands of beach tents, you will be able to enjoy your time down by the ocean, safe in the knowledge you are getting fantastic sun protection.