Love kayaking?
There are few better ways to enjoy a sunny afternoon in Australia than by kayaking around a lake, in a creek, along a river, or on the ocean!
For some people, kayaking is a passion, and they regularly take to the water with their trusty model. However, not everyone can afford a full-size kayak, or even has the means, or capacity, to transport it around with them whenever they visit a waterway.
It's for this reason that inflatable kayaks have become popular in recent times. Providing people with a much cheaper option than traditional versions, as well as more convenience in terms of being able to clean, store and transport it.
Currently, there is a good selection of inflatable fishing kayaks available for you to buy right now in Australia. Ranging from top of the range models with lots of bells and whistles to cheap models that are great for first-timers to try out.
In this guide, we will highlight 7 of the best inflatable kayaks you can buy in Australia in 2023.
If you are a seasoned enthusiast who is looking for a newer model or a novice who wants to, literally, test the water there will be something on this list for you.
So let's begin!
Best Fishing Kayak Reviews
Showcased below, in no given order of preference, is a list of 7 of the best fishing kayaks you can buy in Australia in 2022.
Please be sure to read them all to ascertain which one best suits your needs.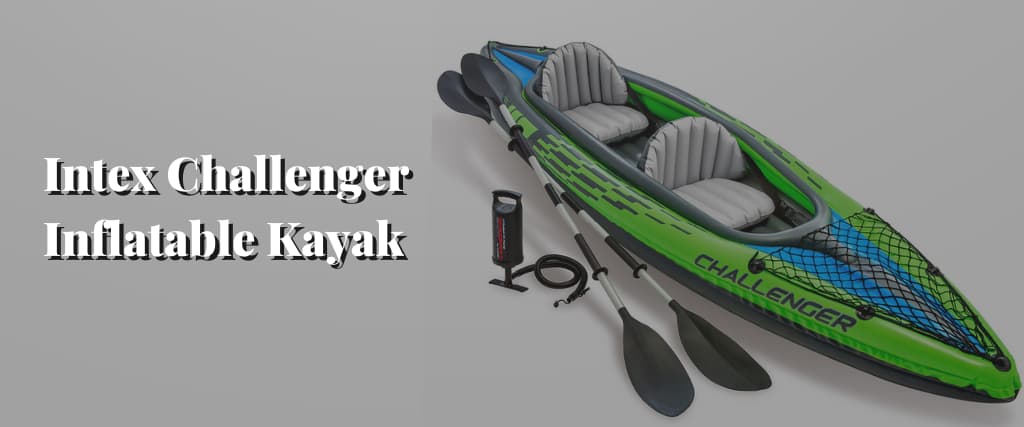 Intex Challenger Inflatable Kayak
The Intex Challenger Inflatable Kayak is considered by some to be the best model on the market right now in Australia.
Sold in BCF, this is a popular choice, partly because it is widely available, but also because the price represents excellent value for money as well.
Available as either a single or tandem kayak, this version is made from vinyl that is both UV damage and puncture resistant. Although it is not cheap, it is not overly expensive either. So if you are looking for a mid-priced kayak that is tough and durable, it is a very good choice.
The kayak features two independent air chambers, which is a good feature because if one of them does have a puncture, the other one will keep you afloat.
Very straightforward to use, the kayak has quite a low profile, as well as an inflatable skeg, which makes it fairly easy to glide across the water. This means that pre-teens should have no trouble navigating it.
What is also good about this kayak is that it is quite lightweight, to the point where young children can carry it to the water. Being inflatable it also packs down very well and comes with a carry bag which makes it easy to transport.
As well as a cargo net which is very good for storage, the kayak has grab lines at either end, which makes it easy to take to, or out of the water. It also comes with a hand pump, which is very easy to operate, as well as 86 inch aluminium paddles and even a repair kit.
An excellent all-rounder, this kayak is lightweight, compact and very well priced. So it ticks a lot of boxes.
Intex Excursion PRO Inflatable Kayak
The Intex Excursion PRO Inflatable Kayak is another very good brand from the same company which is known to be even more robust and long lasting.
Constructed from 3 ply PVC which has a polyester core, this super tough, double layer kayak is a very good option for those who are adventurous kayakers.
Similar to the Intex Challenger, this version also comes as either a one person or double inflatable kayak. While being slightly heavy, on account of it being made with more durable PVC, the single kayak can hold a maximum weight capacity of 120 kg, which is some 20 kg heavier than the challenger. The tandem size has the same 180 kg limit as its counterpart.
Featuring built-in fishing rod holders, as well as mounting brackets for a range of other fishing accessories, which are both adjustable and removable, this is a terrific option for anglers.
To ensure your full comfort, it also has adjustable footrests and removable seats that are also adjustable too. It even has a three chamber system which makes it very easy to inflate via a pump that is included with the purchase. While the pressure gauge will give you an exact indication of its PSI.
Some of the other wonderful features of these inflatable kayaks are aluminium paddles, an integrated drain plug, shallow and directional water skeg, stainless steel d-rings which enable you to attach your gear, storage space around its bow and a carry bag to put it in after you have deflated it.
Hydro Force Lite Rapid X2 Bestway Inflatable Kayak
When it comes to inflatable brands of kayaks, Bestway is right up there when it comes to companies with a good reputation.
Widely acknowledged for the quality of their products, the Hydro Force Lite Rapid X2 Bestway
Inflatable Kayak is arguably their flagship model in Australia.
Weighing just 8.5 kg this inflatable, two seater kayak is lightweight and very compact. Despite this, it is made from a very durable PVC which means it has an impressive weight capacity of 160 kg.
The inflatable kayak comes with a pump which makes it very easy to inflate, while quick release valves also make for fast deflation. Its inflatable seats are removable too, so you will both be able to sit in comfort,
Another nifty feature of this brand of inflatable kayak is its grab lines, which wrap all the way around the kayak and thus make it easy to get in and out of it. Some others include two 86 inch aluminium paddles and a removable fin which provides directional stability. As well as a carry bag which you can put the kayak in once you pack it down, and easily store and transport.
A good all-around option, the Hydro represents a decent purchase for any level of kayaker. Its only drawback is that the weight limit of 160 kg might not be strong enough for certain couples. However, if you are travelling in it with a child or your dog, then you shouldn't have any issues at all.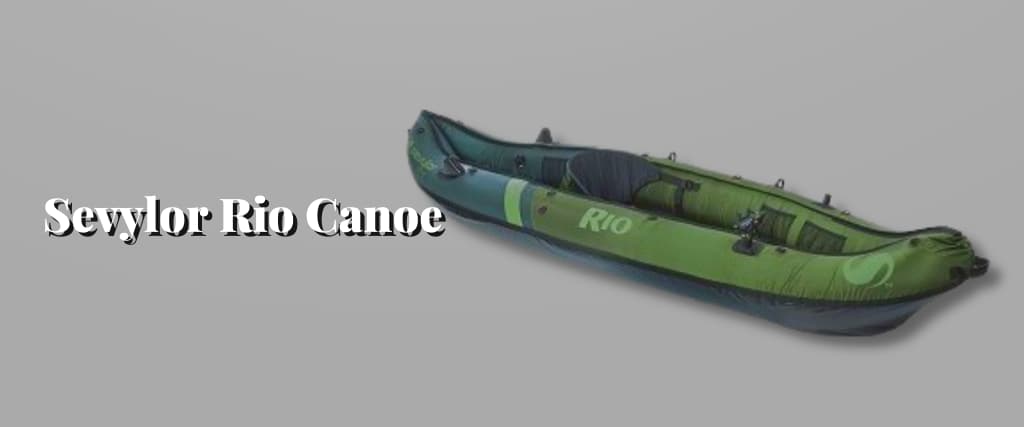 Sevylor Rio Canoe
Another excellent option for those who like to fish, is the Sevylor Rio Canoe is another model that comes as a single or double.
Constructed with a double layer construction, it is one of the most durable inflatable kayaks that are available on the market right now.
Very long lasting, this model features an 18 gauge PVC inner layer, as well as an 870 D nylon outer layer. It also has a 1000D tarpaulin bottom. Which collectively combine to create one very tough inflatable canoe that can withstand run of the mill punctures and abrasions.
With a width of 94 cm, this inflatable kayak is very roomy and stable. So it is a good option for beginners who are not used to the finer nuances of traversing the water. It is also very suitable for heavier couples, with the single canoe having a weight capacity of 158 kg, whilst the double can accommodate 226 kg. Which also leaves plenty of room for your esky or heaviest fishing gear.
A simple vessel to inflate, on account of its double threaded Boston Valve, this kayak also has several air chambers. Which ensures it will remain afloat in the extremely unlikely occurrence of a puncture.
It also comes with paddle holders, fishing rod holders, mesh pockets for storage, adjustable seats, a directional skeg, D-rings for attaching gear, carry handles and a carry bag which makes it very easy to transport from your car to the water.
Despite its huge weight capacity, this inflatable kayak is very lightweight. This makes it a very good option for those who want to embark on a serious fishing expedition, as well as just glide around the lake, river or ocean as well.
Freein Inflatable Kayak
Another very good choice for those who are on the hunt for something lightweight, but also has a large weight capacity is the Freein Inflatable Kayak.
Working as either a single or a double seater, these inflatable kayaks come in two sizes. The smaller of which measures out at 3.2 metres, while the longer one extends for 3.81 metres. So they are pretty handy for very tall people.

Comprising a weight of just 10.4 kg for the short kayak and 12.47 kg for the longer one, these kayaks are some of the lightest in this list. However, don't let that fool you into thinking they are not strong, because between them they have a massive 263 kg and 326 kg weight capacity. Which makes them ideal for two fully grown adults to ride in, along with a lot of their gear.
These kayaks are very well made too. Featuring drop stitch technology they have high pressure forms which are wide and very rigid. Which means they have terrific stability on the water.
At its bow and stern, it also has PVC moulds that are a heavy gauge to provide extra strength. While the model is also abrasion resistant, so you can ride it safely in the knowledge that scuffing along sharp objects in the water won't do it any damage.
Along with a paddle, the kayak comes with a foot pump that will inflate your vessel in about 8 minutes. It also has a double lock valve system to ensure that both inflation and deflation are very straightforward, as well as three separate chambers to keep you afloat. Which provides a good backup should one of them puncture.
If you do get a tear, you will be able to use the repair kit that comes with the kayak. While the seats of the boat are not included and thus need to be bought additionally, the Freein does come with a removable fin and its own carry bag.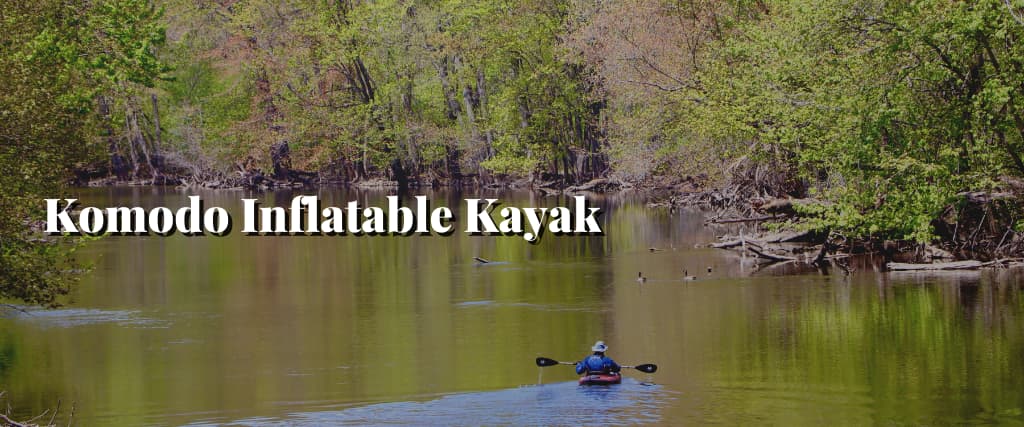 Komodo Inflatable Kayak
If you don't fancy forking out for a top of the range model, but still want something good, then you should consider the Komodo range of kayaks.
Available as either an inflatable kayak for two people or a single seater, this model is very lightweight. However, unlike other brands on this list, its weight capacity is a bit on the low side, measuring at only 80 kg for the single seater and 165 kg for the tandem.
Made from durable PVC, these kayaks also have the safety of numerous inflation chambers. They also have a back storage bag that zips up, which makes it a lovely place to store your gear.
With adjustable inflatable seats, carry handles at the front and back, as well as grab lines too, the Komodo also comes with a pump, paddle, repair kit and carry bag.
It's a very solid kayak overall and is particularly good for pre-teens and smaller females.
Intex Seahawk Inflatable Boat
Looking for a vessel you can all enjoy together?
Then you should consider the Intex Seahawk Inflatable Boat.
Coming as either a 2 or 4 person vessel, this brand of kayak gives you plenty of space.
Made from 20 gauge PVC vinyl for the two person boat, and 30 gauge PVC vinyl for the four person, this model is abrasion resistant and super tough. As an added safety precaution, it has three individual chambers, located in the inner hull, on the inflatable floor, as well as the inflatable seats, to prevent you from sinking should you experience a puncture.
As it's a boat, it has a heavier weight than all the other kayaks in this review. Notwithstanding, they are still fairly lightweight, with the four person weight being around 17 kg. It also has a weight capacity of 480 kg, so can easily fit 4 adults and quite a lot of their stuff.
Some of the other features that are part of the Seahawk are an all-around grab line, 2 oars and oar holders, heavy duty grab handles that are located on the bow, and two fishing rod holders for those who want to cast a line.
It also has two valves that make for quick inflation and deflation, as well as a roomy pouch for storage, and a pump.
While this might not be the best kayak option on this list if you want to go venturing deep into creeks and other waterways. If you just want to have some fun paddling around a lake or the ocean, on a warm sunny day as a family, then this will do the job perfectly.
Conclusion
So there it is! Our guide to 7 of the best inflatable Kayaks you can buy in Australia in 2022.
All of these models are manufactured to a very good quality and have been thoroughly tested by the manufacturers with regard to their safety and durability.
Whichever brand of inflatable kayak you choose is entirely up to you. But you can feel pretty sure that they have all been designed to maximise your enjoyment on the water!