So you are after a camping chair, huh?
Well, you have come to the right place!
In this guide, we will outline 8 of the best camping chairs you can buy in Australia in 2023.
Whether you are after a lightweight chair you can carry around everywhere with you, a reclining camping chair that you can relax in total comfort, or a double camping chair where you can take in a gorgeous panorama with the person you love, after reading this review, we hope you will be clearer as to the best option for you.
So let's get started, shall we!
OzTrail Sovereign Cooler Arm Chair
If you are looking for a cheap camping chair that still provides plenty of support then the OzTrail Sovereign Cooler Arm Chair is an excellent option.
Somewhat of a 'traditional' style camping chair, these quad-fold chairs are ultralight, weighing only 3 kg. Yet, remarkably, they can hold a maximum weight of 130 kg!
Made with a 17.5 mm steel frame, these chairs pack down tightly. However as they feature a single layer of 600 denier polyester fabric that is hard-wearing, they are perhaps not as comfortable as other chairs on this list. That said, if you were to sit on a towel, or even bring a cushion, that should make a big difference.
Even though this chair sits in the budget range, it still possesses a cooler bag on one side which is very handy for storage, as well as a cup holder on its other side.
If you are a relative newcomer to camping or are looking for a chair for your children, this is a very decent and cost-effective option.
More experienced campers though, and those generally looking for higher levels of comfort, may prefer one of the other choices on this list.
Oztent King Goanna Chair
Want a chair that can hold even more weight? Then the Oztent King Goanna Chair is your go.
Capable of holding up to 200 kg in weight, this extraordinary camping chair is one of the strongest on the market.
Twice the weight of the OzTrail Sovereign Cooler Arm Chair, this 6 kg chair is surprisingly comfortable. Featuring a powder-coated steel frame which is heavy-duty, and 600 denier polyester fabric that is fully padded.
The chair is extra wide, so provides plenty of room to settle into, while its adjustable lumbar straps allow you to customise it to the shape of your body.
A really cool thing about this chair is that it has a zipper, which means you can conveniently store the bag cover. It also has the secondary effect of providing the headrest with additional padding.
This chair also has great little pockets for storage on both sides, which is very handy for putting in your keys, phone or bank cards. In addition, there is even an insulated space where you can put a can of drink.
Well suited to taller, or larger people who require additional support when sitting in a chair, purchases of the Oztent King Goanna Chair also have a five-year warranty. Which should give you decent peace of mind.
OZtrail Brampton Lounge Camping Chair with Table
The OZtrail Brampton Lounge Camping Chair with Table is possibly the ultimate camping chair!
A reclining chair with a foot rest, this deluxe model is perfect for those who just want to spend their time relaxing with a view, or by the campfire.
Extremely durable, these awesome camping chairs can hold a maximum weight of 150 kg. They can also recline into a variety of positions, including all the way back, so you can lie down in it like a bed!
Made from 600 denier polyester fabric, these padded fold-out chairs have a 19 mm steel frame that is powder-coated. It also has a headrest which is fully adjustable, as well as a table, complete with a cup holder that is built-in.
With armrests that are wood grain finished, the chair boasts a stylish look. It also comes with a carry bag which makes it easy to transport around.
One negative of the chair is that it is very bulky and heavy to carry. Weighing in at 9.4 kg it is the heaviest model that features on this list, and therefore might be difficult for some people to carry. However it does pack down quite compactly, so if you are not walking a long distance with it, you should be okay.
That aside, this chair is so comfortable you will want to sit in it a lot! Don't be surprised if you set it up on your verandah or balcony at home, to make the most of it when you are not camping.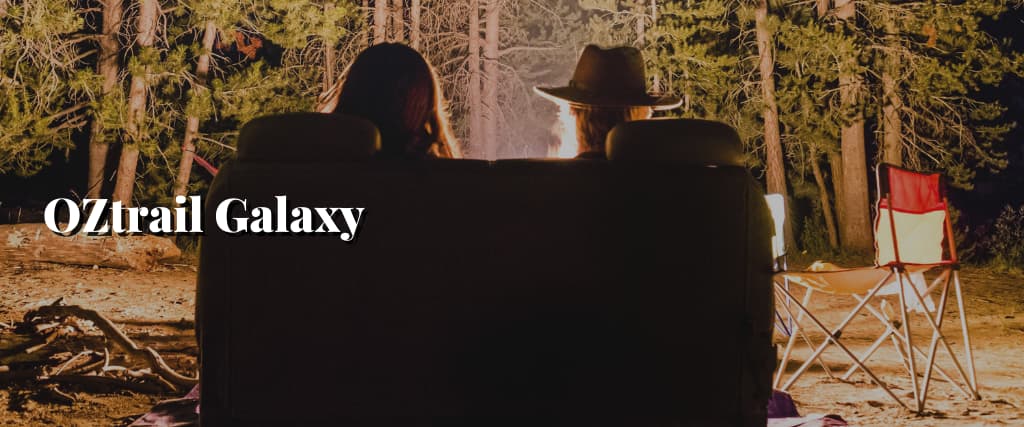 OZtrail Galaxy
Fancy a chair where you can snuggle up to your loved one? Then this OZtrail Galaxy double-seat camping chair is an excellent choice!
Great for couples, or possibly even young families who do not want the expense of multiple chairs, this two-seater model is made with a 17.5 mm powder-coated steel frame and also has a 600 denier weave, hard-wearing, polyester fabric.
Reasonably priced, this camp lounge chair has a weight capacity of around 240 kg, so it can easily
accommodate two people.
It does have rather limited cushioning though, so it might not be as comfortable as some of the other chairs on this list. However, at just over 6 kg it is fairly lightweight and also packs down well in comparison to other chairs on the market that is designed for single-person usage.
Around its rear, the chair also has a mesh pocket which is great for storing some of your essential items. It also has two wine glass holders at either end of it, as opposed to cup holders, which some people might really like.
Camping OZtrail Jumbo
In recent times, moon chairs have become increasingly popular among the camping fraternity and one of the leading varieties of them is the Camping OZtrail Jumbo.
Featuring a large circular seat, this is the perfect chair to read a book, listen to music, have a nap, or just relax when you are out camping.
Although they tend to be a bit bulky when folded down, this chair is very comfortable because of the way it is made.
Constructed with a powder-coated steel frame that is between 16-19 mm, the chair features a 600 denier polyester fabric that is hard-wearing and also has a PVC coating.
It also has foam support that is packed within a double layer of fabric to provide even more comfort.
Weighing 7.3 kg, this is one of the heavier camping chairs on this list. However, it does have a maximum weight rating of 150 kg, so must be considered sturdy. A child could easily sit on their parent's lap on this chair, which is good for when they start to get a little tired at night.
The chair does not possess any additional features like storage or a cup holder, which might be a negative for some. However, in terms of the sheer levels of comfort, it provides you with. It is hard to go past the Camping OZtrail Jumbo.
Oztent Sturt Camping Chair with Side Table
Directors' chairs are another popular type of seat for camping. If you are in the market for this kind of option then the Oztent Sturt Camping Chair with Side Table is where you should focus your attention.
Arguably the best director's camping chair on the market, these sturdy and deluxe seats can withstand a maximum weight of 150 kg. So they are an excellent option for bigger guys.
Comprising a lightweight aluminium steel frame and a durable 600 denier polyester fabric, these chairs pack reasonably light at 5.5 kg. Despite this, they are still on the bulky side once they are packed down.
The great thing about this chair is that it provides excellent low back support. It also has a fantastic side table that is fully adjustable. This means you can have it over your lap as you eat, or by your side when you just need somewhere to rest your drink.
The table can even be tilted, which is particularly handy if you ever want to lean your phone, portable radio or book against it. While its adjustable lumbar support and solid armrests are very desirable features too.
Another seat that comes with a five-year warranty, for those looking for a director's camping chair, this one ticks a lot of boxes.
Zempire Stargazer Chair
As the name suggests, the Zempire Stargazing chairs are a terrific choice for those who want to spend their evening looking up at the cosmos in a very comfortable chair.
Falling somewhere in style between a lounge chair and a more traditional quad chair, these very durable camping seats feature a bigger than usual back support. It also has a good amount of padding all around it, including armrests, to make sure you feel very cosy sitting in it.
This chair even has a carry bag, which you can put in the pillow pocket to create an instant headrest, while its insulated cup holder is perfect for ensuring your beer stays cold.
Despite being heavy-duty, these camping chairs only weigh 5.26 kg when packed down. They are made with a durable 600 denier polyester fabric. as well as a powder-coated frame which is 16 mm lightweight.
A great feature of the Zempire Stargazer Chair is that it can be easily set up with one action. Although they are much longer than most other chairs on this list when they are packed down.
One of the most luxurious chairs on this list, it is well worth considering if you are someone who goes camping regularly.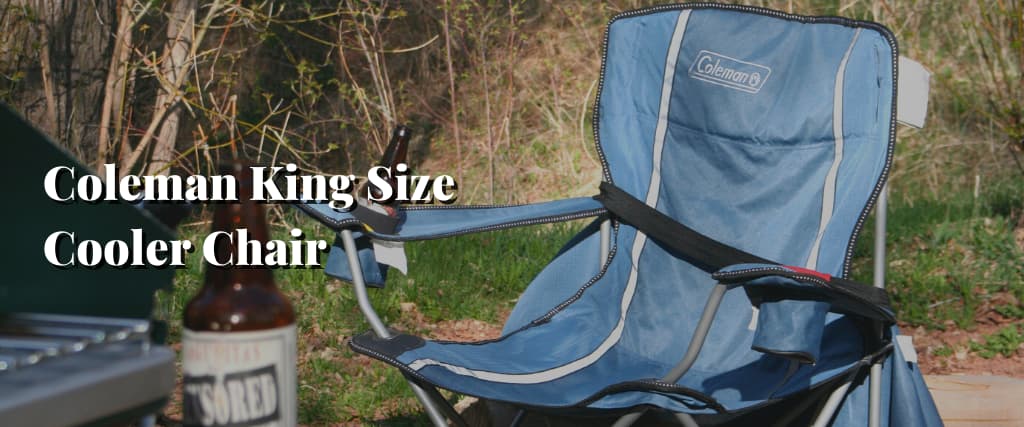 Coleman King Size Cooler Chair
At the cheaper end of the scale, the Coleman King Size Cooler Chair is another decent option for those who want something lightweight and basic.
Weighing just 4 kg this chair is easy to carry around. It also has a maximum weight limit of 130 kg which is very impressive considering.
Another chair constructed with durable 600 denier polyester, this one boasts a 19 mm steel frame. This is why it is quite durable and sturdy.
Made with a padded seat and arms that are bigger than usual, this seat is ideal for those who have a bigger build. It also features a cooler bag and a built-in cup holder, as well as a mesh pocket on the back of the chair which is big enough to put a magazine in.
Despite its relatively cheap cost, it is a comfortable and longer-lasting product that should represent a decent investment.
Conclusion
So there you have it! Our recommendation of 8 of the Best Camping Chairs to buy in Australia in 2022.
We hope this guide has given you a clearer understanding of the right option for you.
With camping being such a wonderful and quintessentially Australian experience, if you purchase any of these chairs, your enjoyment of it is sure to be enhanced.